With crispy and slightly tart fried green tomatoes, a mound of gooey cheese, and several slices of bacon, this is the ultimate southern grilled cheese sandwich.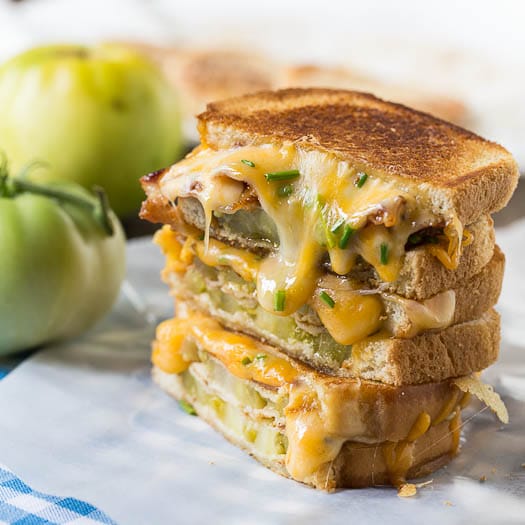 Ok,ok, maybe not quite the ultimate. That would include pimento cheese. But this is pretty close.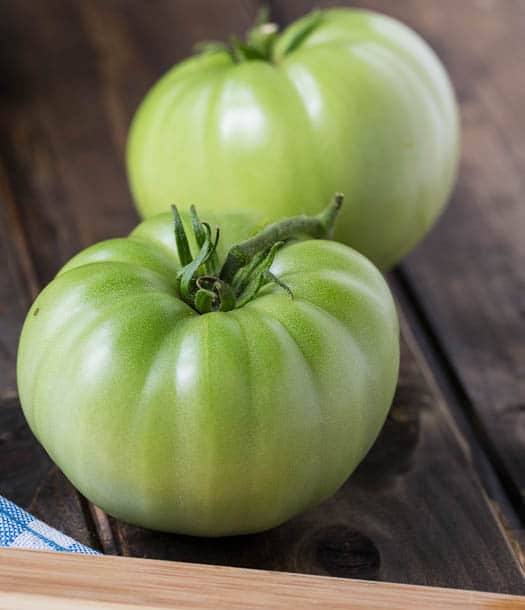 The real star of this sandwich is the fried green tomatoes. They are one of my absolute favorite foods. I love them served as an appetizer, Fried Green Tomatoes with Peach Pepper Jelly Sauce , on a burger, or in a grilled cheese sandwich.
They only improve when paired with bacon and covered in gooey cheese.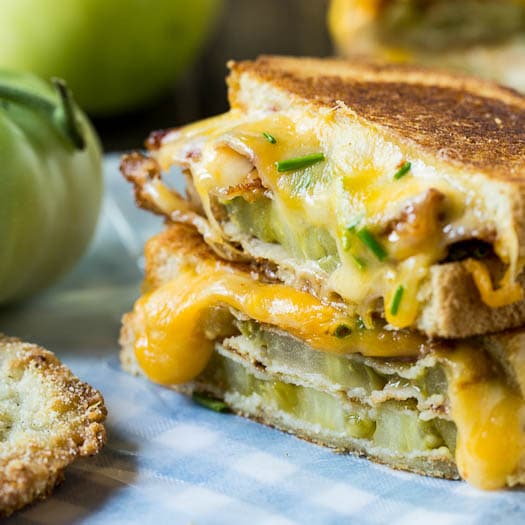 I wanted to use Texas Toast for this sandwich, but I went to 2 stores and couldn't find any. How can that be?
It's a shame too because 2 flimsy pieces of white bread can hardly contain all the yumminess in this sandwich.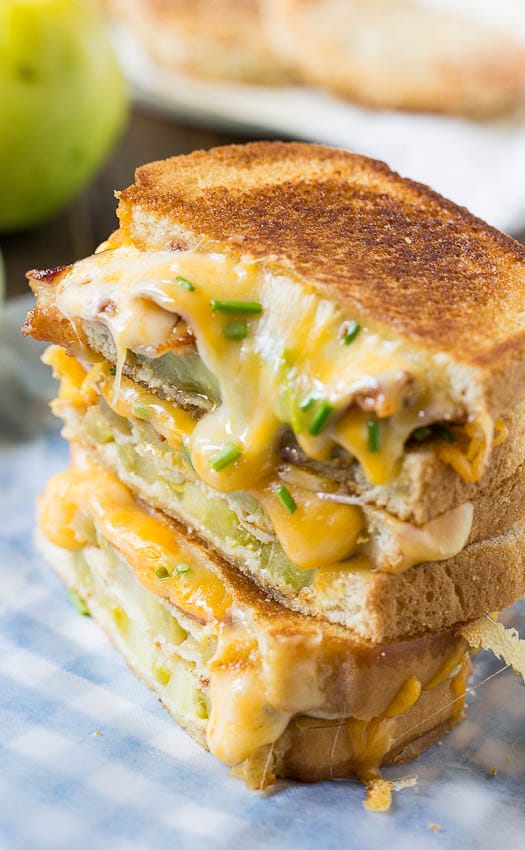 Fried green tomatoes are best cooked in bacon grease in a heavy cast iron skillet. But you can also use vegetable oil and a regular skillet. They will be delicious either way.
Summer is almost over! Time to enjoy those fried green tomatoes while you can.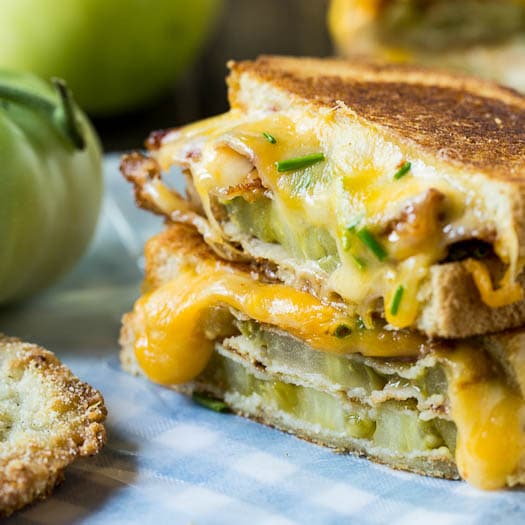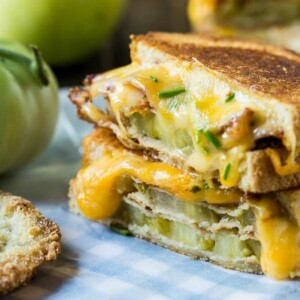 Fried Green Tomato and Bacon Grilled Cheese
Crisp and tangy Fried Green Tomatoes, bacon, and lots of gooey cheese make this grilled cheese sandwich a southern treat.
Ingredients
2

green tomatoes,

cut into 1/4-inch slices

1/2

cup

bacon grease,

save from cooking bacon

2

eggs,

lightly beaten

1/4

cup

milk

1/4

teaspoon

paprika

1/4

teaspoon

garlic powder

1/2

cup

flour

2/3

cup

cornmeal

1/2

teaspoon

salt

1/4

teaspoon

pepper

sugar

8

slices

white bread,

preferably Texas Toast

8

slices

bacon,

cooked

1

cup

shredded Cheddar cheese

1

cup

shredded Monterey Jack cheese

2

teaspoons

chopped chives,

optional

butter
Instructions
Whisk eggs, milk, paprika, and garlic powder in a pie pan or bowl.

In another pie pan or on a plate, mix together flour, cornmeal, salt and pepper.

Dip tomatoes into egg mixture and then coat with flour mixture.

Heat bacon grease in a large cast iron skillet or regular skillet over medium heat. When hot, fry 4 to 5 tomatoes at a time. When golden brown on one side, flip and cook until golden brown on the other side. Drain on paper towels and sprinkle lightly with sugar and salt.

For each sandwich, layer 2 to 3 fried green tomatoes on a piece of bread, top with 2 slices bacon, and about 1/4 cup Cheddar cheese and 1/4 cup Monterey Jack cheese. Sprinkle with chives and top with another bread slice.

Heat a griddle or skillet over medium-high heat. Place a pat of butter on the surface of the pan. Use a spatula to spread it out as it melts. Place a sandwich on top and cook until golden brown. Lift sandwich off pan with a spatula, place another pat of butter down and flip sandwich over onto the melted butter. Cook until cheese is melted, turning heat down if it starts to brown too quickly.
Notes
If you don't have enough bacon grease, add vegetable oil.
The cheese will melt much better and taste better if you grate your own rather than using preshredded.
Want to Save This Recipe?
Sharing with The Country Cook's Weekend Potluck.