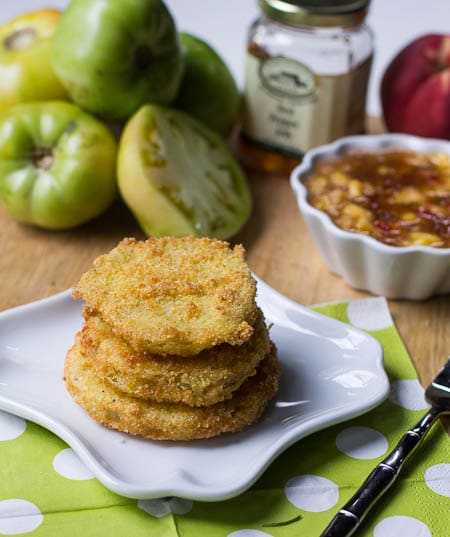 Fried Green Tomatoes are a favorite throughout the South. This recipe pairs crunchy fried green tomatoes with a pepper jelly sauce studded with diced peaches. Pepper Jelly is my absolute favorite condiment. I love it as a salad dressing, a glaze for salmon, a condiment on a Panini, and as a flavoring for margaritas.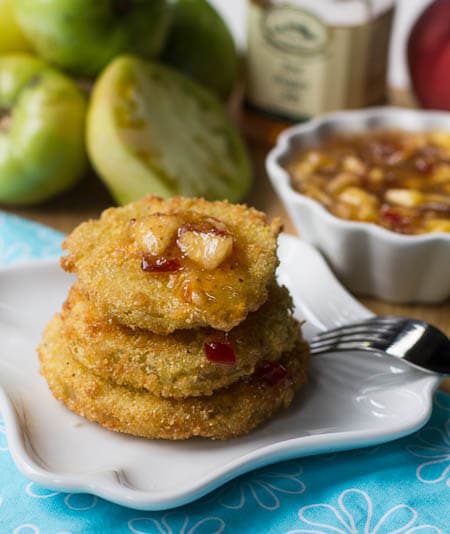 Around these parts, green tomatoes are all over the place at farmers markets and roadside farm stands during the summer. They're firm and unripe, but watch out! Tuck them away for more than a few days in the back corner of your pantry and you may find that your green tomatoes have turned red.
A good fried green tomato is just a little sour and tangy with a nice crisp crust and a soft interior. I like mine sliced no thicker than ¼ of an inch.
Buttermilk adds even more tang to them, but you can use milk instead. Fried green tomatoes are also great in a salad with a buttermilk ranch dressing, on top of a cheeseburger or in a BLT.
Excess Peach Pepper Jelly is great as a dipping sauce for chicken fingers.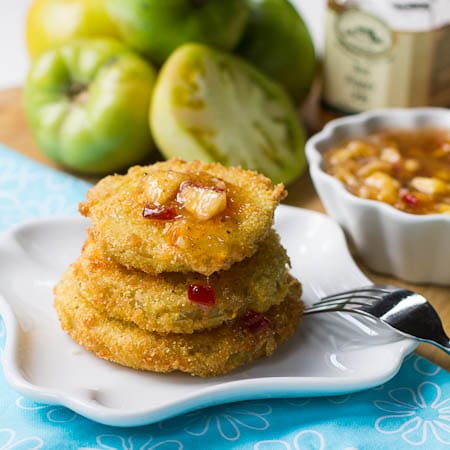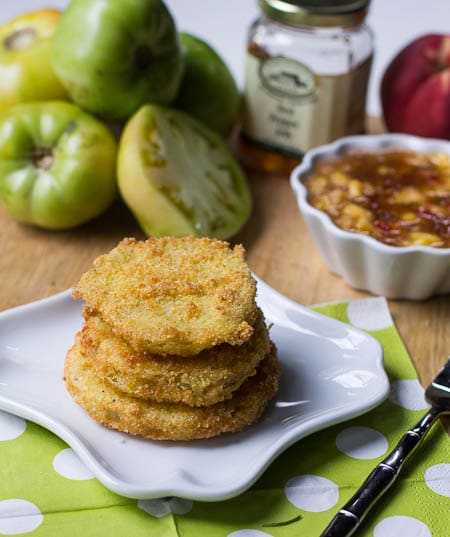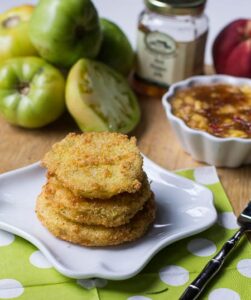 Fried Green Tomatoes with Peach Pepper Jelly Sauce
Crispy fried green tomatoes with a sweet and tangy Peach Pepper Jelly.
Ingredients
½

cup

red pepper jelly

½

cup

finely diced peach

1

teaspoon

creole mustard

2

teaspoons

horseradish

4

medium green tomatoes,

cut in ¼-inch slices

1

cup

flour

1

teaspoon

salt

½

teaspoon

freshly ground black pepper

¼

teaspoon

cayenne pepper

½

cup

buttermilk

2

eggs

¾

cup

cornmeal

¾

cup

panko crumbs

Vegetable or Peanut oil
Instructions
Combine red pepper jelly, diced peach, mustard, and horseradish in a small saucepan and simmer for 5 minutes. Let cool to room temperature.

On a plate, stir together flour, salt and pepper, and cayenne pepper.

Whisk together buttermilk and eggs in a bowl.

Mix together cornmeal and panko crumbs on a second plate.

Pour oil to approximately ½-inch depth in a large skillet and heat over medium heat until oil is hot.

Dredge each tomato slice in flour, then dip in buttermilk/egg mixture, and then coat with cornmeal/panko mixture. Place about 5 slices in oil at a time (do not crowd) and cook until golden brown on both sides, about 3 minutes per side. Place on a paper towel-lined plate. Season with a little more salt while warm. Serve warm with pepper jelly sauce.
Want to Save This Recipe?