Shrimp Tostadas with Chipotle Peach Salsa- This is a delicious tostada recipe with sautéed shrimp, black beans and a sweet and spicy peach salsa. Tostadas are great for a weeknight meal- kids love them, they're light but full of flavor, and you can combine all kinds of ingredients to make them (ie. great way to clean out the fridge!).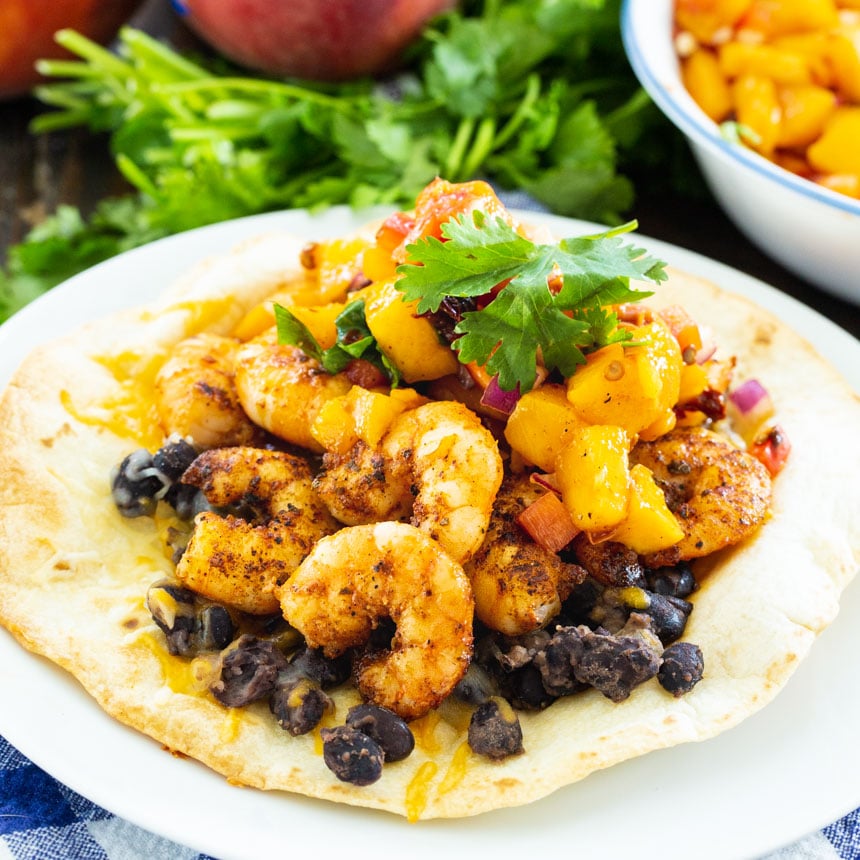 The ingredient list may look long, and it doesn't include the Peach Salsa recipe (I've included a link to that recipe) but most of the ingredients are spices. If you have your spices organized (says the one who spent 10 minutes looking for the oregano :() you can make it in a snap. The shrimp, salsa, and even the beans can easily be made a day in advance.
I love the contrast of textures and flavors in this dish. The tortilla bakes up wonderfully crispy and the combination of sweet and spicy flavors is just right.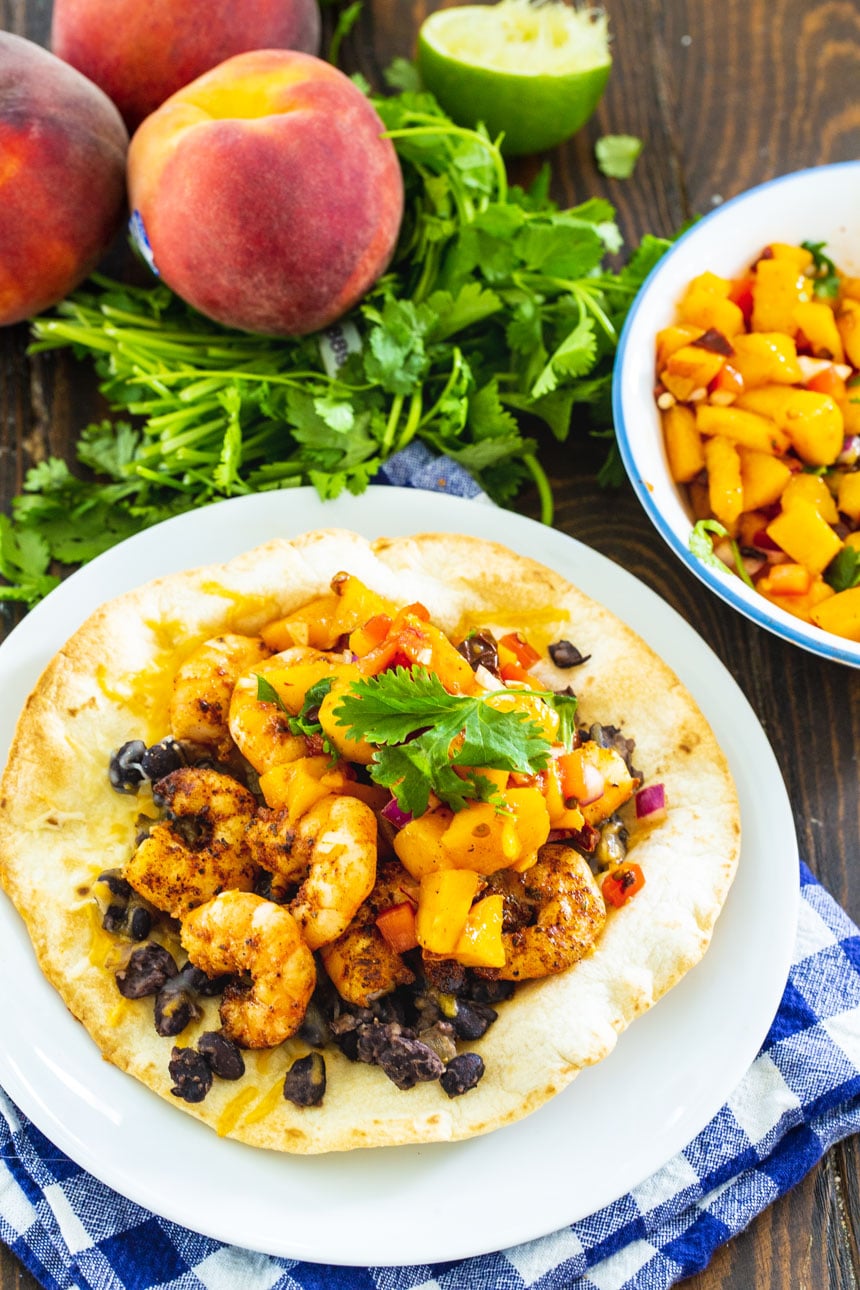 Shrimp Tostadas Recipe Tips:
If you wanted to make this recipe super quick and easy, you could always use a jarred salsa. But making fresh salsa is definitely worth the effort.
I love black beans, but a can of refried beans could also be subbed.
I always try to use fresh shrimp, but frozen shrimp can be used instead. Just be sure to fully thaw them first.
Don't forget the Chipotle Peach Salsa. It has a wonderful sweet, smoky and spicy flavor.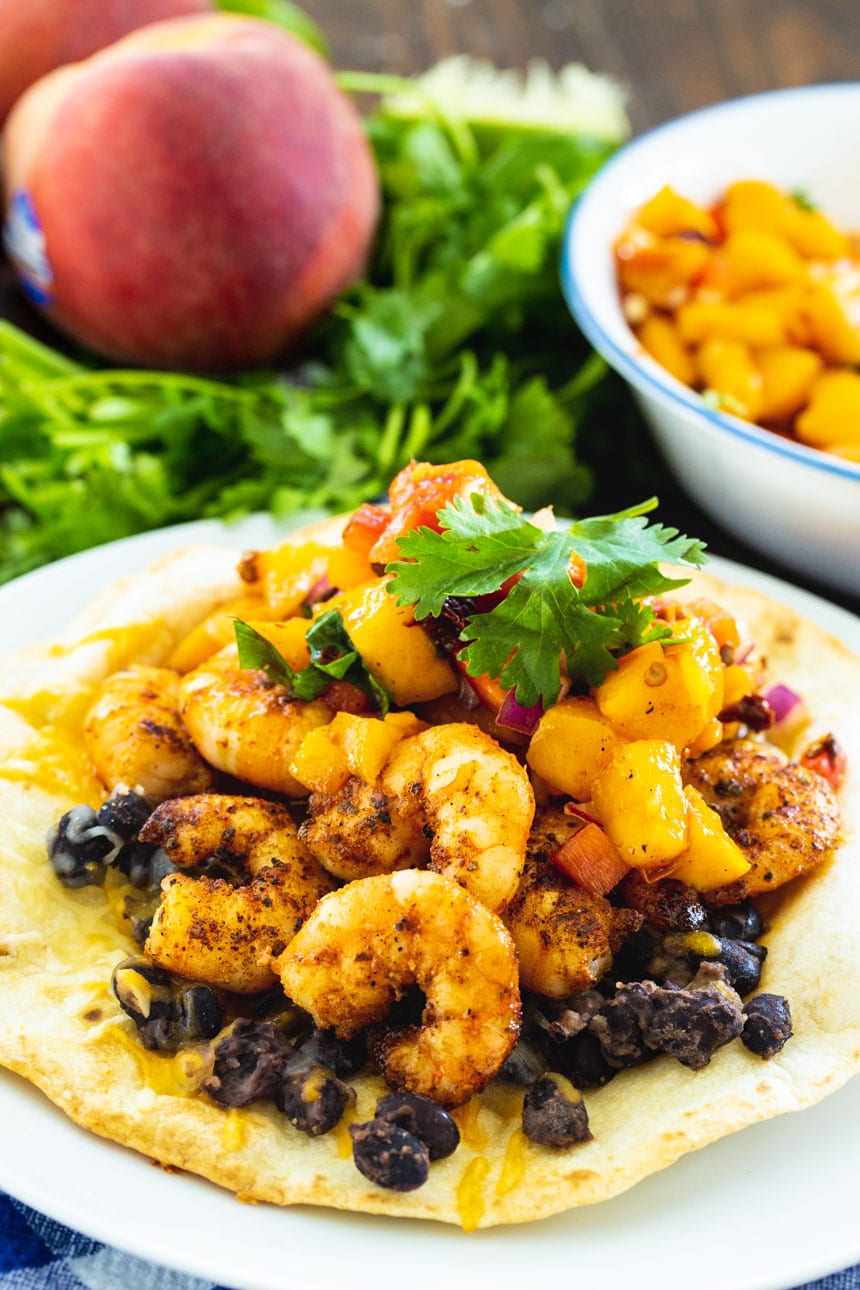 Try These Other Tex-Mex Meals: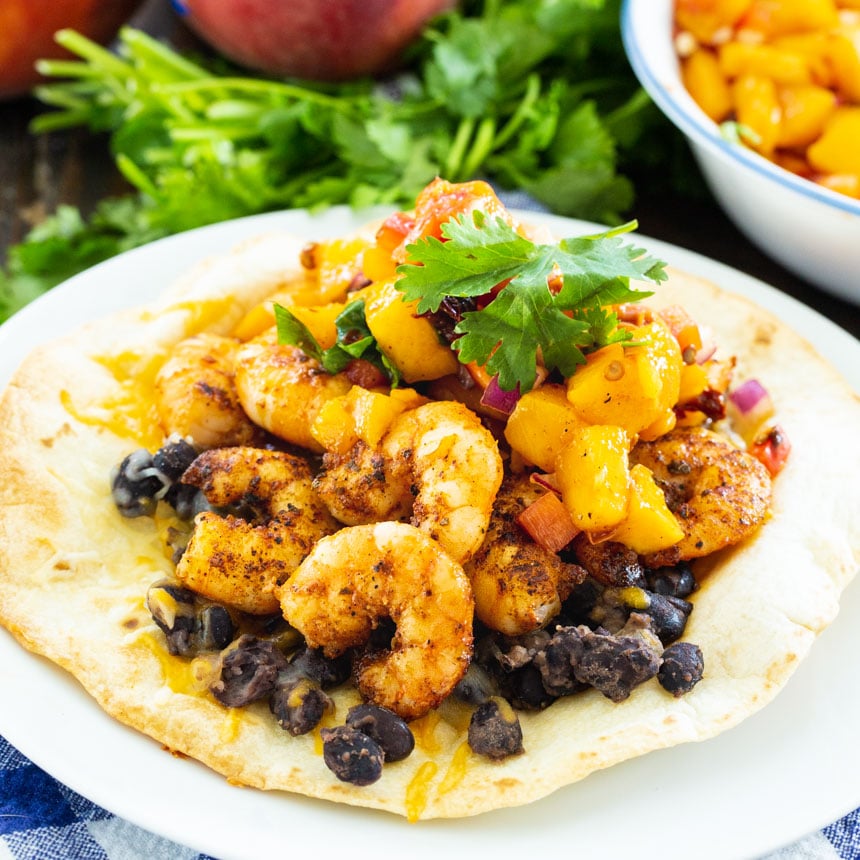 Shrimp Tostadas with Chipotle Peach Salsa
Shrimp Tostadas with Chipotle Peach Salsa- a crispy tortilla topped with black beans, shrimp, cheese and salsa.
Ingredients
1

pound

medium to large shrimp,

peeled and deveined

1/2

teaspoon

paprika

1/2

teaspoon

dried oregano

1/4

teaspoon

onion powder

1/4

teaspoon

garlic powder

1/4

teaspoon

ancho chili powder

1/4

teaspoon

salt

2

tablespoons

vegetable oil,

divided

1/2

sweet onion,

diced

1

garlic clove,

minced

1

can

black beans,

rinsed and drained

1/2

teaspoon

ancho chili powder

2

tablespoons

water

salt and pepper

4

small to medium

flour tortillas

cooking spray

1/2

cup

shredded mexican cheese blend

1/2

cup

Chipotle Peach Salsa

cilantro
Instructions
Combine the paprika, oregano, onion powder, garlic powder, 1/4 teaspoon ancho chili powder, and salt in a small bowl.

Sprinkle mixture on shrimp.

Heat 1 tablespoon of oil in a large nonstick skillet over medium-high heat.

Add shrimp and cook for 2 to 3 minutes or until cooked through. Set aside.

In a small saucepan, heat 1 tablespoon of oil and cook onion for 3 minutes. Add garlic and cook 1 more minute.

Add beans, 1/2 teaspoon ancho chili powder and water. Mash the beans up some with a fork and cook until they are heated through. Season to taste with salt and pepper.

Heat oven to 375 degrees. Spray each side of tortillas liberally with cooking spray. Place on a baking sheet and place in the oven for 2 to 3 minutes. Flip over and bake another 2 minutes.

Top each tortilla with 1/4 of the bean mixture and 2 tablespoons of cheese. Place back in oven until cheese is melted.

Top with shrimp, salsa, and cilantro. Serve.
Want to Save This Recipe?
Recipe originally published July 7, 21013.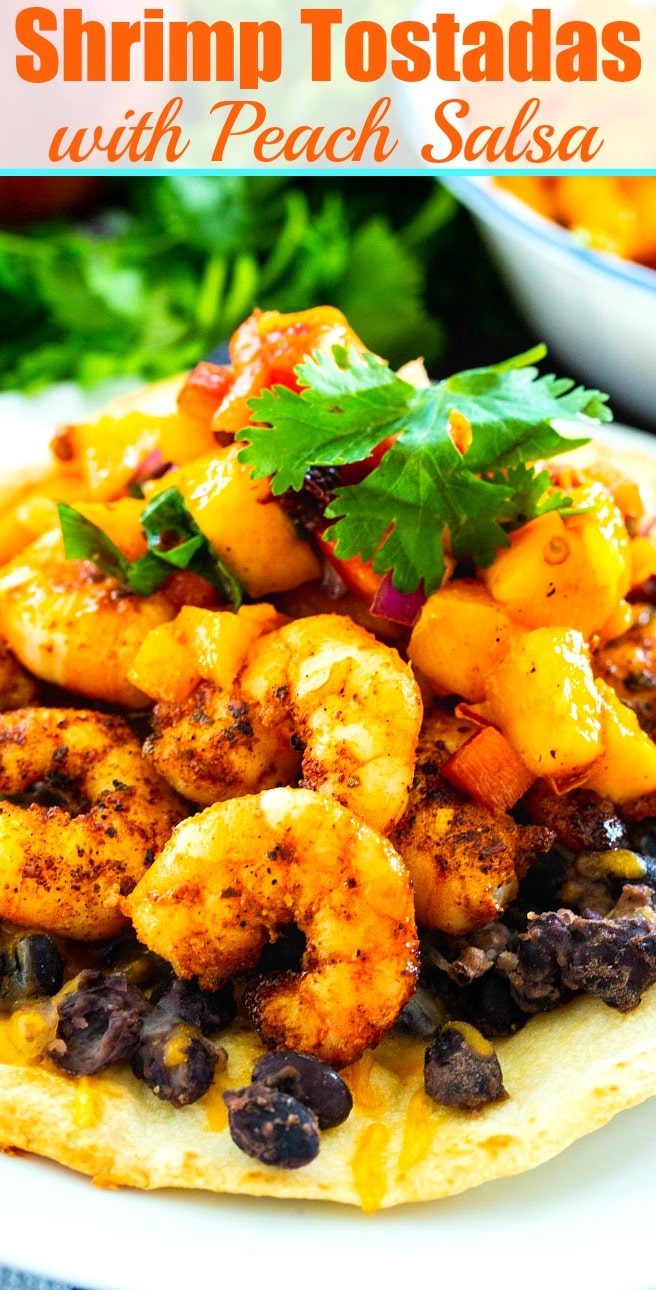 Disclosure: This post contains affiliate links.