This Oven Barbecued Chicken has all the flavor of chicken cooked on the grill, but no grill is needed. Slathered with bbq sauce, this chicken is so juicy and flavorful!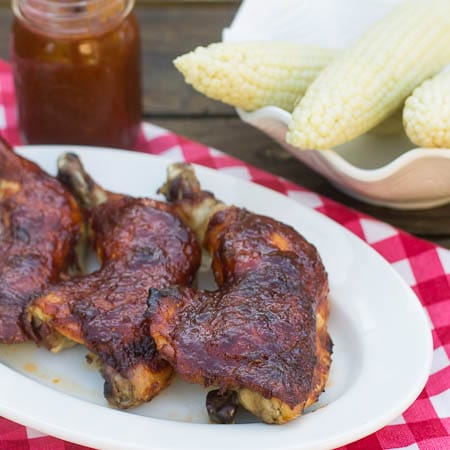 p>
Sometimes you want some good ole barbecue, but you don't feel like firing up the grill. You know those days when it's 110° with 90% humidity, there's not a breeze to be found, and an army of hungry mosquitoes seems to have descended on your backyard. On those days it's tempting to stay within the confines of the nicely air-conditioned (and bug free) house.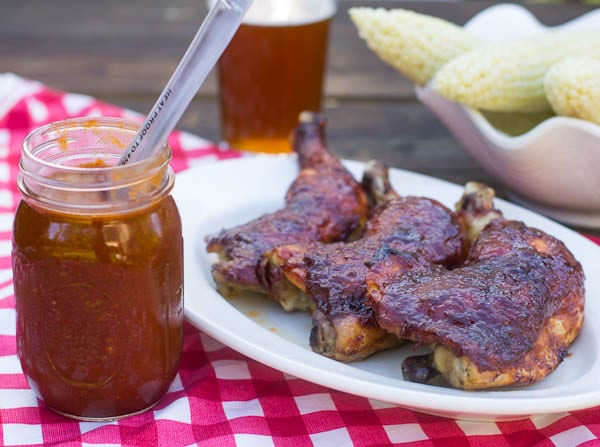 Chicken leg quarters are my favorite piece of chicken to barbecue. They have a good amount of fat so they stay juicy. Plus a pack of them is super cheap at the grocery store. As an added bonus, you get to eat 2 pieces of chicken but count it only as one. 🙂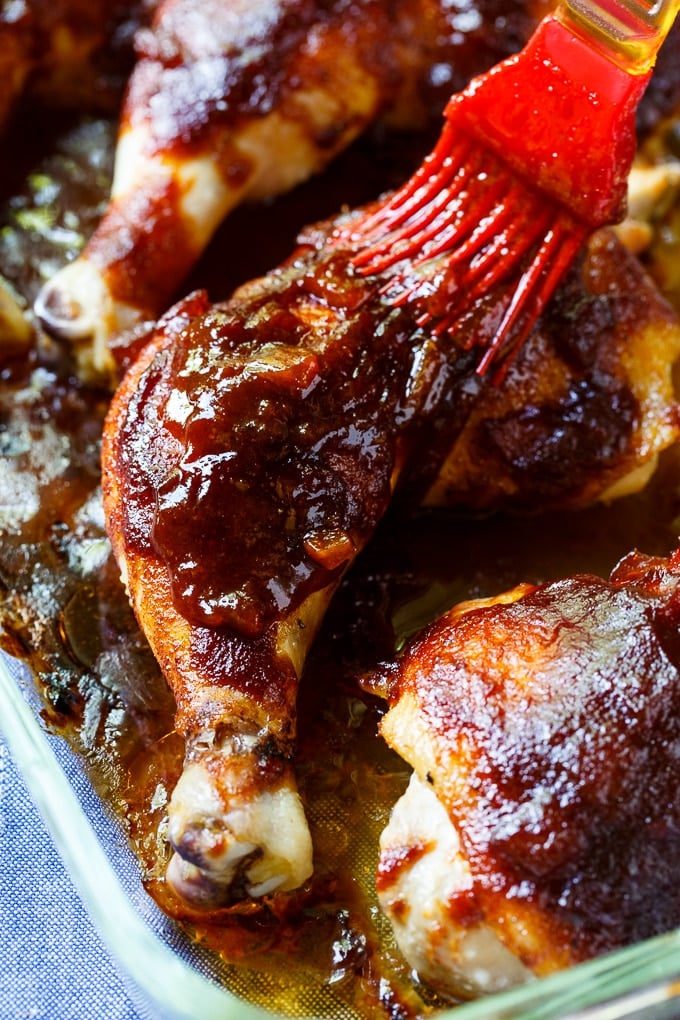 You can use any type of barbecue sauce, but I especially like the Dr. Pepper BBQ sauce I made for hot dogs a few weeks ago and that's what I used.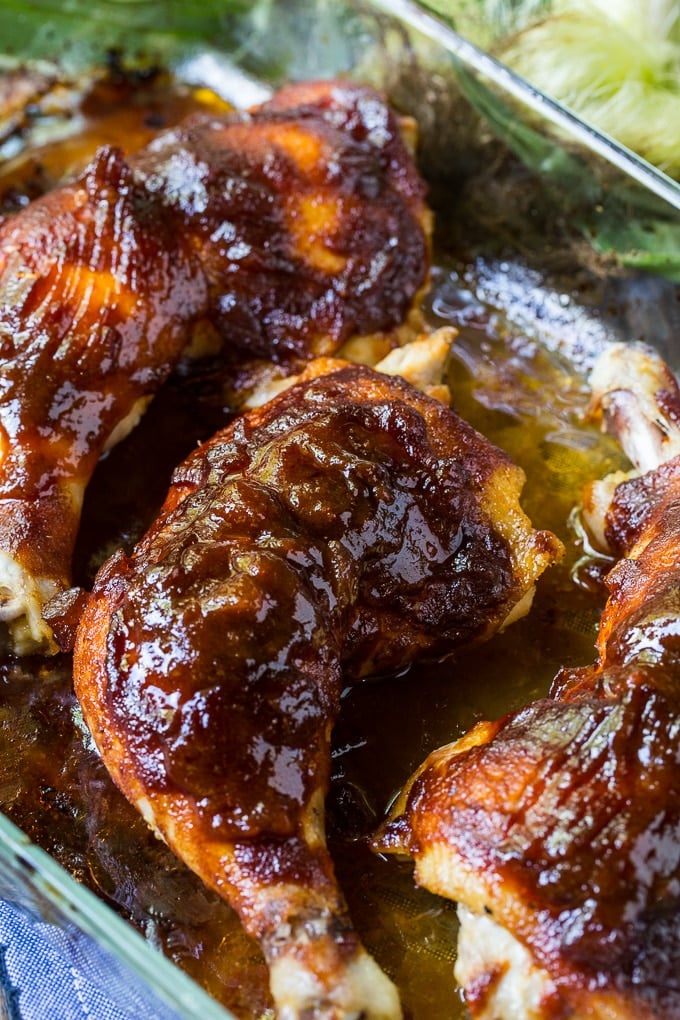 Giving the chicken a quick sear in a hot skillet before placing in the oven helps render some of the fat out of the skin, allowing it to become nice and crisp instead of soggy. Serve with a side of  slow-cooked baked beans, Buttermilk Slaw, and Summer Succotash for a summery meal no one will guess you didn't slave over the grill for.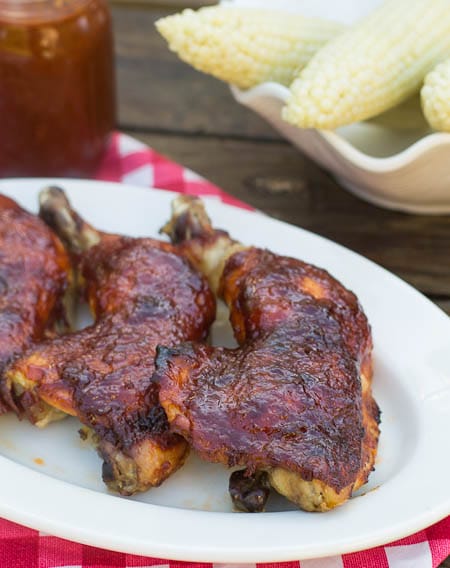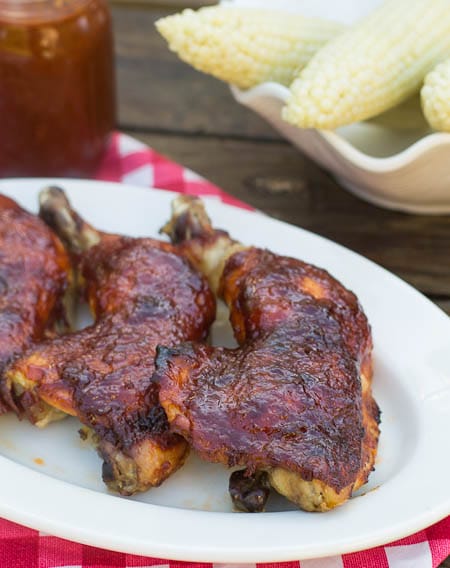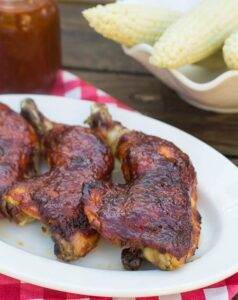 Oven Barbecued Chicken
Oven Barbecued Chicken is moist and flavorful and perfect for when you don't have access to a grill.
Ingredients
4

chicken leg quarters

Kosher salt and pepper

1

tablespooons

vegetable or canola oil

1

cup

BBQ sauce
Instructions
Preheat oven to 375°. Sprinkle chicken pieces lightly with salt and pepper. Heat oil in a large skillet over medium-high heat. Place 2 pieces of chicken in skillet skin side down and cook for 2 minutes, until skin is nicely seared.

Remove from pan and place skin side up in a large baking dish. Place remaining 2 pieces of chicken in skillet, using a little more oil if necessary. Sear skin for 2 minutes and place last 2 pieces in the baking dish.

Baste chicken with sauce and bake for 20 minutes.

Baste again and bake 15 minutes.

Baste a third time and bake for 15-20 minutes, until chicken is cooked through. Serve with any leftover sauce (bring it to a boil to be safe).
Want to Save This Recipe?
Oven Barbecued Chicken Goes Great With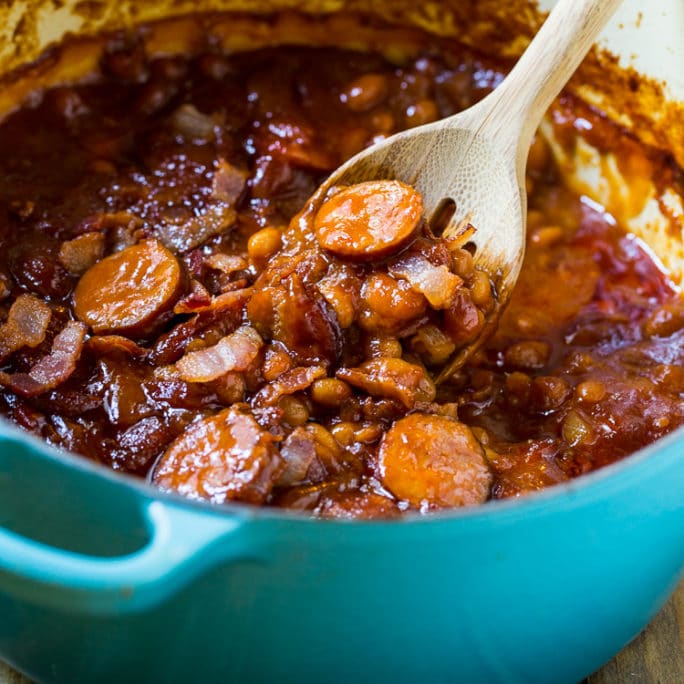 Baked Beans with Smoked Sausage