Creamed Chicken and Biscuits- this homestyle southern recipe is pure comfort food and so easy to make. A creamy chicken mixture topped with tender, cheesy biscuits is such a hearty family meal.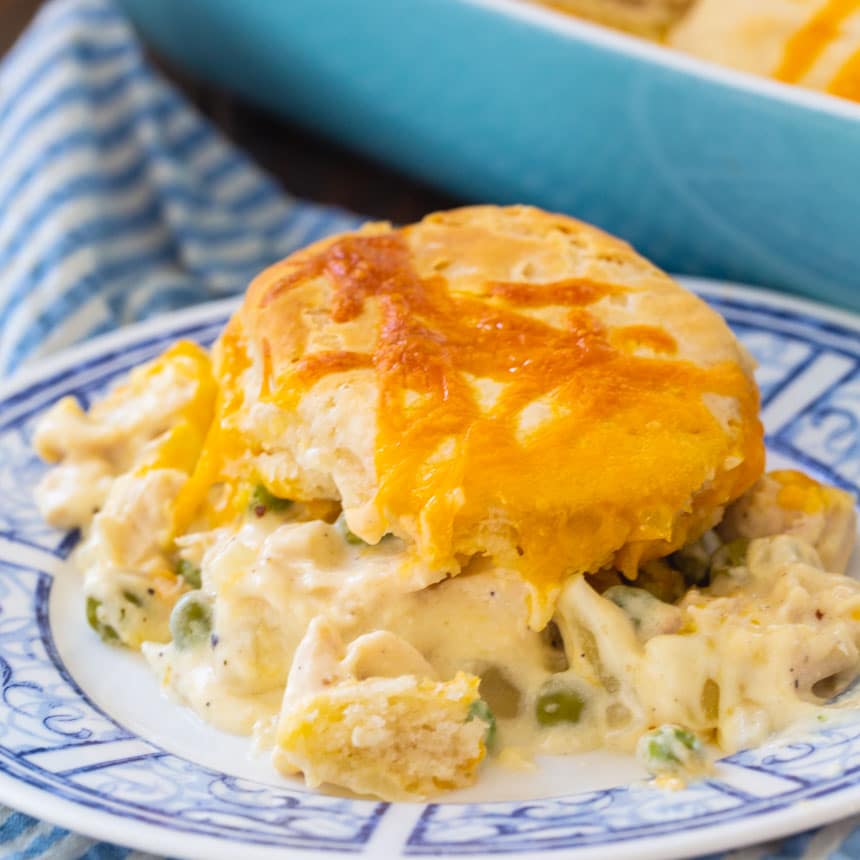 Some shortcuts make this a quick and easy dinner recipe that only takes about 10 minutes to prep.
Rotisserie chicken
Frozen biscuits
Condensed cream of chicken soup
You'll need 4 cups of cooked, diced chicken for this recipe. I suggest using a rotisserie chicken or cooking some chicken in your crockpot the day before.
I like the taste of frozen biscuits better, but you can definitely use refrigerated biscuits. Homemade biscuits would be delicious too.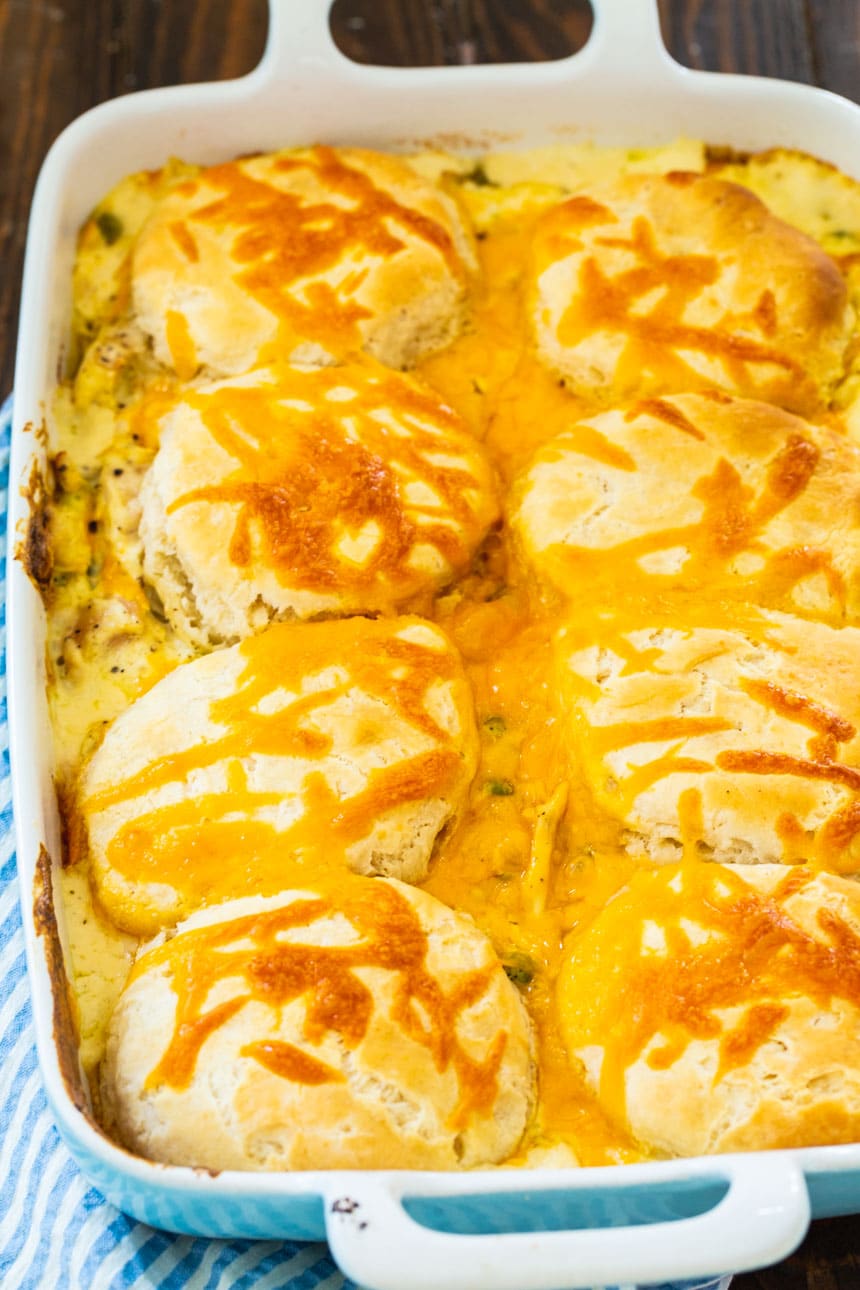 HOW TO MAKE CREAMED CHICKEN AND BISCUITS:
You'll start by cooking some diced onion in butter until soft. Transfer to a large bowl and add a can of condensed chicken soup, 1 cup of sour cream, 1/2 cup of milk, 4 cups of diced, cooked chicken, 1 cup of peas and some black pepper. Stir well and transfer to a baking dish. Sprinkle 3/4 cup of shredded cheddar cheese on top. Evenly place the biscuits on top. They will expand some. Sprinkle the remaining cheese on top and bake for 20 to 25 minutes or until the biscuits are golden.
You can leave the peas out if you wish, or use a mixture of peas and carrots.
The creaminess of the chicken mixture combined with the cheesy, tender biscuits that get golden and crispy around the edges, makes this an amazingly tasty recipe. It can be made in just 30 minutes!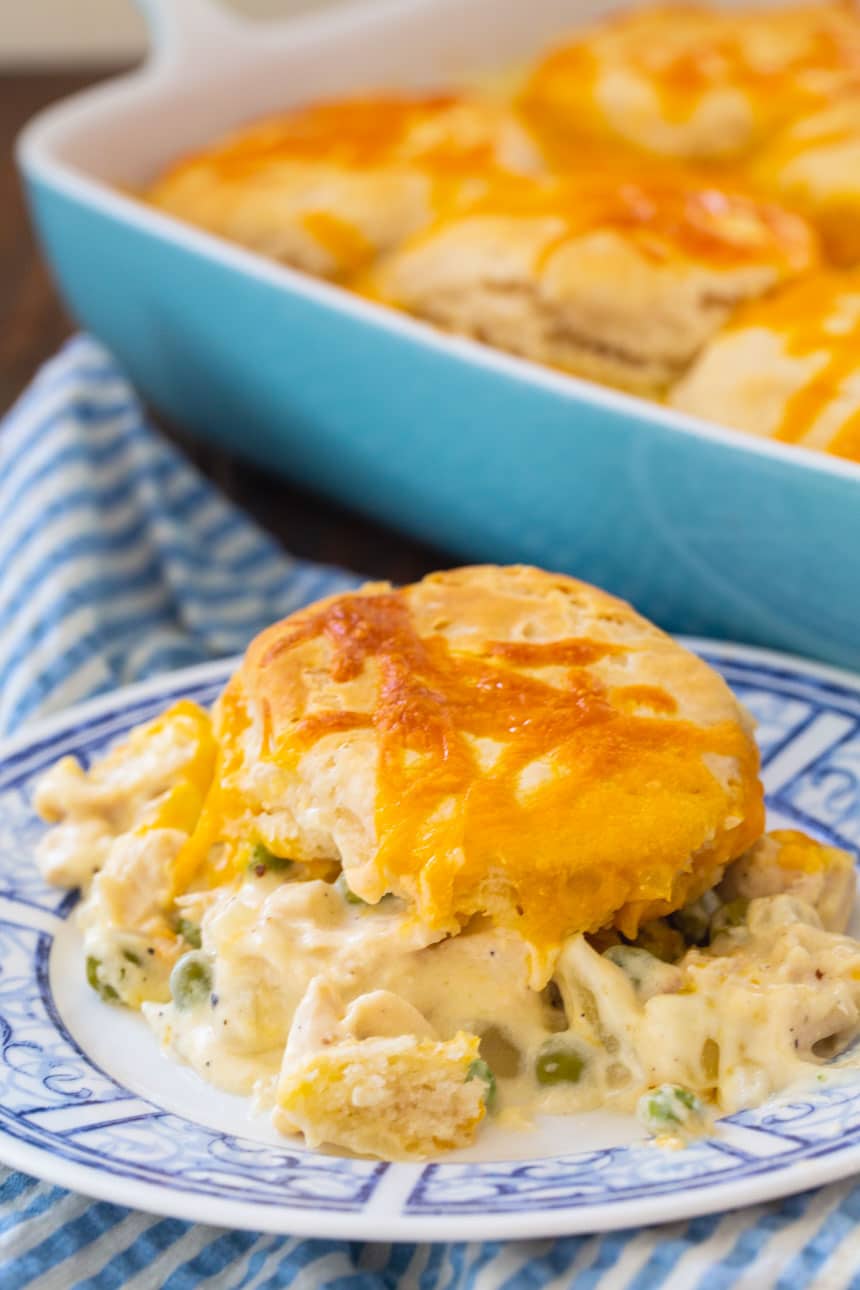 More Easy Chicken Dinners: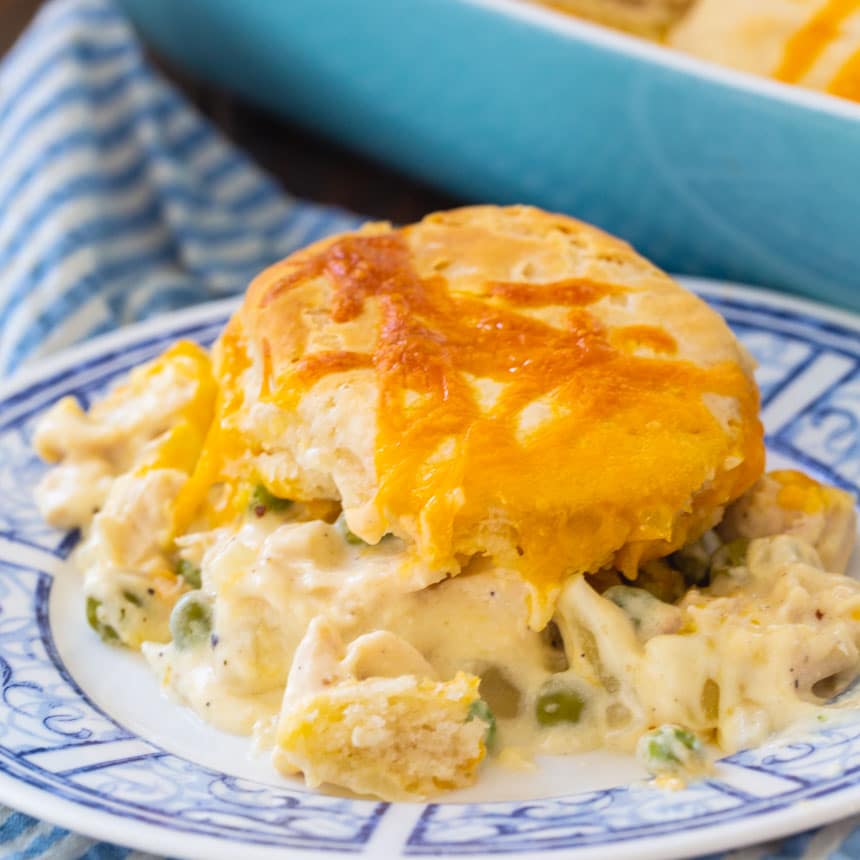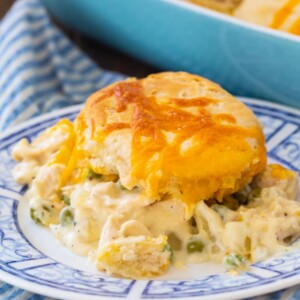 Creamed Chicken and Biscuits
A creamy chicken mixture topped with tender, cheesy biscuits. Pure comfort food!
Print Recipe
Ingredients
1

tablespoon

butter

1/2

cup

diced onion

1

(10.75-ounce) can

condensed cream of chicken soup

1

cup

sour cream

1/2

cup

milk

4

cups

chopped cooked chicken

1

cup

frozen peas,

cooked (optional)

1/2

teaspoon

black pepper

1

cup

shredded Cheddar cheese

8

frozen biscuits,

partially thawed
Instructions
Heat butter in a small nonstick skillet. Add onion and cook for 3 minutes to soften.

Transfer onion to a large bowl. Add soup, sour cream, and milk and stir well.

Stir in chicken, peas and black pepper.

Preheat oven to 350 degrees and grease a 7x11-inch baking dish.

Transfer chicken mixture to baking dish. Place in oven for 10 minutes.

Remove from oven. Sprinkle with 3/4 cup cheese. Arrange biscuits on top and sprinkle with remaining cheese.

Bake for 20 to 25 minutes or until biscuits are golden brown.
Nutrition