This Bananas Foster Cake has three layers of cinnamon-flavored cake, a caramel cream cheese frosting, and a scrumptious bananas foster topping. This New Orleans-style cake is a real showstopper.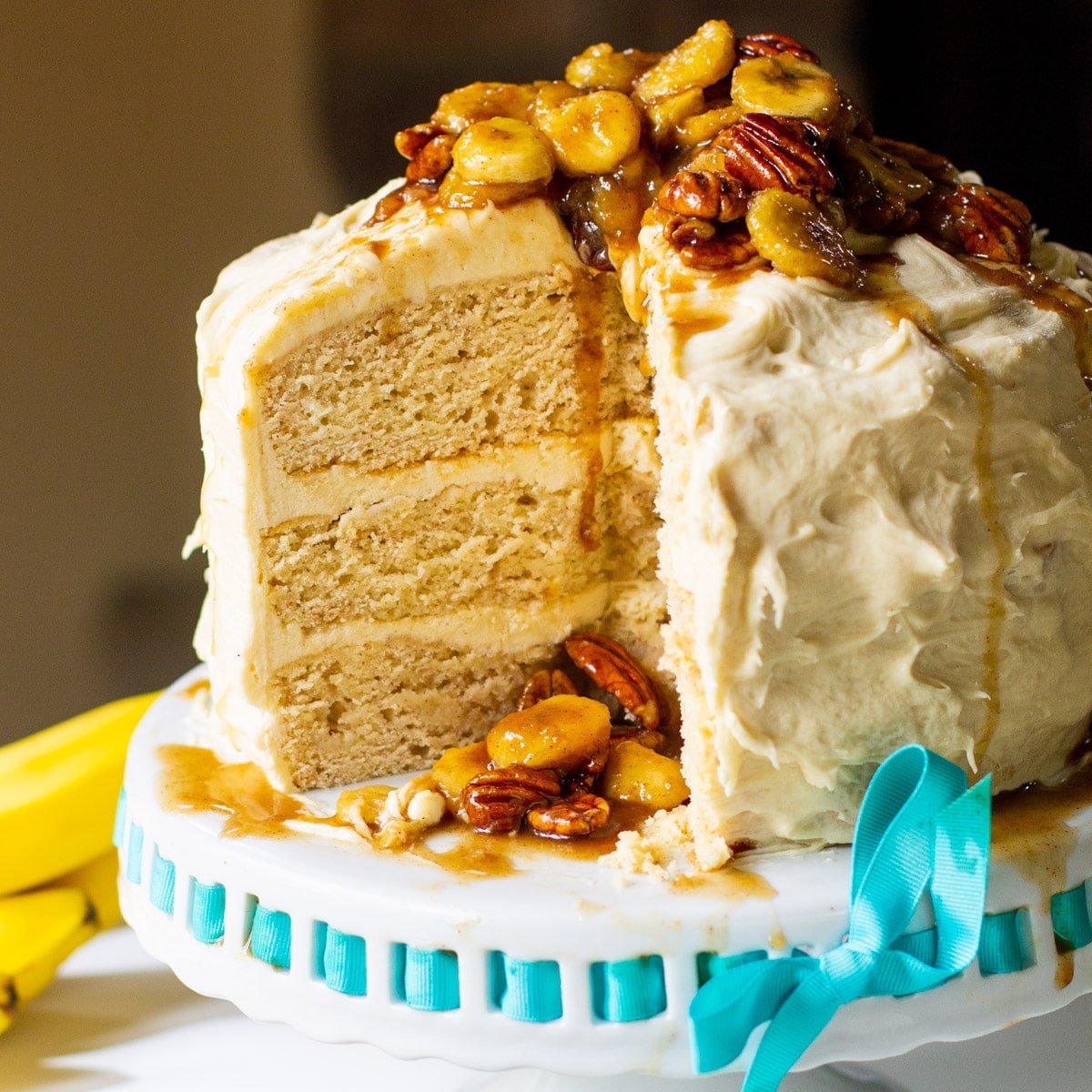 I saw a Bananas Foster Cake in a Southern Lady magazine and knew I had to try it. I've been baking a lot of banana desserts lately including Banana Pudding Bars and Banana Pudding Cupcakes. Maybe because since I entered my 40s last year, I feel like I am going bananas.
Bananas Foster is a delicious dessert created in the famous Brennan's restaurant in New Orleans in the 1950s. I've been looking for an excuse to try this cake version. It consists of a 3-layer cinnamon flavored cake with boat loads of caramel icing and a bananas foster topping.
Whether it's a birthday or holiday celebration, this cake is sure to impress. The cake portion turned out well. It was fairly dense, but not at all dry. If I were to make another Bananas Foster Cake, I would probably add some mashed bananas to the cake part to carry the banana flavor throughout the dessert.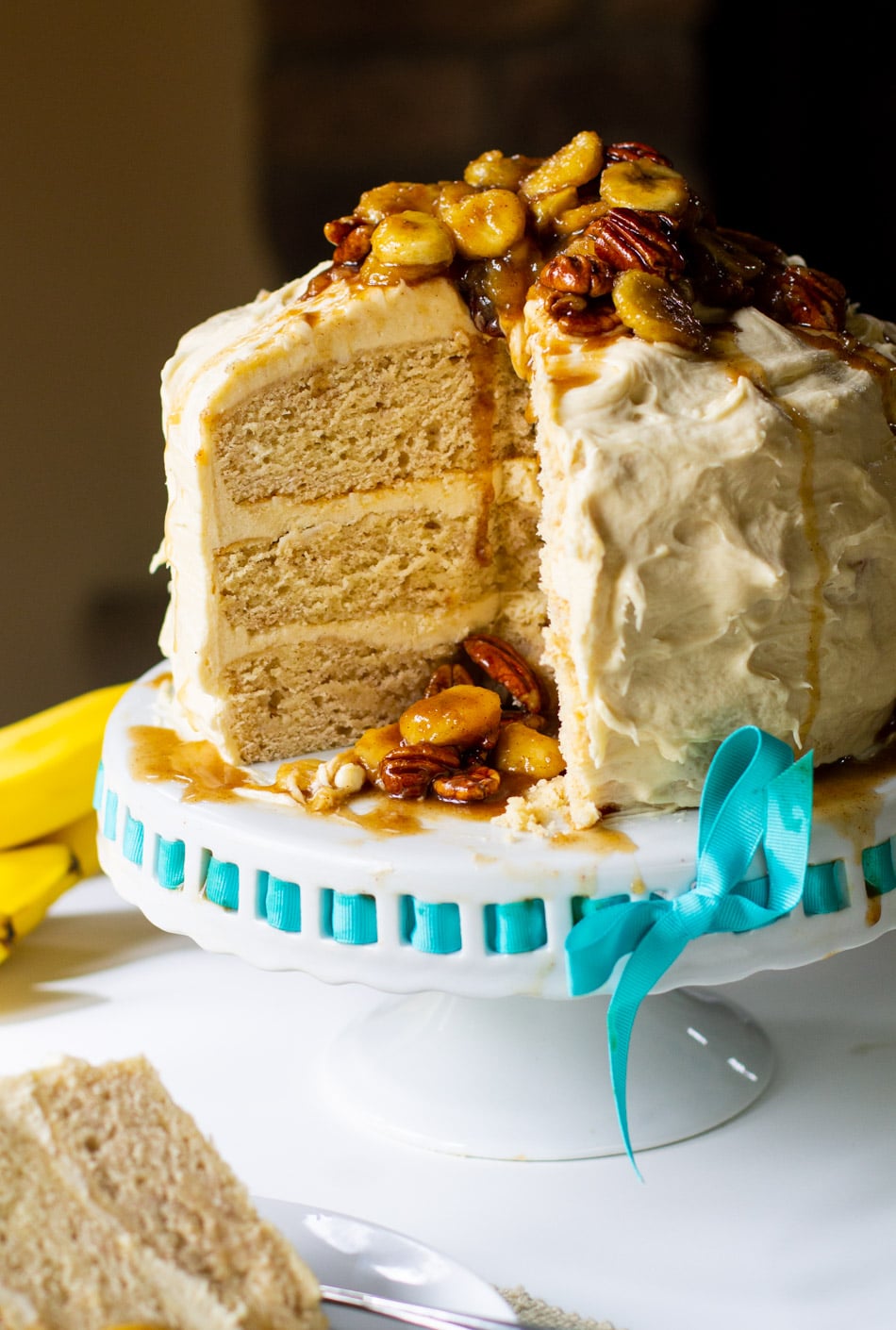 The Caramel Icing made a huge amount and while it didn't have a very strong caramel flavor, it was delicious. I should have spread more icing between the cake layers. I am the worst judge when it comes to using frosting. I'm always worried that I'm going to run out and not have enough to cover the top and sides. I shouldn't have worried though because in this case the recipe makes what seems like 2 gallons of icing. I ended up with so much frosting on the sides and top, my cake looked a little like a ball!
I added a little extra sugar to the icing because I didn't feel like it was sweet enough. The icing was a little on the thin side in consistency and after I got half way through icing the cake, I popped it in the fridge for a little while to firm it up before I finished the frosting job.
The topping was sinful, supremely sweet and boozy. The recipe calls for both dark rum and praline liqueur, but says to use just rum if you don't have any praline liqueur. Which I didn't. But I did have some macadamia nut liqueur which I decided to use since macadamia nuts go so well with bananas.
The topping was my favorite part of the cake and I excitedly piled it high on top of the cake. Which I soon regretted. It started to drip down the edges of the cake and over the side of the cake stand.  🙁 Lots of curse words were said. I must have gone through half a roll of paper towels while I was trying to take pictures. I could not for the life of me get it to stop flowing over the edges and dripping down onto my placemat.
I immediately wished I had not chosen the cake stand with the ribbon around it because now it is completely coated in bananas foster topping. This cake definitely needs to go on a cake stand with a lip around it. Oh well. Live and learn.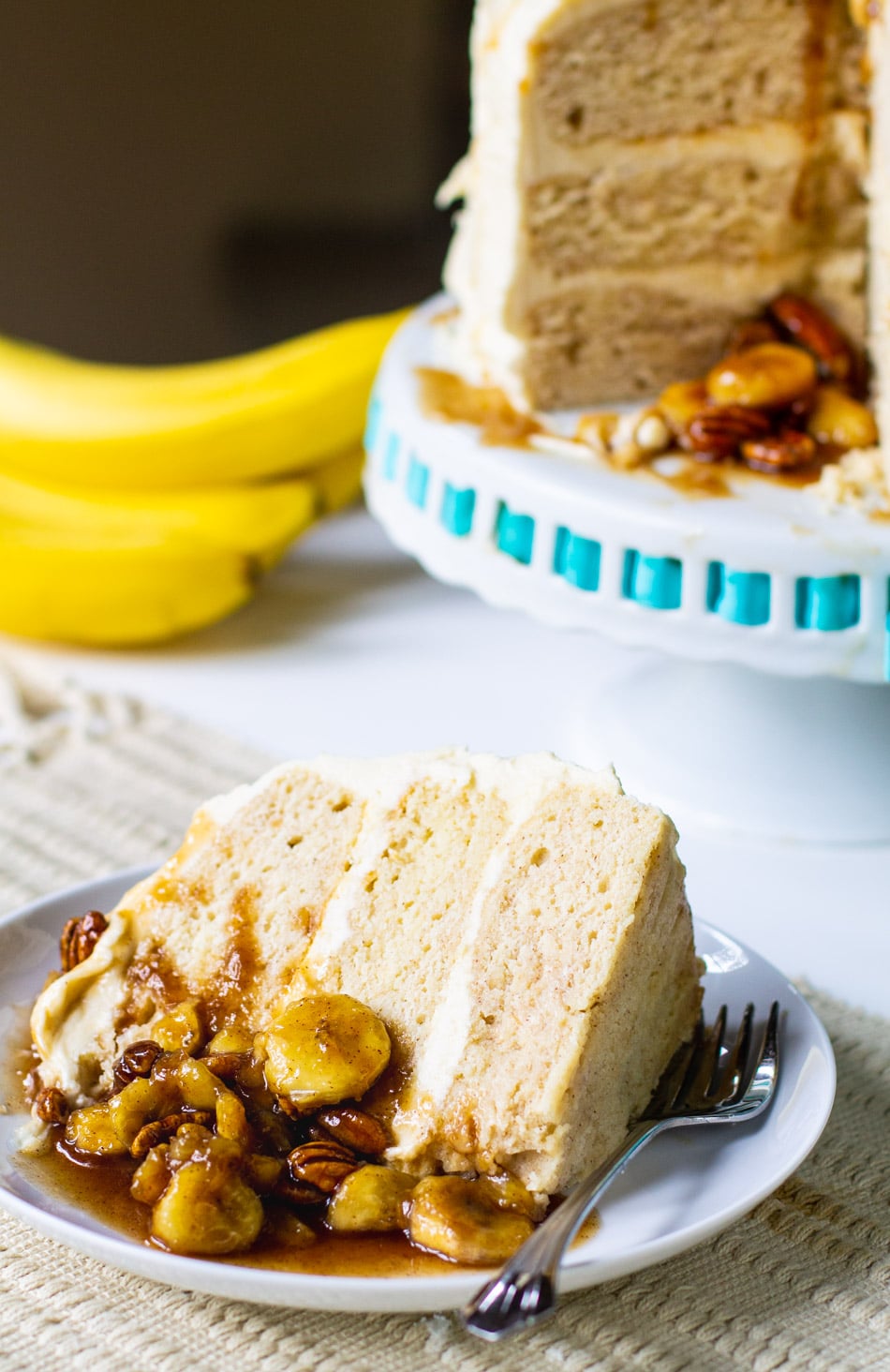 Try These Other Bananas Foster Desserts: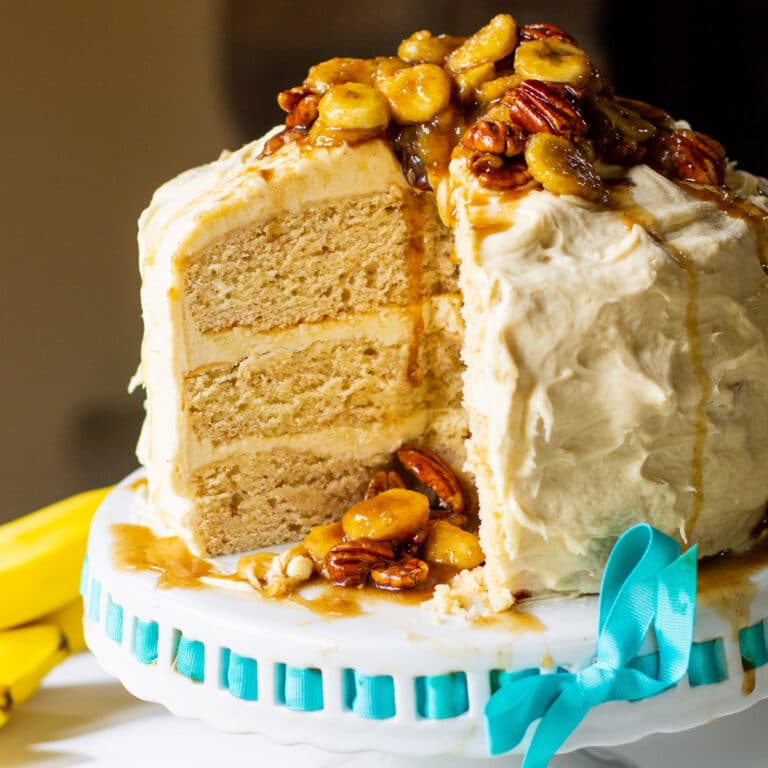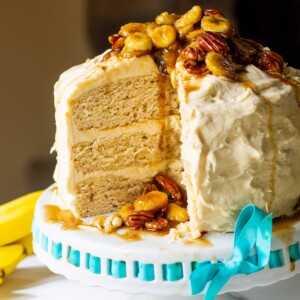 Bananas Foster Cake
A layered cinnamon-flavored cake with Caramel Cream Cheese Icing and a Bananas Foster Topping.
Ingredients
Cake
1 1/2

cups

butter,

softened

3

cups

sugar

6

large eggs

1

teaspoon

vanilla extract

5

cups

all-purpose flour

1

tablespoon

baking powder

2

teaspoons

ground cinnamon

1/4

teaspoon

salt

2 1/2

cups

whole milk
Caramel Cream Cheese Icing
3/4

cup

dark brown sugar

1/4

cup

heavy whipping cream

1 1/2

cups

plus 2 tablespoons butter,

softened and divided

2

(8-ounce)

packages cream cheese,

softened

1

teaspoon

vanilla extract

4

cups

confectioners' sugar
Bananas Foster Topping
1/4

cup

butter

1/2

cup

firmly packed brown sugar

1/2

teaspoon

ground cinnamon

2

tablespoons

dark rum

2

tablespoons

praline liqueur

1/4

teaspoon

salt

3

large ripe bananas,

peeled and sliced

1

cup

pecan halves
Instructions
Preheat oven to 350 degrees and butter and flour 3 (9-inch) round cake pans.

In a large bowl, combine butter and sugar and beat at medium speed with an electric mixer until fluffy.

Add eggs one at a time, beating well after each addition, and stopping to scrape down sides of the bowl. Beat in vanilla.

In a medium bowl, combine flour, baking powder, cinnamon, and salt.

Add flour mixture to butter mixture, alternating with milk, beginning and ending with flour mixture.

Pour batter into prepared pans. Bake 25 to 35 minutes or until top of the cake feels firm when gently pressed on. Let cakes cool 10 minutes. Remove from pans and place on wire racks to cool completely.

For icing, combine dark brown sugar, whipping cream, and 2 tablespoons butter in a small saucepan over medium heat. Cook for 3 to 4 minutes stirring constantly to dissolve the sugar. Let cool completely.

Using an electric mixer, beat remaining 1 1/2 cups butter and cream cheese at medium speed until smooth. Add brown sugar mixture and vanilla and beat to combine. Gradually add in confectioners' sugar, beating until smooth.

Spread icing between layers and cover top and sides.

For topping, melt butter over low heat in a medium skillet. Add brown sugar and cinnamon and cook for 3 to 4 minutes, stirring continuously.

Turn heat up to medium and add rum and liqueur and salt. Cook for 5 minutes, stirring frequently. Add bananas and pecans and cook for 1 minute. Let cool before spooning over top of cake.
Notes
This cake should be stored in the refrigerator.
Want to Save This Recipe?
Originally published Oct 16, 2013.
Recipe Source: slightly adapted from Southern Lady Magazine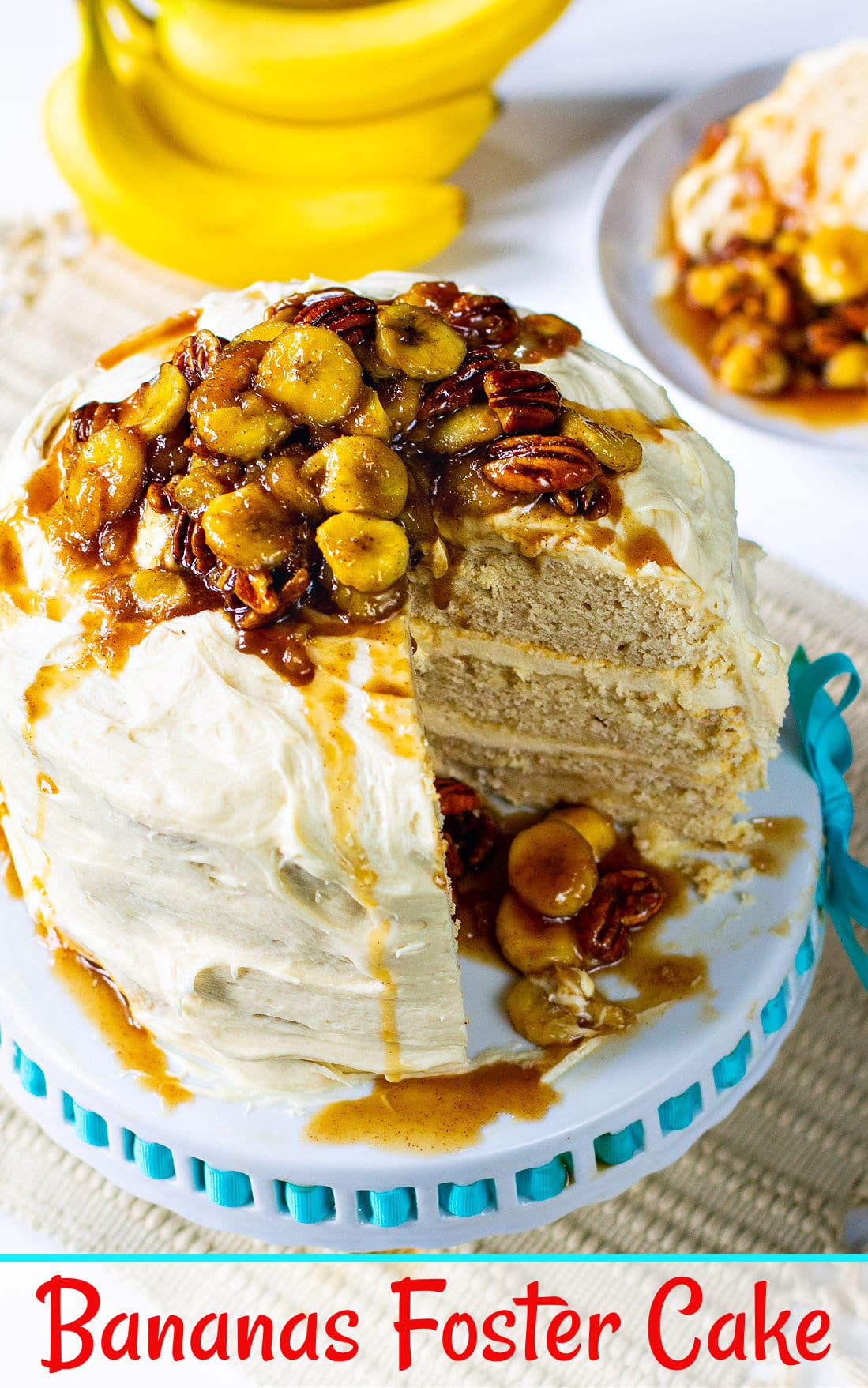 Disclosure: This post contains affiliate links.