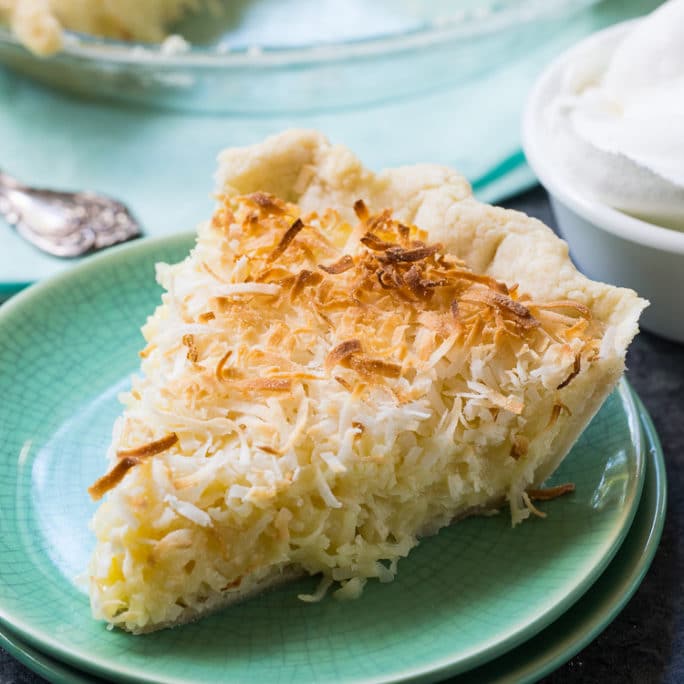 Coconut Macaroon Pie has a luscious custard filling with oodles of shredded coconut. The coconut on top gets a little bit browned and chewy and is such a wonderful contrast to the super sweetness of the custard.
This Coconut Macaroon Pie, like many pies, is ridiculously easy to make. That's why they say easy as pie, isn't it?
The filling can be mixed in just a matter of minutes, using only a bowl and a whisk. You can bake it in a refrigerated pie crust or a homemade pie crust.
I recommend a homemade pie crust. Watch the video below to learn how to make an easy pie crust with White Lily flour from Linda Carman, the director of the Martha White test kitchen. Linda has lots of wonderful tips and you really can't go wrong with this flaky pie crust. It is so easy!


The filling is made from 2 eggs, a can of sweetened condensed milk, butter, and flour, plus lots of shredded coconut. A little almond extract adds some flavor. The filling needs just 40 to 45 minutes in the oven to set.
If you're like me, when you see there's a can of sweetened condensed milk in a recipe, you know you're going to like it. I mean, does it get any better than sweetened condensed milk?
For the coconut lover, this Coconut Macaroon Pie is pure heaven. Serve with a dollop of whipped cream for the ultimate coconut dessert. It's like eating a whole bunch of coconut macaroon cookies in a pie crust!
Watch the video below to learn how to make my favorite flaky piecrust.
CLICK HERE to see the post for Flaky Pie Crust
Adapted from Taste of Home
More Easy Pie Recipes
Black-Bottom Coconut Cream Pie
Disclosure: This post contains affiliate links.