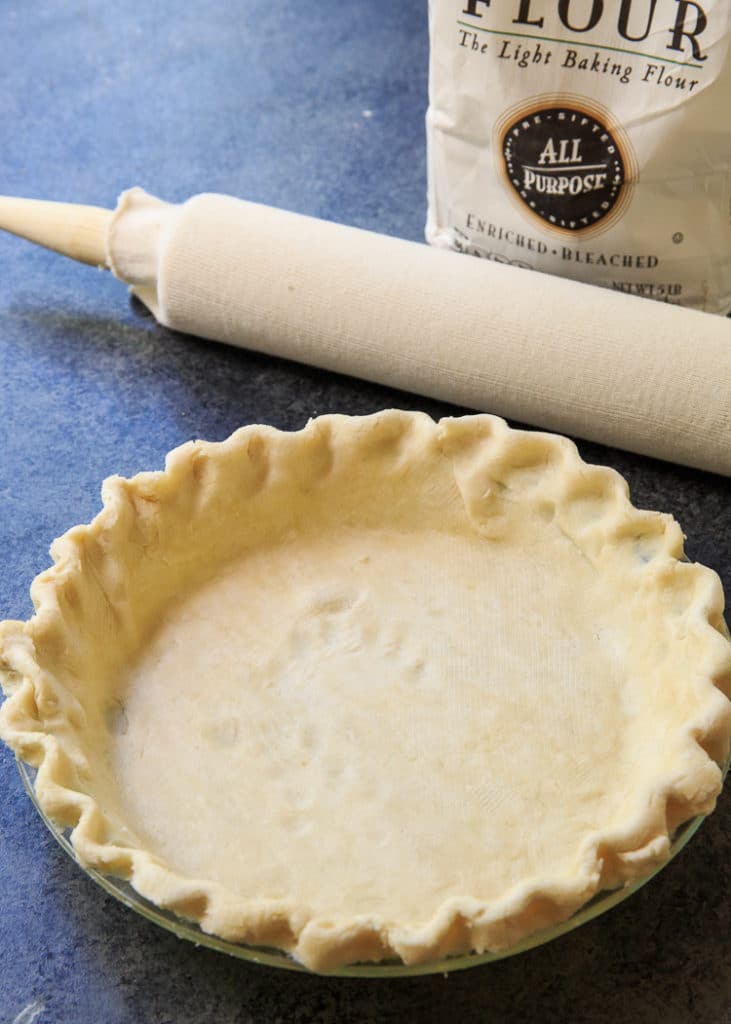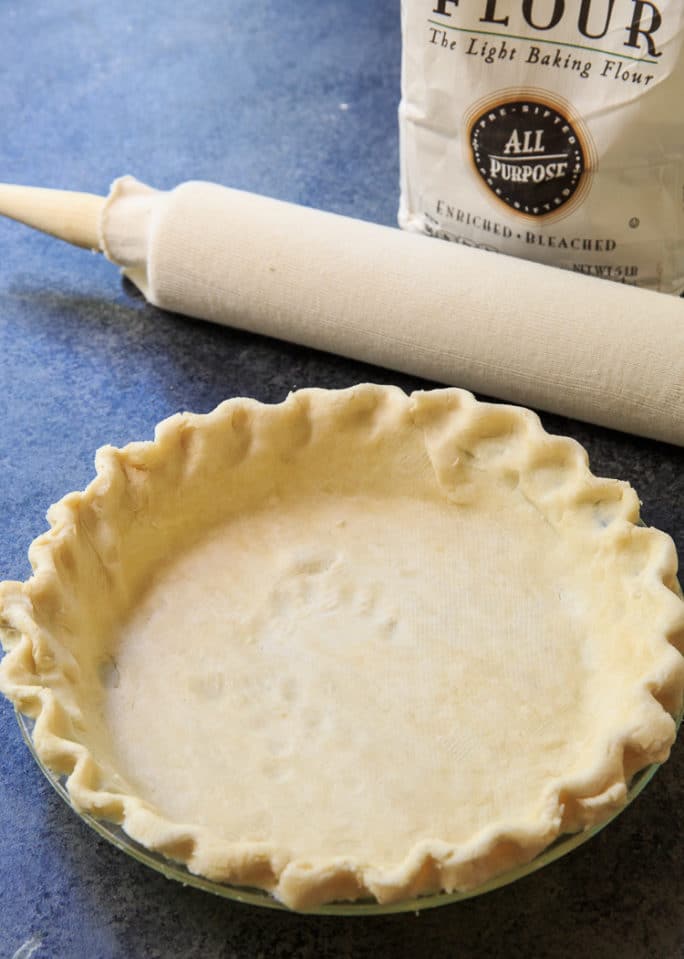 Looking for a go-to homemade pie crust recipe? This Flaky Pie Crust is a super tender, melt-in-your mouth pie crust that's perfect for all of your holiday pies, sweet and savory alike.
This is a simple pie crust recipe I learned from Linda Carmen when I was in Nashville, Tennessee a few months ago. Linda, the director of the Martha White/White Lily test kitchen, is a wealth of knowledge when it come to southern baking.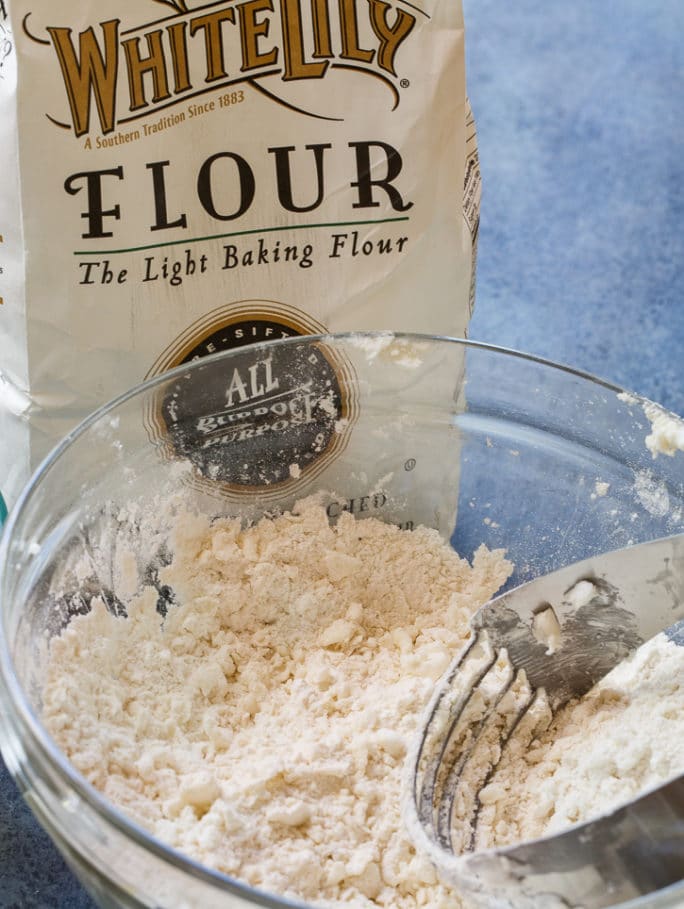 Making homemade pie crust need not be intimidating and this recipe is so easy. It makes a single pie crust and only uses 3 ingredients, plus water.
You start with 1 1/2 cups White Lily All-Purpose flour. White Lily is a soft wheat flour and it is perfect for making super tender and light biscuits and pastries.
Probably the most important part of this recipe is measuring the flour correctly. Flour can really get packed down sitting on the grocery store shelf in a bag, especially a more finely ground flour like White Lily or cake flour.
Dump some flour into a bowl and whisk it to make sure all the lumps are out. Then use a large spoon to spoon it into the measuring cups. Use the back of a knife to scrape off the flour so that it is level with the top of the measuring cups.
Put the measured flour in a bowl. Add salt and then use a pastry cutter to work in 1/2 cup Crisco shortening that has been chilled in the freezer.
Shortening is best for making flaky pie crusts. If you want the flavor of butter, try using butter-flavored Crisco.
Next, add and work in 1 tablespoon of water at a time starting at one side of the bowl and gradually working your way across the bowl with each addition of water. It is so much easier to get the dough mixed together evenly when you are just concentrating on one section at a time. I love this method that Linda taught me.
Before I would sprinkle all the water on top at once and I would end up with a wet top and lots of dry stuff underneath and it was hard to get it to come together evenly.
Another tip Linda has is to take a few minutes to shape it into a disc with smooth edges before wrapping it in plastic wrap and refrigerating it. Any uneven edges left at this point will turn into cracks when you roll out the dough.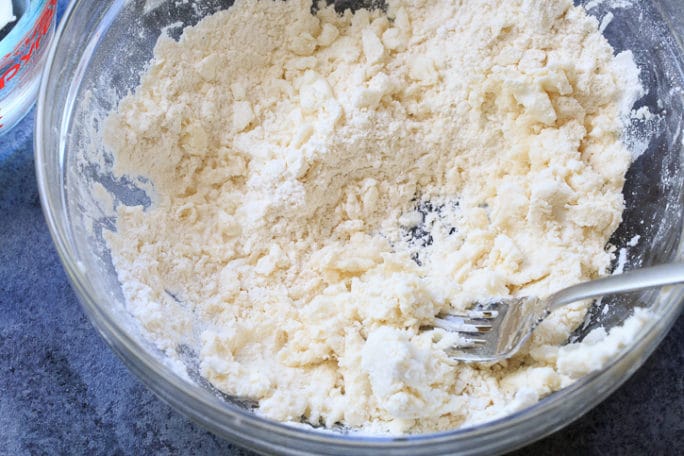 You can make the dough a day or two ahead of time. It needs to be refrigerated for at least an hour before rolling it out.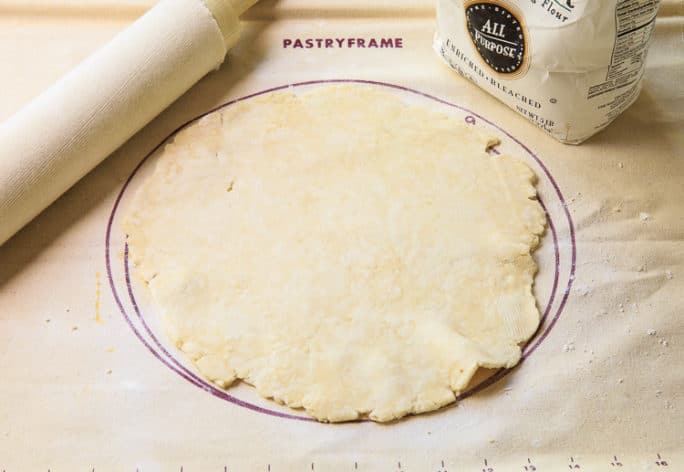 Linda suggests using a pastry cloth for rolling out pie dough. Rub a little flour into it and you will have virtually no sticking, plus the flour tends to stay adhered to the cloth so your dough doesn't end up with a bunch of flour stuck to it. It's also helpful that the pastry cloth has pie measurements on it so you know when you've rolled it to just the right size.
Once rolled out and shaped into a 9-inch pie plate, refrigerate the pie crust and you are ready to bake a pie with a Flaky Pie Crust in just 30 minutes!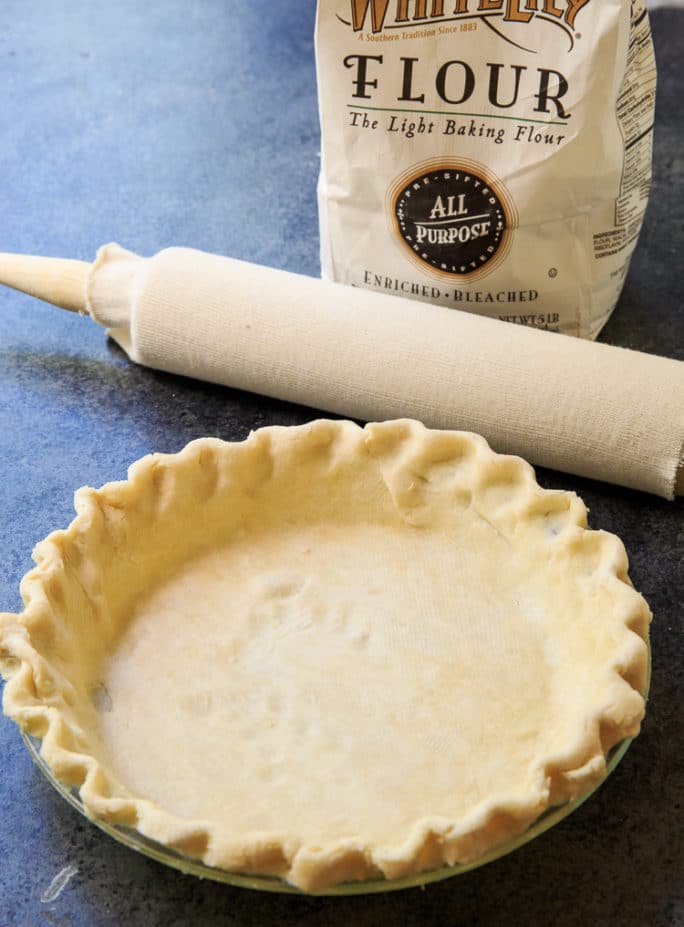 Watch a short How To Video for this recipe below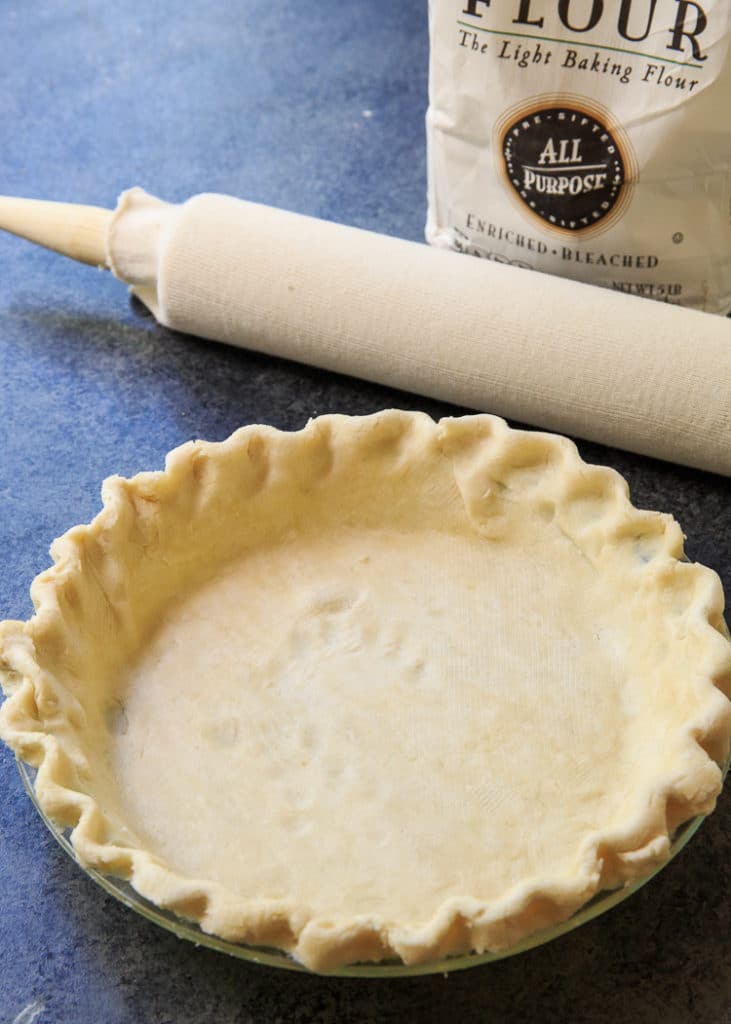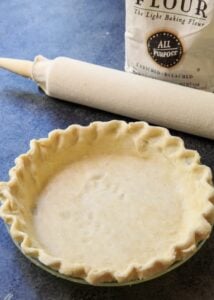 Flaky Pie Crust
SERVINGS:
1
9-inch pie crust
Ingredients
1 1/2

cups

White Lily® All-Purpose Flour

1/2

teaspoon

salt

1/2

cup

Crisco® All-Vegetable shortening,

chilled

4

to 8 tablespoons ice-cold water
Instructions
Important step- be sure to measure the flour properly. Place some flour (enough to be sure you have at least 1 1/2 cups) into a medium bowl. Whisk it to remove any clumps.

Spoon flour into measuring cups and use a back of a knife to scrape off excess flour so that flour is exactly level with top of measuring cups.

Place measured flour in a large bowl and mix in salt.

Cut shortening into pieces and add to flour mixture. Use a pastry cutter to cut it in until it resembles coarse crumbs. You want to still be able to see the pieces of shortening though so don't work it in too much.

Sprinkle 1 tablespoon water over the mixture on one side of the bowl. Use a fork to mix it into the flour mixture just in that section. Gradually work your way across the bowl, one tablespoon at a time. Only working 1 tablespoon of water into 1 small section makes it much easier to get the water evenly mixed into the dough instead of some portions (usually the top) being too wet and others too dry.

You've added enough water once it will hold together in a ball.

Form dough into a disc and be sure to smooth out the edges. Any uneven edges at this point will just form cracks when you roll it out.

Wrap in plastic wrap and refrigerate at least 30 minutes or overnight.

Remove dough from refrigerator and place on a lightly floured surface. I like to use a pastry cloth. You will have virtually no sticking with it and can use much less flour.

Roll dough out turning dough 45 degrees between each roll.

Once dough is 12 inches in diameter, transfer to a 9-inch pie plate. Carefully fit dough to pie plate and trim dough to within 3/4-inch of rim.

Fold excess dough under to build up edge. Use your fingers to flute edge.

Cover and refrigerate at least 30 minutes before baking.
Want to Save This Recipe?
Disclosure: This is a sponsored post. I appreciate the opportunity to share products I love and use in my own kitchen.