Chocolate Chess Pie is such a simple pie to make with so much chocolate flavor. One bowl and a few minutes of time are all you need to prepare this pie. Serve with fresh whipped cream and you have an amazing southern dessert.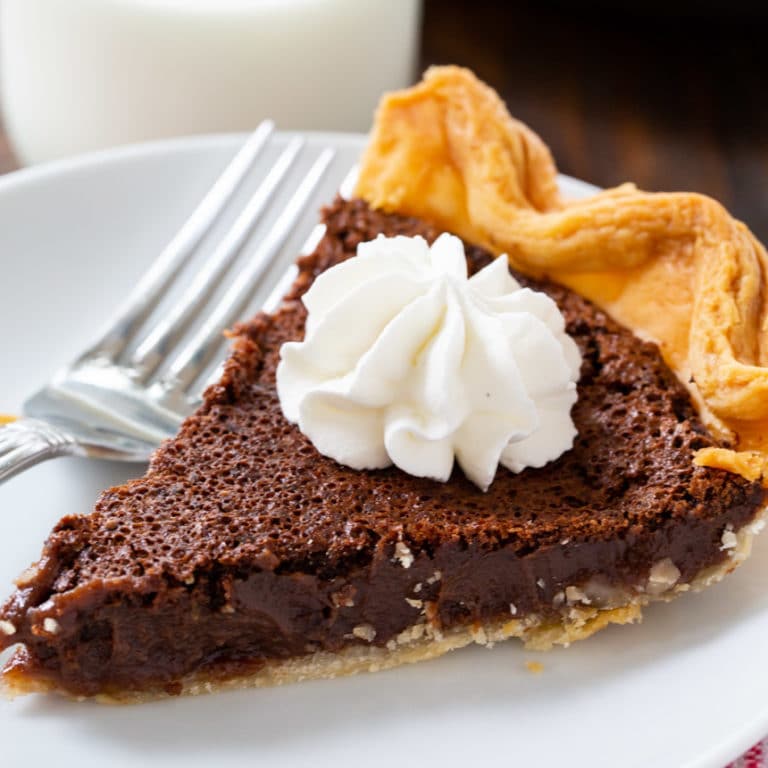 A Classic Southern Recipe
Pies are one of my absolute favorite things to eat and I especially like simple, old-fashioned pies like this Chocolate Chess Pie. Chess pies are so quick and easy to make and only require a few basic ingredients. Typically chess pies contain flour, sugar, butter and eggs.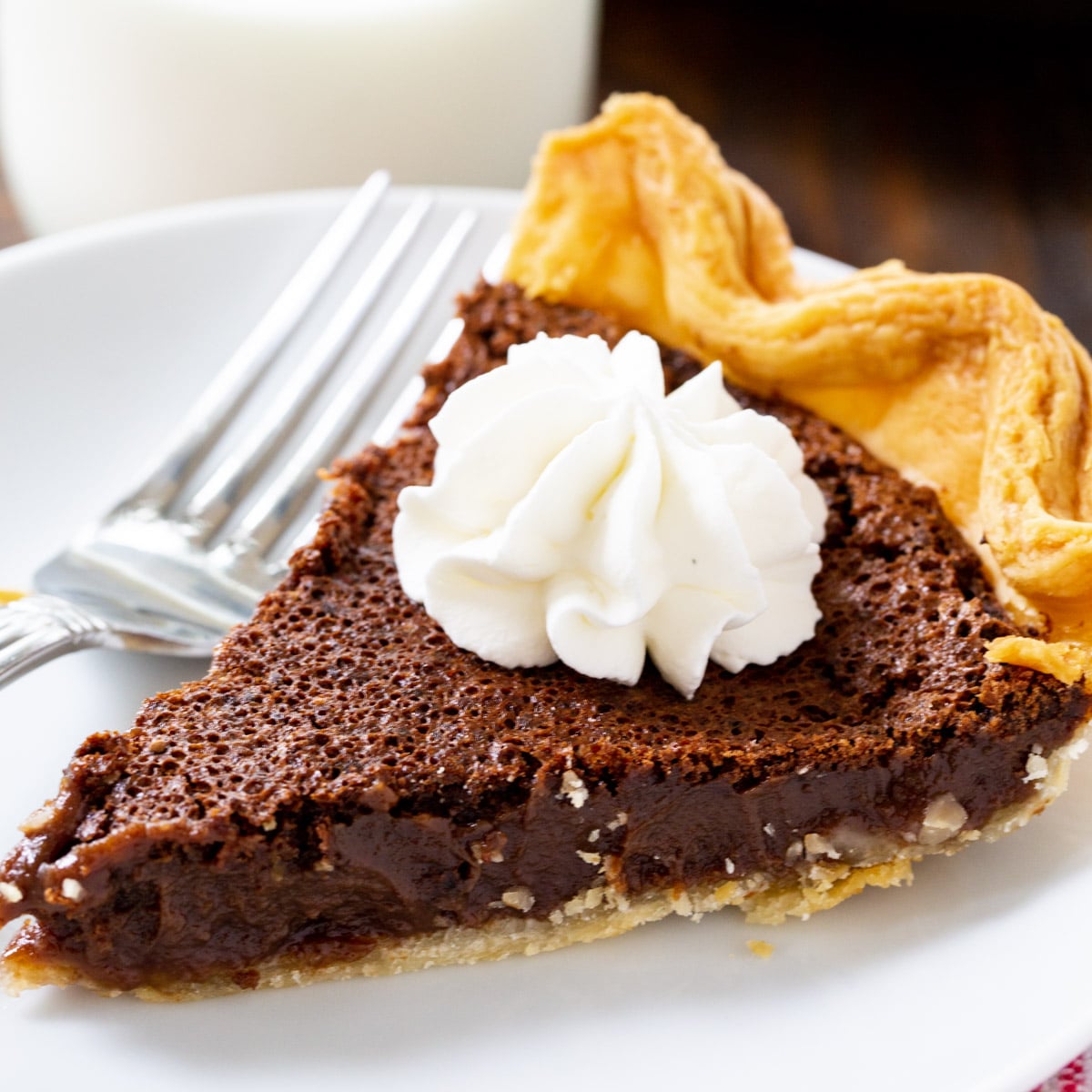 This Chocolate Chess Pie is wonderfully sweet and full of chocolate flavor. It has a custard filling that is rich, but not too heavy and I like to serve it either at room temperature or chilled.
Bake in Advance
For best results, bake a day in advance and chill overnight. If you try and slice it right after baking, the filling will be runny. I love to refrigerate Chess Pie, but it will be fine left on the counter at room temperature for a few days.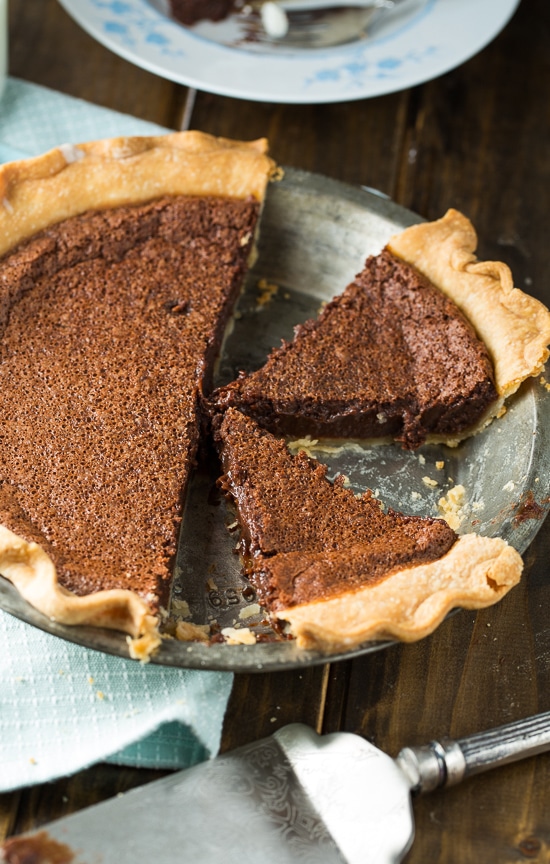 This Chocolate Chess Pie is such an easy pie to make  and only a few ingredients are needed. It's super sweet, creamy, and delicious with plenty of chocolate flavor. I usually use a store bought pie crust and then it only takes a few minutes to prep this pie. Forty-Five minutes later you have a wonderful homemade dessert to serve with supper. I like to serve it with whipped cream that's barely been sweetened to cut the sweetness of the pie some.
Next to Chocolate Meringue Pie, this is probably chocolate pie to make. The top develops a thin, crackly layer and the filling underneath is so smooth and creamy.
If you'd like to make a homemade pie crust for this recipe watch the video below. Linda Carman, the head of the test kitchen at Martha White, shows me how to make an easy, flaky pie crust.
Have a wonderful week full of pie!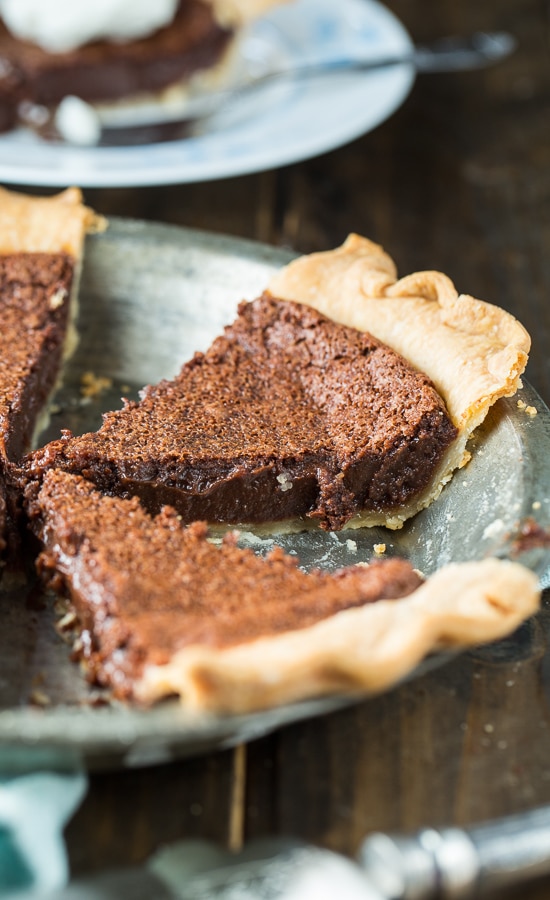 More Chess Pie Recipe To Try
Watch the short video below to see how easy this recipe is to make: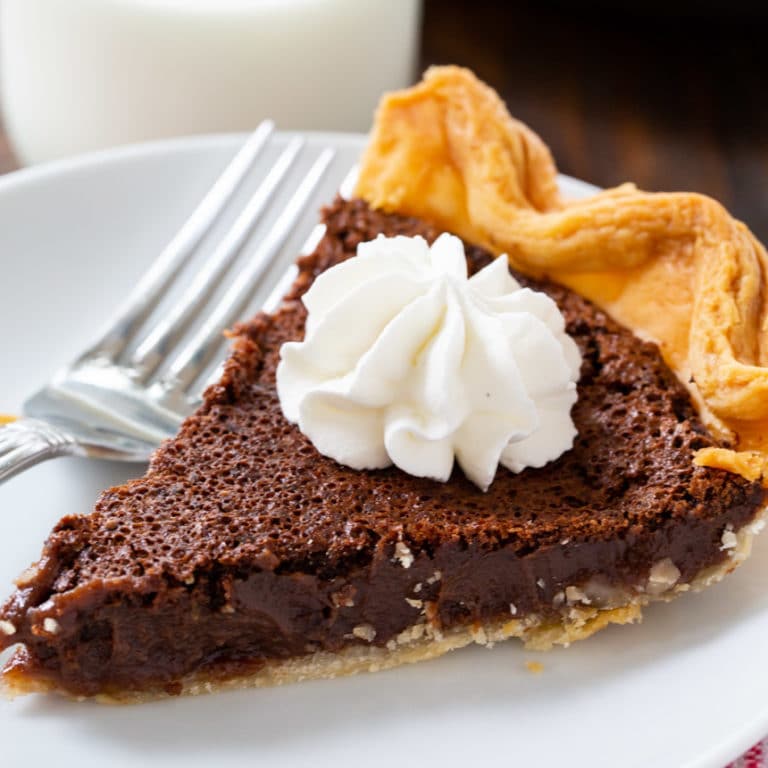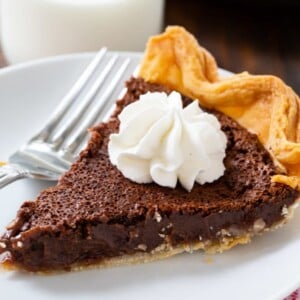 Chocolate Chess Pie
This Chocolate Chess Pie will make you feel like you are sitting in your grandmother's kitchen. It is rich creamy and so sweet and full of chocolate flavor!
Ingredients
1 1/2

cups

granulated sugar

1/4

cup

unsweetened cocoa powder

2

eggs,

lightly beaten

2/3

cup

evaporated milk

1

teaspoon

vanilla extract

pinch of salt

4

tablespoons

butter,

melted

1

(9-inch)

uncooked pie crust,

store-bought or homemade

whipped cream for serving
Instructions
Preheat oven to 350 degree.




Bake for about 45 minutes. There will still be a little jiggle in the middle when you shake it. Cool completely before slicing. I like to chill it in the refrigerator before serving.



Serve with whipped cream.
Want to Save This Recipe?