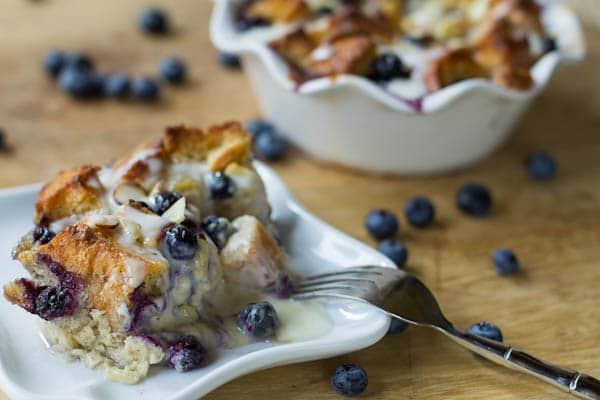 You have to love a food like bread pudding that gives an ingredient a second chance. It's kind of like the ultimate makeover story. Take some stale crusty old bread that no one wants, soak it in a mixture of cream, eggs, and sugar. Bake it until it's warm, and- Voila!
You've turned an ugly duckling into a beautiful swan.
My father always disparaged bread pudding as soggy ole bread, so it wasn't until I was in my 30s that I realized what a rich and delicious dessert bread pudding is. It has become possibly my favorite dessert- when done right. Because admittingly, there are quite a few lackluster bread puddings out there. Restaurants, listen up.
Raisins, which are one of my least favorite foods, are way overplayed in bread pudding. Just my opinion of course. Feel free to disagree.
Bread pudding with blueberries? That's something I find much more interesting and delicious. Especially when we're talking about a combo of fresh blueberries and dried blueberries paired with white chocolate. Sounds good doesn't it?
But…. it get's even better. It's topped with crunchy almonds and literally drowning in amaretto cream. Is there anything better than amaretto cream? If you think not, check out this Almond Cake with Amaretto Filling recipe. It's maybe the best cake ever.
Sorry to digress. Amaretto Cream can do that to a girl.
If you're a bread pudding lover, you need to try this Blueberry White Chocolate Bread Pudding recipe. And even if you're not, you should still try this recipe. You will become a bread pudding lover. Or at least make the amaretto cream and just drink it in a glass. (Yeah, I can admit I thought about it.)
Recipe Source: adapted from
Emeril Lagasse
More Bread Pudding Recipes