This Almond Cake with Amaretto Filling is an almond lover's dream. It's covered in an incredible almond buttercream. This cake takes a little time to prepare but it is worthy of a special occasion. It makes a fabulous wedding cake.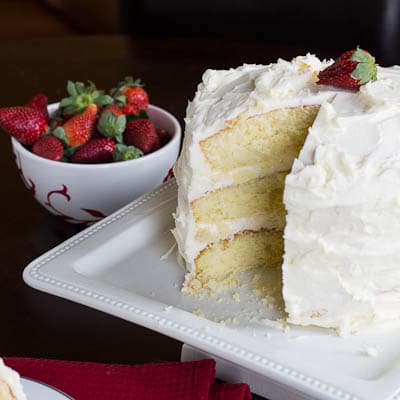 p>

Hello and welcome to SpicySouthernKitchen.com. My name is Christin and I love food. Spicy foods and southern foods are my favorites. I love to try new things in the kitchen and it's really not an exaggeration to say that I hardly ever cook the same thing twice.
Since it's Valentine's Day, I thought I'd share an extra-indulgent recipe- Almond Cake with Amaretto Filling. This has to be one of my favorite cakes ever. It has a wonderful almond flavor in the filling, the frosting, and the cake itself. It's the almond lover's trifecta. This cake is perfect for any special occasion whether it be Valentine's Day, Christmas, a birthday, or even a wedding. My husband and I had an almond-flavored cake for our wedding. I still think about it almost 17 years later.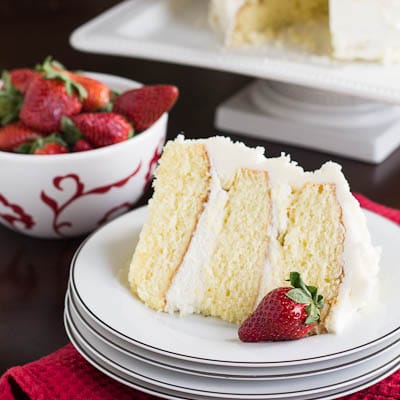 This is a recipe that was published in Taste of the South Magazine which is one of my favorite magazine's for recipes. But sometimes their recipes can be hit or miss and they don't always have the best directions. I was pleased to find that this recipe turned out exceptionally well, which is good because I put a large amount of time and energy into it.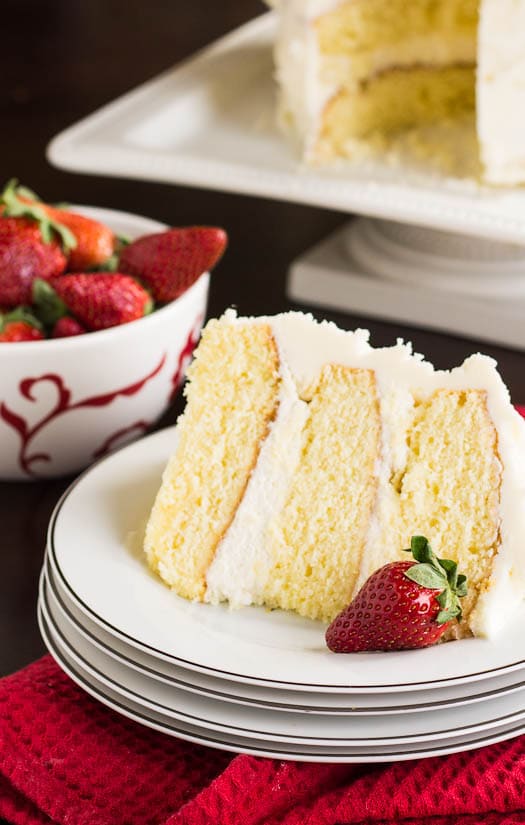 I was a little uncertain about making the almond cream beacause after soaking the almonds in the 2 cups of heavy cream, I ended up with a lot less then 2 cups of almond cream, even after pressing the heck out of the almonds in the strainer. But the recipe doesn't say how much you should end up with. I was worried I had too little and that I'd end up with a dry cake. I fugured I'd rather ere on the side of having too much liquid ingredients rather than too little, so I added in about another 1/4 cup of heavy cream. Because after all, how can you have too much heavy cream?
I was also a little afraid that my filling would not turn out because my gelatin didn't seem to disslove very well. But it has heavenly. I would have been perfectly happy to forget the cake layers and just sit down on the couch with a spoon and the bowl of amarreto filling.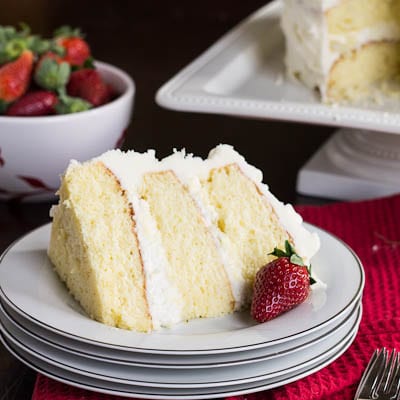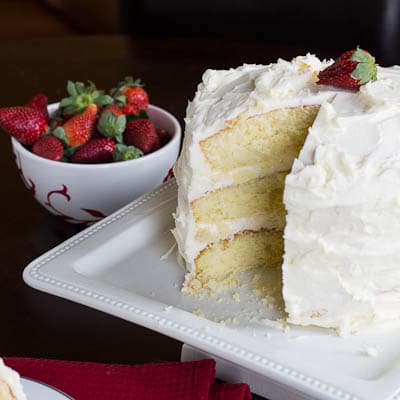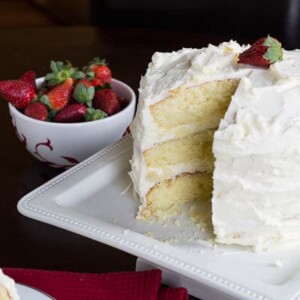 Almond Cake with Amaretto Filling
Almond Cake with Amaretto Filling has wonderful almond flavor in the filling, the frosting, and the cake itself. Wonderful for special occasions.
Ingredients
2

cups

heavy whipping cream

2

cups

sliced almonds

toasted

3/4

cup

unsalted butter

softened

2 1/4

cups

sugar

6

large eggs

1

teaspoon

vanilla extract

1

teaspoon

almond extract

3 1/2

cups

cake flour

1

tablespoon

baking powder

1

teaspoon

salt
Almond Buttercream Icing
1 1/2

cups

unsalted butter

softened

4

cups

confectioners' sugar

1/4

cup

reserved almond cream

1

tablespoon

amaretto liqueur

1/2

teaspoon

almond extract
Instructions
Preheat oven to 350 degrees. Spray 3 (9-inch) round cake pans with nonstick baking spray with flour. (Or butter and flour each pan.)

In a large saucepan, bring cream to a simmer over medium heat. Add almonds to hot cream and remove from heat. Let stand 30 minutes. Strain almond mixture and reserve cream. (Really press down on almonds with a rubber spatula or back of a spoon to get as much liquid out as possible.) Place 1/4 cup of the almond cream in a small bowl to reserve for icing.

In a large bowl, beat butter with an electric mixer at medium-high speed until creamy. Add sugar and beat well. One at a time, add the eggs, stopping to scrape down sides of bowl periodically. Add extracts and beat to incorporate.

In a large bowl, whisk together flour, baking powder, and salt. Gradually add flour mixture to butter mixture, alternating with remaining almond cream, beginning and ending with flour mixture. Beat until combined and divide batter evenly among the 3 pans.

Bake until a wooden pick inserted in the center comes out clean, 23 to 26 minutes. Let cool in pans 5 minutes and remove cakes from pans and let cool entirely on a wire rack.

Make Amaretto Filling. In a small saucepan, combine 1/2 cup cream and amaretto liqueur. Bring to a simmer over medium heat. Remove from heat. Add gelatin to cream mixture, stirring until dissolved. Refrigerate for approximately 30 minutes. Mixture should be firm, but not set.

In a large bowl, beat remaining 1 1/2 cups cream at high speed with an electric mixer until stiff peaks form. Add sugar and chilled gelatin mixture and beat well. Refrigerate for 1 hour.

Beat for 2 minutes on medium-high speed and then spread between cake layers.

Make Buttercream Icing. In a large bowl, beat butter at medium-high speed until creamy.

Gradually add in confectioners' sugar. Add almond cream and beat well. Add amaretto and extract.

Spread Amaretto Filling between layers and refrigerate for 30 minutes.

Spread icing on top and sides of cake. Store cake in refrigerator.
Notes
Update: There has been some confusion about the amount of cream needed in this recipe. You will need a total of 4 cups, plus possibly a little extra. Read the above post to see why I used a little extra.
2 cups are used to make the almond cream. The almond cream is then divided and 1/4 cup is reserved for the Buttercream Icing and the rest is added to the cake batter.
A separate 2 cups of cream is used to make the Amaretto filling.
Want to Save This Recipe?
More Almond Desserts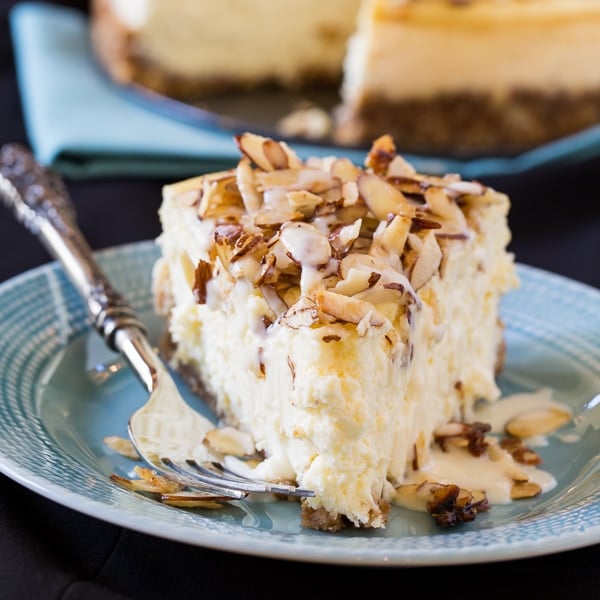 More Cake Recipes