Krispy Kreme Bread Pudding made with stale glazed doughnuts is maybe the most heavenly thing you will taste besides "Hot" Krispy Kreme Doughnuts. It is creamy and sinfully rich. Serve with an easy homemade chocolate sauce to mimic a chocolate glazed doughnut.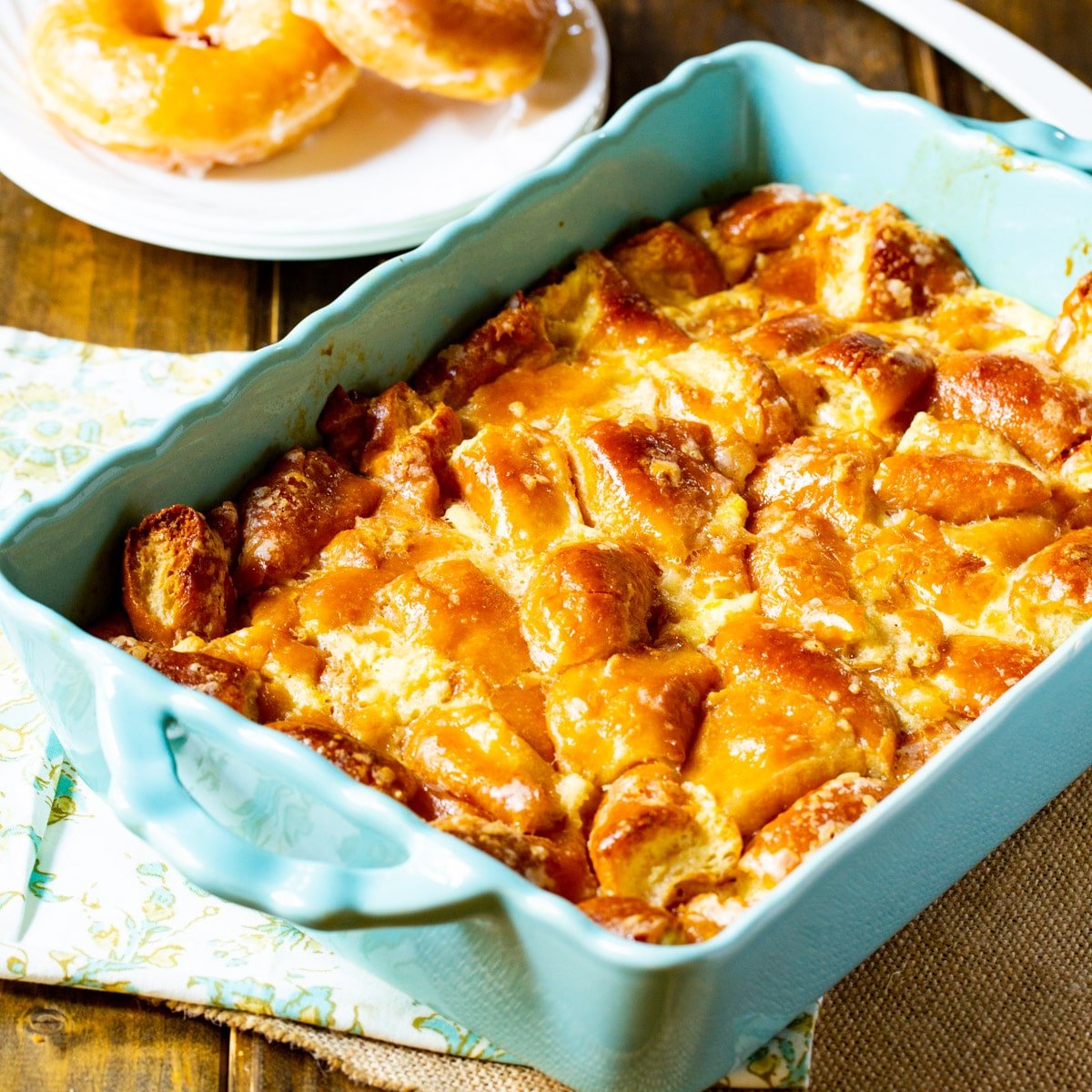 This is a great recipe if you have leftover, stale Krispy Kreme doughnuts. Like you'd have any of those right? I didn't but I wanted to try making Krispy Kreme Bread Pudding so badly, I went to the Krispy Kreme store near our house and bought 2 dozen "Hot Now" doughnuts. One dozen for us the eat fresh and one dozen to save. Not such an easy task. The saving part.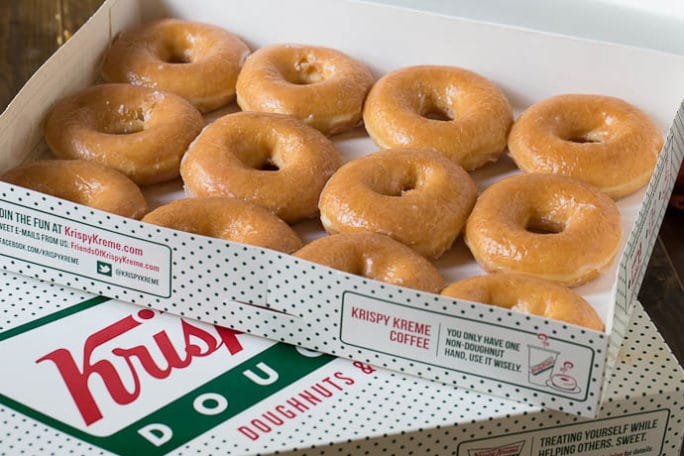 Now if you've never had a Hot Krispy Kreme doughnut right off the conveyor belt, let me just say they are the best things ever. Literally.
The texture is unreal, so light and pillowy. They just melt in your mouth. But with each passing minute they lose a little of their special something. Until they become those dense Krispy Kreme doughnuts you can buy at the gas station. They don't tempt me at all. You can revive them a little by sticking them in the microwave for 8-10 seconds, but they will never completely recapture that "Hot" flavor and texture.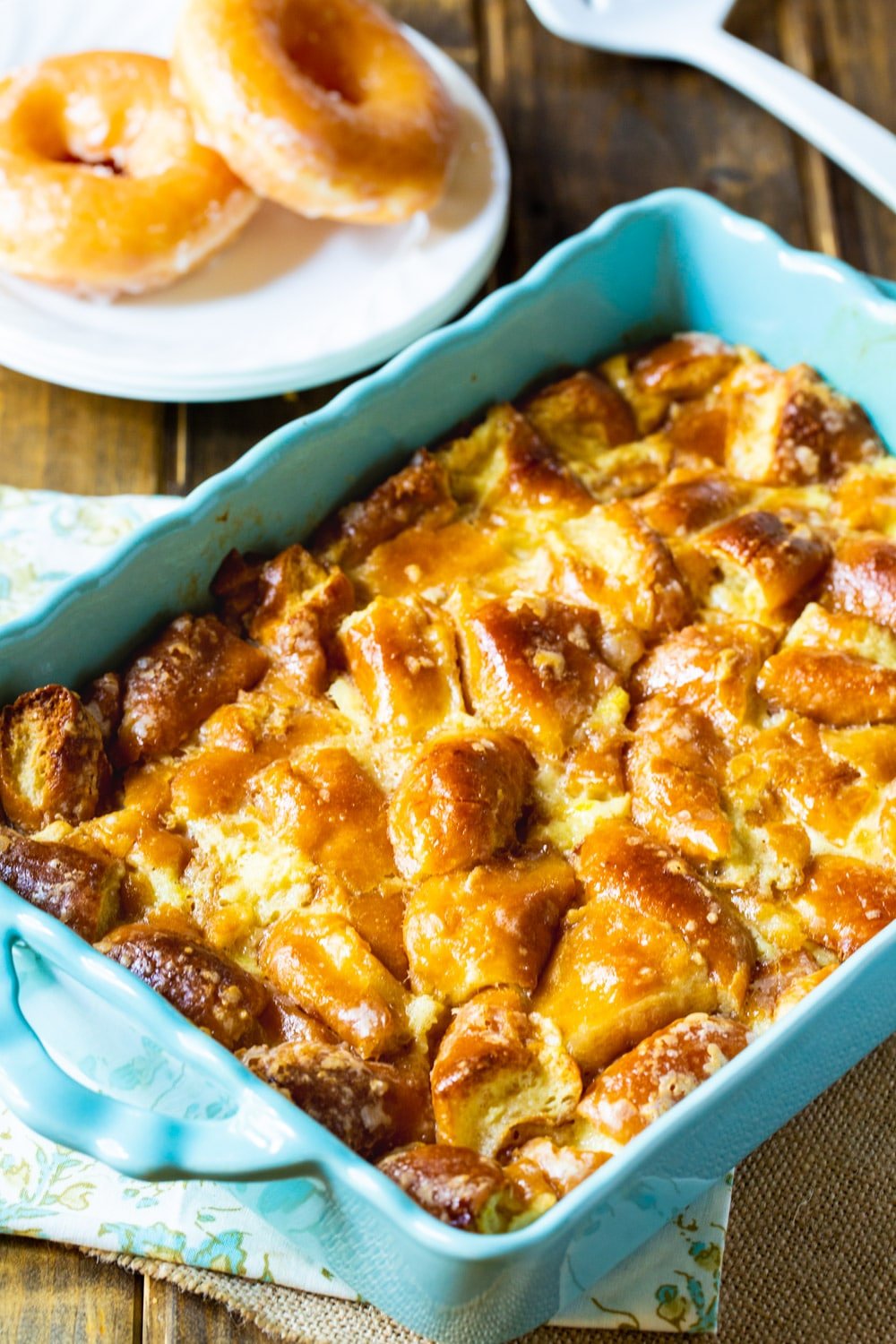 Not eating that second box of doughnuts for 3 days was quite the challenge. They were hidden at the back of the bottom shelf in the pantry to lessen the temptation.
I don't recommend torturing yourself in this way.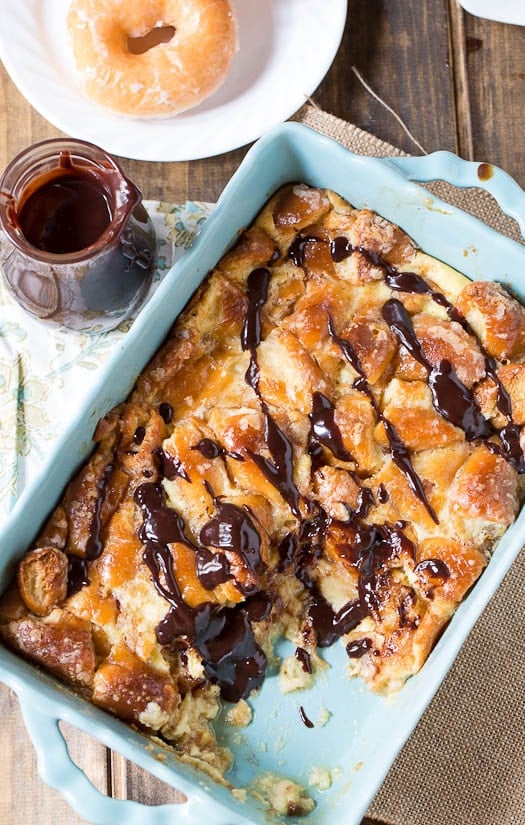 But if you do happen to ever have stale glazed doughnuts on your hands, take them and drown them in milk, cream, eggs, and sugar and bake until hot. You will have maybe the next best thing to "Hot" Krispy Kremes – Hot Krispy Kreme Bread Pudding.
Put on a little homemade chocolate sauce to get that taste of a chocolate glazed doughnut. Stale never tasted so good!
If you're a Krispy Kreme lover, try there Copycat Krispy Kreme Doughnuts.
Note: If you don't live where Krispy Kreme doughnuts are available, any glazed doughnut will do.

See How To Make Krispy Kreme Bread Pudding in the Video Below.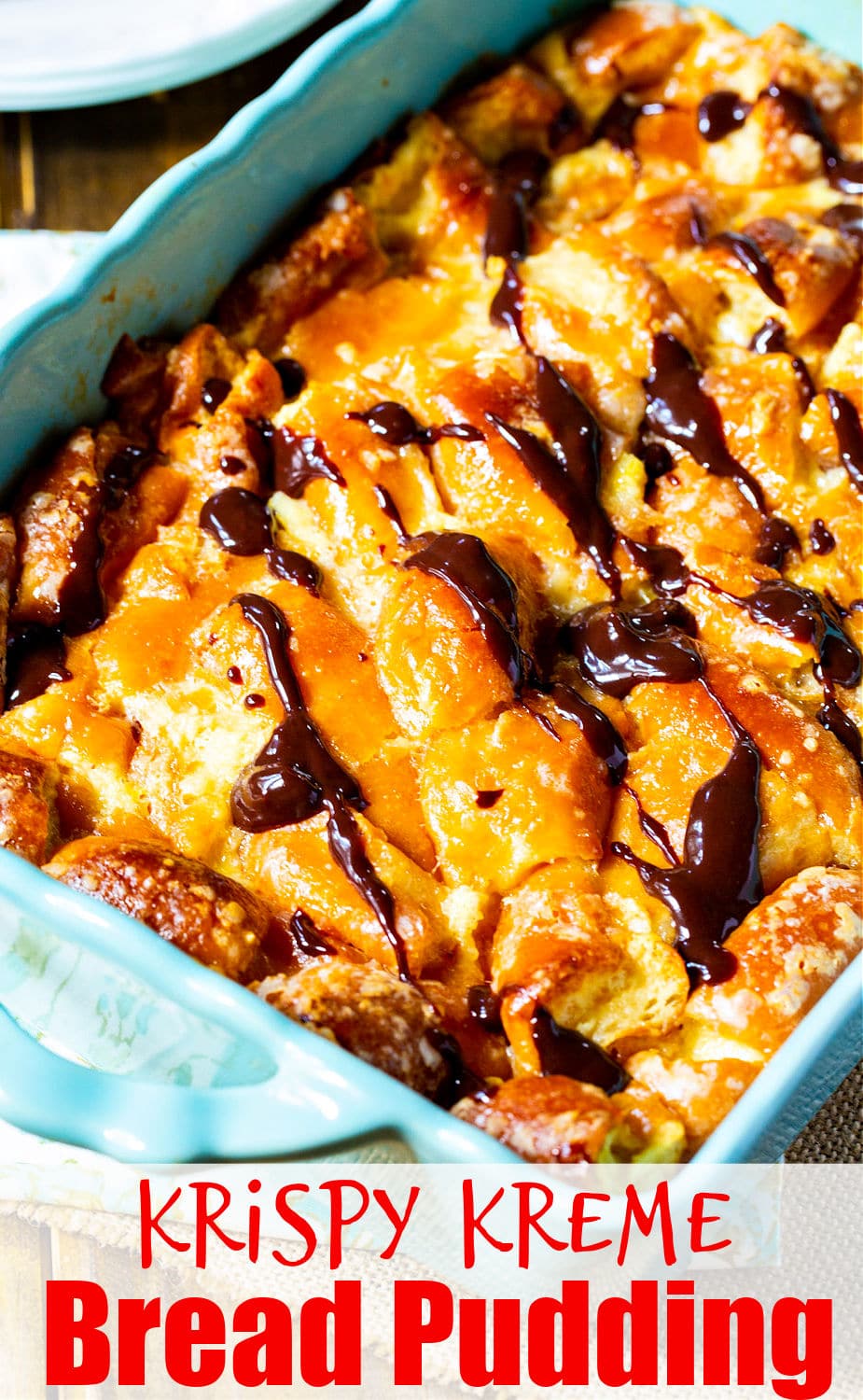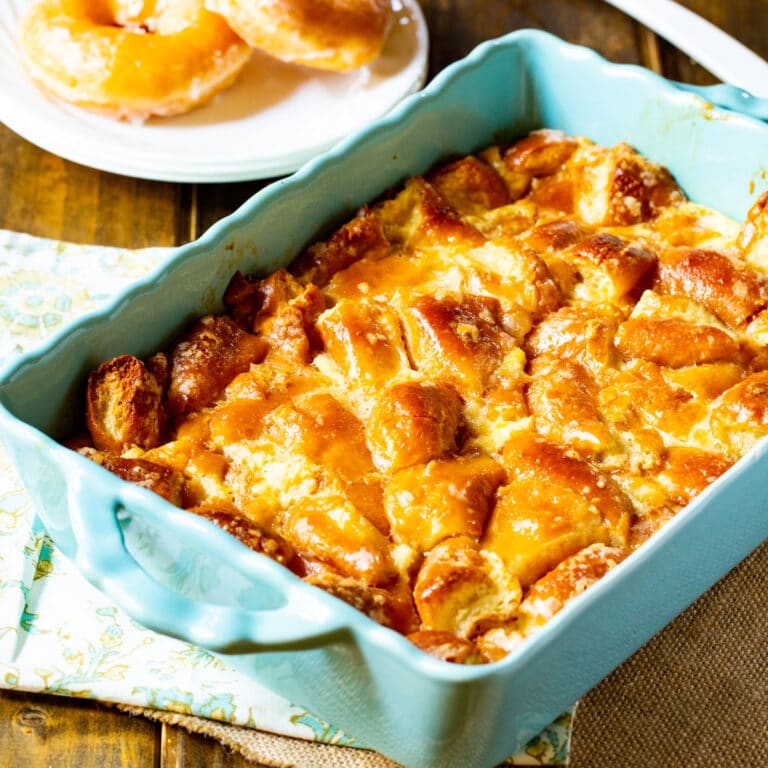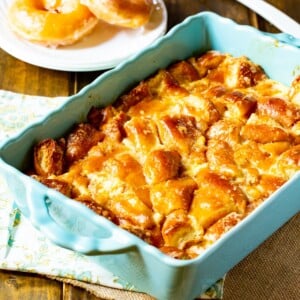 Krispy Kreme Bread Pudding
Stale doughnuts get revived with this rich, heavenly Krispy Kreme Bread Pudding. Make an easy Chocolate Sauce to serve with it. Stale never tasted so good!
Ingredients
1

dozen stale Krispy Kreme glazed doughnuts,

any glazed doughnuts will do

3

eggs,

lightly beaten

1

cup

whole milk

1 1/4

cups

heavy cream

1/2

cup

brown sugar

1/2

teaspoon

salt

1/2

teaspoon

vanilla extract

pinch of nutmeg
Chocolate Sauce
1

cup

semisweet chocolate chips

2/3

cup

heavy cream
Instructions
In a medium bowl, whisk together eggs, milk, heavy cream, brown sugar, salt, vanilla extract, and nutmeg.

Pour over doughnuts. Press doughnuts into liquid to moisten. Let sit 10 minutes.

Preheat oven to 350 degrees.

Place baking dish in oven uncovered and bake for 45 minutes.

To make sauce, place chocolate chips in a small bowl. Bring heavy cream to a boil in a

small saucepan

. Pour over chocolate chips. Let sit 15 seconds. Stir until smooth.

Serve bread pudding warm.
Want to Save This Recipe?
Originally published September 25, 2014.

Sharing with The Country Cook's Weekend Potluck. Head over for lots of delicious recipes!
More Bread Pudding Recipes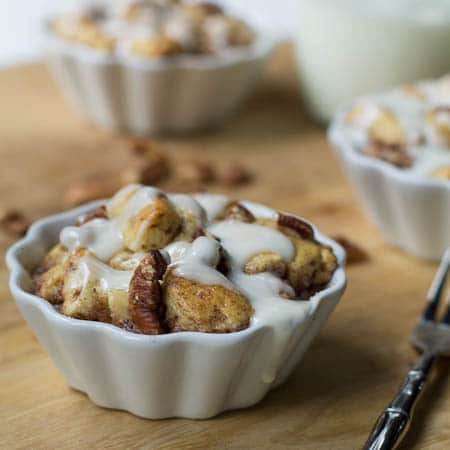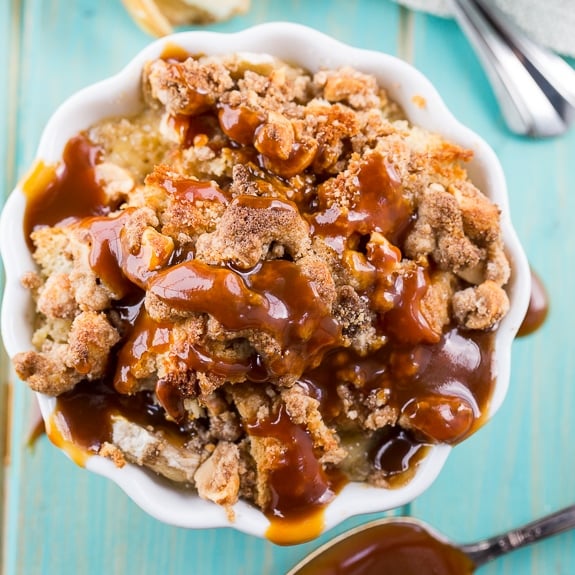 Peanut Butter and Banana Bread Pudding
Disclosure: This post contains affiliate links.