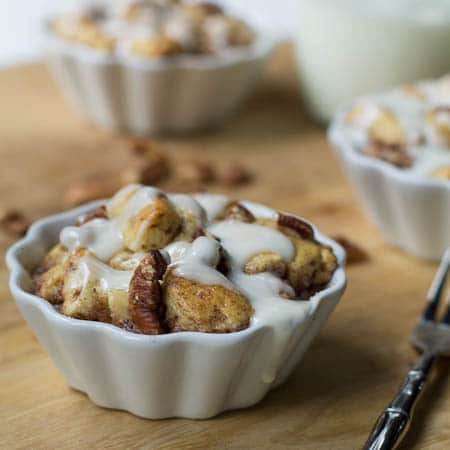 Like your cinnamon rolls a little undercooked and gooey in the center? This is the perfect dessert for you.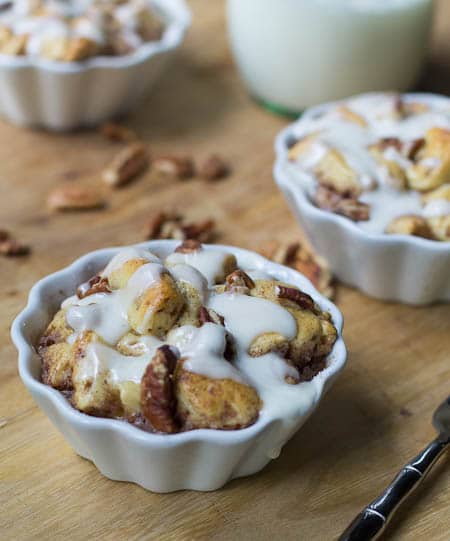 It's like a whole bowl full of the center part of a cinnamon roll. Served warm from the oven with crunchy pecans, and a sweet icing drizzle, this is a treat to savor in small spoonfuls.
This recipe uses refrigerated cinnamon rolls, making it a cinch to prepare. And since it is cinnamon roll based, it's multifunctional. You can pass it off for breakfast, brunch, or dessert. I don't think you'll hear any complaints.
Make them in individual ramekins so no one complains about not getting their fair share. They could also be made in a casserole dish, but they won't be nearly as cute. Just increase the cooking time some.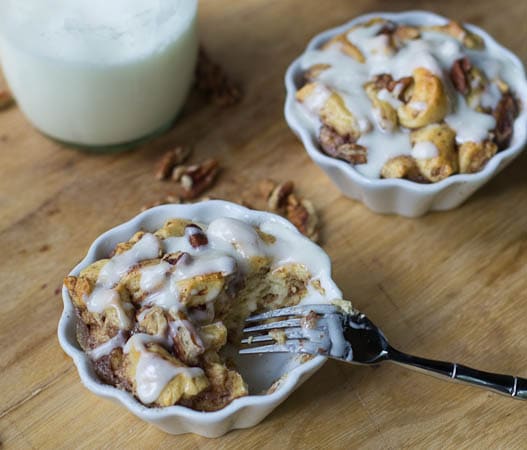 The last couple of times I've made refrigerated cinnamon rolls, I've so undercooked them, they were completely raw in the center and soft and gooey towards the outside. It totally disgusted my kids who will pretty much no longer eat cinnamon rolls. But I like them that way.
And now I've found the perfect way to get my gooey cinnamon roll fix. 🙂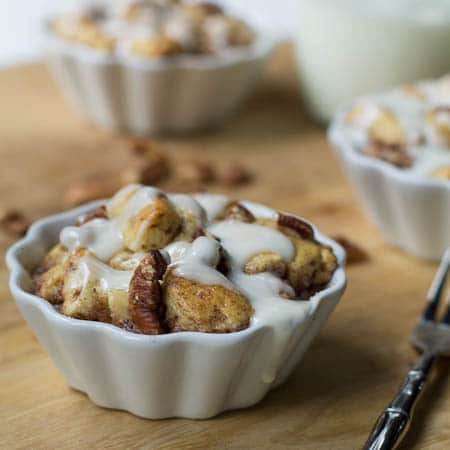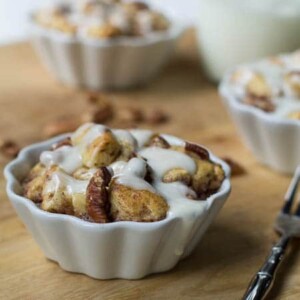 Cinnamon Roll Bread Pudding
Ingredients
½

cup

sugar,

plus 2 tablespoons

1 ¼

teaspoons

ground cinnamon,

divided

10

regular-size cinnamon rolls,

cut in 1 ½-inch chunks

3

egg yolks

1

cup

half-and-half

½

teaspoon

vanilla extract

½

teaspoon

salt

3

tablespoons

pecan pieces

¾

cups

confectioners' sugar

¼

cup

heavy whipping cream
Instructions
Preheat oven to 350º. Combine 2 tablespoons of sugar and ½ teaspoon cinnamon in a small bowl. Spray 5 ramekins with cooking spray and coat with cinnamon sugar. Set on a baking sheet.

Place cinnamon roll pieces in a large bowl and set aside.

Place egg yolks in a medium bowl and set aside.

Combine half-and-half, ½ cup sugar, and ¾ teaspoon cinnamon in a small saucepan. Heat over medium-high heat, stirring frequently, until it boils. Remove from heat and add vanilla extract and salt. Let cool slightly.

Slowly add ½ cup half-and-half mixture to eggs while whisking continuously (so the eggs don't curdle.). Gradually add remaining half-and-half mixture. Pour mixture over cinnamon rolls and stir to combine.

Divide mixture evenly among the ramekins. Sprinkle tops with pecans. Place in oven and bake for about 18-20 minutes, until golden brown on top. Remove from oven.

In a small bowl, whisk together confectioners' sugar and cream. Drizzle on top of bread puddings.
Want to Save This Recipe?
Recipe Source: adapted from Taste of the South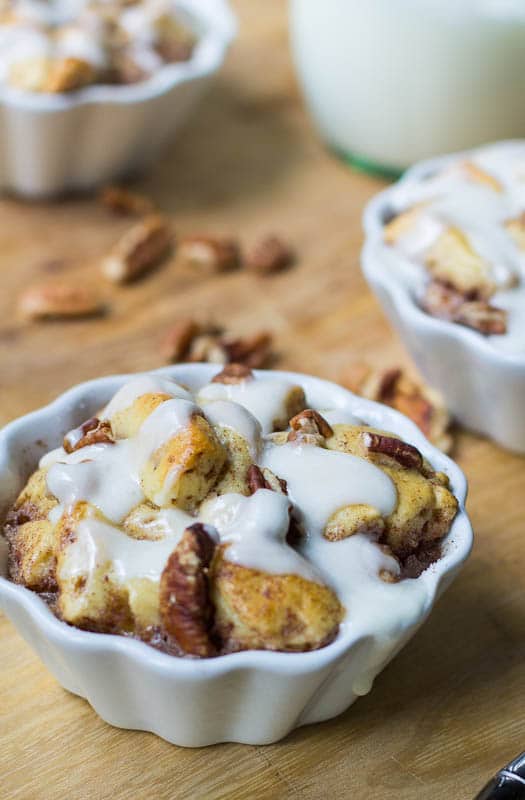 More Bread Pudding Recipes: