Bacon Maple Monkey Bread is gooey and sweet with salty pieces of bacon throughout. Made with refrigerated biscuit dough, this easy to make Monkey Bread has a delicious mix of sweet and salty. It is wonderful for holidays and brunches.
Monkey Bread is a big favorite at our house. If you've never made it before, it's made from small balls of dough (refrigerated biscuits in this case), usually coated in cinnamon sugar and baked together in a Bundt cake pan.
For this Bacon Maple Monkey Bread, each biscuit gets quartered and dipped in bacon  grease. (Because if you're going to fry up some bacon, you'd might as well use the grease.)
Then they are coated in cinnamon-sugar and layered in a well-greased Bundt pan with crumbled bacon. Lots of crumbled bacon.  🙂
A mixture of melted butter, brown sugar, and maple syrup gets poured over the top. This mixture seeps into all the nooks and crannies and makes the baked Monkey Bread so gooey, sweet, and delicious.
Never miss a recipe. Follow Spicy Southern Kitchen on Pinterest and Facebook.
More Monkey Bread Recipes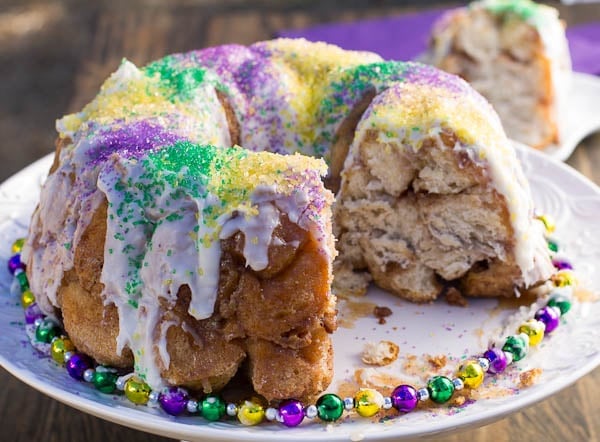 Disclosure: This post contains affiliate links.