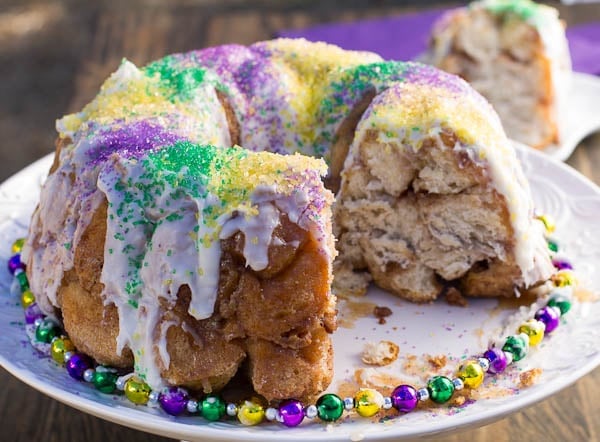 It's been almost 20 years since my husband and I lived in New Orleans and one of the things I most miss about New Orleans is Mardi Gras. As a remembrance, each year we have a King Cake shipped to us from a bakery in New Orleans. Our kids throw a fit if we forget. King Cakes are fun for adults and children alike. A traditional King Cake is a twisted ring of cake, usually made from a yeasted dough and flavored with cinnamon, with a sugary icing on top. A small plastic baby, representing baby Jesus, is baked inside the cake. Whoever gets the piece of cake with the baby, is supposed to provide the cake for the next get together.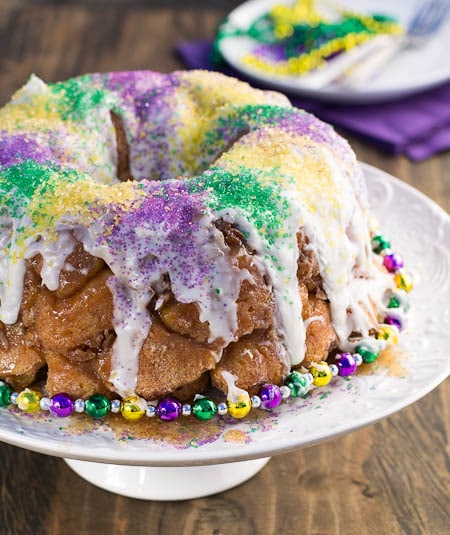 I've never made a traditional King Cake and to tell you the truth, it's not my favorite cake. Unless it's filled with lots of cream cheese filling. That ups the yumminess quotient a bunch. King Cake is typically not very sweet, but it's drizzled with a very sweet icing. Sometimes I think it tastes like bread with liquid sugar on it. But not a monkey bread kind of bread. There's almost no bread better than a Monkey Bread. Especially this one. Maybe that's because this Monkey Bread is made with biscuits. And we southerners know biscuits beat bread any day :).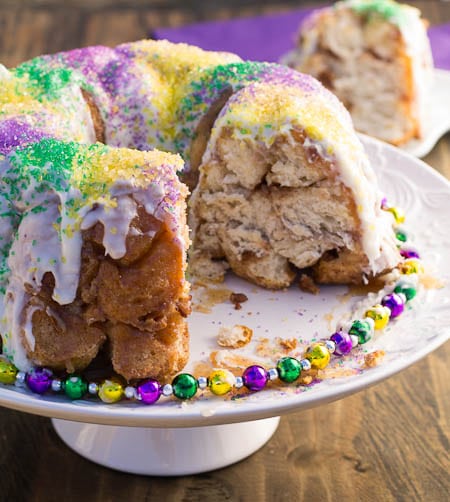 Mardi Gras Monkey Bread is made with refrigerated biscuits, making it super easy to put together. Each biscuit is cut in 4 pieces and rolled in a cinnamon, pecan, sugar mixture. The whole thing is drizzled in lots of butter and more sugar before it is baked. You will feel like it is swimming in this butter/sugar mixture, but the biscuits really do soak it up as it cooks. Then if that isn't enough, a thick, creamy icing is spread on top and the Monkey Bread is finished off with some purple, green, and gold sprinkles. If you are a sugar love like me, you will want to just eat the top portion of the cake which not only gets all the icing love, but the butter love too, since it was the bottom in the Bundt pan. Make your next Mardi Gras celebration special with this super easy and delicious Mardi Gras Monkey Bread! Leftovers are great for breakfast with a cup of coffee! Note: You could easily up the fun and add a plastic baby to this Monkey Bread. Just toss one in when the pan is halfway full with the pieces of biscuit. You can buy Plastic King Cake Babies
here.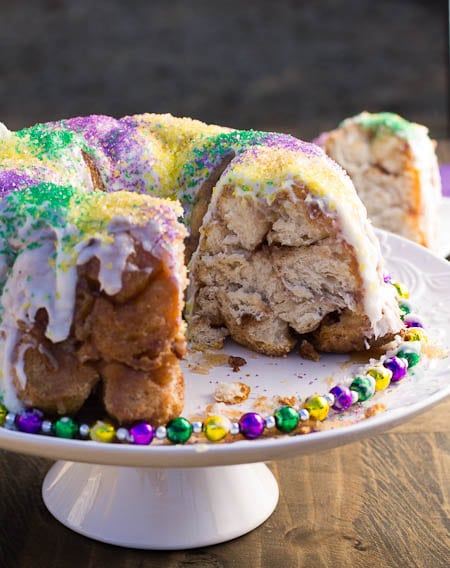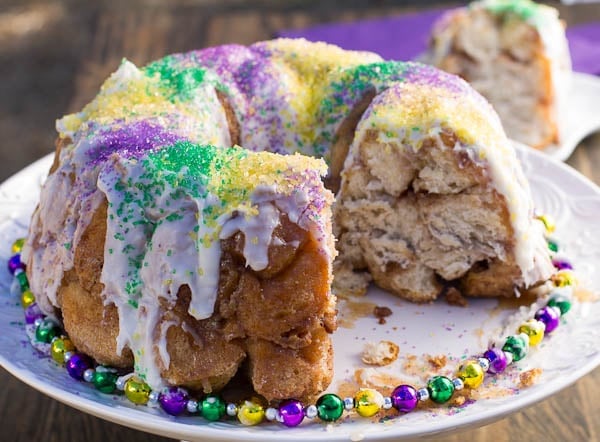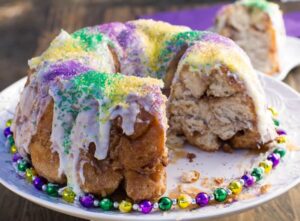 Mardi Gras Monkey Bread
This delicious Monkey bread is decked out with Mardi Gras colored sprinkles and is simple to make using refrigerated biscuits.
Ingredients
4

tubes refrigerated Homestyle Biscuits,

not the Grands

1 3/4

cup

sugar,

separated

1/2

cup

finely chopped pecans

2

teaspoons

ground cinnamon

1/4

cup

packed brown sugar

1/4

cup

evaporated milk

3/4

cup

butter

2

cups

powdered sugar

1/3

cup

heavy cream

1

teaspoon

vanilla extract
Instructions
Preheat oven to 350 degrees.

Cut each biscuit into 4 pieces.

In a medium bowl, combine 3/4 cup sugar, pecan pieces, and cinnamon. Roll each biscuit piece in sugar mixture and then place in a Bundt pan. You should use most of the sugar mixture up, but it's ok to have some left over.

In a saucepan, combine 1 cup sugar, brown sugar, evaporated milk, and butter. Heat stirring occasionally, until butter melts. Pour over biscuit pieces.

Bake 40-45 minutes. Let cool 5 minutes and then invert onto a cake stand or large plate.

For Icing, whisk together powdered sugar, heavy cream, and vanilla extract. Spread on top of Monkey Bread.
Want to Save This Recipe?
Recipe Source: adapted from Babble.com More Mardi Gras Food Crawfish Jambalaya Crawfish Spread Cajun Pastalaya Big Easy Martini Muffaletta Dip Fried Crawfish Etouffee Balls Follow Spicy Southern Kitchen| Christin Mahrlig's board Mardi Gras on Pinterest.
Spicy Southern Kitchen is an amazon.com affiliate.