It's nearly time to transition from peach season to apple season and I can't think of a better way to do that than this Snickers Caramel Apple Salad, a classic easy recipe that's a real favorite with kids and makes a fabulous fall snack.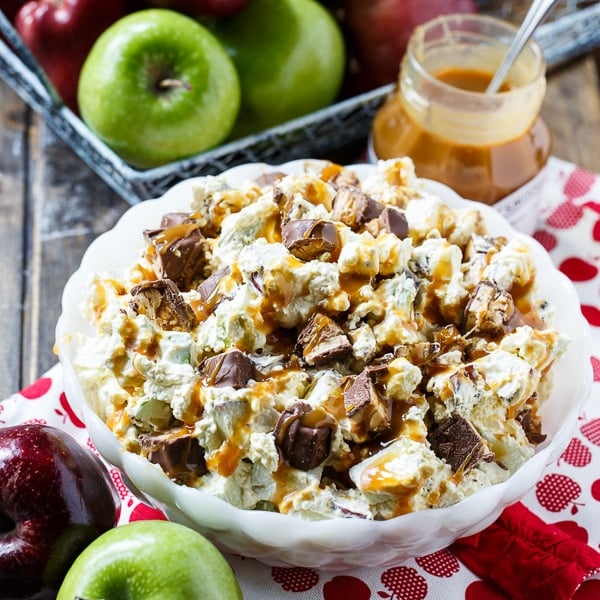 Snickers Caramel Apple Salad is a great make-ahead recipe for potlucks and block parties and can easily feed a crowd.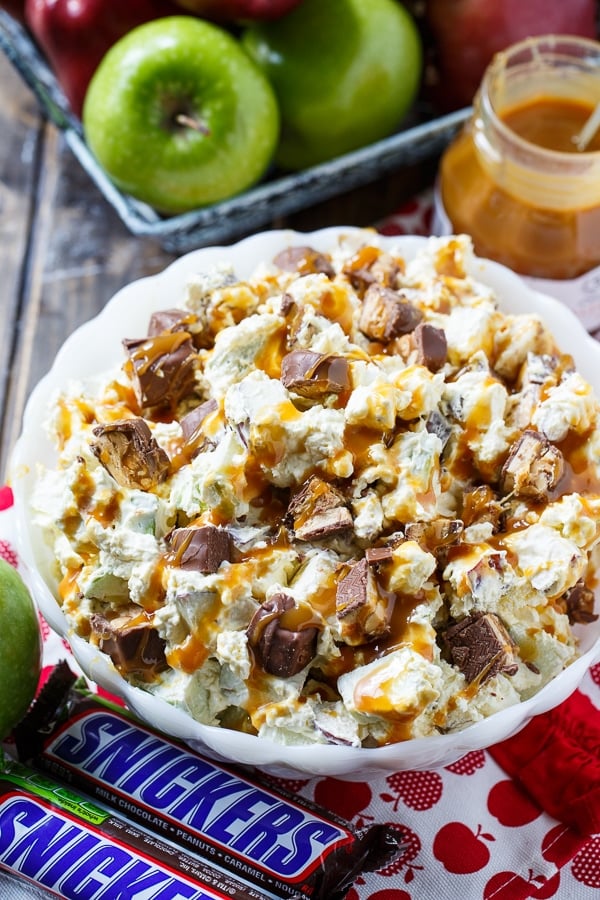 Calling it a salad confuses some people in the same way that Watergate Salad does. It's really a dessert. And it reminds me of the time years ago I took my niece and nephew to Cracker Barrel. My nephew was only 2 or 3 at the time and I told him he could pick out some candy. "Mommy doesn't allow us to have candy," he said. But he was looking around at the assortment of candy with huge eyes. He heard his sister say look at these Peanuts. They were those marshmallow peanuts that aren't peanuts at all. But I could tell the wheels started turning in my nephew's brain when his eyes suddenly doubled in size and a devious grin spread across his face. It occured to him that he could eat this candy and tell his mother he ate peanuts. LOL!
And I am sure he would happily eat this dessert and tell his mother he ate salad! Don't you love the minds of small children?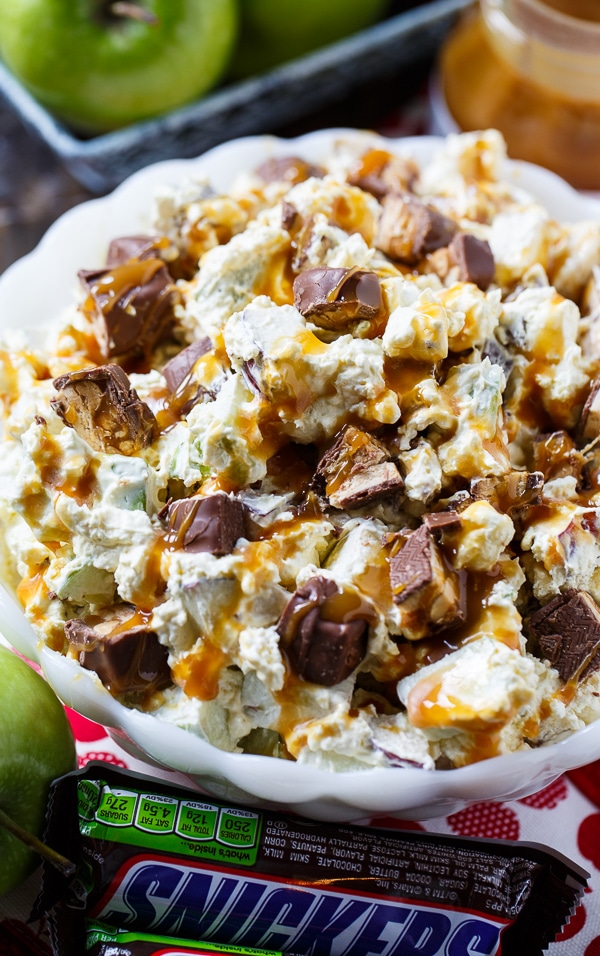 Only a few simple ingredients are needed: instant vanilla pudding mix, cool whip, chopped apples, snickers bars (the best part!), and I like to throw a few marshmallows in too, but they are optional. The whole thing gets drizzled with caramel sauce.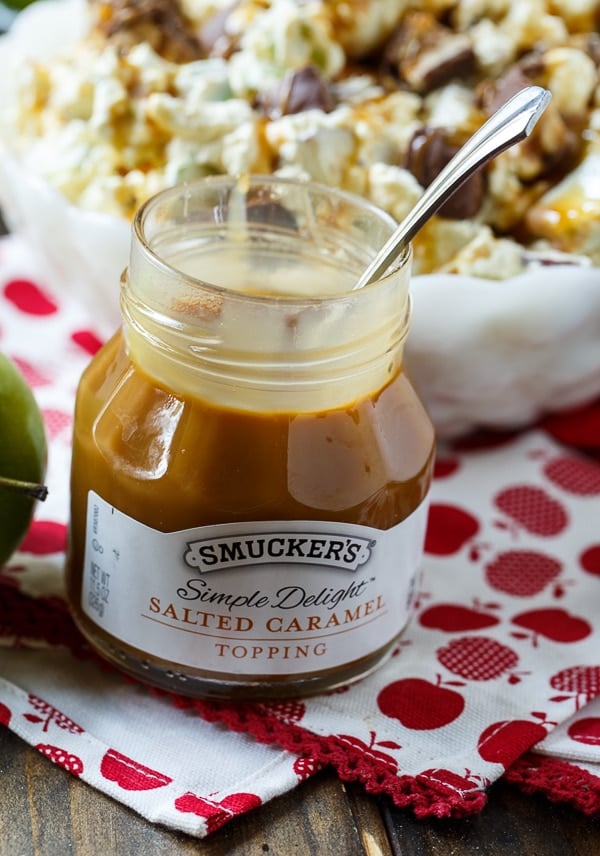 Lately I'm really loving Smucker's Salted Caramel Topping
. It has just the right balance of sweet and salty and it is perfect for this Snickers Caramel Apple Salad.
You can use whatever apples you like. A lot of people like the tartness of Granny Smith with the sweetness of the other ingredients. I usually do a mixture of Granny Smith and something like Red Delicious or Gala.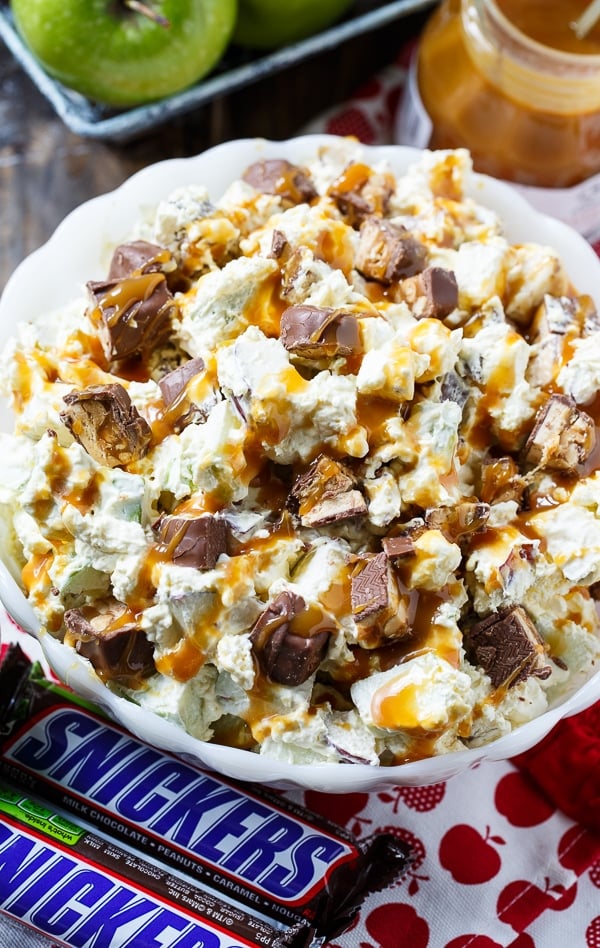 Never miss a recipe. Follow Spicy Southern Kitchen on Pinterest and Instagram.
Watch our short video on How To Make Snickers Caramel Apple Salad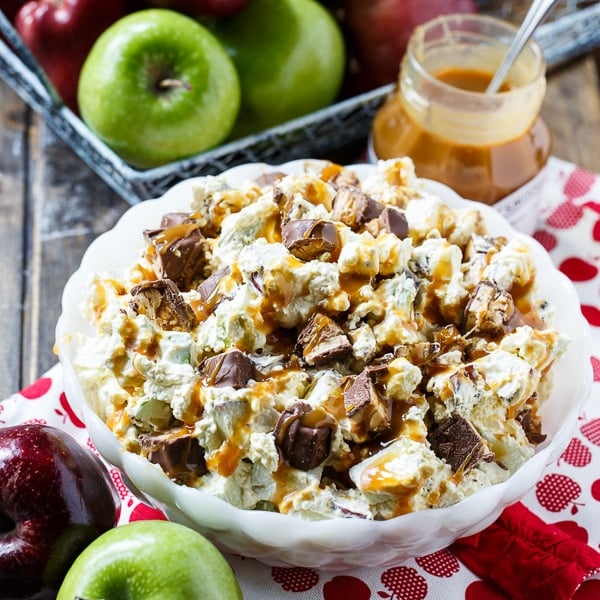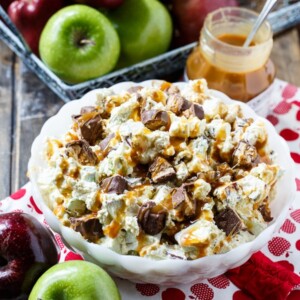 Snickers Caramel Apple Salad
Snickers Caramel Apple Salad is the perfect potluck recipe for fall. Drizzled with caramel sauce with lots of crunchy goodness from fall apples.
Ingredients
6

small apples,

cored and chopped (I like to use a blend of Granny Smith and Red Delicious)

6

(1.86-ounce)

Snickers Bars,

cut into bite-sized pieces

1

(5.1-ounce)

box instant vanilla pudding mix,

1/2

cup

milk

1

(12-ounce)

container Cool Whip

1

cup

marshmallows,

optional

1/2

cup

caramel sauce
Instructions
Whisk together pudding mix and milk in a large bowl. Fold in Cool Whip.

Fold in apples, chopped Snickers, and marshmallows.

Drizzle caramel sauce on top.

Refrigerate until ready to serve.
Want to Save This Recipe?
More Apple Recipes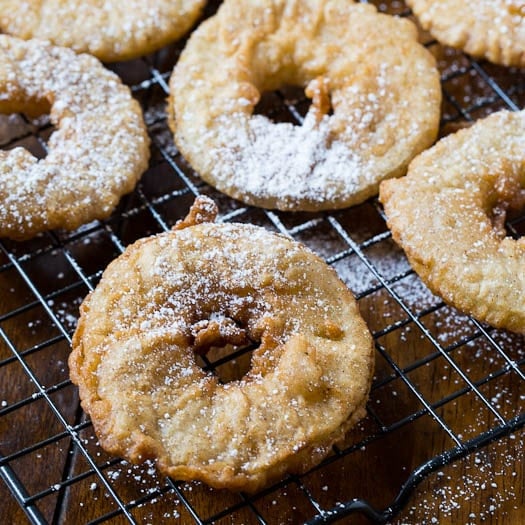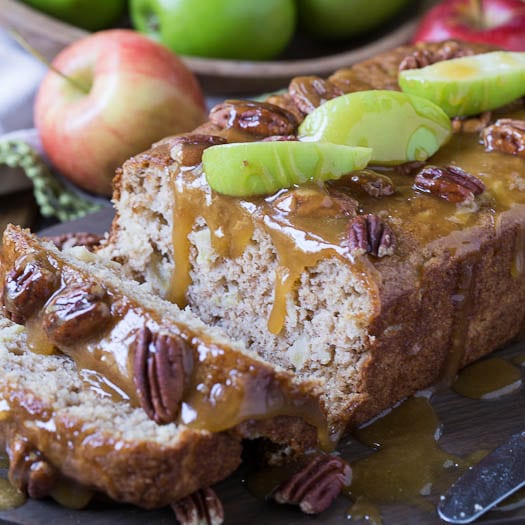 Disclosure: This post contains affiliate links.