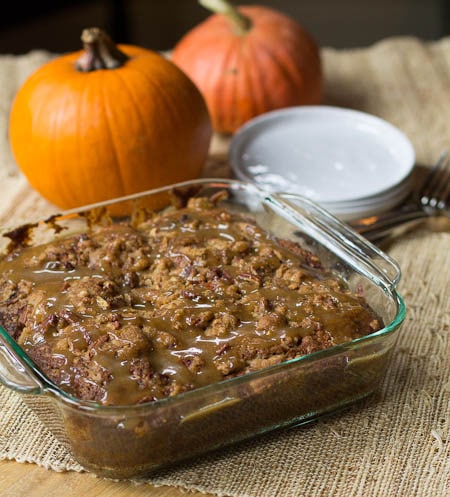 There's nothing better in the fall than sleeping in on the weekend and waking up to a cup of coffee and a delicious piece of pumpkin flavored coffee cake. We still haven't had to turn our heat on and in the morning the house is just a little chilly. It's so tempting to stay in the cozy bed, covers pulled all the way up, for an extra 30 minutes, maybe even an hour. Sometimes two. Who's counting right?
Our kids are teenagers so there's no chance they are getting up any time before mid-morning on Saturdays. And our dog is the best girl ever. She never tries to wake us up. She's a rescue dog and as anyone who has adopted a dog from a shelter knows, they are the best dogs ever. So happy to be given a second chance.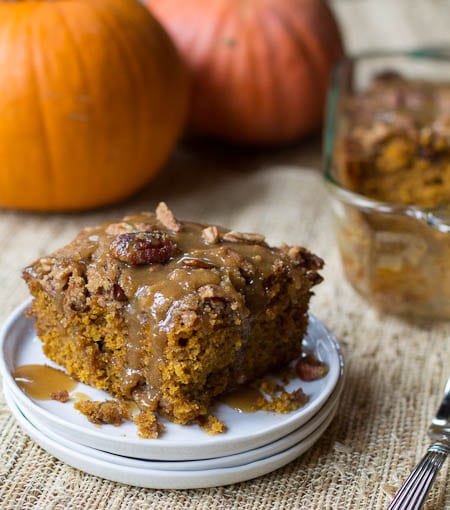 Only this morning we didn't quite get the relaxing sleep in that we were looking forward to. One of our smoke detectors went off at 6am. They do that periodically, only usually it's during the day and we can never figure out why. It's not the chirping noise they do when the battery is low, it's the full blown alarm. Nothing like waking up to that. Normally it's just for a couple of seconds, but this time it was a full minute or two and towards the end of that time it sounded like every alarm in the house was going off and we must have at least 10 smoke detectors. So strange. Do you ever have this happen?
But at least a good cup of coffee and a delicious and moist piece of pumpkin coffee cake can turn a bad morning around. This coffee cake is a beautiful earthy color from the pumpkin and it smells of cinnamon, ginger, and nutmeg. It has a layer of streusel with pecans half way through the coffee cake plus more streusel on top. To make it even sweeter I've drizzled some Brown Sugar Glaze on top.
Bake it a day in advance so you can have a leisurely weekend breakfast in bed, even if it's a couple hours earlier than you planned.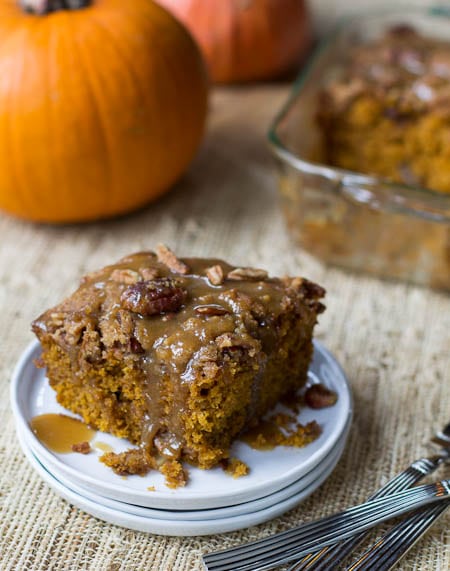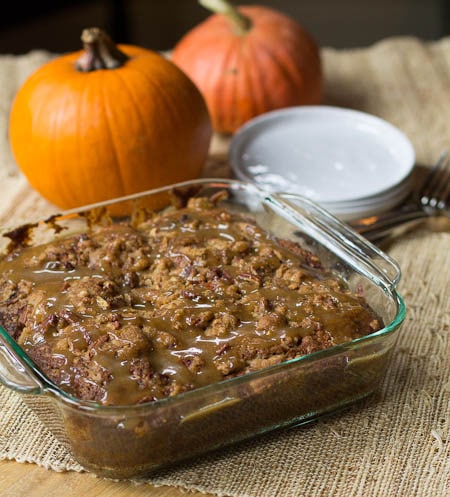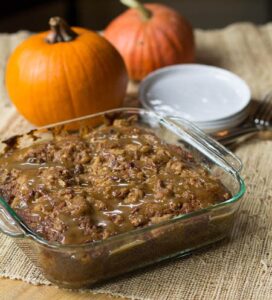 Pumpkin Coffee Cake with Brown Sugar Glaze
A seasonal coffee cake seasoned with pumpkin and spices, a nutty streusel, and a sweet brown sugar glaze.
Ingredients
1 1/2

cups

all-purpose flour

2

teaspoons

baking powder

1/2

teaspoon

baking soda

2

teaspoons

cinnamon

1

teaspoon

ground ginger

1/4

teaspoon

nutmeg

1/8

teaspoon

allspice

1/2

teaspoon

salt

1

stick unsalted butter

1

cup

packed brown sugar

2

eggs

1

teaspoon

vanilla extract

3/4

cup

canned pumpkin

1/4

cup

sour cream
Streusel
1/2

cup

brown sugar

1/3

cup

flour

1 1/2

teaspoons

cinnamon

3/4

cup

pecans

6

tablespoons

butter,

melted
Brown Sugar Glaze
1/2

cup

packed brown sugar

2

tablespoons

heavy cream

2

tablespoons

butter

1/2

teaspoon

vanilla extract
Instructions
Preheat oven to 350 degrees and butter a 9-inch square glass baking dish.

Make streusel. In a small bowl, mix together 1/2 cup brown sugar, 1/3 cup flour, 1 1/2 teaspoons cinnamon, pecans, and melted butter. Set aside.

In a medium bowl, whisk together flour, baking powder, baking soda, cinnamon, ginger, nutmeg, allspice, and salt. Set aside.

Place butter and brown sugar in a bowl for an electric mixer and beat until well blended.

Add eggs one at a time, scraping down sides of bowl between additions. Add vanilla extract.

Add pumpkin and sour cream and beat just until blended. Add flour mixture and beat just until incorporated.

Spread half of better in bottom of prepared baking dish. Batter will be thick. Sprinkle half of streusel on top. Pour remaining batter into pan and spread over streusel. Sprinkle remaining streusel on top.

Place in oven and bake for approximately 45 minutes, or until set.

For glaze, place brown sugar, heavy cream, and butter in a small saucepan. Heat over medium-low heat, stirring frequently, until sugar and butter are melted. Drizzle over coffee cake.
Want to Save This Recipe?
Recipe Adapted from Williams Sonoma
More Pumpkin Recipes for Breakfast
Pumpkin Spice Bread French Toast
Pumpkin Chocolate Chunk Waffles
Pumpkin Pancakes with Bourbon Vanilla Maple Syrup