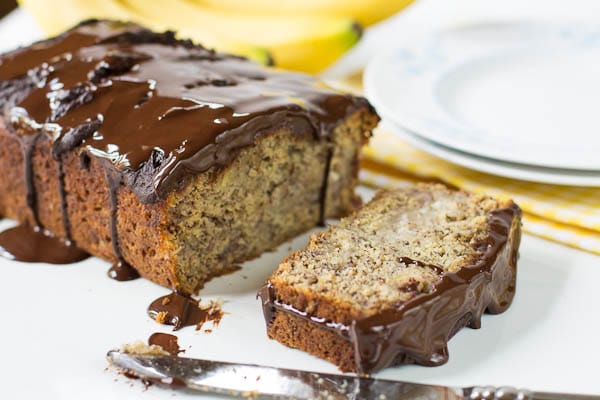 Banana bread is something I make frequently. I buy bananas practically every time I go to the grocery store. A banana and a spoon full of peanut butter or almond butter is my go-to, no fuss breakfast.
Because I buy them so frequently, there are many times they get to that overripe stage before anyone eats them. Then it's time to make banana bread. I have tried many recipes over the years and there are a lot of good ones out there.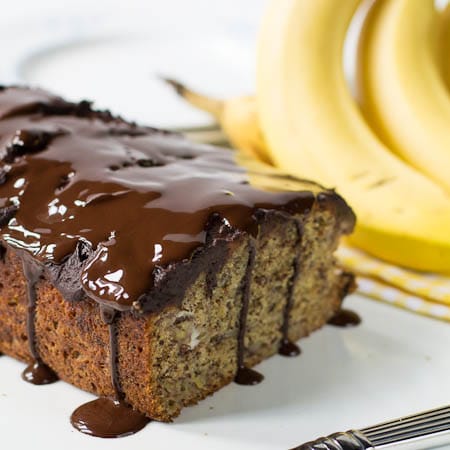 Most recently I made the one on the cover of the current Cooking Light Magazine. You've probably seen it. Doesn't it look to die for? It's covered with a fabulous, silky chocolate glaze. It's a lightened up banana bread made with skim milk, lite sour cream, and egg whites. A hefty dose of mashed bananas (1 2/3 cups)  helps keep the bread super moist and filled with wonderful banana flavor.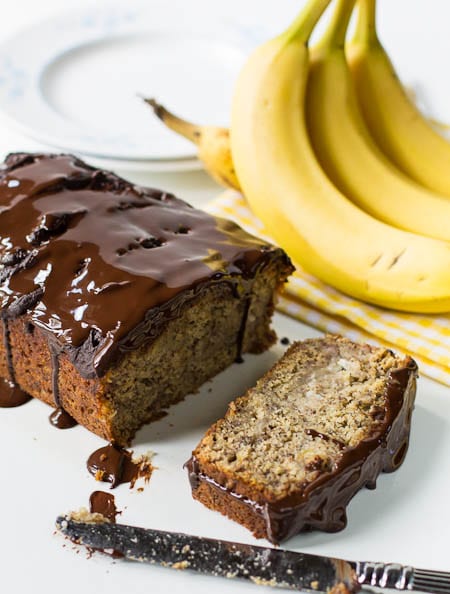 I altered the recipe a little to make it even healthier, subbing out 1 cup of the 2 cups of all-purpose flour for 3/4 cup whole wheat flour and 1/4 cup ground flaxseed. I've been experimenting adding ground flaxseed to a bunch of different foods. And the results are very good. You can add it to breads, pancakes, waffles, muffins, and smoothies.
If you buy a bag of ground flaxseed, you will want to use it often because ground flaxseeds (whole flaxseeds will keep longer) are very perishable and will only keep for 3-6 months and they should be stored in the refrigerator or freezer.
I also changed the chocolate glaze. I first made the glaze that the Cooking Light recipe calls for by melting 2 ounces of semi-sweet chocolate with 2 1/2 tablespoons of half and half, but I didn't like the way it turned out. It was thick and dull looking, nothing like their picture. I spread it on the bread anyways, but then I made a second batch by melting the same amount of chocolate with just 1 tablespoon of shortening and it made a nice, liquidy chocolate glaze with a brilliant shine. So yes, I ended up with a double batch of chocolate on my banana bread.
Are you a huge fan of banana bread? You'll also want to try this sour cream banana bread.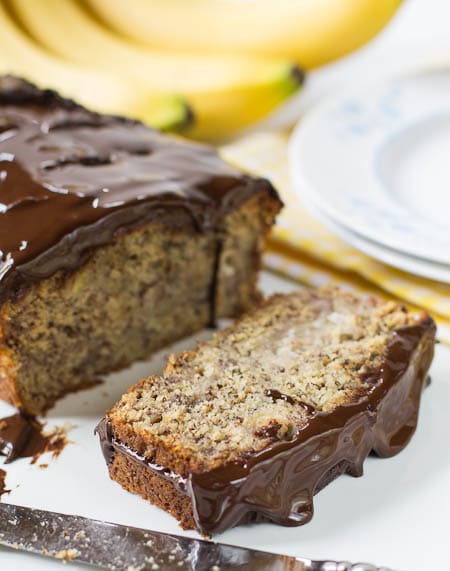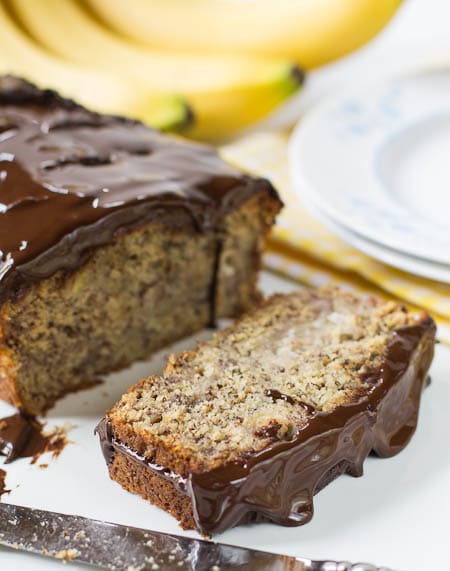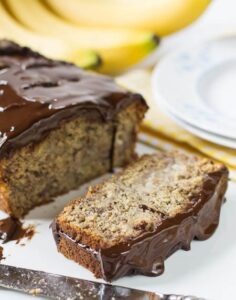 Banana Bread with Chocolate Glaze
Whether served for breakfast or a snack, this lightened up banana bread with a chocolate glaze is sure to please.
Ingredients
1

cup

sugar

1/4

cup

butter,

softened

1 2/3

cups

mashed ripe banana,

about 3 bananas

1/4

cup

skim milk

1/4

cup

lite sour cream

2

large egg whites

1

cup

unbleached all-purpose flour

3/4

cup

whole wheat flour

1/4

cup

ground flaxseed

1

teaspoon

baking soda

1/2

teaspoon

salt

1

teaspoon

vanilla extract

Cooking spray

2

ounces

semisweet chocolate,

finely chopped

1

tablespoon

shortening
Instructions
Preheat oven to 350 degrees and lightly coat a 9 X 5-inch loaf pan with cooking spray.

Combine butter and sugar in the bowl of an electric mixer and beat at medium speed until well blended.

Add banana, milk, sour cream, and egg whites. Mix until blended.

In a medium bowl whisk together all-purpose flour, whole wheat flour, flaxseed, baking soda, and salt.

Add flour mixture and vanilla extract to banana mixture, beating just until blended.

Spoon batter into prepared loaf pan. Bake for 55 minutes, or until the top feels firm when pressed on. Cool in pan for 10 minutes before removing to a wire rack to cool completely.

For glaze, place chocolate and shortening in a small saucepan over low heat and stir until melted and smooth. Drizzle over bread.
Want to Save This Recipe?
Recipe Source: adapted from Cooking Light
You Might Also Like 
Peanut Butter Cup Banana Bread