Peanut Butter Cup Banana Bread is full of chocolate and peanut butter. A full 1 1/2 cups of mini Reese's Peanut Butter Cups are added to the batter and for even more yumminess a peanut butter glaze is drizzled on top.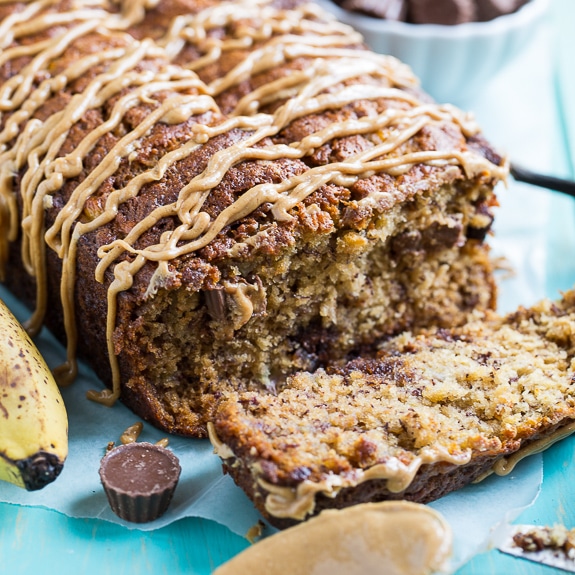 I got the inspiration for this bread from Gayle at Pumpkin n Spice. My eyeballs about popped out of my head when I saw how delicious her Peanut Butter Cup Banana Bread looked.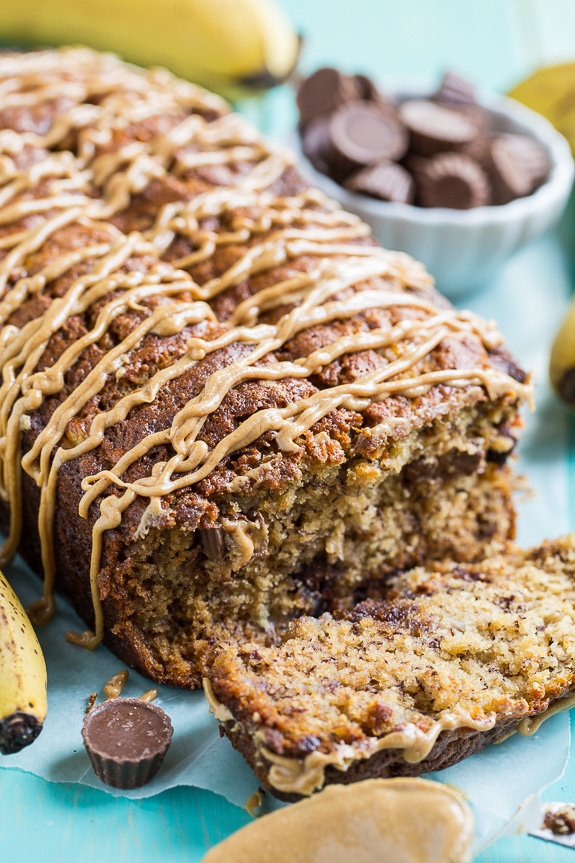 Gayle used Reese's Peanut Butter Spread to make a glaze for her bread. It looked so good, I had to have it in my life too. I couldn't find any Reeses Peanut Butter Spread at the store so instead I bought Jif Whipped Creamy Peanut Butter
. It isn't really the same thing at all because Gayle described the peanut butter spread as being thicker than peanut butter and obviously whipped peanut butter is much lighter in texture.
I was a little disappointed in how the Jif Whipped Peanut Butter tasted on its own (hardly sweet at all). But once a little sugar was added and it was melted for a glaze, it was super delicious.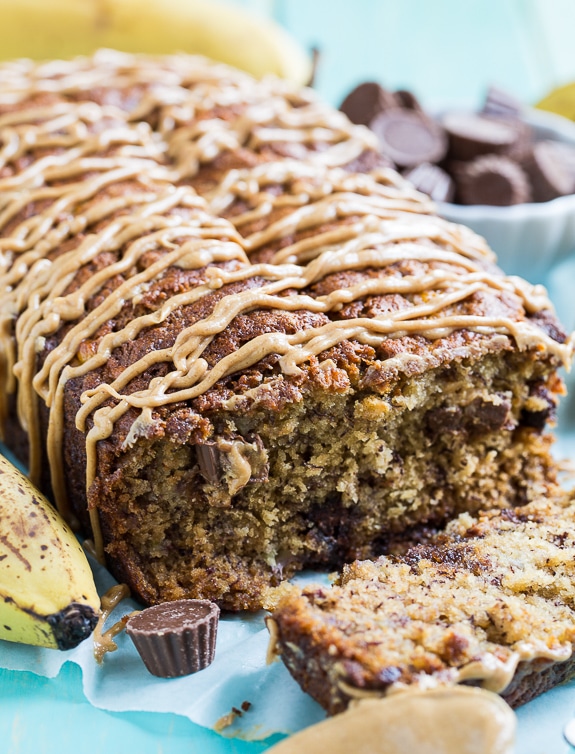 The mini peanut butter cups are so much fun to bake with because you don't even have to chop them up and they melt into wonderful pockets of chocolate and creamy peanut butter. Here's a link to Reese's Minis Peanut Butter Cups
 on Amazon in case you aren't quite sure what they are. They really are itty bitty and so much fun to eat.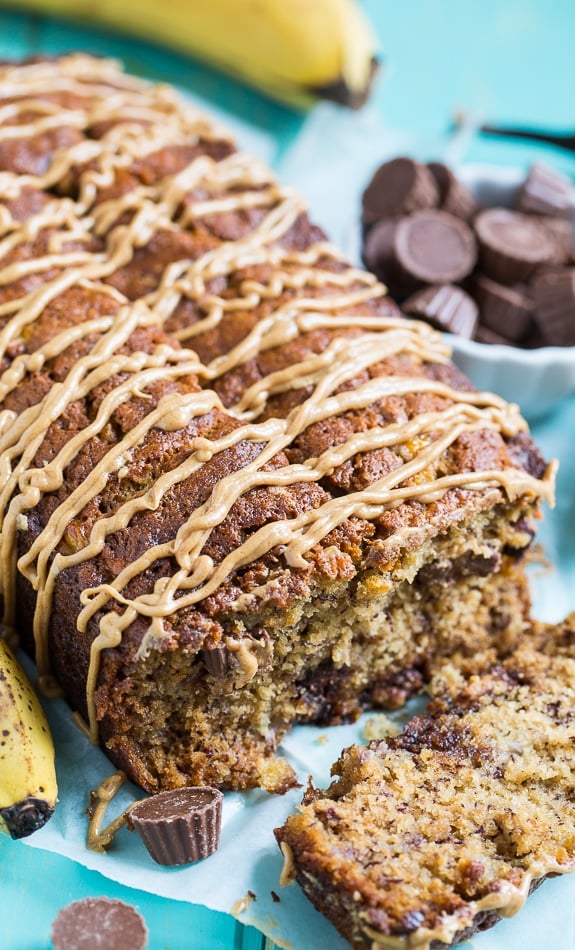 I've posted a whole lot of banana recipes lately and there's even more to come. That's because after the 5K race my son hosted on Valentine's Day to raise money for cancer research, we came home with a huge box of bananas that didn't get eaten. I mean there must have been 50 bananas in there.
And let me just stop and give a huge thanks to our local Publix for donating a $100 gift card to be used for food for the race. And they insisted they didn't want any recognition whatsoever for it. But I thought that was so awesome, I had to mention it. 🙂
For a whole week I baked every type of banana recipe I could think of- Triple Chocolate Banana Bread, Banana Pudding Cheesecake, White Chocolate Banana Bread French Toast, Peanut Butter Banana Bread Pudding, and Banana Cupcakes with Nutella Frosting. It's hard to pick a favorite from them, but since I am a huge fan of chocolate and peanut butter, I may have to go with this one.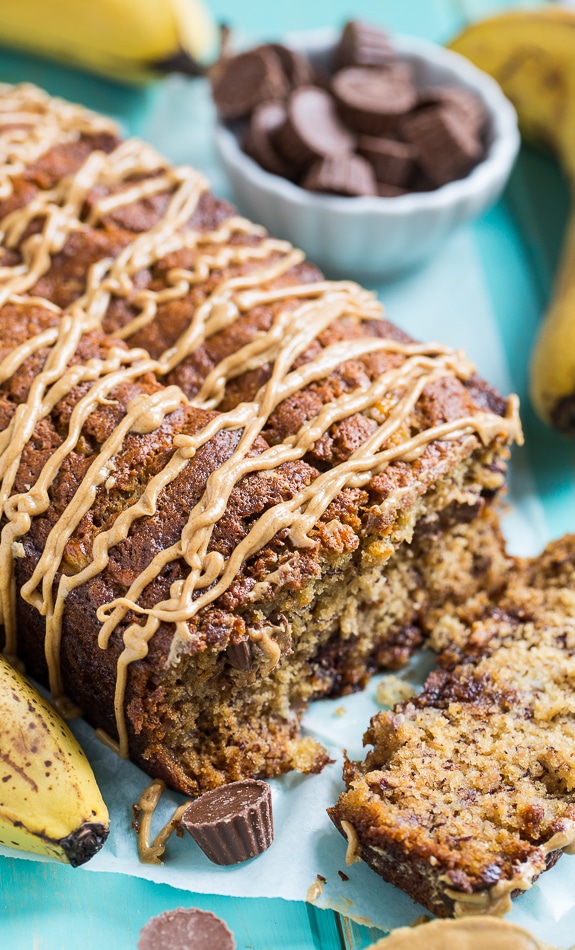 Never miss a recipe. Follow Spicy Southern Kitchen on Facebook and Pinterest.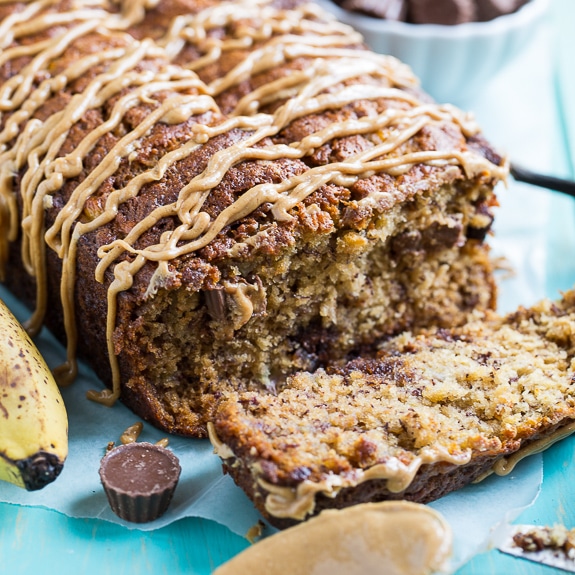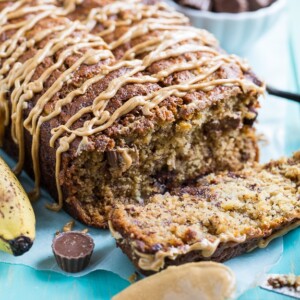 Peanut Butter Cup Banana Bread
Peanut Butter Cup Banana Bread has mini peanut butter cups in the batter and a peanut butter glaze.
Ingredients
1 2/3

cups

all-purpose flour

1

teaspoon

baking soda

1/4

teaspoon

salt

1/2

cup

butter,

softened

3/4

cup

packed light brown sugar

1/4

cup

granulated sugar

2

large eggs,

room temperature

1 1/2

cups

mashed banana

2

tablespoons

sour cream

1/2

teaspoon

vanilla extract

1

(8-ounce)

package mini peanut butter cups,

about 1 1/2 cups
Peanut Butter Glaze
1/2

cup

whipped peanut butter

1/2

to 1 tablespoon granulated sugar
Instructions
Preheat oven to 350 degrees.

Whisk together flour, baking soda, and salt in a medium bowl.

Using an electric mixer on medium-high speed, beat butter and both sugars until fluffy.

Add eggs, one at a time, scraping down sides of bowl as necessary.

Beat in banana, sour cream, and vanilla extract.

With mixer on low, beat in flour and mini peanut butter cups.

Pour into a greased 5X9-inch loaf pan. Bake for 50 to 60 minutes.

Mix together peanut butter and sugar. Microwave until melted. Let cool slightly and place in a ziptop bag. Snip one of the corners and drizzle the glaze on top of the bread.
Want to Save This Recipe?
More Banana Bread Recipes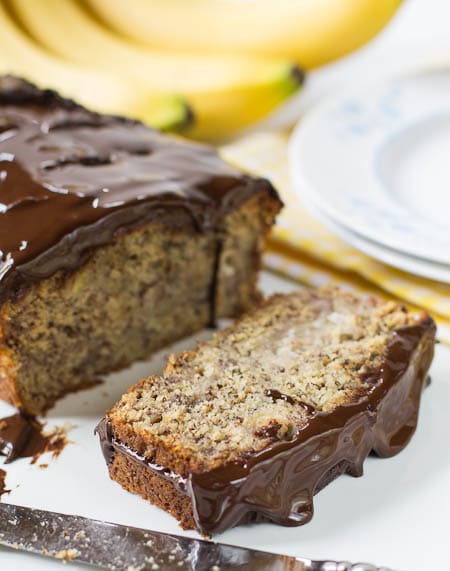 Banana Bread with Chocolate Glaze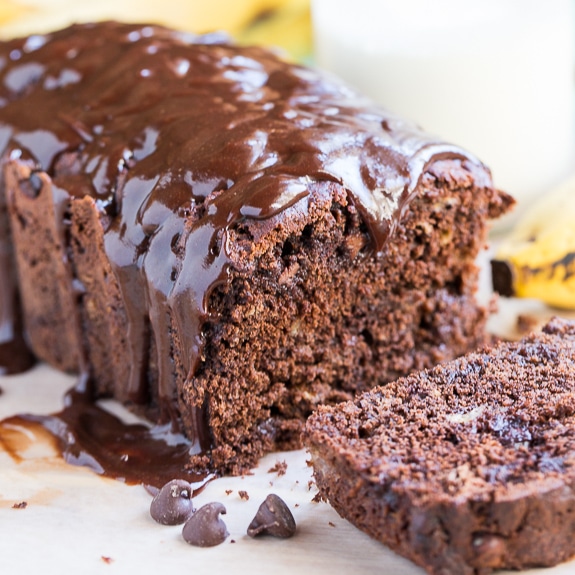 Triple Chocolate Banana Bread
This post contains affiliate links.