Bacon Wrapped Stuffing Bites are made from a mixture of stuffing and ground breakfast sausage wrapped in bacon. This finger food makes an unbelieveably delicious appetizer.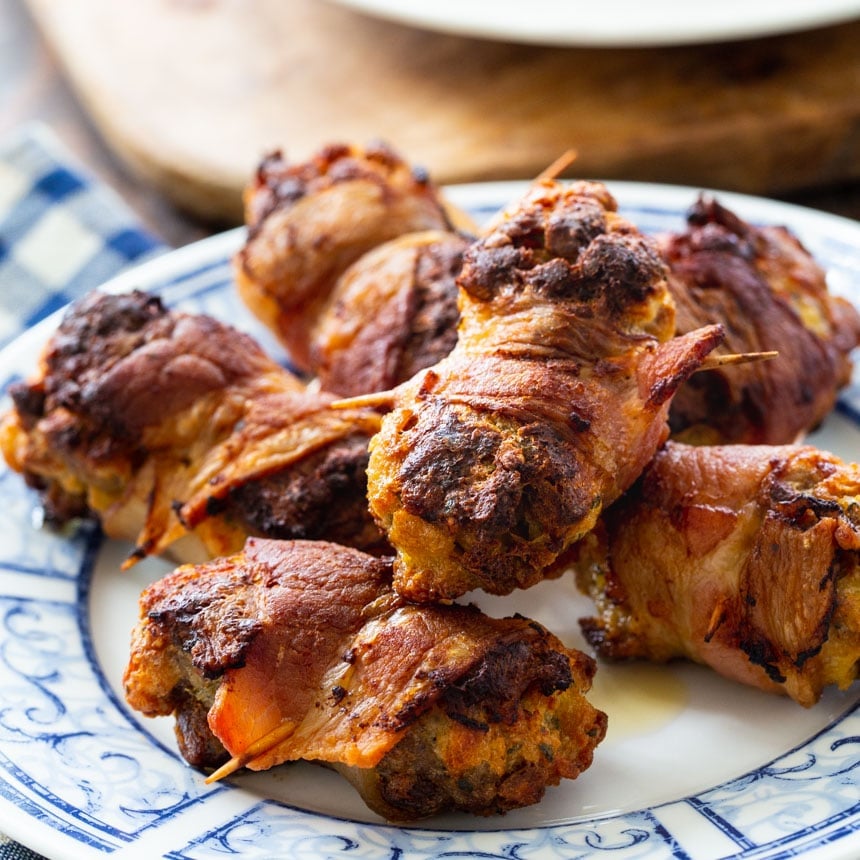 Only 5 ingredients needed to make this retro party favorite!
Since stuffing is one of my favorite foods I think it should be enjoyed all year round, not just on Thanksgiving. I'm an equal opportunity stuffing eater too. I'll gobble up Stovetop stuffing as quickly as I will homemade stuffing. Stovetop is what I use for this recipe. You can use any flavor.
How to Make Bacon Wrapped Stuffing Bites:
The base of the stuffing mixture is 1 1/2 cups of dry herb-seasoned stuffing mix mixed with melted butter and water. For the herb-seasoned stuffing mix you can either use boxed stovetop stuffing mix or a bagged stuffing mix like Pepperidge Farm.
You'll add an egg to the mixture to act as a binder and 1/2 pound of uncooked ground breakfast sausage. Once you have it evenly mixed, put the mixture in the refrigerator for at least an hour so that it firms up.
Shape the mixture into about 16 logs (a few more or less won't hurt anything.)
Wrap 1/2 a slice of bacon around each one and secure with a toothpick. Place on a greased baking sheet and bake at 375 degrees for 20 minutes. Flip over and bake another 20 minutes. The bacon will get nice and crispy around the stuffing mixture.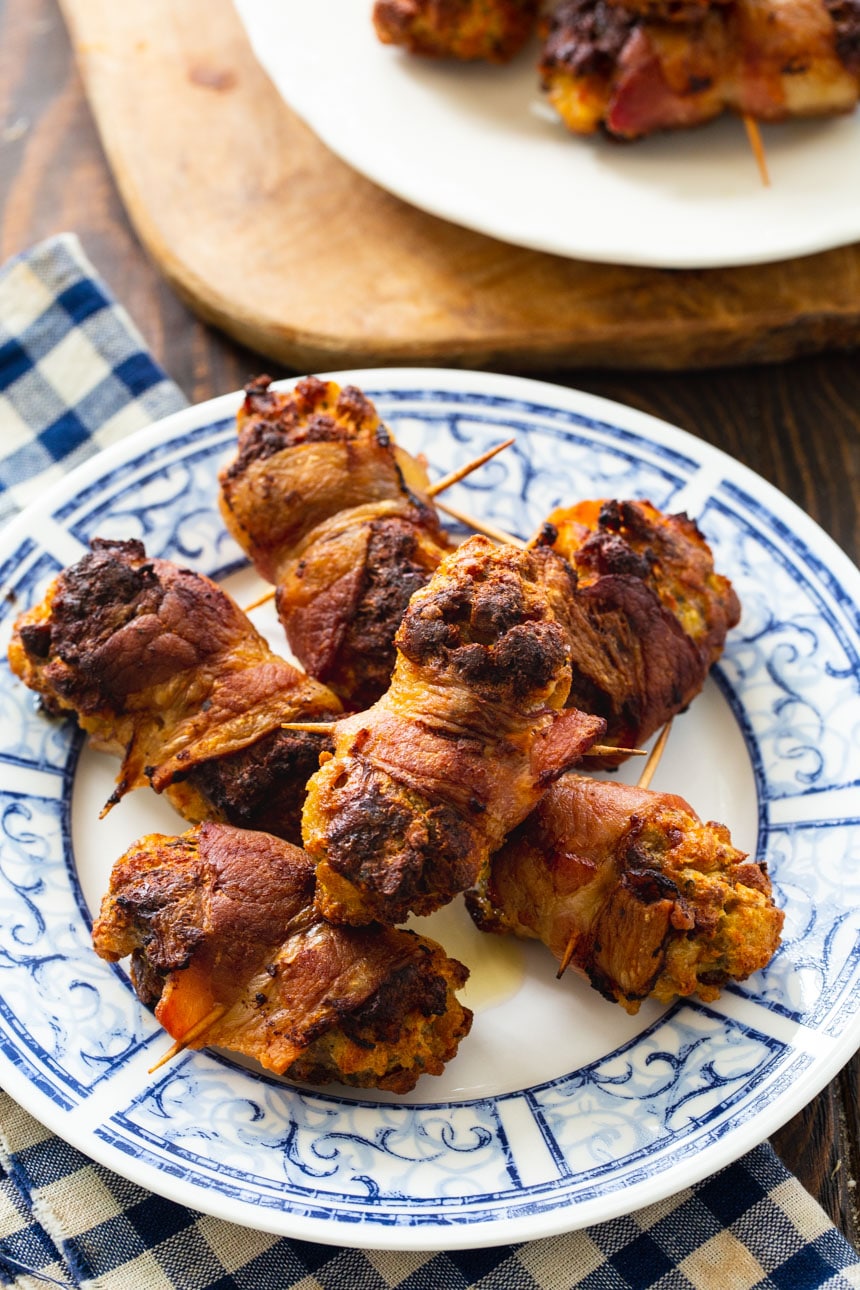 If you want your Bacon Wrapped Stuffing Bites to be spicy, you can use "HOT" sausage.
For best results, do NOT use a thick-cut bacon. It will take too long to get crispy.
This recipe can be assembled ahead of time. Wrap in plastic and refrigerate until you are ready to bake them.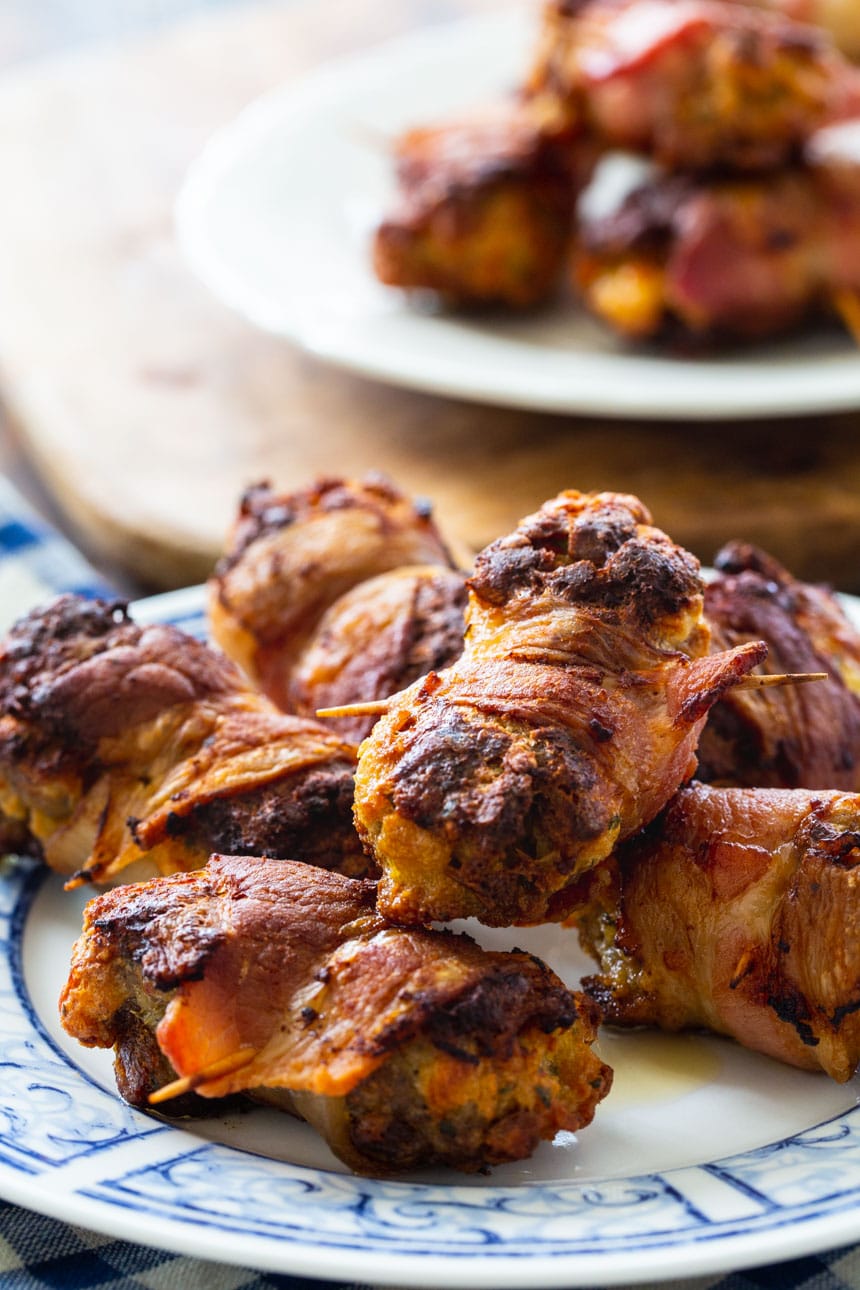 More Bacon Wrapped Appetizers Because Everything Tastes Better Wrapped in Bacon: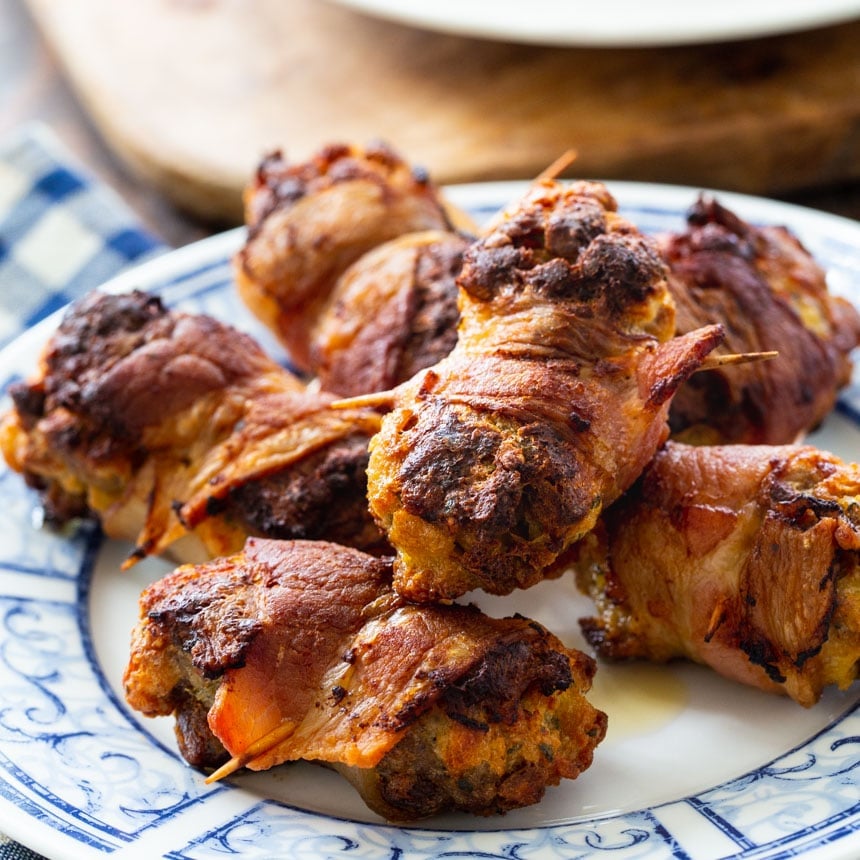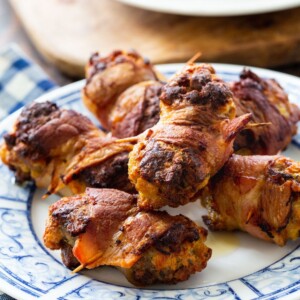 Bacon Wrapped Stuffing Bites
Print Recipe
Ingredients
1/4

cup

butter

1/2

cup

water

1 1/2

cups

herb-seasoned stuffing mix (dry)

1

egg,

lightly beaten

1/2

pound

hot ground breakfast sausage,

uncooked

8

slices

bacon,

each cut in half crosswise

toothpicks
Instructions
Place butter and water in a medium microwave-safe bowl. Microwave until the butter is melted.

Add egg and sausage and stir in until the sausage is broken up and evenly mixed in.

Cover with plastic wrap and refrigerate for at least 1 hour.

Shape mixture into 16 logs. Wrap each one with a piece of bacon and secure with a toothpick.

Place on a greased baking sheet.

Bake in a 375 degree oven for 20 minutes. Flip over and bake another 20 minutes.
Notes
For the stuffing mix, I use Stovetop. Any flavor will work. 
You will have some leftover and can add it to a casserole.
Nutrition