Air Fryer Cajun Shrimp have lots of spice and can be made in under 15 minutes. Can't beat that!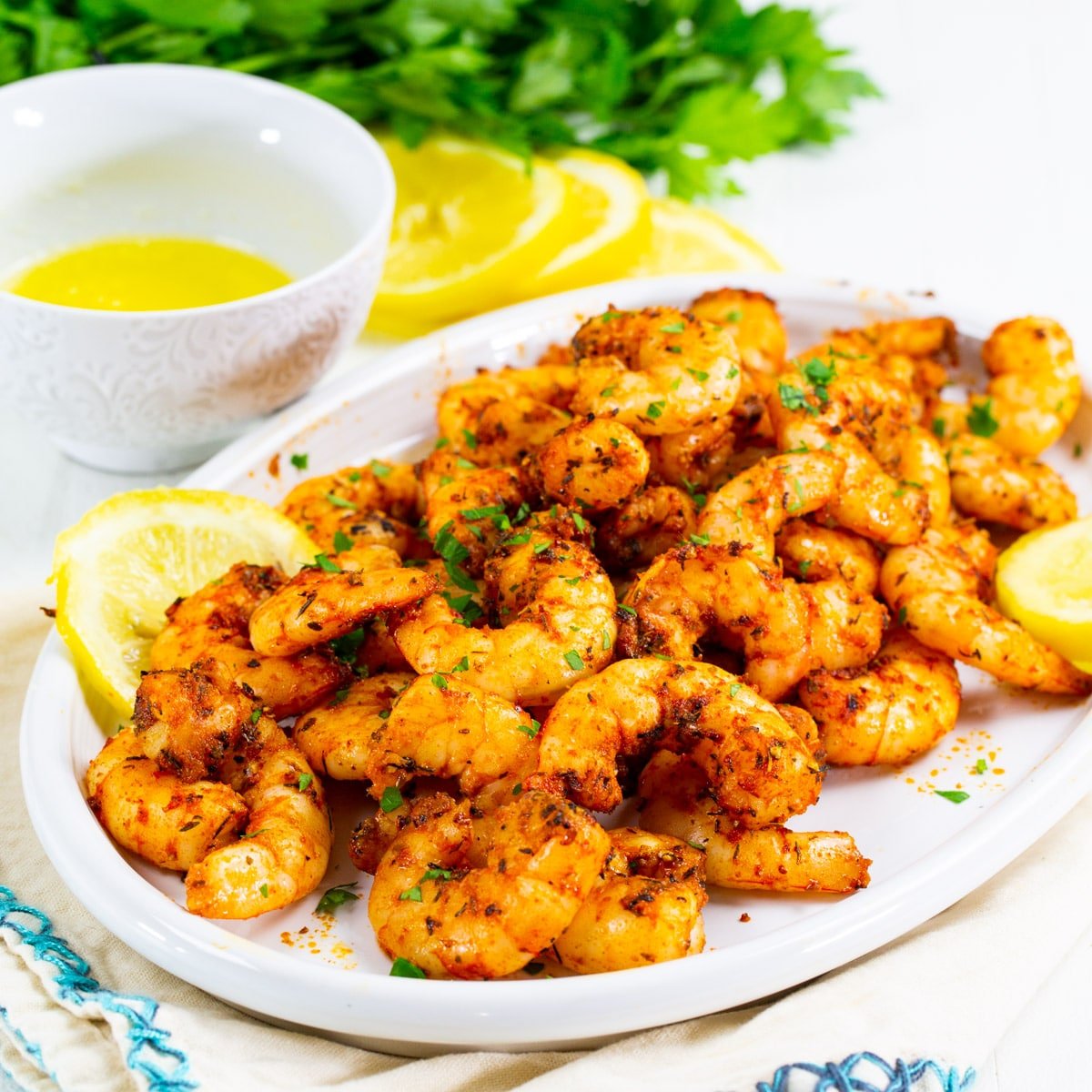 How To Serve Air Fryer Cajun Shrimp
These shrimp make a great filling for tacos or omelets or serve them on top of a salad. You can pair them with white rice or Sweet and Spicy Roasted Sweet Potatoes and Parmesan Roasted Cauliflower.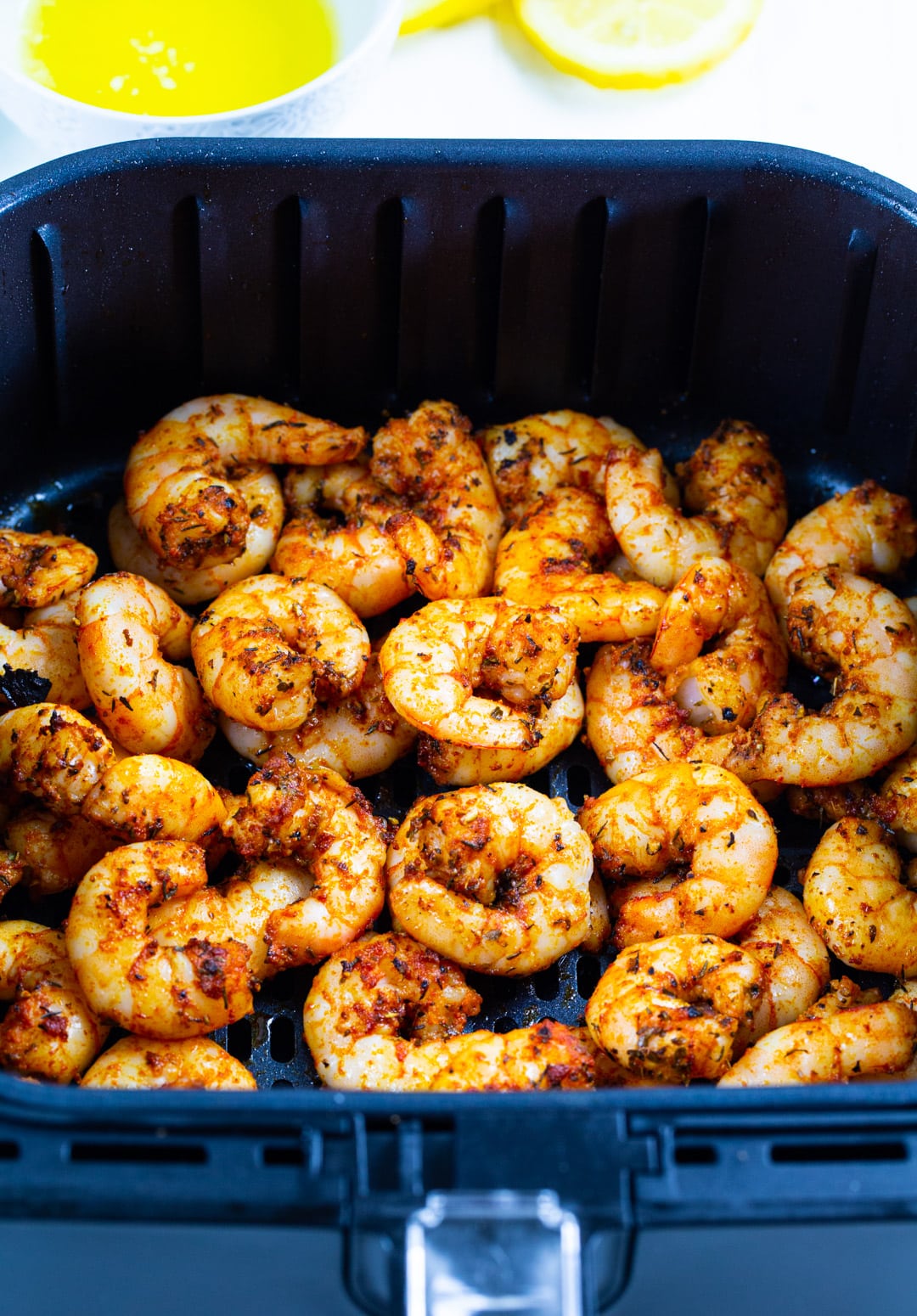 Air Frying Shrimp
Shrimp are one of my favorite foods to cook in an air fryer. Large shrimp air fry in just about 5 minutes. So quick and convenient.
Low Carb
These air fryer shrimp are a great low carb meal and they cook up perfectly juicy and flavorful.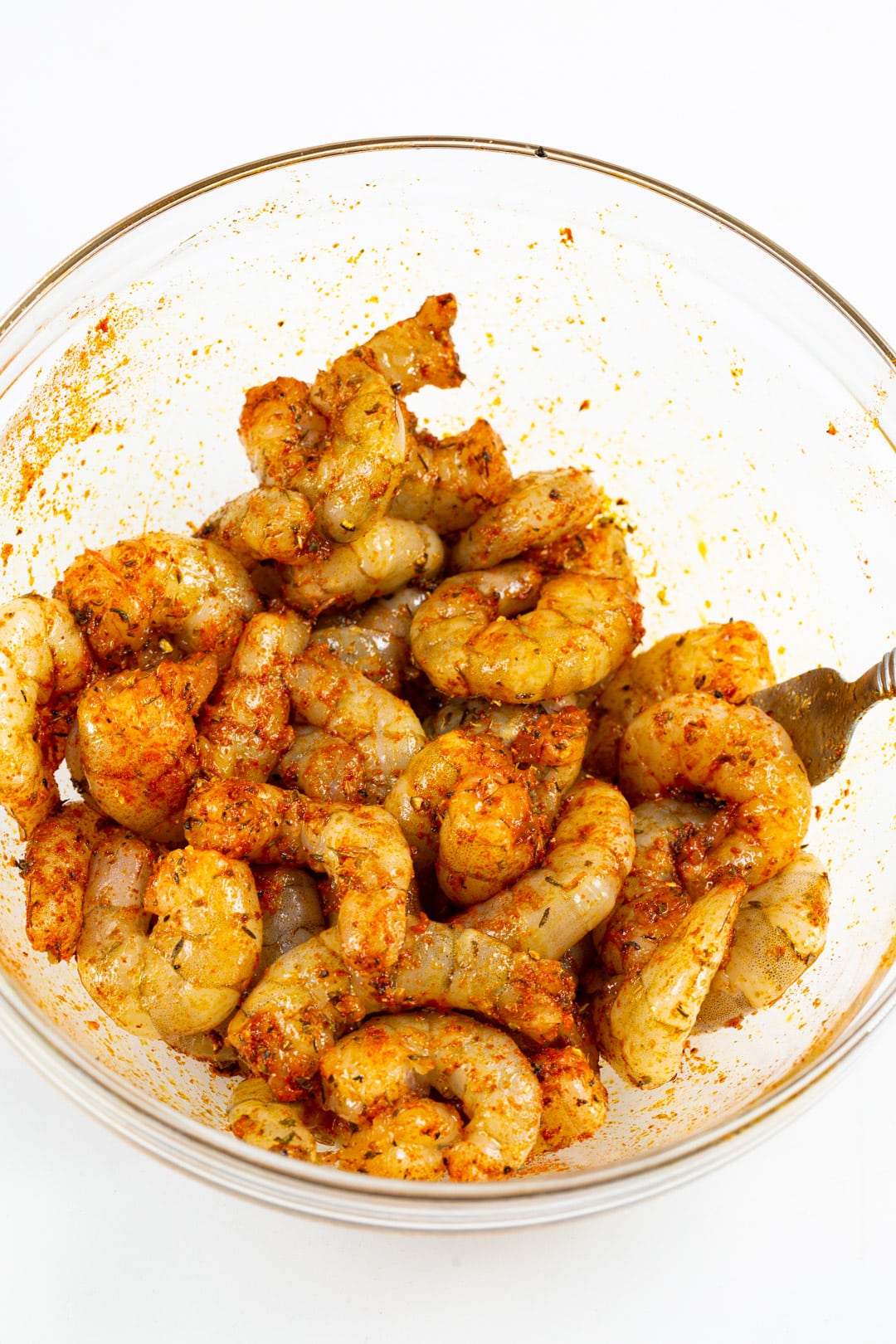 Type Of Shrimp To Use
I am spoiled by living on the South Carolina Coast and I have easy access to very fresh shrimp. If you don't live near the coast, you are probably best off buying frozen shrimp. Let them thaw in the refrigerator overnight or place them in a colander and run water over them until they thaw. It doesn't take long at all. I like to use large shrimp for this recipe.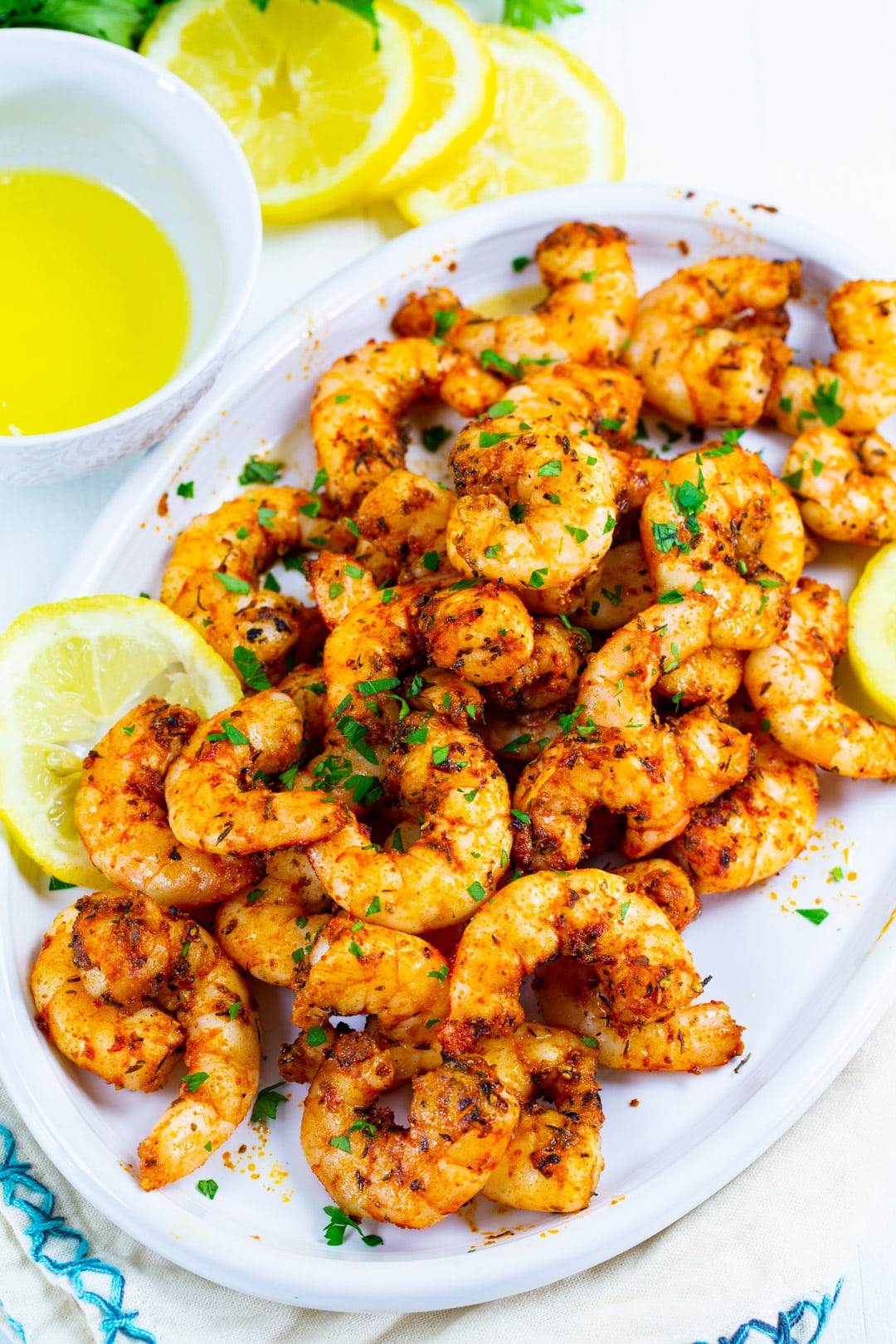 My Favorite Air Fryer
I've tried more than a few air fryers over the years. My current favorite is the Cosori 5.8-Quart Air Fryer. It cooks well, is made well, is easy to clean, and makes less noise than some other brands.
Recipe Tip
Careful not to overcook the shrimp. Shrimp cook very quickly and get rubbery in texture if overcooked. They are done as soon as they turn opaque.
Storage
Leftovers will keep for 3 days or so in an airtight container in the refrigerator. Eat them cold on a salad or reheat them in the air fryer or microwave.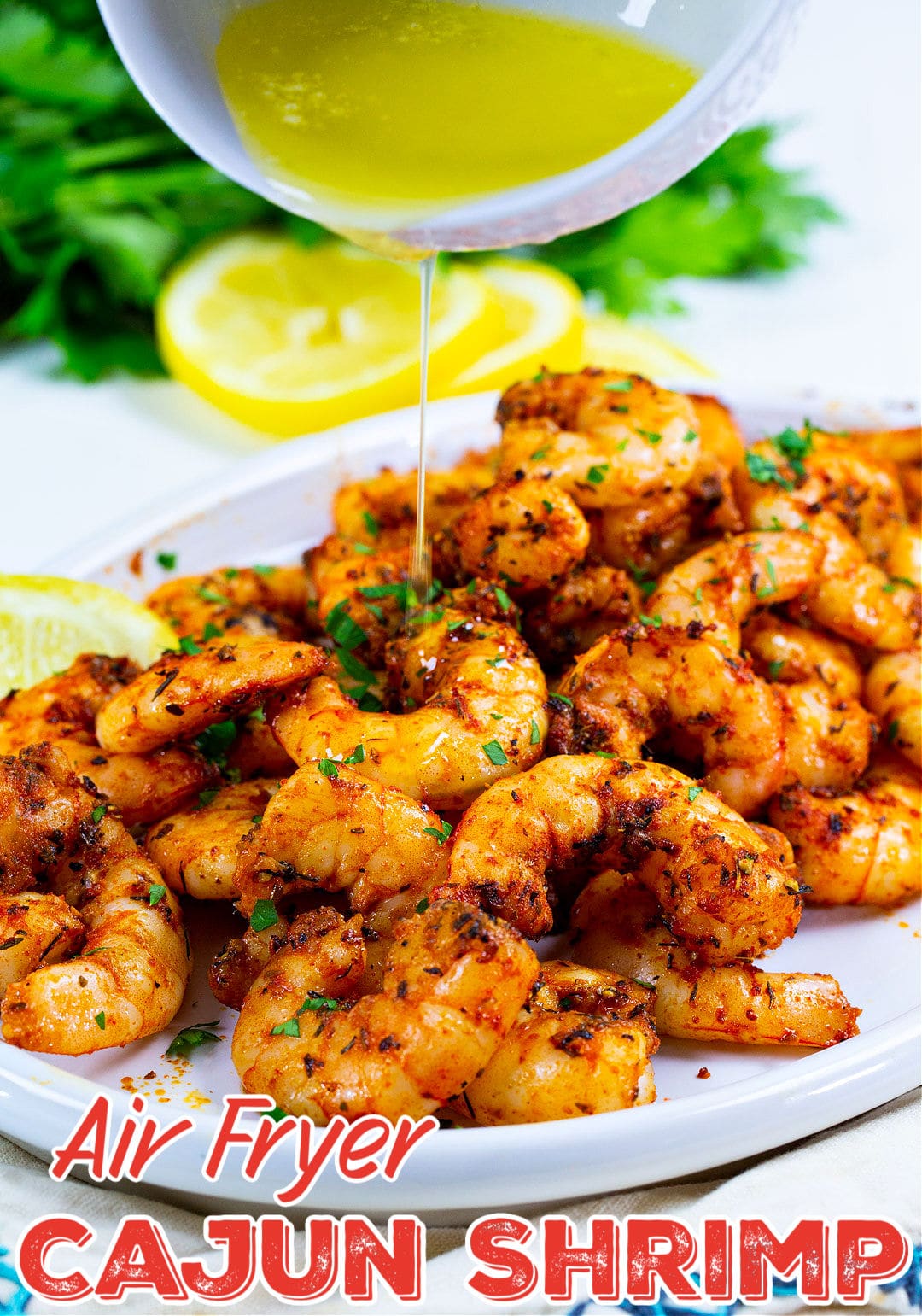 More Air Fryer Recipes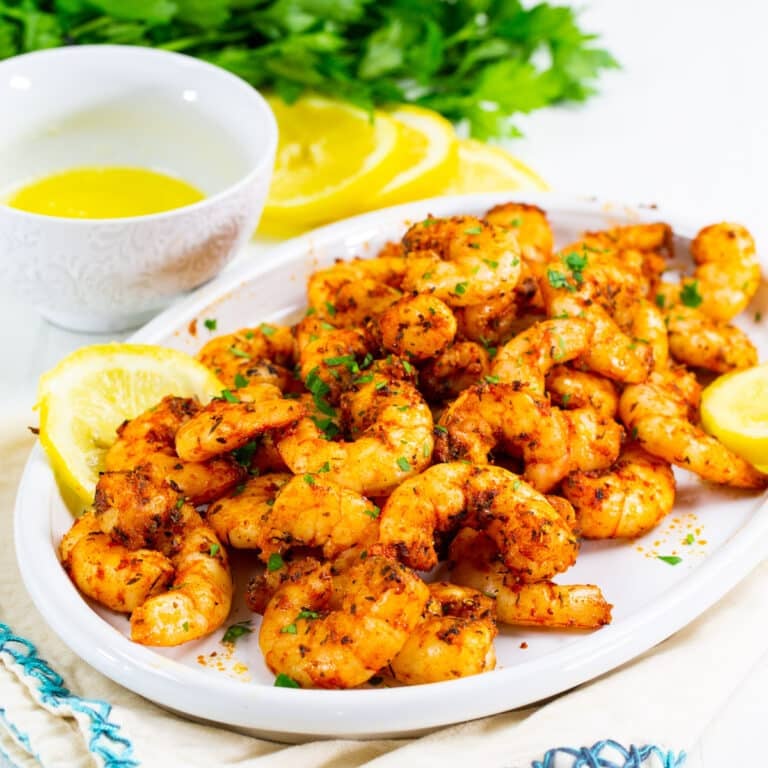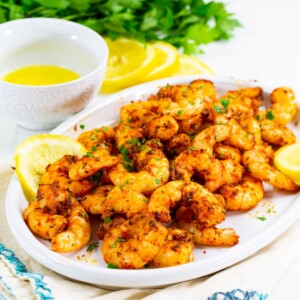 Air Fryer Cajun Shrimp
Air Fryer Cajun Shrimp have lots of spice and can be made in under 15 minutes. Can't beat that!
Ingredients
1 1/4

pounds

large shrimp,

peeled and deveined

1

teaspoon

paprika

1/2

teaspoon

dried oregano

1/2

teaspoon

dried thyme

1/2

teaspoon

garlic powder

1/4 to 1/2

teaspoon

cayenne pepper

1/4

teaspoon

salt

1/4

teaspoon

black pepper

1

tablespoon

olive oil

2

tablespoons

melted butter

1

teaspoon

chopped fresh parsley

lemon slices for serving
Instructions
Rinse shrimp and pat dry with paper towels. Place in a medium bowl.

Sprinkle paprika, oregano, thyme, garlic powder, cayenne pepper, salt and pepper on shrimp.

Drizzle shrimp with olive oil. Use a fork to mix evenly.

Preheat air fryer to 400 degrees. Spray the air fryer basket with oil.

Add shrimp to air fryer basket. Air fry at 400 degrees for 5 to 6 minutes, shaking the basket halfway through.

Transfer to serving plate. Pour melted butter over shrimp and sprinkle with parsley. Squeeze lemon juice over shrimp if desired.
Notes
Cooking times between different air fryers can vary so use the cooking time as an estimate.
Be careful not to overcook the shrimp. Shrimp is done when the color changes from translucent gray to white or pink. Remove it when it is still slightly clear in the center. It will finish cooking from the residual heat.
Want to Save This Recipe?