Only 4 simple ingredients are needed to make these superbly rich, tender, and fluffy 7-Up Biscuits. Better yet, no biscuit cutter needed. These magical biscuits are wonderful with breakfast or any southern meal.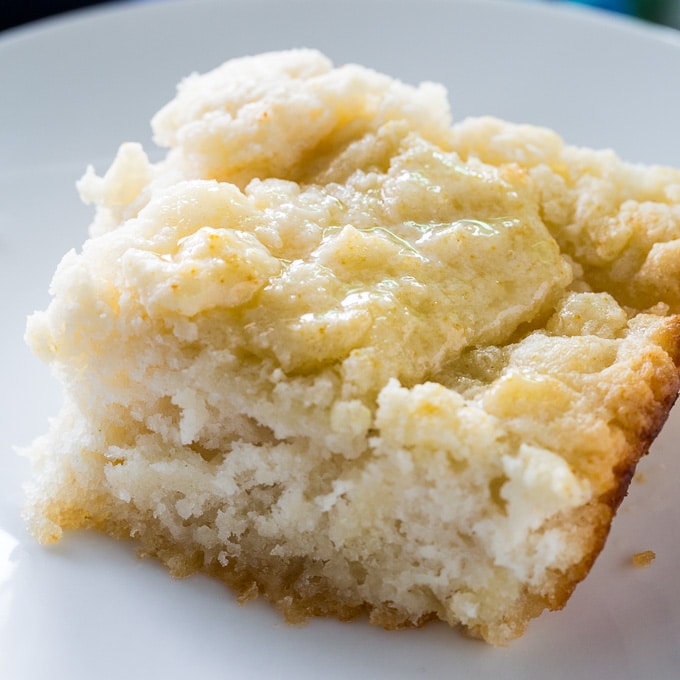 You may be thinking- Hmmm….Biscuits made with 7-Up. I don't know about that.
But this is a recipe that has been around for years and it really works. Even better, it's super easy.
The sweetness of the 7-Up and the tang of the sour cream pretty much cancel each other out and you end up with a really, really good, tasty, light, and fluffy biscuit.
One bite and you'll be hooked.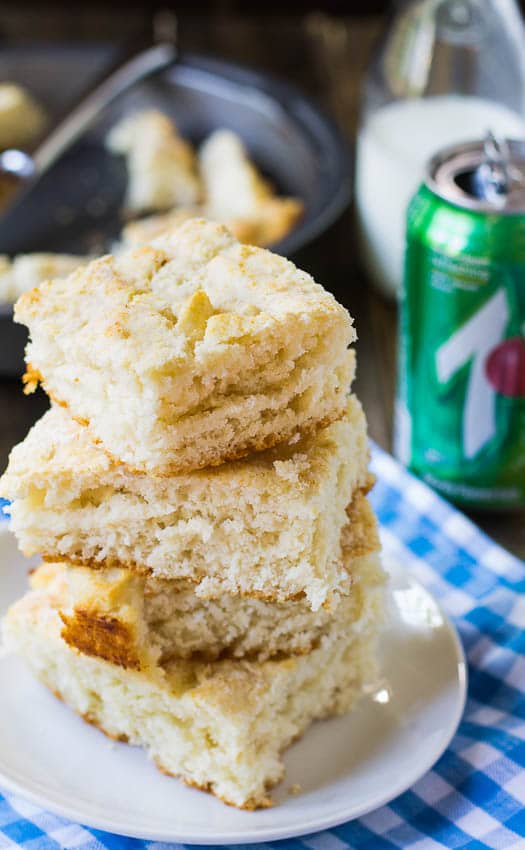 To make these biscuits, 1/2 a stick of butter gets melted in a 9-inch square pan. As the biscuits cook in this melted butter, the bottoms brown and crisp up and develop a wonderfully buttery taste.
To make the dough, just mix Bisquick with sour cream and then slowly add the 7-Up. Throw in a pinch of salt and turn the dough, which will be very sticky and wet, onto a floured surface. Be sure to coat your hands and the top of the dough with flour too. You don't really need to knead it (no pun intended). I try to mess with it as little as possible and just shape it to fit the pan. Then I plop the whole piece of dough in the pan and cut it into individual biscuits when it is done cooking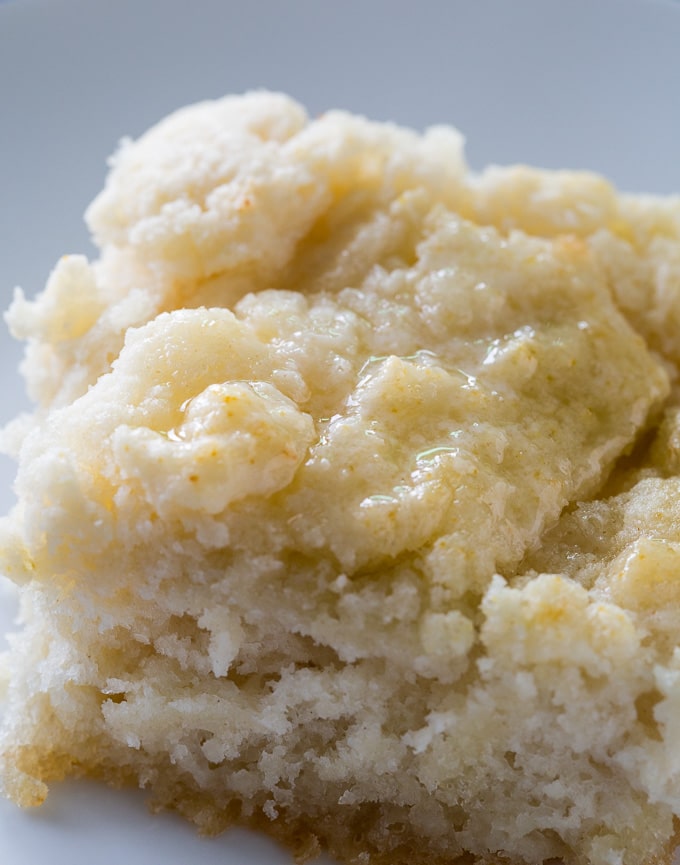 It will look like it is going to turn into a hot mess, but it won't. You can be sure these will be some of the best biscuits you've ever made.
Tips for making 7-Up Biscuits
Use either 7-Up or Sprite. I think Ginger-Ale would work fine too.
You can substitute a homemade Bisquick mix for the Bisquick, but NOT self-rising flour.
Bisquick is a great pantry staple to have and can also be used to make pancakes and Deep Dish Taco Squares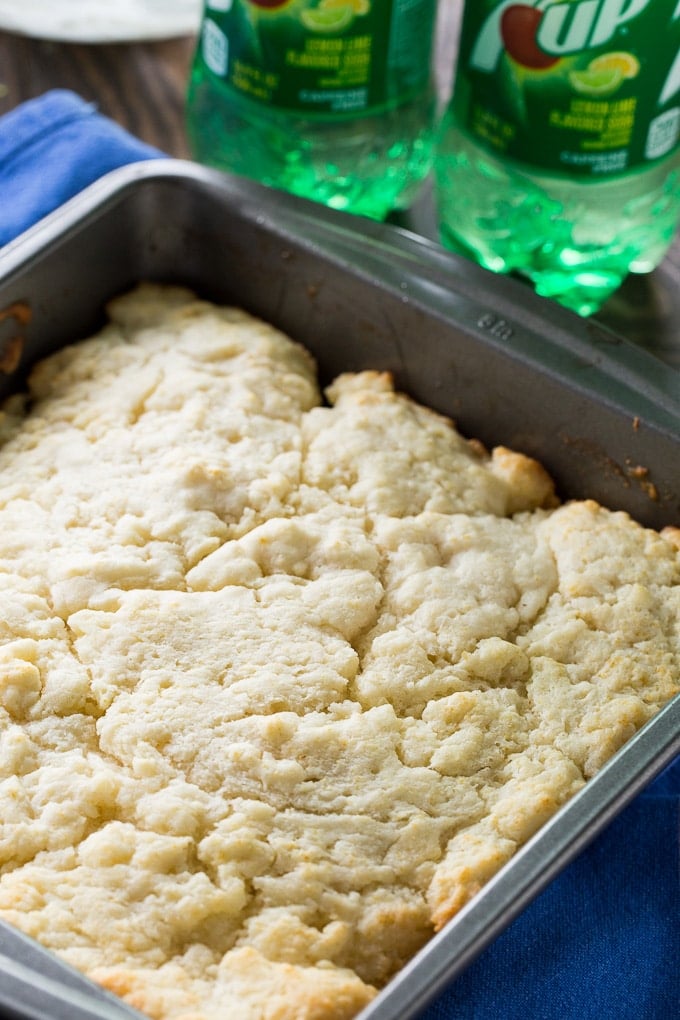 Try these biscuit recipes too
Sweet Potato-Bacon Biscuits with Cheddar
Sausage Gravy Stuffed Biscuits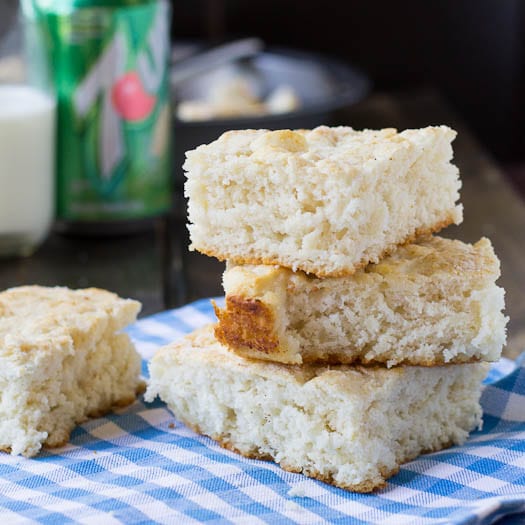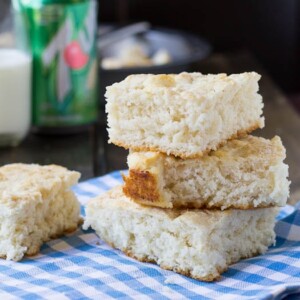 7-Up Biscuits
Only 4 simple ingredients needed to make these superbly rich, tender, and fluffy 7-Up Biscuits. One bite and you'll be hooked.
Ingredients
2

cups

Bisquick

1/2

cup

sour cream

1/2

cup

7-up

1/4

teaspoon

salt

1/4

cup

butter

Flour
Instructions
Preheat oven to 450 degrees.

Place butter in a 9-inch square baking pan and place in the oven to melt the butter. Watch it carefully as the butter will burn quickly and easily. Alternately, you can melt the butter in a microwave safe bowl and pour it into the baking pan.

In a medium bowl, stir the Bisquick and sour cream together. Slowly pour in 7-up. Add salt.

Spread a thin coating of flour on a large piece of parchment paper or your counter. Coat your hands with flour and sprinkle some on top of the dough.

Shape into approximately a 9-inch square. Do not knead. At this point you can cut into individual square biscuits and place in the prepared pan on top of melted butter. But I just place the dough in the pan as 1 piece and cut into biscuits once cooked. Dough will be very wet and hard to work with. You will think the whole thing is going to turn into a hot mess, but it won't.

Bake for 8-12 minutes. Cut into 9 squares.
Want to Save This Recipe?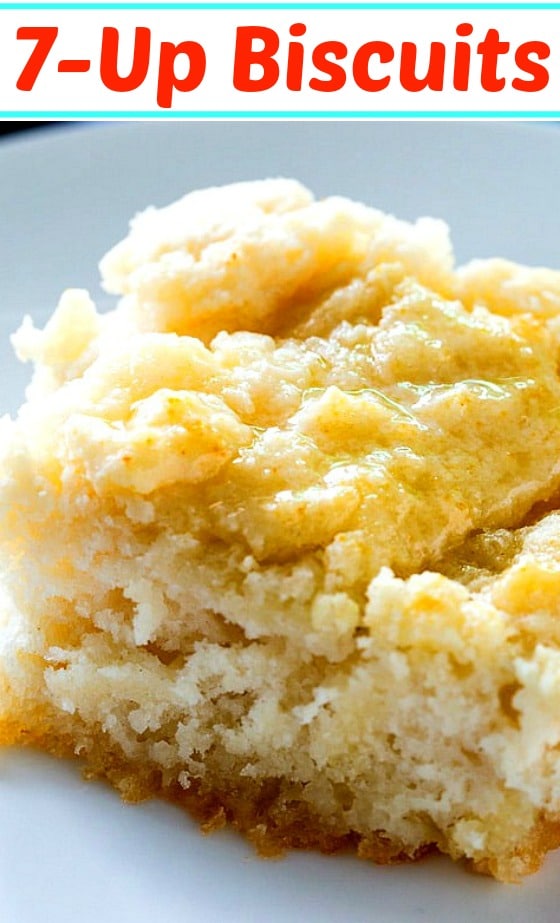 Disclosure: This post may contain affiliate links.