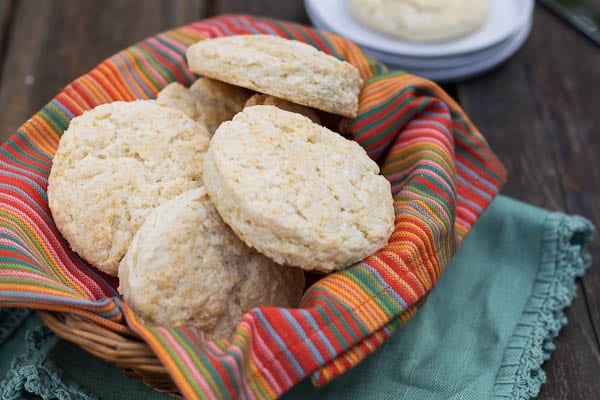 I have a confession to make. I'm a southern cook who can't make biscuits. I can kind of make them, but not to my satisfaction. Most of the time they come out like hockey pucks. Flat, dense, and heavy. But in my defense, there are no biscuit makers in my family. I've had to fend for myself as far as biscuit-making is concerned.
The biscuits at The Flying Biscuit Café are some of the best around. The Flying Biscuit Café is a small chain of restaurants started in Atlanta that is known for their biscuits. They are extra rich biscuits made from butter, heavy cream, and half and half with sugar sprinkled on top.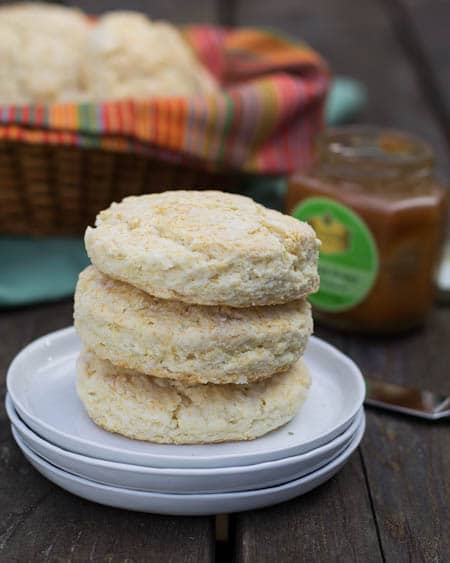 I recently decided to give biscuits another try using the recipe from The Flying Biscuit Cafe Cookbook: Breakfast and Beyond
. And while they didn't rise as much as I would have liked them to, they were tender and delicious.
I'm always super careful not to overwork the dough so I don't think that is the problem. And I've always had good luck making scones which is a very similar process. I think that at least in this case I rolled the dough a little too thin. The recipe said the dough should be 1 inch thick and I'm pretty sure mine was somewhere between 1/2-inch and 3/4-inch. I sometimes can't help myself with rolling dough. If I had left it at 1-inch, I don't think I would have been able to cut more than 4 or 5 biscuits.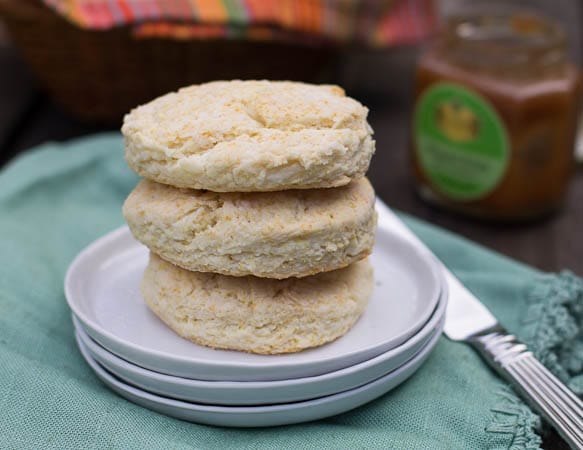 But if you are at all good at making biscuits, you will rock this recipe!  And then can you come over to my house and show me how you rocked it. Pretty please? If I can make decent biscuits out of it, you can do much, much better. And I have hope that one day the Biscuit Fairy Godmother is going to sprinkle some fairy dust on my dough and I am going to bake the most light, pillowy, soft biscuits ever .
There seems to be a consensus that White Lily flour is the best for making biscuits. It is made from soft red winter wheat and has a low protein and gluten content that helps produce light, fluffy biscuits. From what I'm told, it can be difficult to find outside of the south, but it can be purchased online. Martha White is another good brand.
Be sure that when you cut the dough with the biscuit cutter you do not twist the cutter. Just go straight down and up. Another tip I can't ever remember to try is to place the biscuits on the baking sheet bottom-side up.
Do you have any tricks for getting your biscuits to rise super high?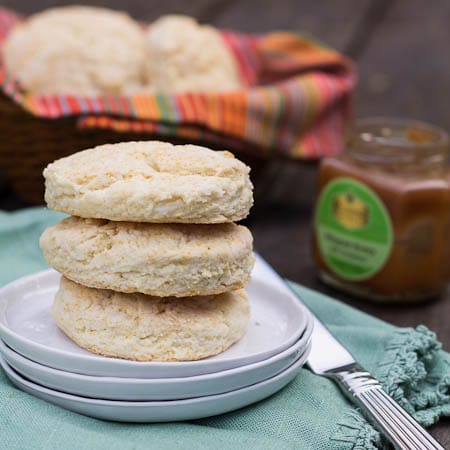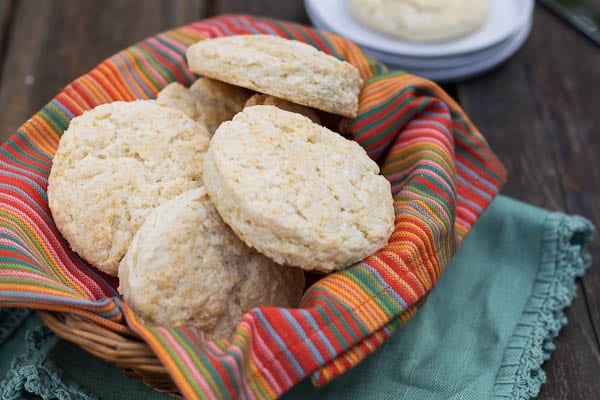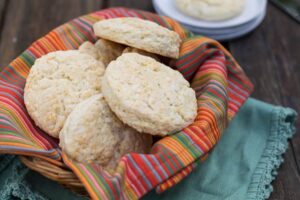 Flying Biscuits
Flying Biscuit Cafe's biscuit recipe. They're light, tender, a little bit sweet, and a whole lot of yummy!
Ingredients
3

cups

all-purpose flour,

best to use a soft wheat flour like White Lily

1

tablespoon

plus 1 1/2 teaspoons baking powder

3/4

teaspoon

salt

2

tablespoons

plus 1 1/2 teaspoons sugar

6

tablespoons

unsalted butter,

at room temperature

2/3

cup

heavy cream

2/3

cup

half and half

1

tablespoon

half and half for brushing on top of biscuits

1

tablespoon

sugar for sprinkling on top of biscuits
Instructions
Preheat oven to 375 degrees and line a baking sheet with parchment paper.

In a large bowl, combine flour, baking powder, salt, and sugar.

Cut butter into 1/2 tablespoon-sized pieces and add to flour. Use your fingers or a pastry cutter to work the butter into the flour mixture until it resembles coarse meal.

Make a well in the center and pour in heavy cream and half and half. Using a wooden spoon, stir the dry ingredients into the cream and mix just until it starts to form a dough.

Turn dough out onto a lightly floured surface and knead 2 to 3 times. Use a rolling pin to roll dough to 1-inch thickness.

Dip a 2 1/2-ich biscuit cutter (I think the one I used was slightly larger) in some flour and then cut the dough. Scraps can be gathered and rerolled 1 time.

Place biscuits on prepared sheet spacing apart by 1/4-inch. Brush tops with the 1 tablespoon half and half and sprinkle with sugar. Bake for 20 minutes.
Notes
Makes 8-12 biscuits.
Be sure that when you cut the dough you do not twist the biscuit cutter. Just go straight down and up.
Want to Save This Recipe?
 Disclosure: Spicy Southern Kitchen is an amazon.com affiliate.