These are the Callie's Buttermilk Biscuits that made Callie's Charleston Biscuits famous. They are tender and rich and the recipe is a little bit different than the typical southern biscuit recipe. If you're a regular at making biscuits or you've wanted to try but never have, you'll love this recipe.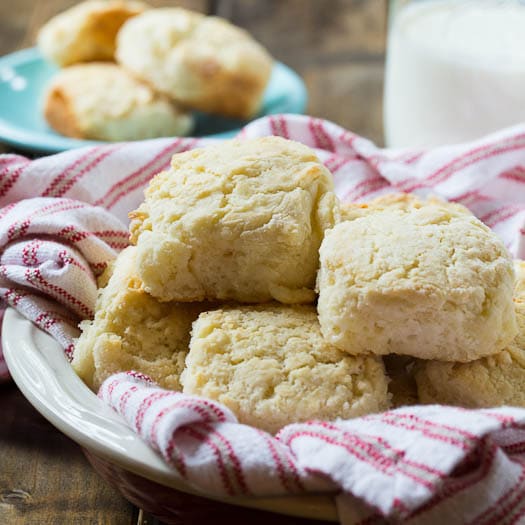 Biscuits that are just right -tender and fluffy- can be difficult to make if you don't make them often. There's a lot of feel and touch involved and those are things that are hard to translate into a recipe. The recipe for Callie's Buttermilk Biscuits in the wonderful Callie's Biscuits and Southern Traditions: Heirloom Recipes from Our Family Kitchen
Cookbook contains very detailed directions that will greatly increase your chance for biscuit success. And if you don't succeed on the first attempt, try again. Homemade biscuits are well worth the learning curve.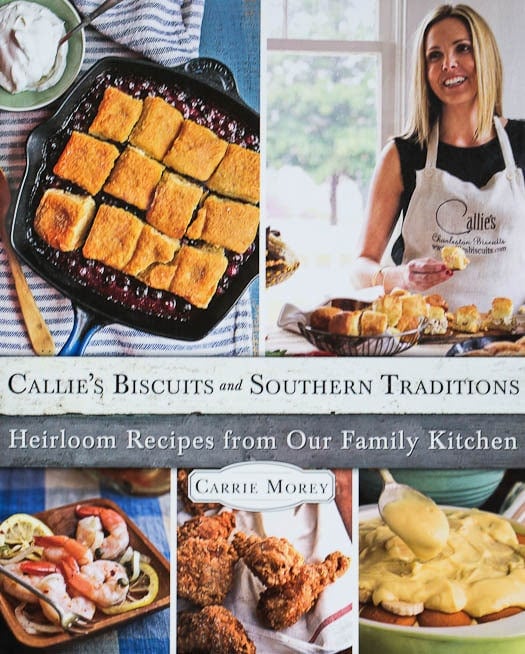 I've paraphrased and shortened up the instructions quite a bit in the recipe below. But if you enjoy southern cooking, Callie's Biscuits and Southern Traditions is well worth the purchase. With beautiful pictures, a wide variety of southern recipes, detailed instructions, and multi-paragraph introductions to each recipe, this is a cookbook that belongs on the book shelf of any southern cook.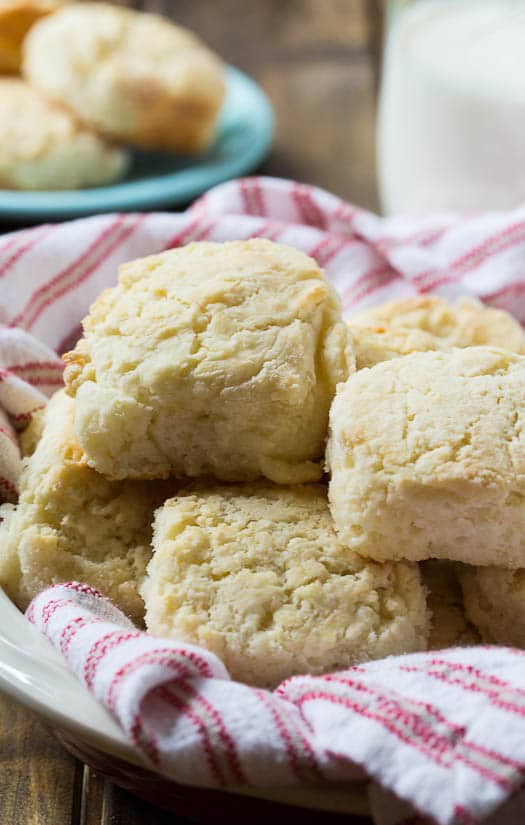 Callie's Charleston Biscuits was started in 2005 when Carrie Morey convinced her mother to put off early retirement from her catering business and use her biscuit recipe as the backbone for a new business. It was well-received and the biscuits were soon after featured on Oprah and the Today Show. They can now be purchased at high end retail stores across the country. And with the publication of the cookbook last year, they can be enjoyed fresh and piping hot from your oven.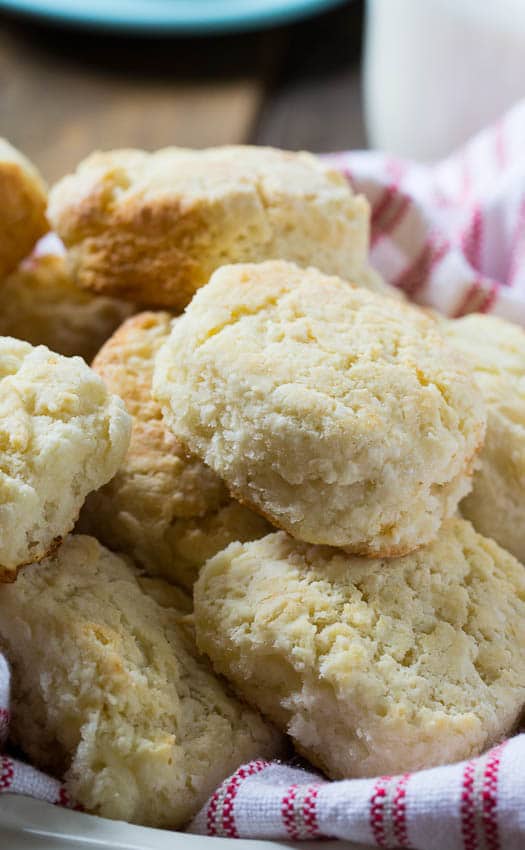 This isn't your typical biscuit recipe. For starters, it uses a large amount of cream cheese which gives the biscuits richness and just a little tang. Secondly, forget the notion that you have to use cold ingredients to make southern biscuits. For this recipe, you use softened butter and cream cheese and it is much easier and more enjoyable to work into the dough.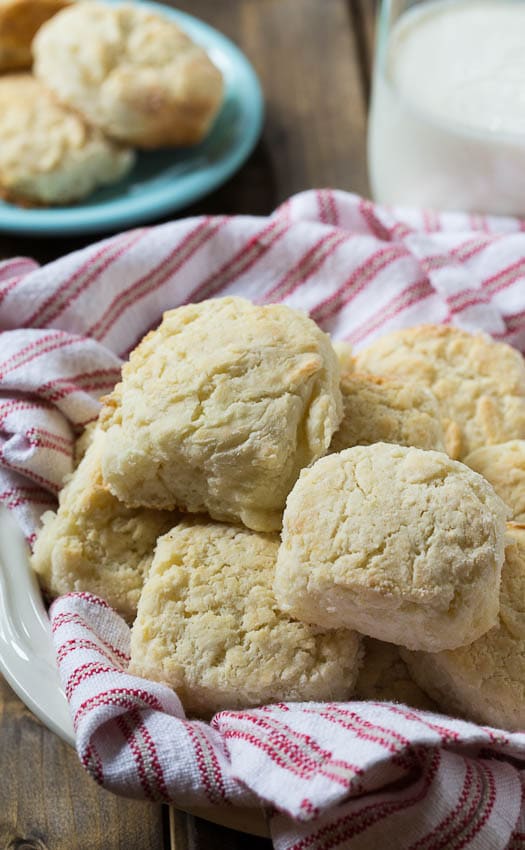 But similar to most other biscuit recipes, Callie's Buttermilk Biscuits are made with White Lily Flour. It has a lower protein content than other flours an helps achieve that fabulously light and tender texture that is so representative of a southern biscuit. If you can't find this type of flour, I highly recommend ordering some online.
Happy Biscuit Making!
Resources
Callie's Charleston Biscuits Website –  you can order Callie's Biscuits here. They come fully cooked and frozen and would be wonderful to have in your freezer for the holidays. They also have a biscuit of the month club which makes a wonderful gift. Oh, and they also have a recipe blog. 🙂
White Lily Flour Self Rising – 2 Lb Bag
Stainless Steel Biscuit Cutter Set
Callie's Biscuits and Southern Traditions: Heirloom Recipes from Our Family Kitchen
Note: I doubled the recipe from the book. The recipe didn't make a very large quantity of dough and I find I roll my dough too thin when there's not much of it. 🙂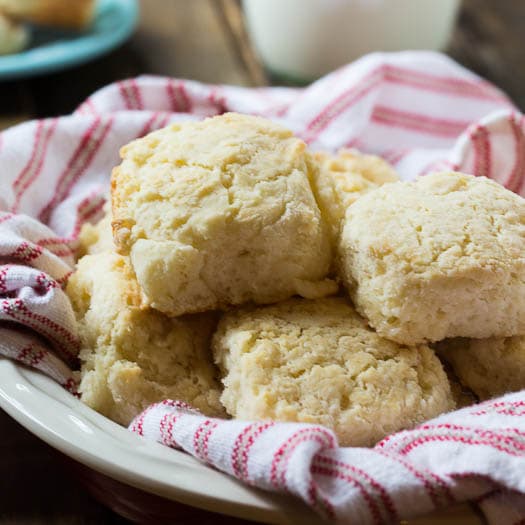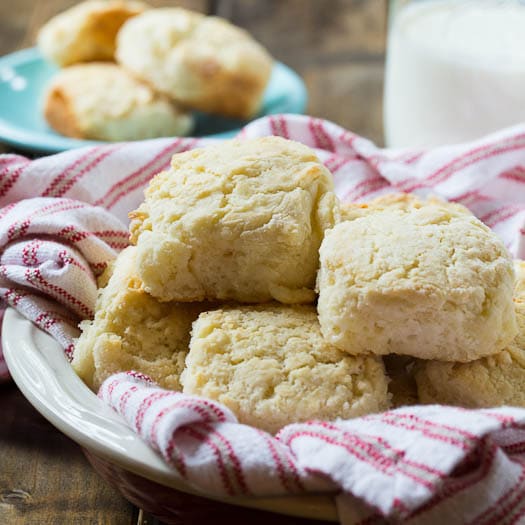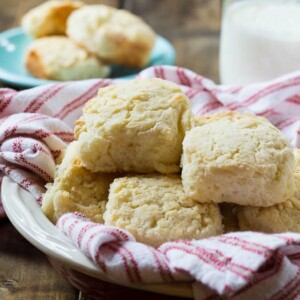 Callie's Biscuits
The recipe for Callie's Buttermilk Biscuits that made Charleston Biscuit Company famous. Very rich and tender biscuits.
Ingredients
4

cups

self-rising flour

preferably White Lily, plus more for dusting

1

butter (8 tablespoons)

butter cut in small cubes and at room temperature

1/2

cup

cream cheese,

room temperature

1 1/2

cups

buttermilk

2

tablespoons

melted butter
Instructions
Preheat the oven to 500 degrees with rack in the middle position.

Place 4 cups flour in a large, wide bowl.

Sprinkle the butter cubes and the cream cheese on top of the flour and use your fingers to "cut" it in until the mixture resembles cottage cheese (chunky with some loose flour).

Make a well in the center and pour the buttermilk in the well.

Use your hands or a rubber spatula to mix the buttermilk into the flour. Don't overmix. The secret to tender biscuits is messing with the dough as little as possible. A wet and messy dough will form.

Spread a good bit of flour out on a work surface. (I like to use a piece of parchment paper for my work surface.)

Dump the dough onto the floured work surface. Flour a rolling pin and sprinkle flour on top of the dough.

Roll the dough to 1/2-inch thickness. Do not knead the dough.

Flour a 2-inch round biscuit cutter. Press the cutter straight down into the dough and straight back up. (No turning.) Repeat, cutting as many biscuits as you can.

Roll out dough scraps one time to cut more biscuits. As long as the dough stays wet inside, you can use as much flour on the outside as you need. As I transfer the biscuits to a baking pan, I try to dust off any excess flour.

Place biscuits on a baking pan with sides or a cast iron skillet. The sides of the biscuits should be touching. The recipe recommends lining the sides of the pan with parchment paper, but I did not.

Brush the tops with melted butter. Place in oven and immediately reduce oven temp to 450 degrees. Bake 16 to 18 minutes, rotating the pan once.
Want to Save This Recipe?
Recipe Source: adapted from Callie's Biscuits and Southern Traditions: Heirloom Recipes from Our Family Kitchen
Disclosure: This post contains affiliate links.