Homemade buttermilk biscuits get even better with bacon and cheese added. The bacon gives them a wonderful saltiness that is the perfect match for a plate of scrambled eggs. And who  can resist melted cheddar cheese? Not me.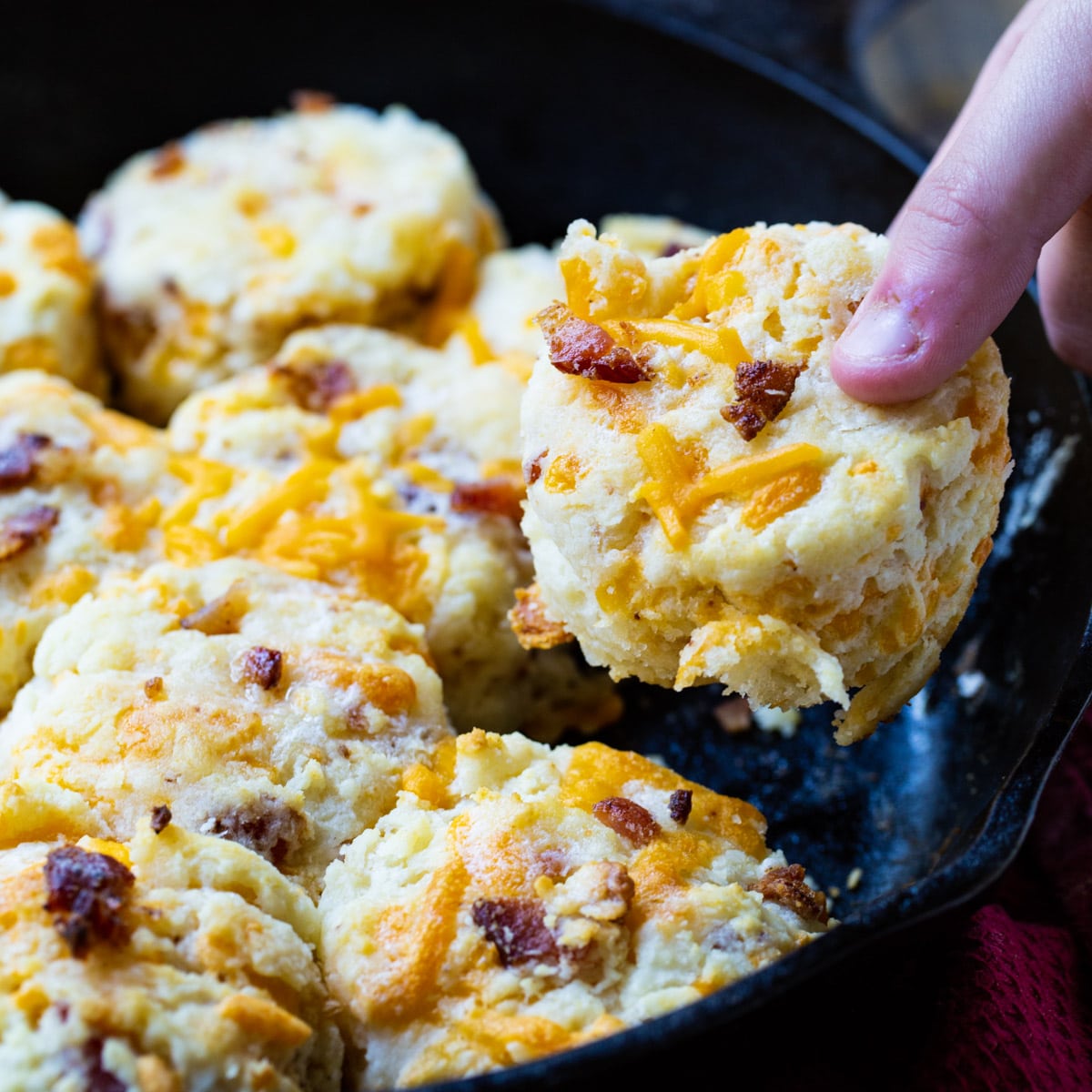 There's nothing like fresh, warm biscuits from the oven and once you get the hang of making them, they're super quick and easy to make. And they'll disappear even faster.
I like to use my Cast-Iron Skillet
for making biscuits. I like the soft edges that form when the biscuits are touching each other and they always seem to rise better when they are close together.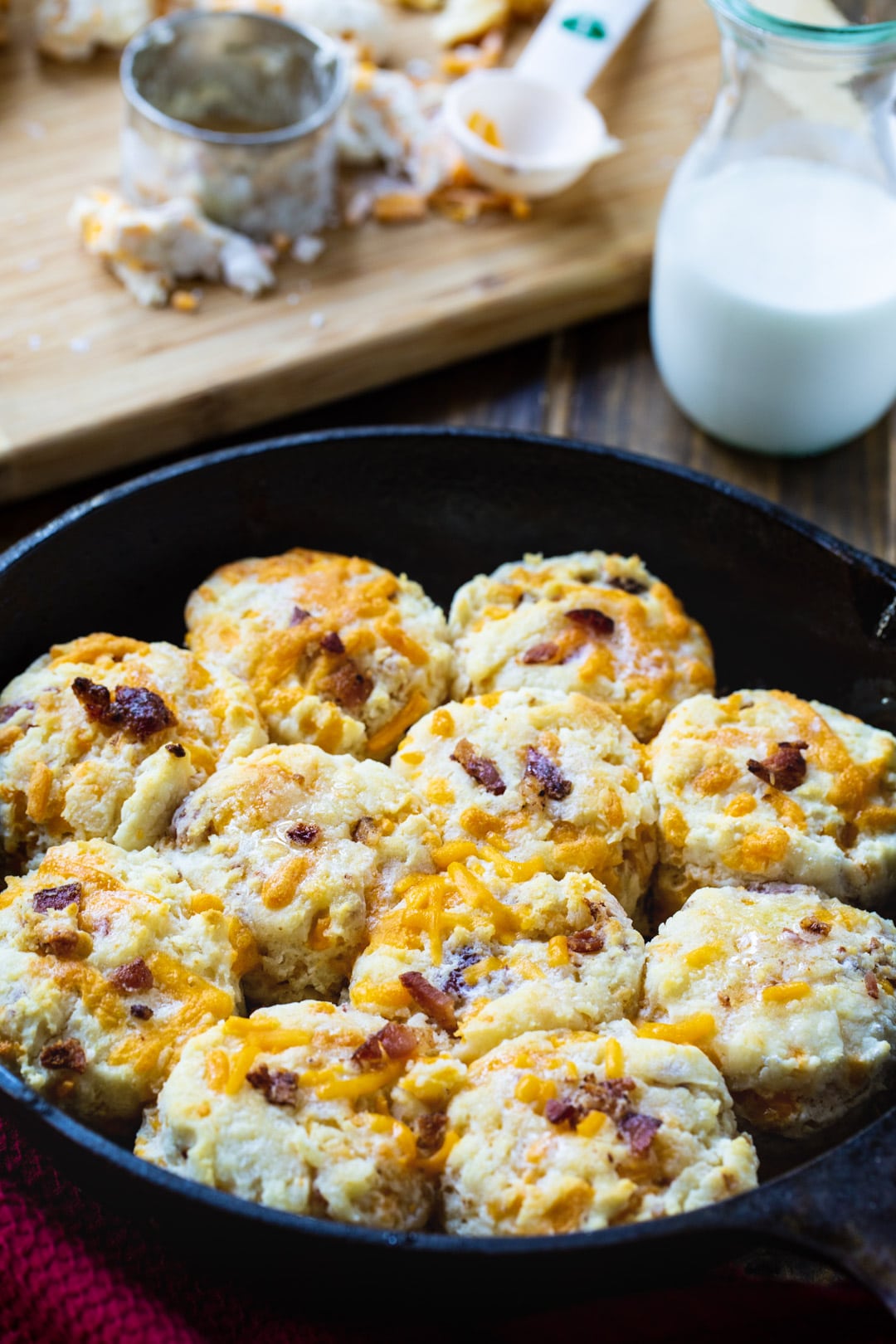 Tips For Making Biscuits:
1) Use White Lily Flour. White Lily Flour has been the preferred flour for biscuit making in the south for generations. It is made from a soft winter wheat and is lower in protein content than your typical all-purpose flour and it has a super fine texture that produces wonderfully light and fluffy biscuits. Unfortunately it is not widely available outside of the south but you can order White Lily Flour
online. I especially like White Lily Self-Rising Flour for biscuits because then you don't have to add a leavener.
2) Use Really Cold Butter. Opinions are divided about whether biscuits taste better when made with butter, shortening, or a combination of both. I my opinion, you can't go wrong with a buttery biscuit. When using butter, you want it to be very cold. I put mine in the freezer briefly before using it and sometimes I chill the mixing bowl and flour too.
3) For extra fluffy and tender biscuits do not overwork the dough. Use a wooden spoon to stir it until it just comes together. It should still be a little sticky and ragged. Then place it on a floured surface and either press it out by hand or use a rolling pin.
4) Roll and fold the dough in thirds several times for extra flaky biscuits.
5) When cutting biscuits DO NOT twist the biscuit cutter. Push it straight down and then pull it straight up for biscuits that rise and cook evenly.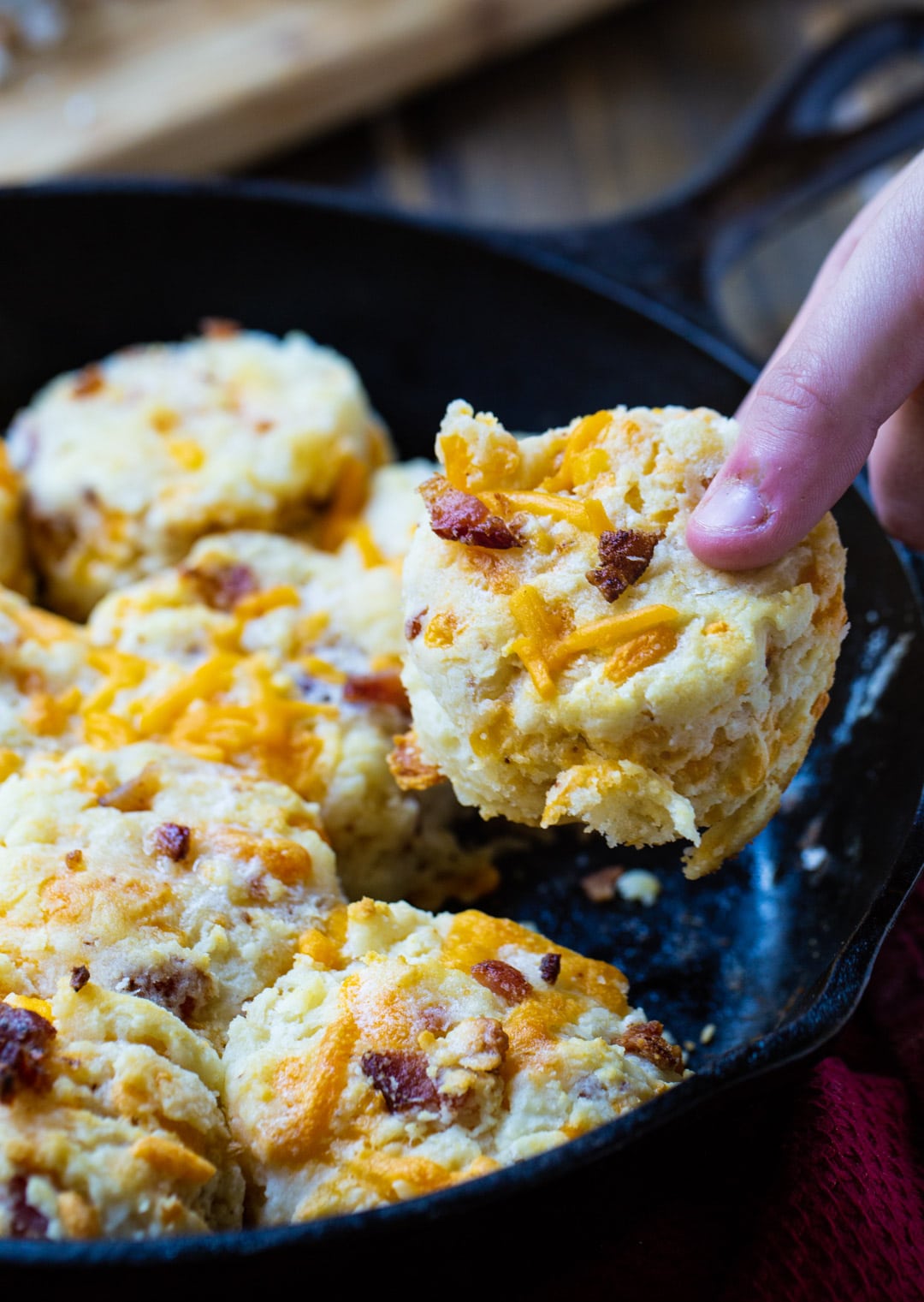 Never miss a recipe. Follow Spicy Southern Kitchen on Facebook, Pinterest, and Instagram.
More Biscuit Recipes To Try: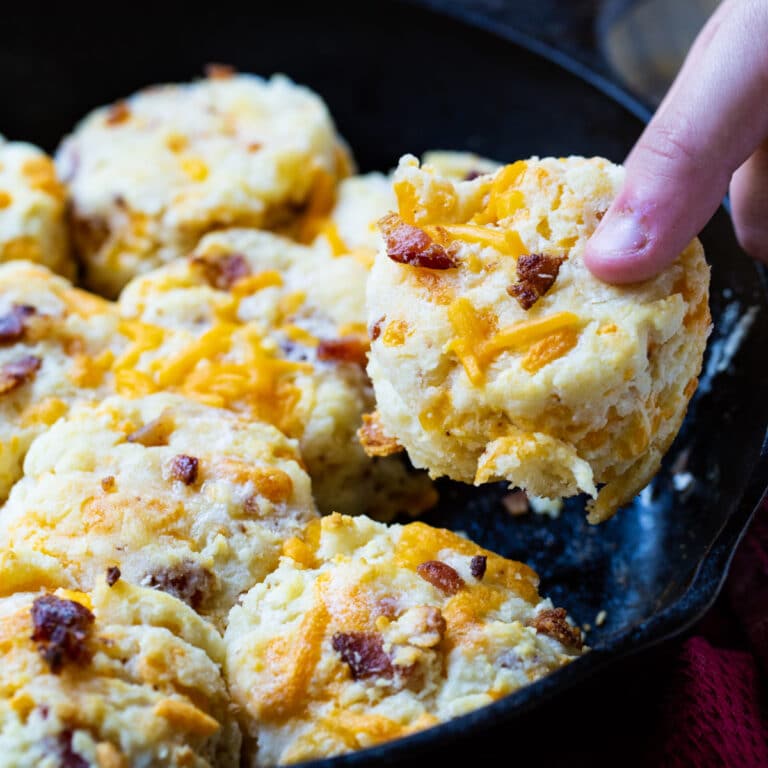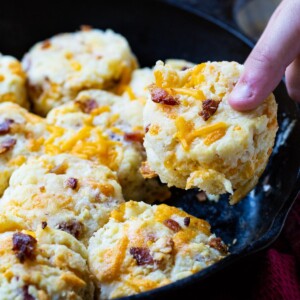 Bacon Cheddar Biscuits
Homemade biscuits get even better with bacon and cheddar cheese added. These light and tender biscuits are the perfect match for any southern meal.
Ingredients
6

slices

bacon

2 1/4

cups

self-rising White Lily flour

8

tablespoons

very cold butter cut into cubes

3/4

cup

buttermilk

3/4

cup

shredded cheddar cheese

2

tablespoons

melted butter.
Instructions
Cook bacon until crisp. Let cool and then crumble. Reserve bacon fat.

Preheat oven to 425 degrees. Add 1 tablespoon bacon fat to a 9-inch cast iron skillet and swirl to coat the bottom.

Place flour in a medium bowl. Add butter and use your fingers or a pastry cutter to cut it into the flour until it resembles coarse meal.

Stir in buttermilk just until a dough starts to form. Stir in cheese and crumbled bacon.

Turn dough out onto a floured surface. Roll dough into a rectangle, fold in thirds and rotate 90 degrees. Roll into a rectangle again, fold into thirds and roll out to 3/4-inch thickness.

Use a floured 2 1/2-inch biscuit cutter to cut biscuits. Place in prepared pan. Roll dough scraps out to cut more biscuits.

Bake in oven for about 20 minutes.
Want to Save This Recipe?
Originally published October 10, 2015.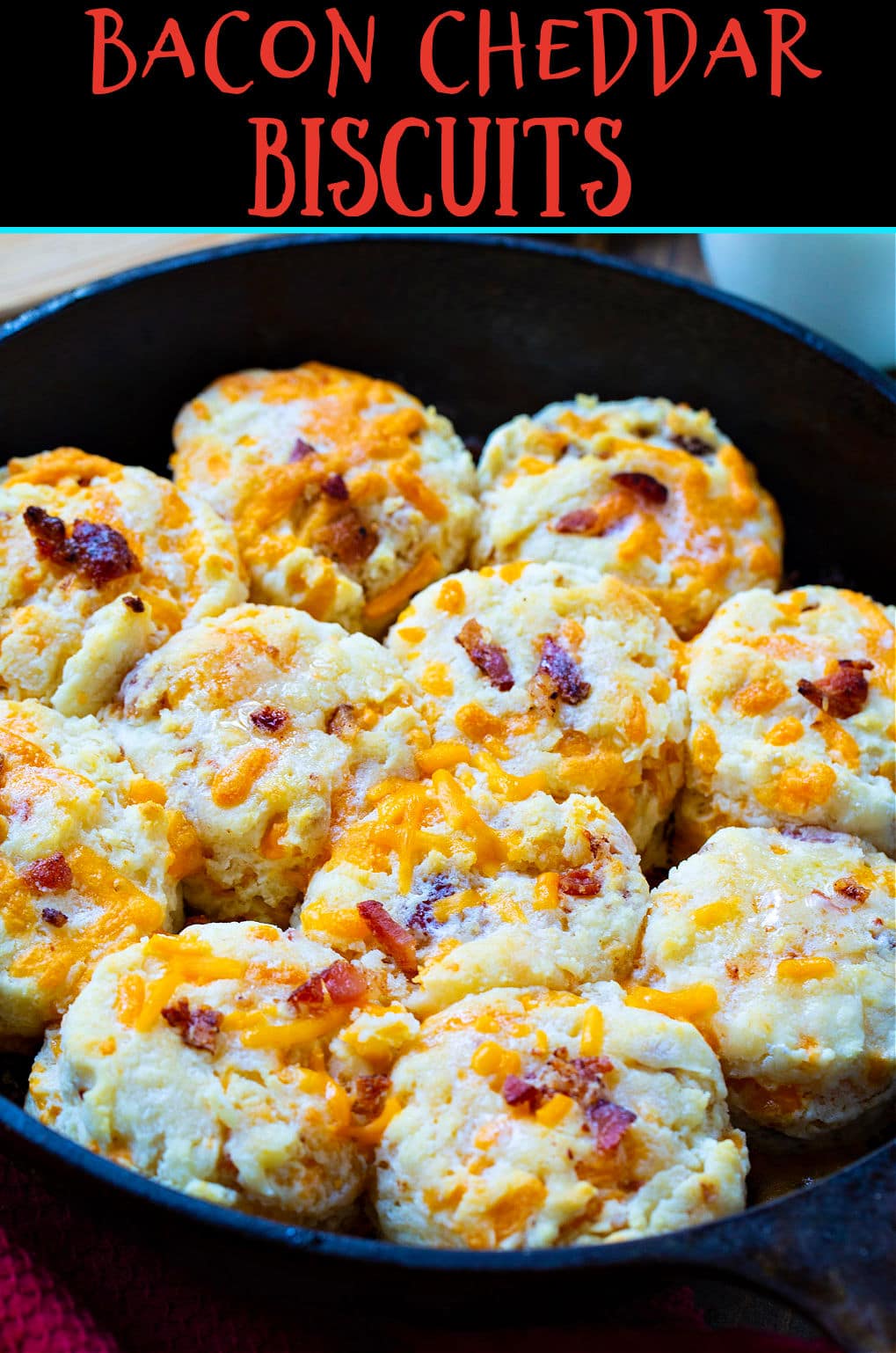 More Biscuit Recipes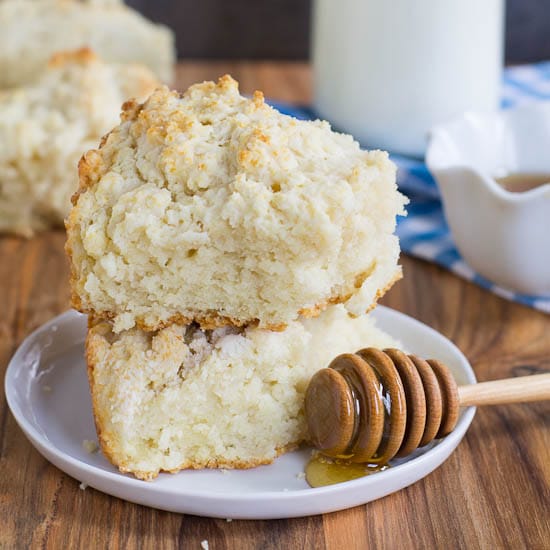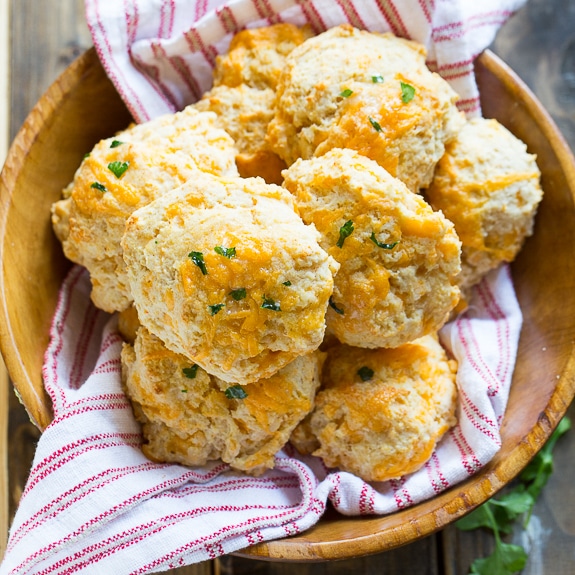 This post contains affiliate links.