Chocolate Peanut Butter Layer Dessert is a cool and creamy layered dessert that will appeal to all ages. Chocolate cake mix is used to make the bottom layer. With only 1 egg and some butter mixed into the cake mix, it cooks up dense and fudgy.
Next comes a creamy peanut butter/cream cheese layer with chopped mini Reese's peanut butter cups.
On top of the peanut butter layer is a super easy chocolate pudding layer, followed by a thick cloud-like layer of whipped topping and more peanut butter cups.
It's a great make ahead dessert for a potluck.
And speaking of  luck- wish me luck. My son and I are on the way to Atlanta to do some college visits. It hasn't really hit me that in less than a year he will be leaving the nest. Tomorrow I have a feeling it's going to hit me hard.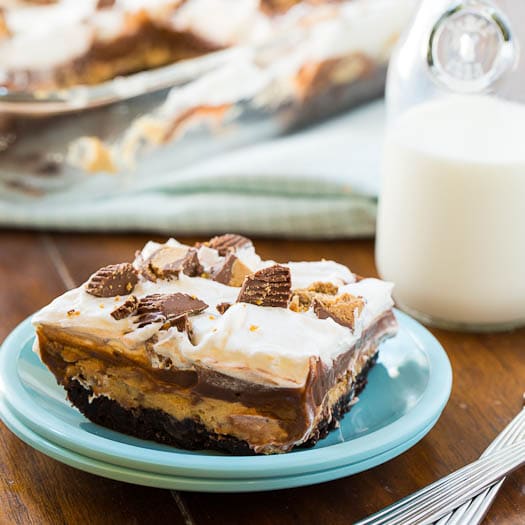 Never miss a recipe. Follow Spicy Southern Kitchen on Pinterest and Instagram.
Sign up HERE for the Spicy Southern Kitchen Newsletter.
Disclosure: This post contains affiliate links.