Slow Cooker BBQ Beef is easy to make in a crock pot and makes a great sandwich. Wonderfully tangy with just a little sweetness.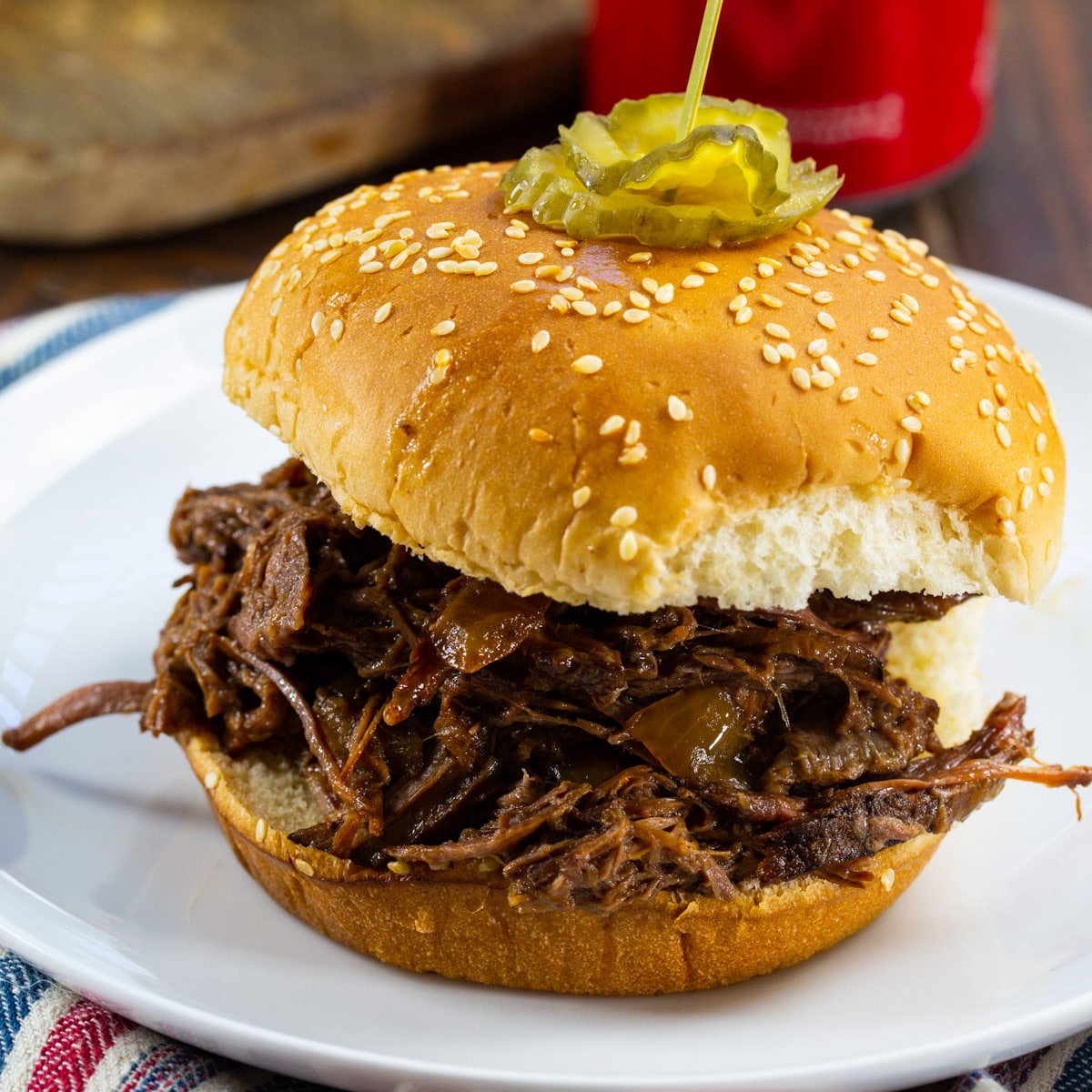 How To Serve Slow Cooker BBQ Beef
I love to make sandwiches with this shredded beef. Add some Buttermilk Coleslaw for some crunchy sweetness and a side of Easy Macaroni Salad or Marinated Cucumber, Tomato, and Onion Salad.
BBQ Beef
Typically I prefer pulled pork, but pulled bbq beef is a close second. For a delicious oven-version, I love this Shredded Barbecue Beef recipe. Chuck roast, because it has lots of fat in it, cooks up really tender with lots of flavor in a crock pot.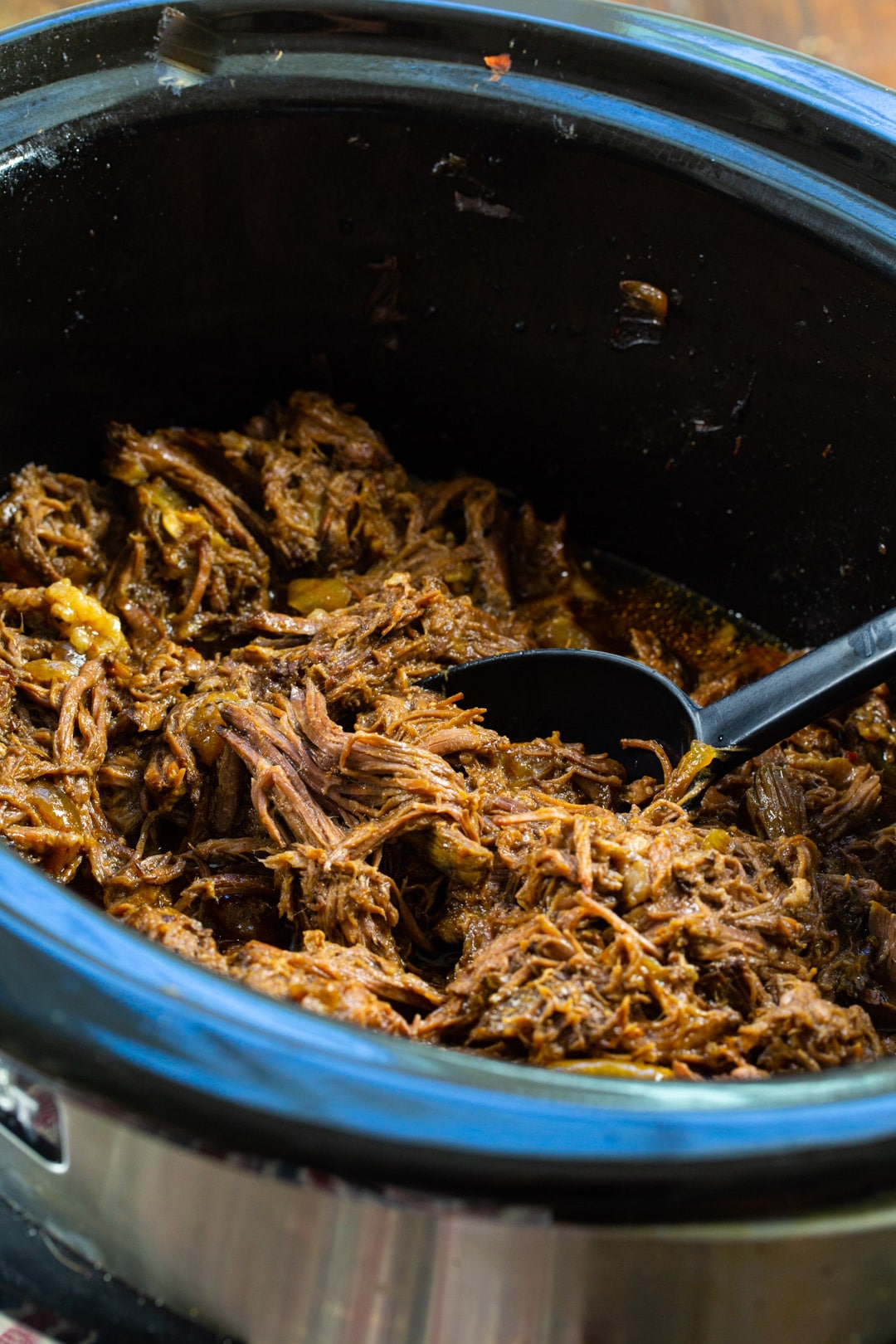 Coca Cola Helps Tenderize
A little canned soda helps tenderize the meat as it cooks and it adds flavor. Dr Pepper can be used instead of coke or even Cherry Coke for a little fruity flavor.
Slow Cooker Does All The Work
The only prep is adding all the ingredients to the slow cooker, then the slow cooker does all the work. The chuck roast is cooked with onion, garlic, and a mixture of Coke, Worcestershire sauce, apple cider vinegar and seasonings. Once fully cooked, all the liquid which contains a lot of grease is poured off. The meat is shredded and an easy homemade sauce is added.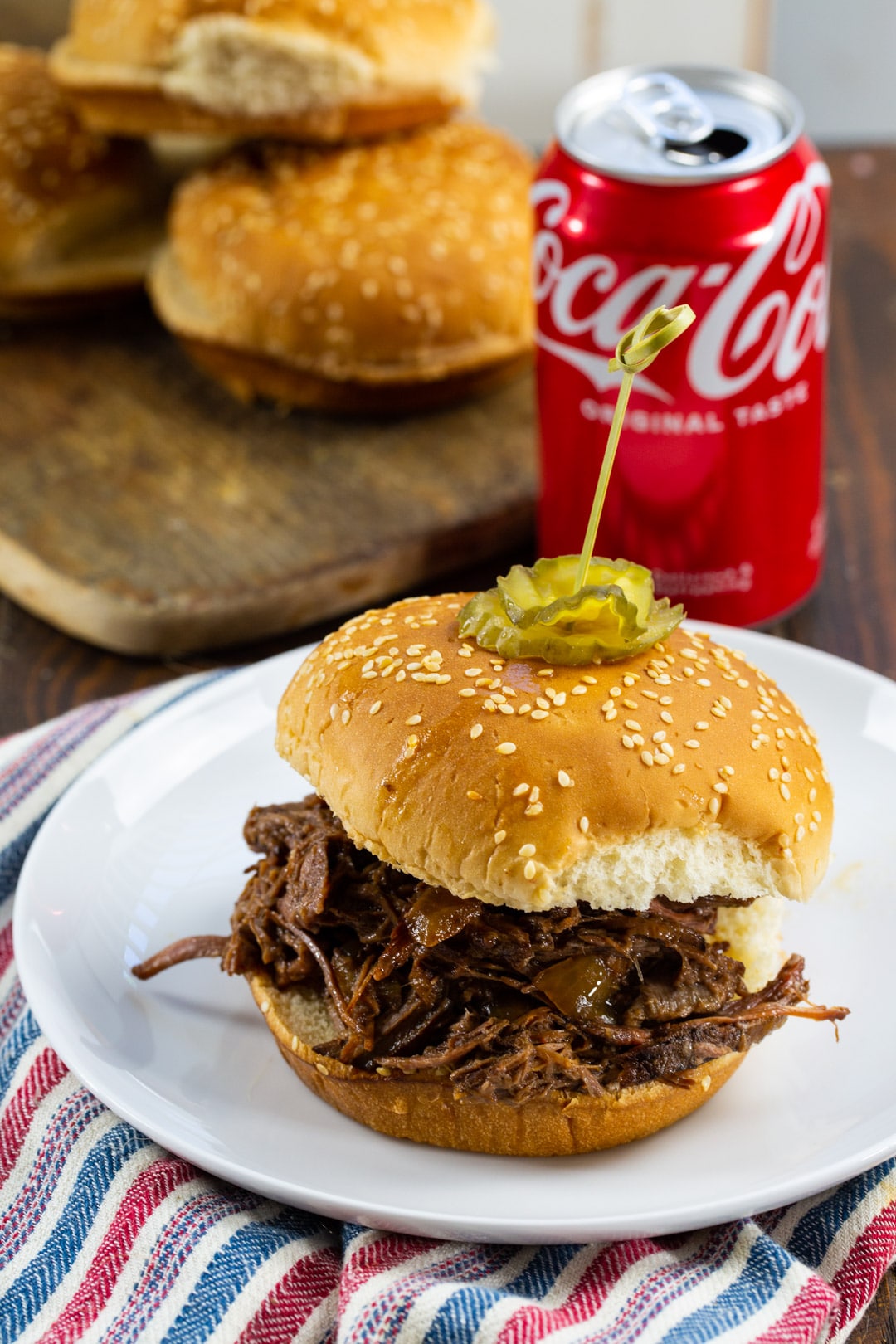 How Long To Cook A Chuck Roast
Cooking time can vary based on the size of the chuck roast and your slow cooker. But it will need at least 8 hours on LOW. If you try to shred it and it won't shred easily, it most likely needs to cook longer. It can take up to 10 hours.
Is It Spicy?
Adding 1/2 teaspoon of crushed red pepper flakes adds a little heat, but not much. For more heat, add 1/4 teaspoon of cayenne pepper to the sauce.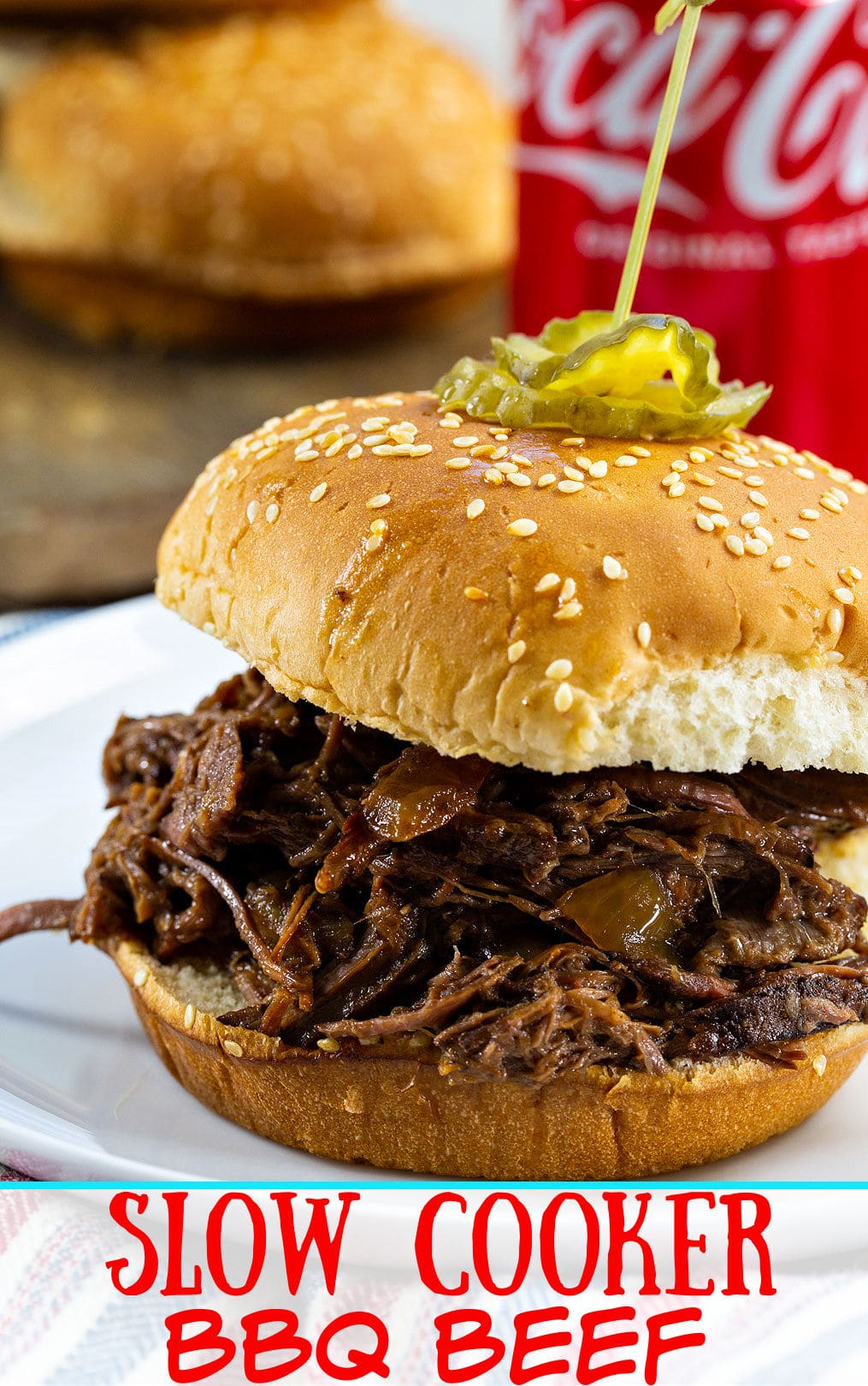 More Chuck Roast Recipes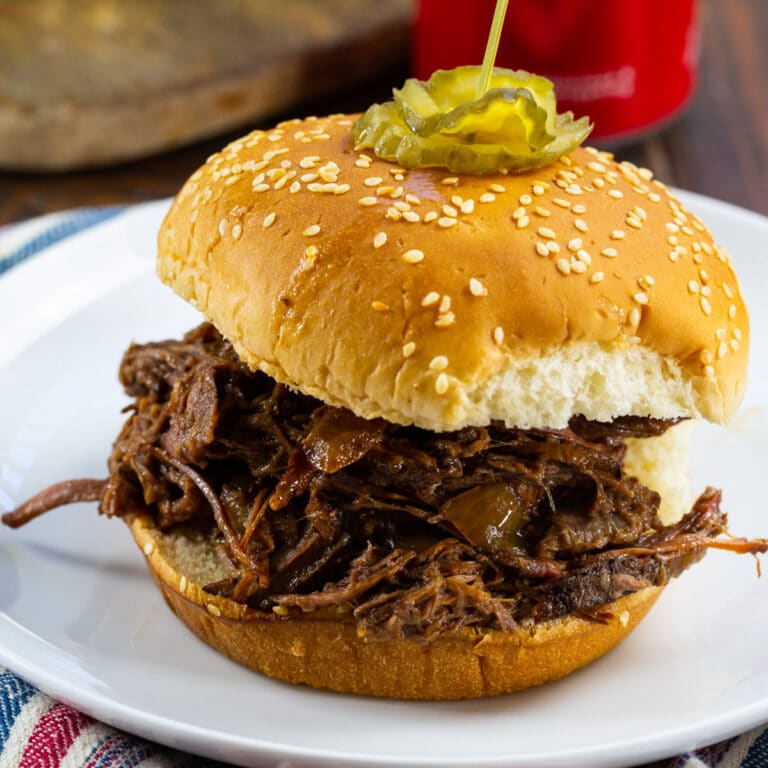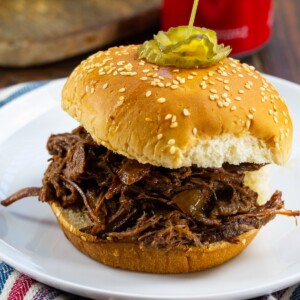 Slow Cooker BBQ Beef
Slow Cooker BBQ Beef is easy to make in a crock pot and makes a great sandwich. Wonderfully tangy with just a little sweetness.
Ingredients
1

(3-pound)

boneless chuck roast,

trimmed of fat

1

medium

onion,

diced

3/4

cup

Coca Cola

1/4

cup

Worcestershire sauce

1

tablespoon

apple cider vinegar

2

garlic cloves,

minced

1

beef bouillon cube,

crumbled

1

teaspoon

chili powder

1/2

teaspoon

paprika

1/2

teaspoon

dry mustard

1/4

teaspoon

black pepper

1/2

teaspoon

crushed red pepper flakes,

optional

1/2

cup

ketchup

1

tablespoon

melted butter
Instructions
Place chuck roast and onions in a 6-quart or larger slow cooker.

In a medium bowl, whisk together Coca Cola and next 8 ingredients plus crushed red pepper flakes if using.

Measure out 1/2 cup and place in refrigerator.

Pour remaining mixture over chuck roast.

Cover and cook on LOW for 8 to 10 hours or on HIGH for 5 to 6 hours. Roast should be very tender and easy to shred.

Drain most of the liquid out of the slow cooker. Shred the chuck roast.

In a bowl, stir together the ketchup, melted butter and the refrigerated 1/2 cup of coca cola mixture. Microwave for 20 seconds to warm. Pour over shredded chuck roast. Mix it in.

Cover slow cooker and cook on LOW for 15 minutes. Serve.
Want to Save This Recipe?