A bright and healthy summer salad of roasted corn and edamame tossed in a creamy but light mayonnaise-based dressing. This simple Corn Edamame Salad is full of color, flavor, texture and nutrition.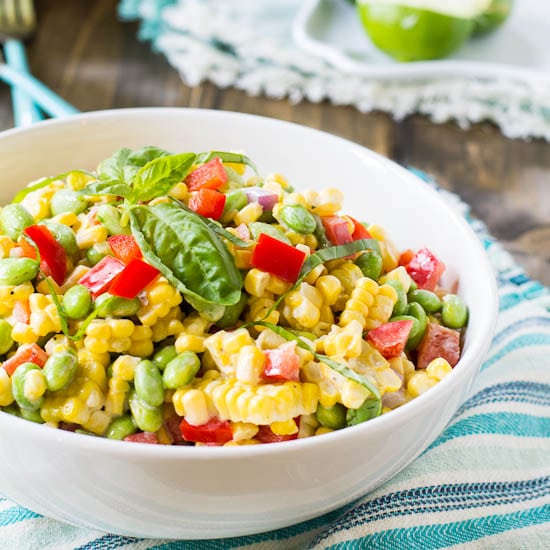 Great Summer Side
It's a great side dish for a summer meal.
A refreshing salad that's full of nutrients? Count me in! This salad is as easy as it is tasty.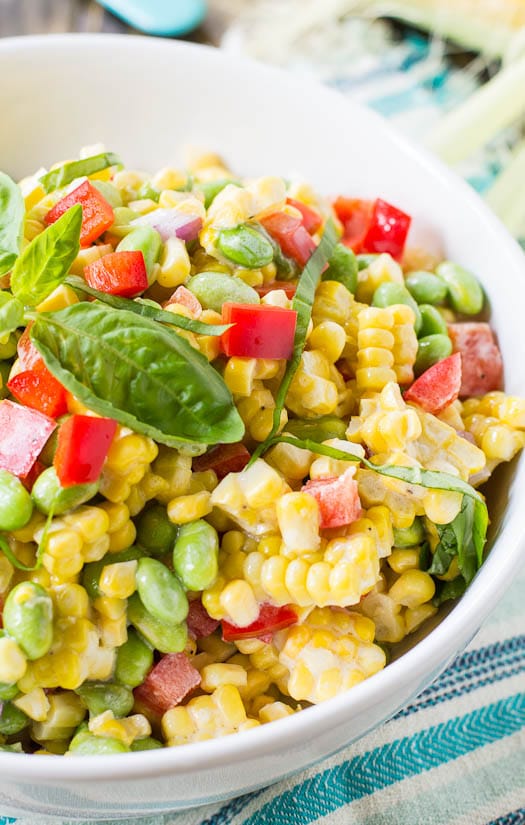 Roast The Corn
I've discovered my new favorite way to cook corn and how on earth it took me so many years to discover it is beyond me. It's so simple, so easy, and results in the sweetest, most delicious corn. How is it done you ask? Just plain and simple roasting in the oven– husk, silk, cob and all. You may have known about this fabulous way of cooking corn all along and my only question is- Why didn't you tell me?!
The husks help keep the corn from drying out and no flavor is lost as it is when you cook corn in a pot of water. But my favorite part– once cooked, the husks and corn silk separate much more easily than they do with an uncooked cob of corn.
Shucking corn is not my favorite thing to do. Just heat the oven to 350 degrees and place the corn on a baking sheet (or directly on the oven rack- doesn't really matter) for about 30 minutes. Let cool some before you shuck. Delicious.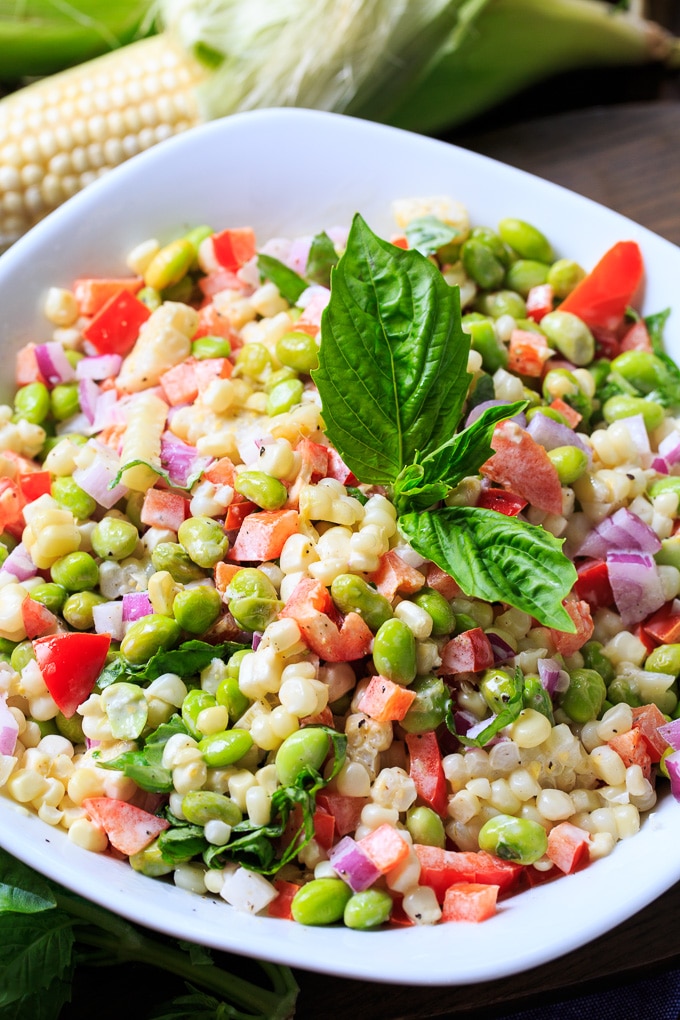 After I had my corn cooked and shucked, I used a serrated knife to cut it from the cob. For the best flavor, you don't want to cut too, too close to the cob. I then mixed it together with some edamame for a gorgeous and healthy summer salad. A simple dressing of mayonnaise, lime juice, honey, garlic and oil gives the vegetables a light coating and just a touch of creaminess. Some red bell pepper, onion, and fresh basil add additional flavor.
Edamame Pairs Great With Corn
Edamame (aka soybeans) are extremly nutritious. They are loaded with fiber, protein, and vitamins. Combined with roasted corn and a light and creamy dressing, they make a fabulous summer side.
If you don't want to use edamame in this recipe, you could use lima beans.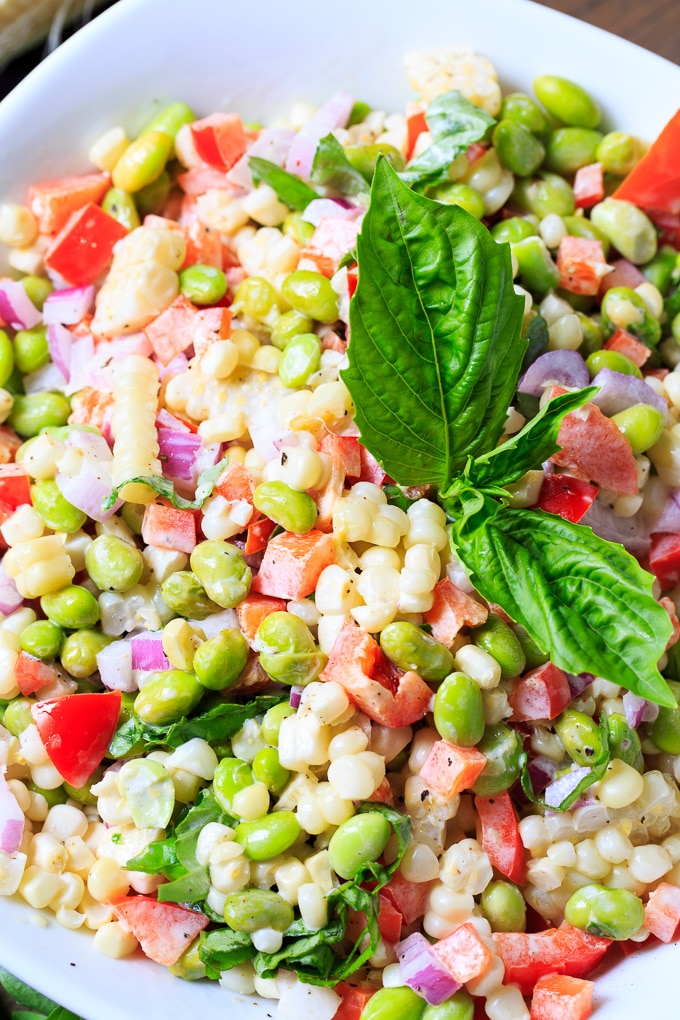 Variations and Substitutions For Corn Edamame Salad
I'm a big believer in adapting recipes to suit your tastes and what you have on hand. Don't be afraid to change things up.
One reader used roasted red peppers instead of bell pepper, Greek yogurt instead of mayonnaise and added garbanzo beans.
Fresh mint can be used in place of basil.
Maple syrup can be used in place of honey.
Sweet onion or green onion can be used in place of red onion.
Sour Cream can be used in place of mayonnaise.
The corn can be grilled instead of roasted.
Make It Spicy
Add 1 to 2 teaspoons of minced jalapeno pepper or 1/2 teaspoon of crushed red pepper flakes.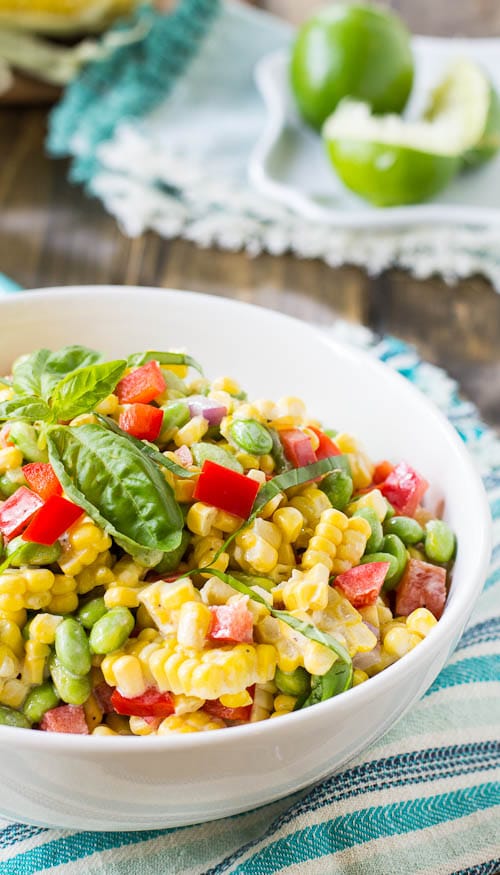 Never miss a recipe! Follow Spicy Southern Kitchen on Pinterest and Instagram.
More Summer Salads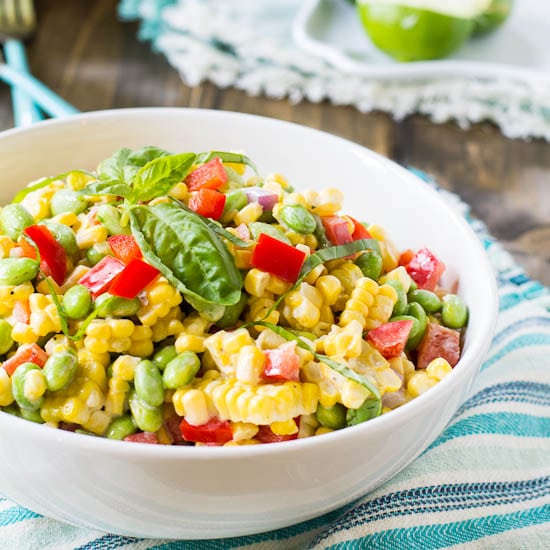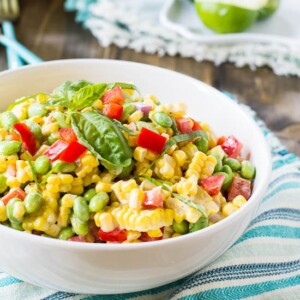 Roasted Corn and Edamame Salad
A bright and delicious summer salad of roasted corn and edamame in a creamy and light dressing.
Ingredients
4

ears of corn,

with husks on

1 1/2

cups

frozen edamame

2

tablespoons

mayonnaise

1 1/2

tablespoons

lime juice

1/2

tablespoon

honey

1

small clove garlic,

minced

1/4

teaspoon

kosher salt

1/4

teaspoon

freshly ground black pepper

1/4

cup

olive oil or vegetable oil

1/2

red bell pepper,

diced

2

tablespoon

finely diced red onion

1/4

cup

sliced fresh basil
Instructions
Preheat oven to 350 degrees. Place corn, husks and all on a sheet pan and place in oven for 30 minutes. Let cool slightly and remove husks and silk. Using a serrated knife cut kernels from cob and place in a large bowl.


Cook edamame according to package directions. Drain and let cool. Add to corn.


In a small bowl, whisk together mayonnaise, lime juice, honey, garlic, salt and pepper. Gradually whisk in oil.

Pour dressing over corn/edamame. Toss to coat. Stir in red bell pepper, red onion, and basil.

Notes
Best made an hour in advance and can be made a day in advance.
If you want to make it spicy, add 1 to 2 minced jalapenos or 1/2 teaspoon of crushed red pepper flakes.
Want to Save This Recipe?
Originally posted August 4, 2017.
Disclosure: This post may contain affiliate links.