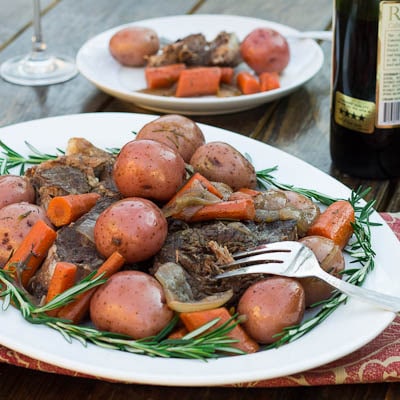 If you look through the recipes on either Spicy Southern Kitchen or my other blog Fort Mill SC Living, you know that I'm a big fan of Sara Foster's recipes. She has 4 cookbooks published (I think…, or may be 5. I've lost count.). Her Fresh Every Day: More Great Recipes from Foster's Market
 cookbook, which was her second to be published, seems to be the one I cook from most often.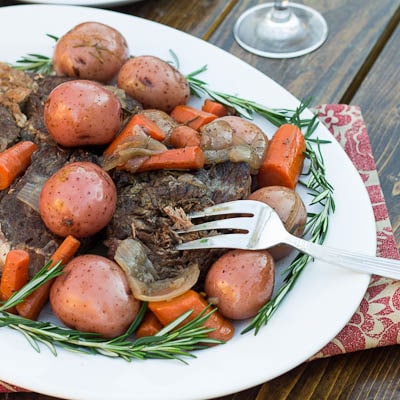 Sara Foster is really big on using fresh, local ingredients. Her recipes tend to be simple and sophisticated at the same time, something that's not easy to accomplish. If you happen to be in the Research Triangle Park Area of North Carolina, a trip to one of her restaurants (Foster's Market) is definitely worth your time. There are locations in both Durham and Chapel Hill.
Sara's recipe for Pot Roast is a basic one, one she claims she ate every Sunday of her life growing up. It's simple, wholesome, comfort food and will make you want to gather the whole family around the dining room table for an old-fashioned, formal Sunday Supper. The meat becomes so flavorful and tender after hours of roasting in the oven, yet the fresh herbs keep it tasting fresh. With a pound of potatoes added in, this is an easy 1-dish meal.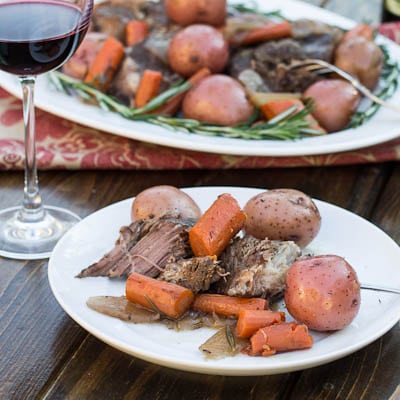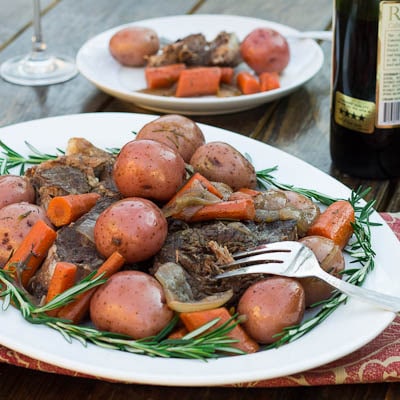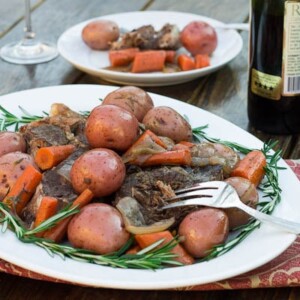 Pot Roast Recipe
Ingredients
1

(3-pound)

beef chuck roast,

at room temperature

2

tablespoons

canola oil

1

large onion,

peeled and cut into 8 wedges

6

carrots,

cut into 2-inch pieces

6

fresh thyme sprigs

6

fresh rosemary sprigs

1

cup

dry red wine

4

to 6 cups beef broth

1

pound

small red-skinned potatoes
Instructions
Preheat oven to 325 degrees. Season the chuck roast generously on all sides with salt and pepper.

Heat oil in a large Dutch oven over medium-high heat. Place roast in Dutch oven and brown on all sides, 2 to 3 minutes per side. Place roast on a plate and set aside.

Add onion, 2 of the carrots, and the fresh herbs to the Dutch oven. Cook until the vegetables are light brown and the onions soft, stirring frequently, about 3 to 4 minutes.

Place the roast back in the Dutch oven. Add the wine and enough broth to nearly cover the roast and bring to a boil. Put a lid on the Dutch oven and place in the oven for 2 hours and 30 minutes.

Add potatoes and remaining carrots to Dutch oven and place back in oven for an additional 40 to 60 minutes. When the meat shreds easily with a fork and the potatoes are tender, it is done cooking.

Place roast on a large serving platter. Remove the herb stems from the Dutch oven and skim the fat off of the top of the juices. Pour the juice and vegetables over the roast and serve.
Want to Save This Recipe?
Recipe Source: Fresh Every Day by Sara Foster
Disclosure: Spicy Southern Kitchen is an amazon.com affiliate.