Fall off the bone tender Jack Daniel's Ribs are slow-cooked in the oven and finished off on the grill. Basted with a sweet and spicy whiskey-spiked sauce.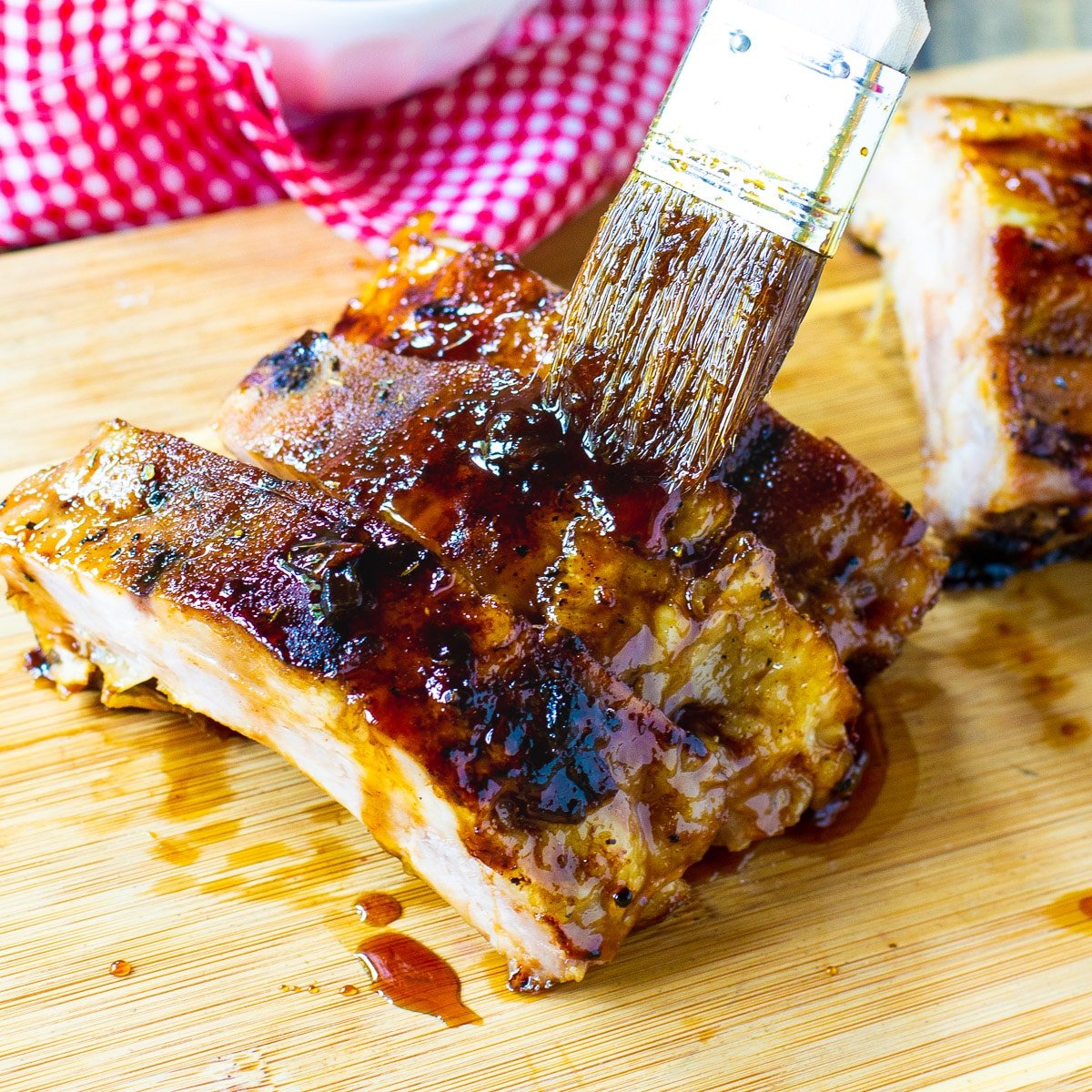 With it being Father's Day and all I thought a manly recipe was in order. And what's more manly than gnawing meat off of bones?
Actually with these Jack Daniel's Ribs, a copycat of TGI Friday's ribs, there's not much gnawing involved. They are fall off the bone tender.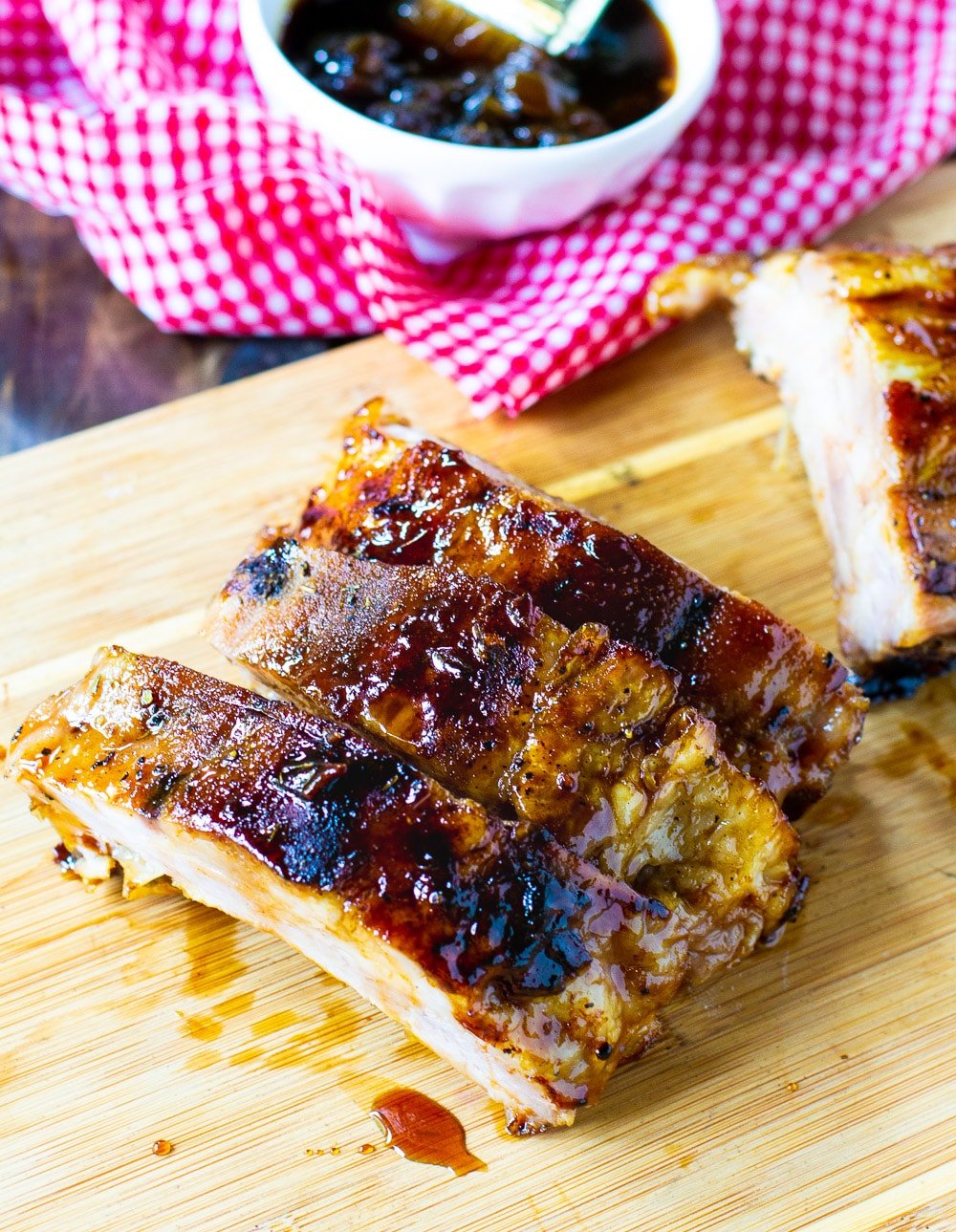 Ribs are a favorite of just about every dad that I've met. Baste on a Whiskey-flavored BBQ sauce and you've won major bonus points. These are some ribs that are meant to impress. Bu there's no need to slave over a hot grill, beads of sweat dripping down your brow.
We've got it easy with this recipe girls. After being rubbed with a spice mixture, the ribs slow cook in the oven, during which time they need no attention whatsoever.
Just a few minutes on the grill finishes them off with a nice sear and some grill marks. They don't get basted with the sauce until they are finished to keep the sugar in the sauce from burning. They're fully cooked by the time you grill them so no need to worry about whether or not they have been on the grill long enough.
The sauce does take some time to make because you have to roast a head of garlic for an hour before you make it. You might want to go ahead and roast an extra head and make some garlic bread to go with the ribs. Just an idea 🙂
Then the sauce takes a while to cook down and if you cook it until it gets nice and thick, there is not a whole lot of it, around 1 cup. You may want to make extra if you like your ribs really doused in sauce. With sweet flavors from pineapple and roasted garlic and a little kick from some whiskey and cayenne pepper, it is one lip smacking sauce.
Serve with some Buttermilk Coleslaw,  Root Beer Baked Beans, and Roasted Corn for a meal dad will enjoy all summer long.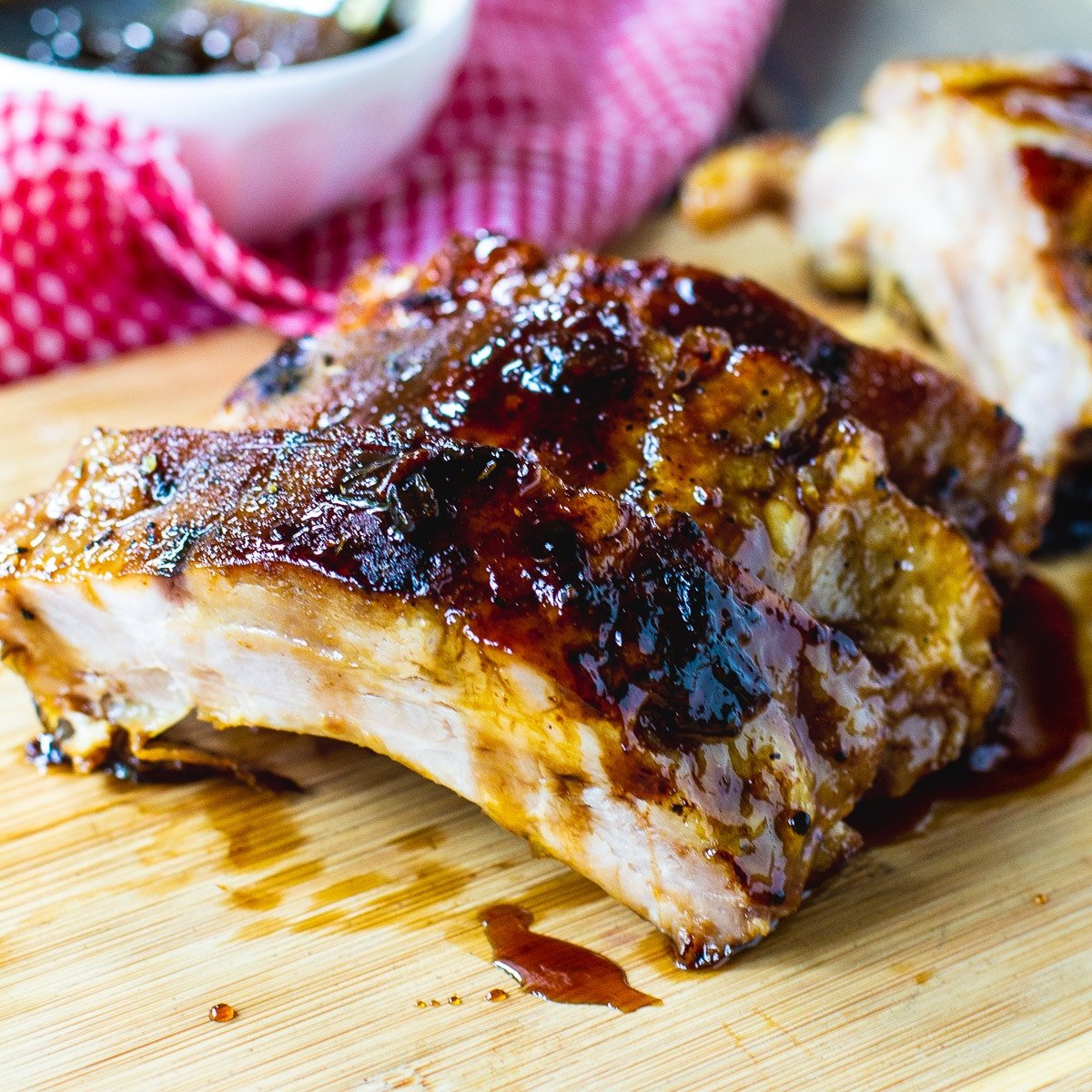 For more recipes your whole family will love follow Spicy Southern Kitchen on Pinterest and Instagram.
Try These Other Rib Recipes: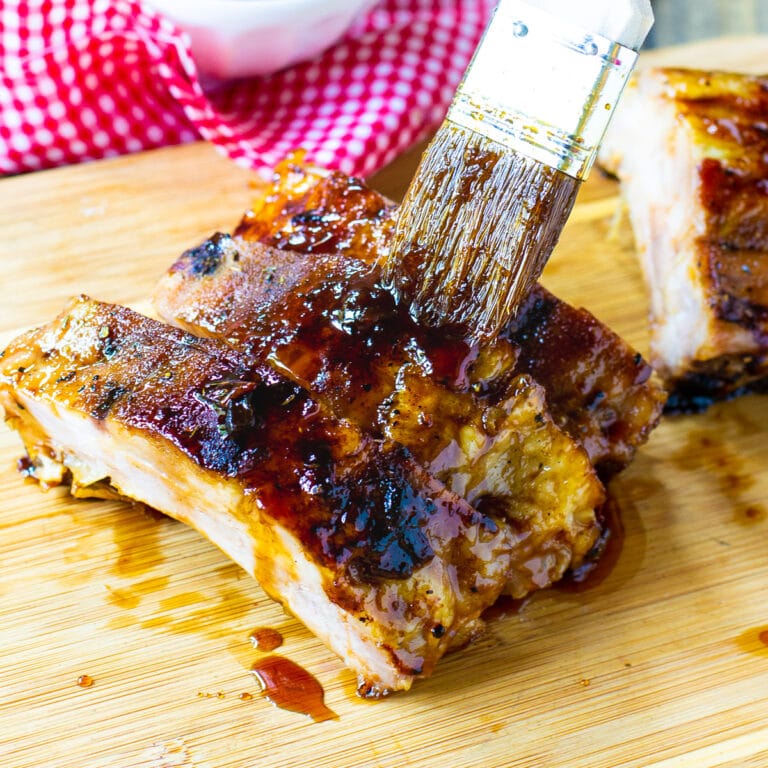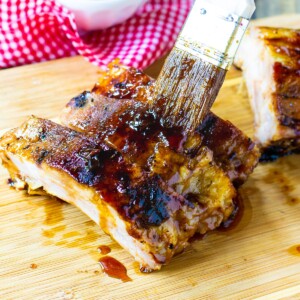 Jack Daniels Ribs
Tender baby back ribs basted with a sweet whiskey infused sauce with just a little heat.
Ingredients
BBQ Sauce
1

head garlic

1

tablespoon

olive oil

1/2

cup

water

1

cup

pineapple juice

1/4

cup

teriyaki sauce

1

tablespoon

soy sauce

1 1/3

cups

dark brown sugar

3

tablespoons

lemon juice

1/4

cup

finely minced white onion

2

tablespoons

Jack Daniel's whiskey

1

heaping tablespoon crushed pineapple

1/4

teaspoon

cayenne pepper
Ribs
1 1/2

teaspoons

paprika

1/2

teaspoon

salt

1/4

teaspoon

dried thyme

1/2

teaspoon

ground black pepper

1/2

teaspoon

garlic powder

1/2

teaspoon

onion powder

1/4

teaspoon

celery salt

1/4

teaspoon

ground cayenne pepper

2

racks baby back ribs
Instructions
Preheat oven to 300 degrees.

Cut 1/2-inch off of the head of garlic. Remove the outer layers of papery skin. Put the garlic in a small ramekin and drizzle with the olive oil. Cover with foil and bake 1 hour. Let cool.

Meanwhile, begin cooking ribs. Mix all spices for rub together (paprika and next 7 ingredients.)Rub mixture on ribs. Place ribs on a baking tray and place in oven (use the same oven that the garlic is in) for 2 1/2 hours.

Next, make the sauce. In a medium saucepan, combine the water, pineapple juice, teriyaki sauce, soy sauce, and dark brown sugar. Bring to a boil, stirring occasionally. Reduce heat to bring it down to a simmer.

Squeeze 2 teaspoons of garlic out of the head of roasted garlic and add to the saucepan.

Add the lemon juice, onion, whiskey, crushed pineapple, and cayenne pepper.

Let sauce simmer for 30 to 40 minutes, or until reduced by half. Yield is 1 cup.

Preheat grill or grill pan to high heat. Grill ribs for 3 to 4 minutes per side and then baste with sauce and serve.
Want to Save This Recipe?
Recipe Source: adapted from Top Secret Recipes: Creating Kitchen Clones of America's Favorite Brand-Name Foods
 (affiliate link)
Originally published June 15, 2014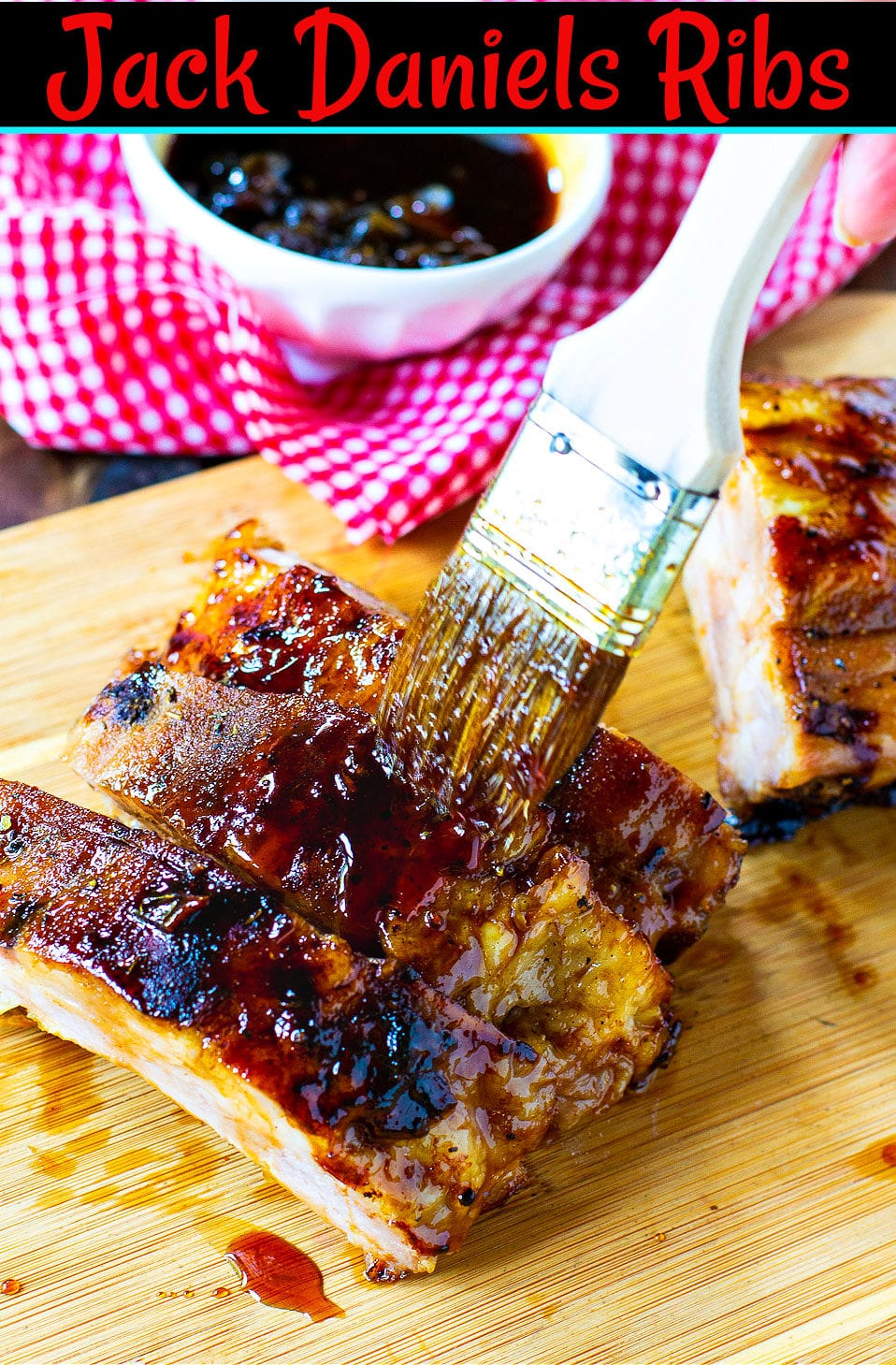 Disclosure: This post may contain affiliate links.