Delicious spareribs baked in the oven until tender and finished on the grill with a sweet and spicy cherry cola glaze. Grilled Spareribs with Cherry Cola Glaze are the perfect way to celebrate the last holiday of summer.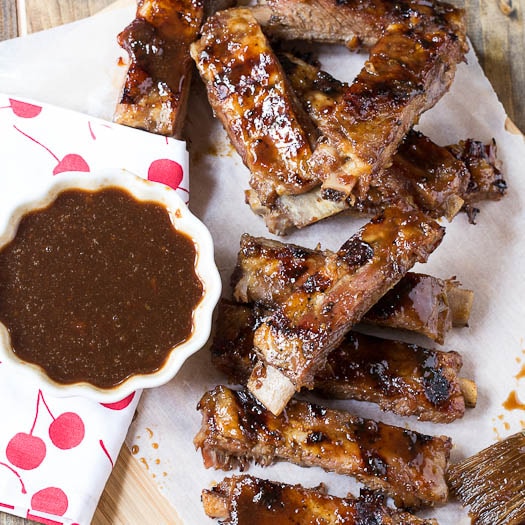 The cherry cola glaze is what really makes these ribs spectacular. It's a little bit of a pain to make but so worth it. First you have to reduce the cherry cola down for a good 45 minutes. Once you add the other ingredients, it has to simmer another 30 minutes or so.
This is a recipe that I've slightly adapted from Epicurious (published in Bon Appetit) and I tried it because it has many very high ratings. Interestingly, a bunch of the reviewers complained about an off-putting smell emanating from the glaze as it cooked. But they all said putting up with the smell was worth it because the glaze tastes magical on the ribs.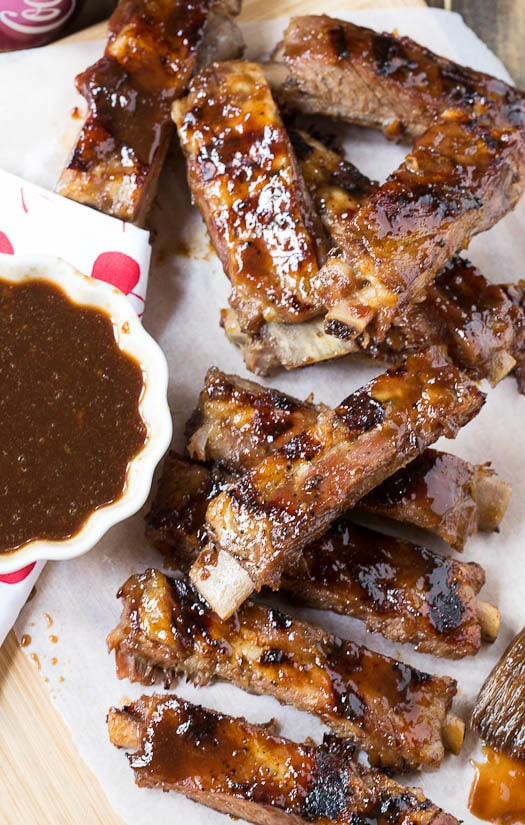 Well I didn't notice much of a bad smell. Maybe because I was prepared for it and expecting something truly fowl. I did agree that the sauce tastes magnificent on the spareribs.
The glaze is a wonderful combination of cherry cola (I'm sure regular cola would work fine), cherry preserves, Dijon mustard, horseradish, soy sauce, apple cider vinegar, and hot sauce.
The recipe calls for pouring the soda into a bowl and letting it lose its effervescence for about 4 hours, aka become flat. But I only let mine sit out for 15 or 20 minutes. I don't think it matters much, but this recipe would be a great way to use up flat soda that is undrinkable.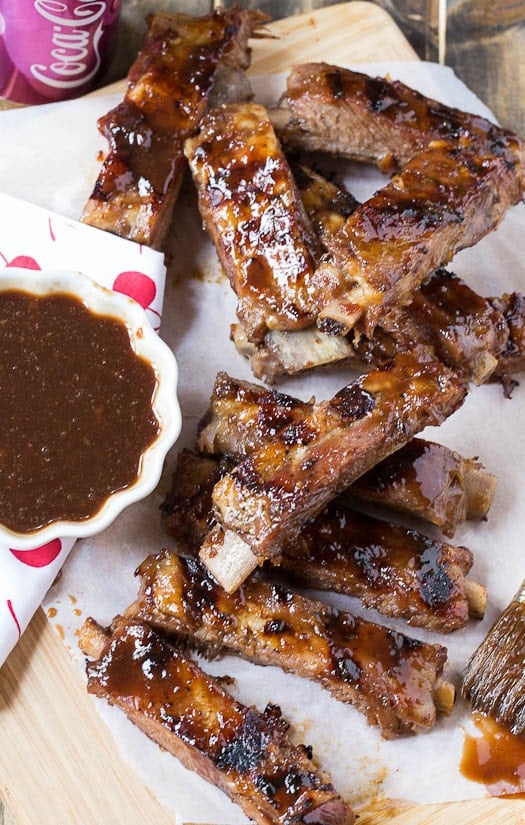 After baking in the oven for 2 hours, the ribs are cut into individual ribs and tossed with glaze. This was a little bit of a pain to do, especially glazing and turning individual ribs on the grill, but it made serving them and eating them much easier so it was a trade-off.
The sauce can be made a few days in advance and I even baked the ribs a day in advance and grilled them right before serving.
Any way you do it, these sticky spareribs brushed generously with spicy, sweet cherry cola glaze are a wonderful way to end the summer grilling season.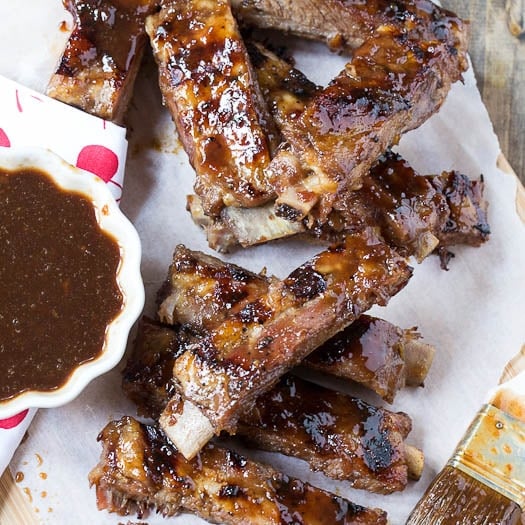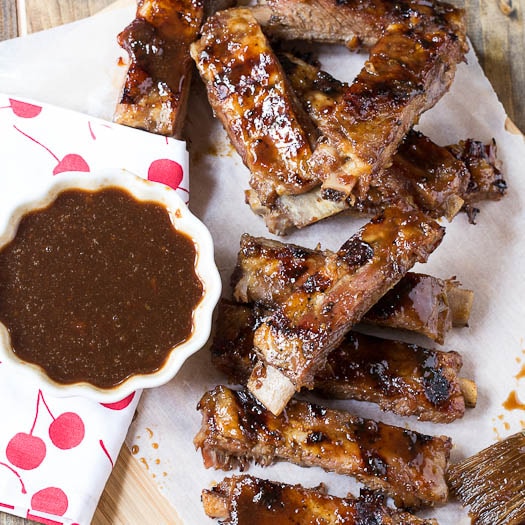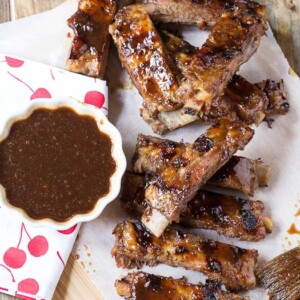 Grilled Spareribs with Cherry Cola Glaze
Spareribs baked in the oven until tender and then finished on the grill with a sweet and spicy cherry cola glaze.
Ingredients
4

(12-ounce)

cans cherry cola,

flat

2

cups

cherry jam or preserves

2/3

cup

Dijon mustard

1

tablespoon

prepared horseradish

3

tablespoons

soy sauce

2

tablespoons

apple cider vinegar

2

teaspoons

tabasco sauce

7

to 7 1/2 pounds well-trimmed pork spareribs
Instructions
Place cola in a Dutch oven or large saucepan and boil over medium-high heat until reduced to 1 1/2 cups, about 45 minutes.

Add next 6 ingredients and stir well. Reduce heat to medium and simmer until reduced to 2 1/2 cups, stirring occasionally. This will take about 35 minutes. Remove from heat.

Place oven racks in top and bottom thirds of oven and heat oven to 325 degrees.

Season ribs with salt and pepper. Wrap each rack tightly in foil. Divide ribs between 2 baking sheets and place in oven for 2 hours. Let ribs cool slightly.

Heat grill to medium heat.

Cut racks of ribs into individual ribs. Toss with 1 cup of glaze.

Grill ribs, basting with extra glaze, for about 2 to 3 minutes per side.

Serve with extra glaze.
Notes
If possible, use flat soda or pour it into a bowl and let it sit on the counter for 4 hours. But it is ok to skip this step.
Recipe adapted from Epicurious (published in Bon Appetit)
Want to Save This Recipe?
Disclosure: This post may contain affiliate links.