Grilled Beef Kabobs are made from Large chunks of sirloin steak, marinated for hours in a thick and flavorful lemon and rosemary marinade and grilled along with red bell pepper, red onion, zucchini, and squash until wonderfully decorated with grill marks.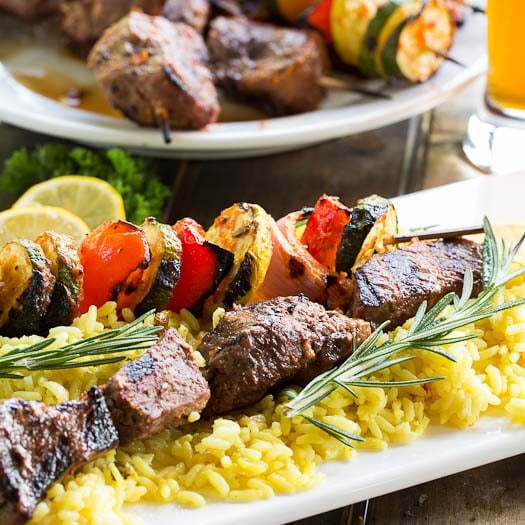 Add in some rice and you have yourself  a fantastic summer meal cooked on the grill.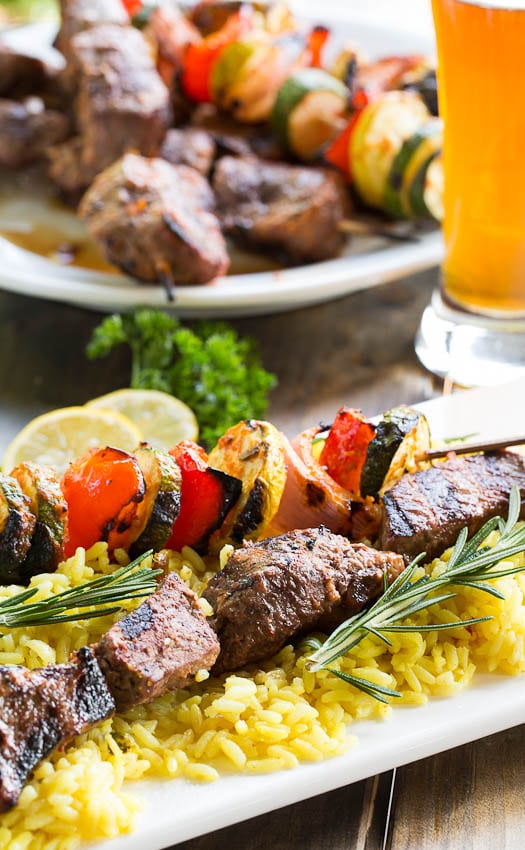 Grilled Beef Kabobs are one of my favorites to cook during the summer. No one can resist food on a stick. They cook up fast and don't make a mess in the kitchen, and you only have to add some rice and you have yourself a meal that's appealing and filling.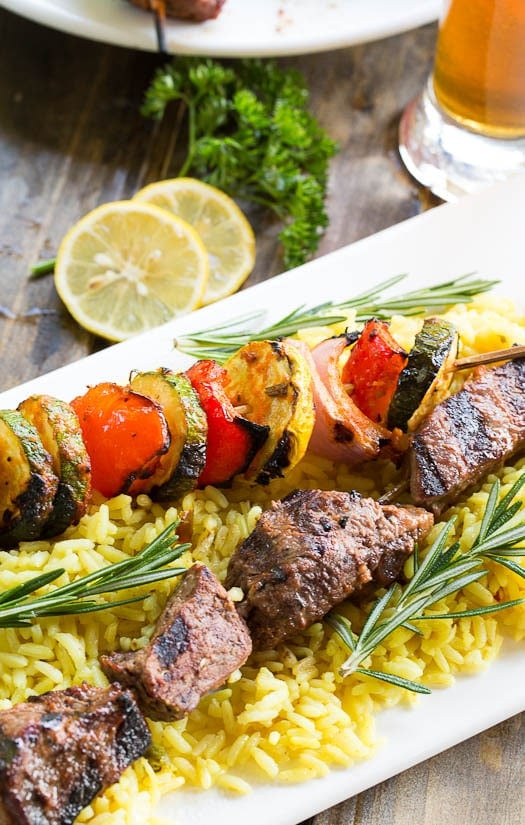 The marinade has many flavor components including beef broth, tomato paste, a hefty dose of garlic, onion, rosemary, and lemon. It all gets processed in the blender to form an ultra-thick marinade that coats the meat and vegetables well. A full two teaspoons of salt helps dissolve some of the meat's proteins as it marinates and allows the meat to retain more of its juices as it grills.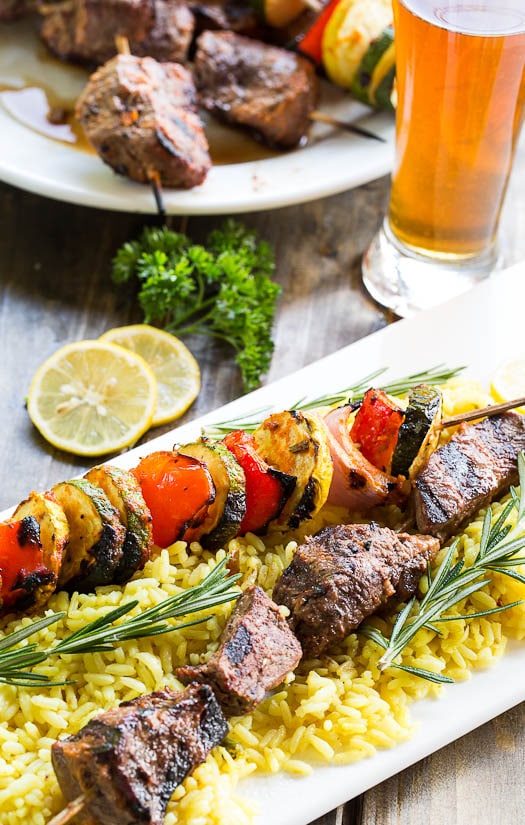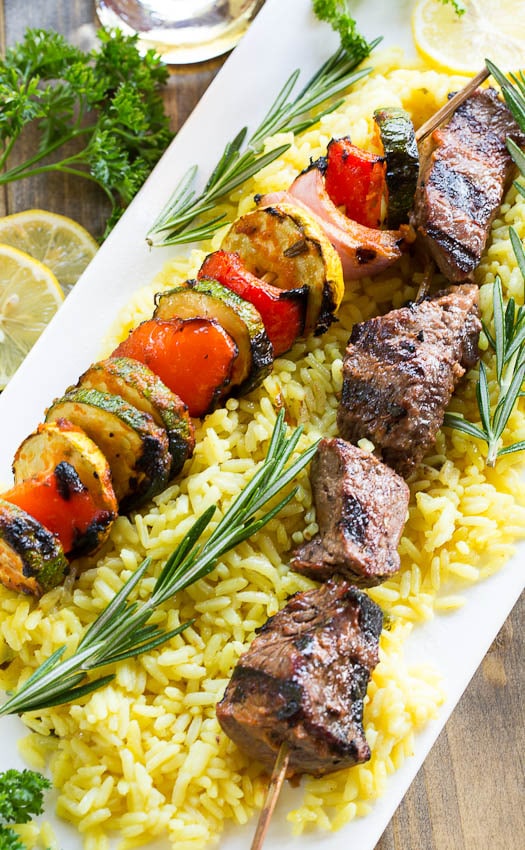 My very favorite meat for kabobs is ribeye and I choose it whenever it is on sale. Otherwise I go with sirloin.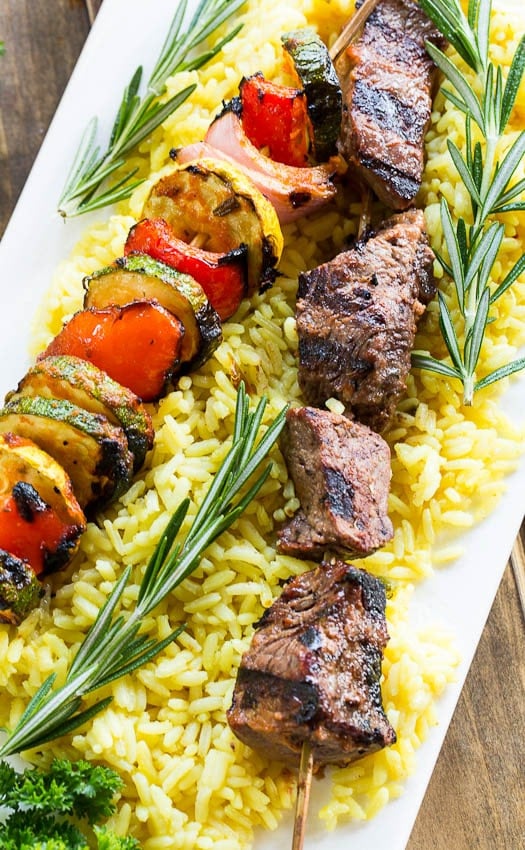 Even though it looks more visually appealing when the meat and vegetables are combined on one skewer, I always separate them. If you don't, the meat will be overdone by the time the vegetables are soft and nicely charred.
It also helps appease my vegetarian daughter. 🙂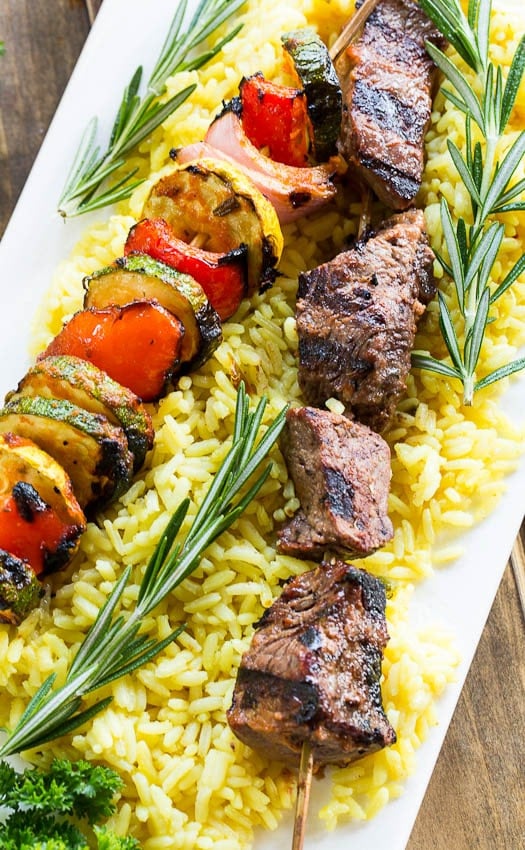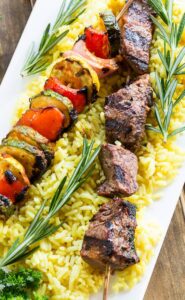 Grilled Beef Kabobs
A thick marinade made from beef broth, tomato paste, garlic, onion, lemon zest, and rosemary gives these beef and vegetable kabobs tons of flavor.
Ingredients
Marinade
1

onion,

chopped

1/3

cup

beef broth

1/3

cup

vegetable oil

3

tablespoons

tomato paste

4

cloves

garlic,

chopped

1

tablespoon

chopped fresh rosemary

2

teaspoons

grated lemon zest

2

teaspoons

kosher salt

1 1/2

teaspoons

sugar

3/4

teaspoon

pepper

1/4

teaspoon

dried thyme
Beef and Vegetables
2

pounds

sirloin steak tips,

cut into 2-inch chunks

1

zucchini,

sliced

1

yellow squash,

sliced

1

red bell pepper,

cut into 1 1/2-inch pieces

1

red onion,

cut into chunks
Instructions
To make marinade, process all ingredients in a blender until smooth. Place 3/4 cup of the marinade in a large bowl and set aside.

Place remaining marinade in a large ziptop bag with the beef. Toss to coat and refrigerate for at least 1 to 2 hours.

Place vegetables in bowl with marinade and toss to coat. Cover and let sit at room temperature for at least 30 minutes.

Remove beef from bag and pat it dry with paper towels. Thread it onto metal skewers or wooden skewers that have been soaked in water for at least an hour. Thread the vegetables on separate skewers.

Heat a gas grill with all burners turned to HIGH for about 15 minutes. Leave the primary burner on HIGH and turn the other burner or burners to medium-low.

Clean and oil the grates and place beef kabobs on hot side of the grill and vegetable kabobs on cooler side.

Cover and cook 12 to 16 minutes for the beef, turning skewers every 3 to 4 minutes.

Turn vegetable skewers every 3 to 4 minutes, but let them cook about 5 minutes longer than the beef.
Notes
Recipe adapted from Cook's Illustrated.
Want to Save This Recipe?