Chicken and Bacon Kabobs are marinated and then grilled. With mushrooms and pineapple, the kabobs have so much smoky flavor.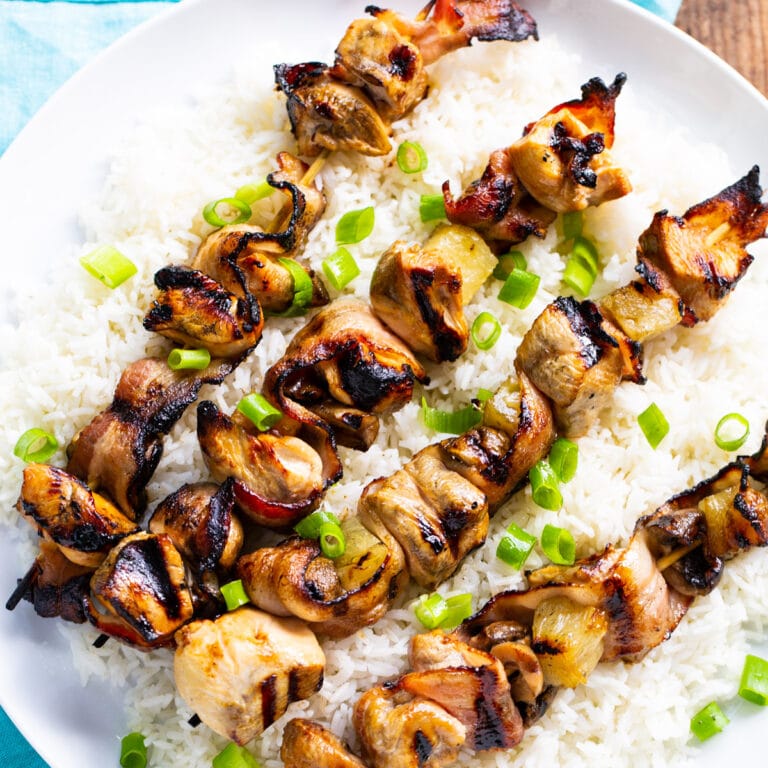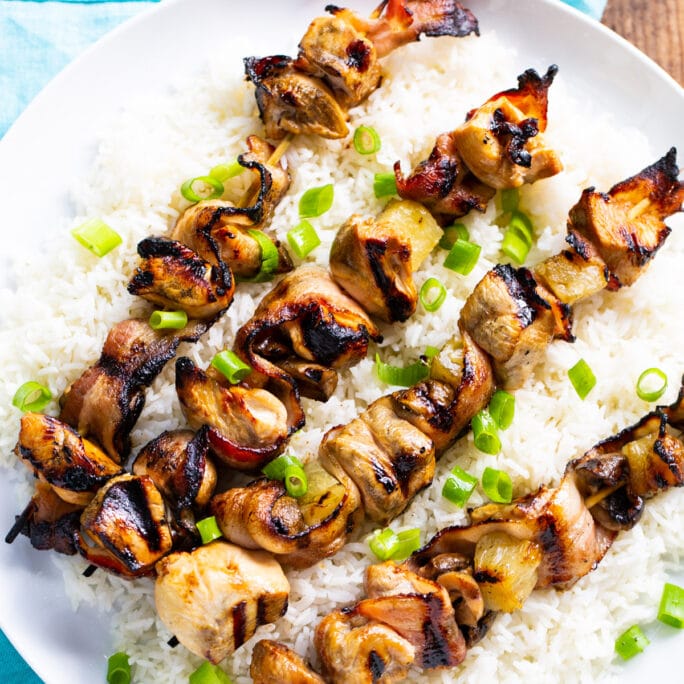 Cooking on the grill is one of the things I most love about the summer months and these Chicken and Bacon Kabobs are one of my favorite things to make.
This recipe is really hard to mess up. Even if you start to enjoy a glass of wine a little too much and forget there is food on the grill. Hey, it happens.
The bacon, which is wrapped around the chicken helps keep the chicken from drying out and also wonderfully seasons the chicken with its juices.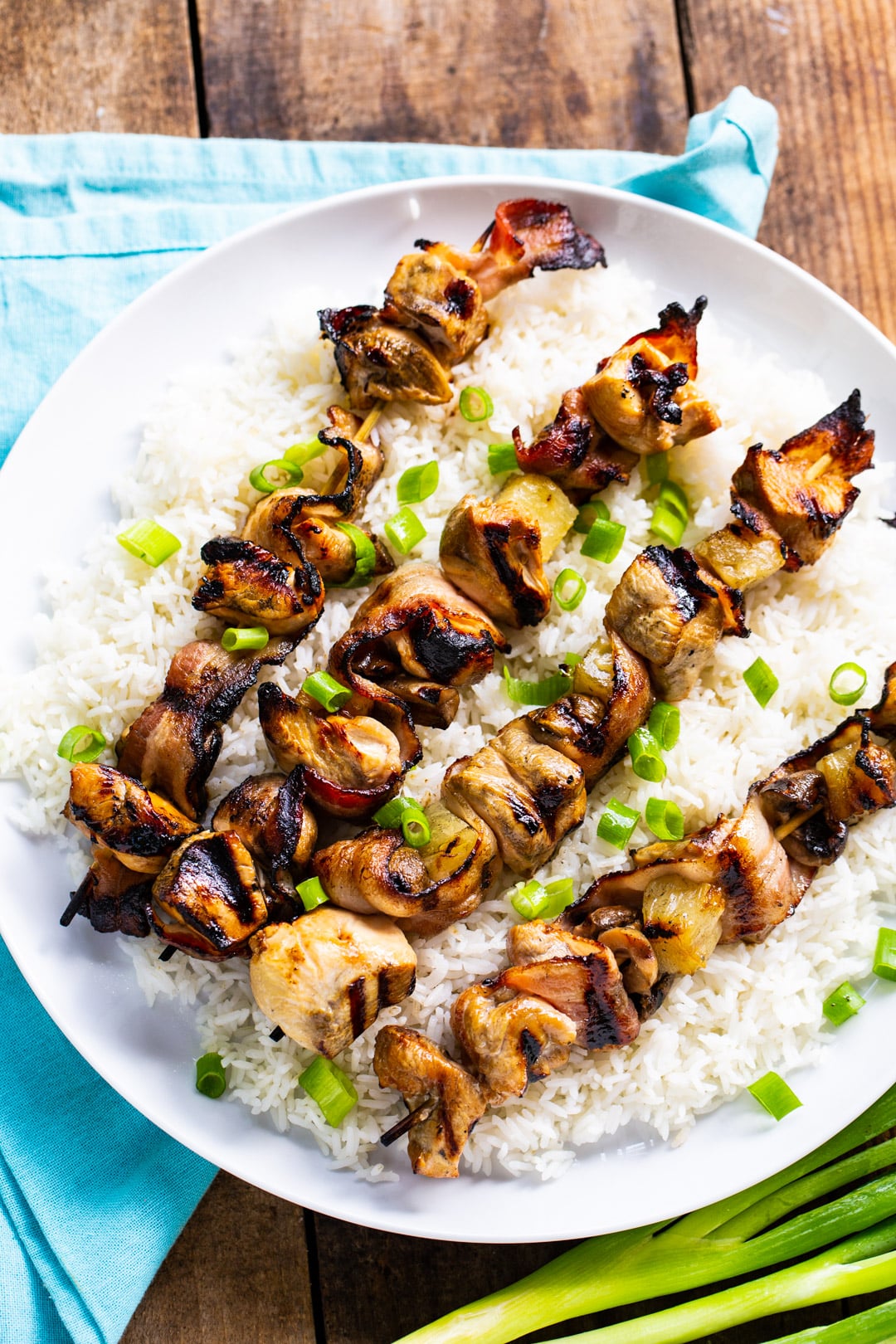 How To Serve
These Chicken Bacon Kabobs also have mushrooms and pineapple so if you serve them over rice you have a whole meal. That's what I love about kabobs. They go great with some corn on the cob or Summer Squash and Onions.
Flavorful Marinade
The chicken and mushrooms are marinated in soy sauce, apple cider vinegar, and honey. It's best to marinate them from 2 to 8 hours.
The flavors of the marinade combined with the smokiness of the bacon creates one delicious kabob. You have saltiness from the bacon and marinade and a little sweetness from the pineapple and honey.
You really can't go wrong with Chicken and Bacon Kabobs!
If using wooden skewers, soak them in water for at least 1 hour before using.
Never miss a recipe. Follow Spicy Southern Kitchen on Pinterest and Instagram.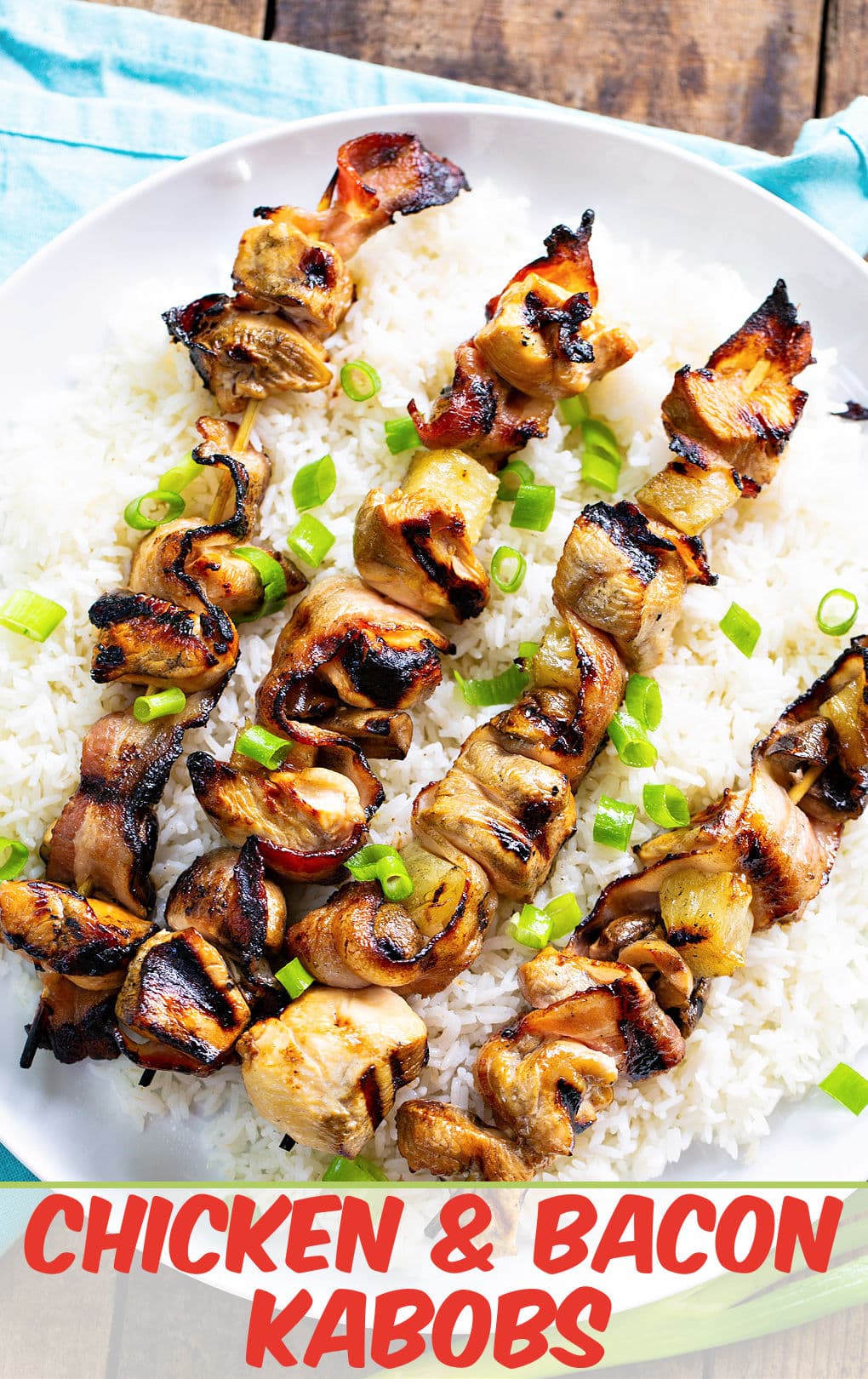 More Grilled Chicken Recipes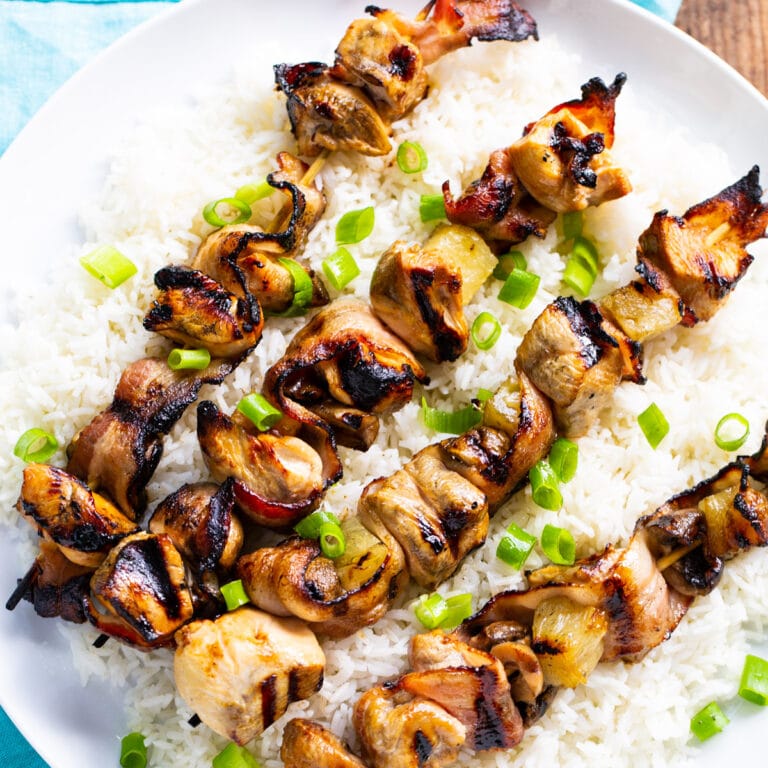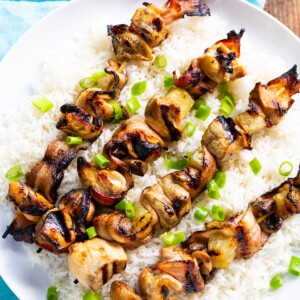 Chicken and Bacon Kabobs
These Chicken and Bacon Kabobs just may be the tastiest kabobs ever. A simple marinade and wrapping the chicken with bacon really amp up the flavor.
Ingredients
1/4

cup

soy sauce

1/4

cup

cider vinegar

2

tablespoons

honey

2

tablespoons

canola oil

2

green onions,

minced

10

large mushrooms,

cut in half

3

boneless

skinless chicken breasts cut into chunks

1/2

pound

bacon,

cut in half

1

small can pineapple chunks,

drained

skewers (if using wooden skewers

soak them in water for at least 1 hour)
Instructions
Mix first 5 ingredients in a large bowl. Add mushrooms and chicken and stir to coat.

Cover and place in refrigerator for at least 2 hours.

Preheat grill for medium-high heat or heat grill pan over medium-high heat.

Wrap chicken chunks with bacon and thread onto skewers alternating with pineapple chunks and mushroom halves. You can either cut the bacon into smaller pieces and wrap each piece of chicken individually or leave the bacon whole and snake it back and forth so that it forms an "S" shape. For example, it would go on the left side of a piece of chicken and then on the right side of the next piece and repeat this pattern.

Arrange skewers on grill and cook about 15 minutes, brushing occasionally with marinade and turning to brown all sides.
Notes
If using wooden skewers, soak them at least 60 minutes in water.
Fat dripping down from the bacon may cause flare-ups so watch grill closely.
Want to Save This Recipe?
Recipe adapted from allrecipes.com
Originally posted August 4, 2015.
More Kabob Recipes