Deviled Pork Chops are coated with a Dijon mustard based paste and sprinkled with buttery Panko crumbs. They are baked in a 275 degree F oven and the low heat keeps them wonderfully moist and tender. You are going to love the spicy kick these pork chops have.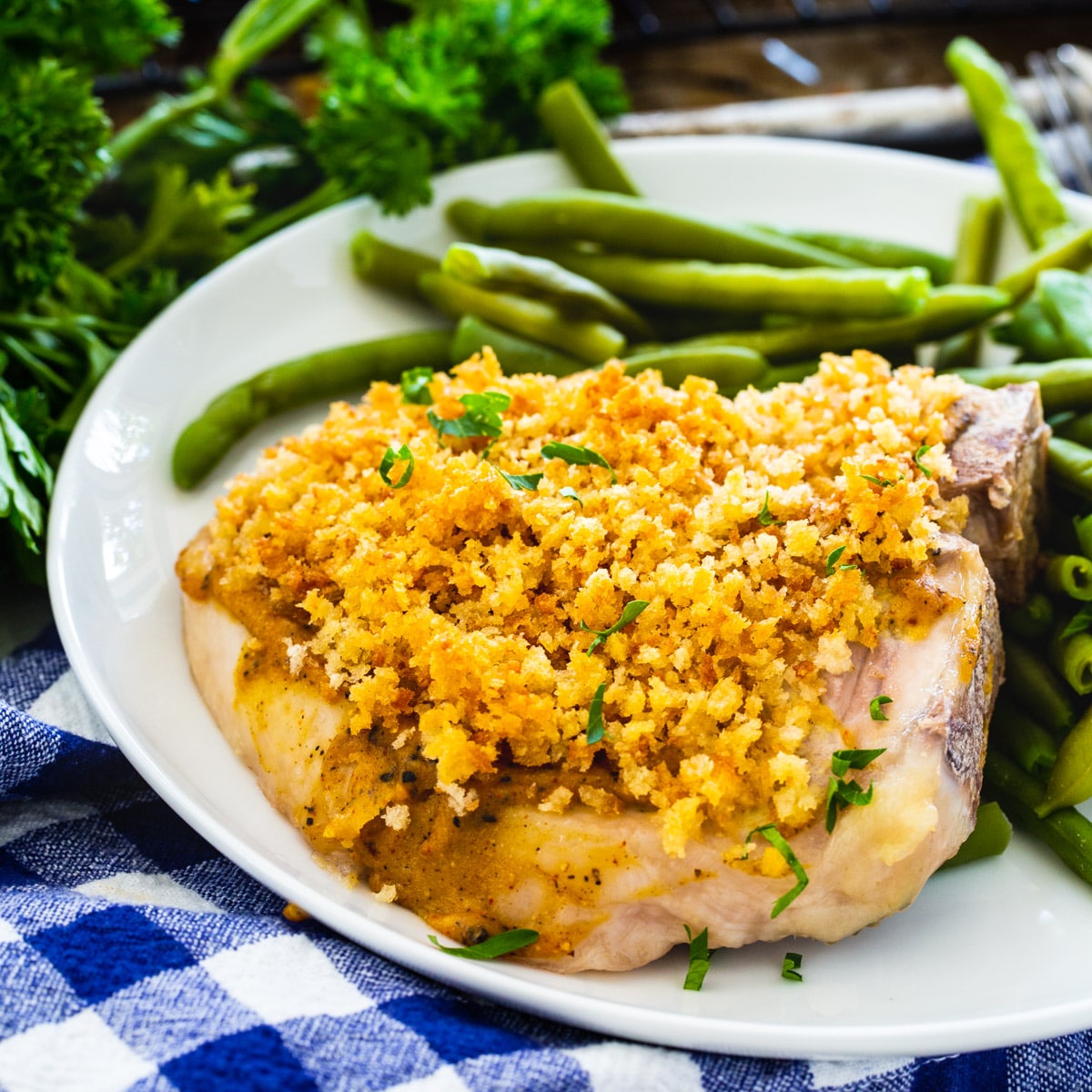 What I love about this recipe:
The pork chops have a lot of spiciness from the cayenne pepper combined with the Dijon mustard.
The list of ingredients is short and simple. You likely already have everything in your pantry or fridge.
Cooking the pork chops at a low temeprature produces pork chops that are wonderfully tender. The way pork is raised these days (it's much leaner), makes it really hard to not dry it out when you cook it. But this lower heat method really works well.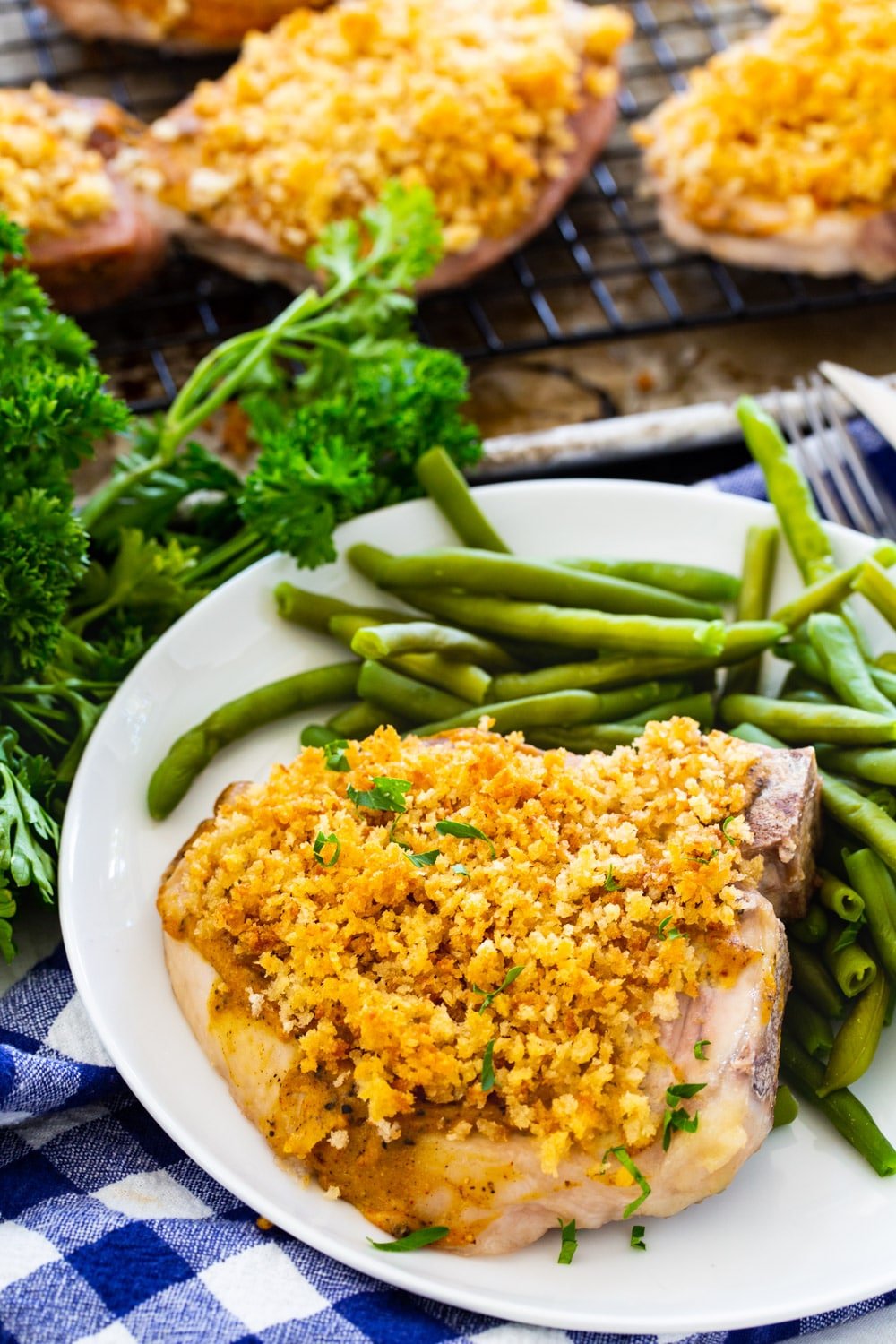 To make Deviled Pork Chops, you'll first toast some Panko crumbs in a nonstick pan with melted butter. Since the pork chops are cooked under low heat, pre-browning the panko crumbs ensures they get crunchy and golden.
Next, in a small bowl stir together the Dijon mustrad, brown sugar, dry mustard, garlic powder, salt, pepper, and cayenne pepper.
Blot the pork chops dry with paper towels and then brush the tops and sides with the mustard mixture. Sprinkle the panko crumbs on top of each pork chop. Place the pork chops on a baking rack set inside a rimmed baking sheet. Bake for 40 to 50 minutes. The internal temperature should reach 140 to 145 degrees.
The amount of flavor these pork chops have, combined with a crispy panko crumb topping makes these pork chops a real dinner winner. These Deviled Pork Chops taste great served with buttered noodles and green beans or broccoli.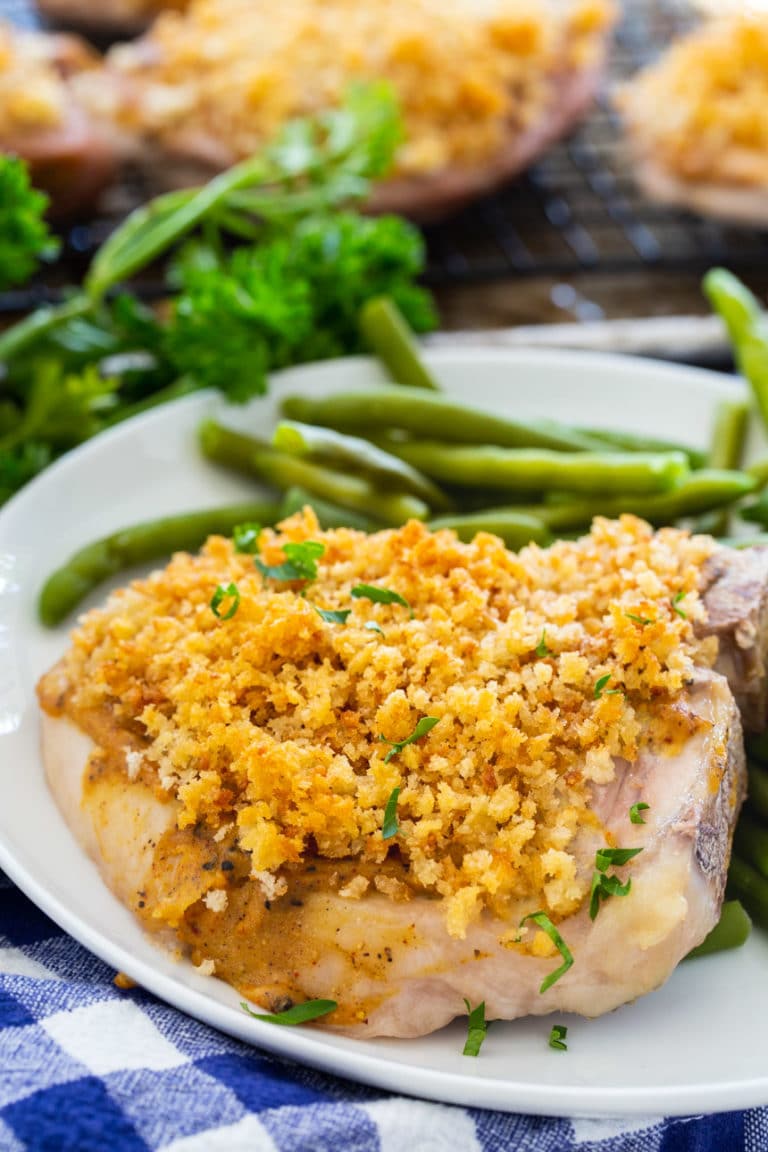 More Pork Chop Recipes: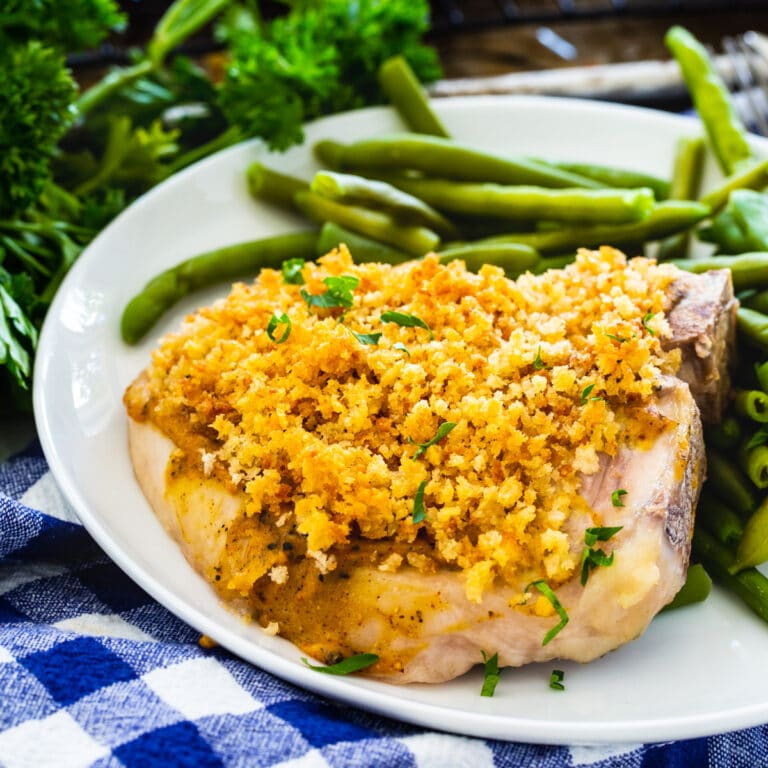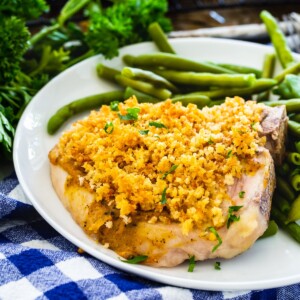 Deviled Pork Chops
Ingredients
3

tablespoons

salted butter

3/4

cup

Panko crumbs

1/4

cup

Dijon mustard

2

teaspoons

packed brown sugar

1/2

teaspoon

dry mustard

1/2

teaspoon

garlic powder

1/2

teaspoon

salt

1/2

teaspoon

black pepper

1/4

teaspoon

cayenne pepper

4

3/4 to 1-inch thick pork chops,

can use bone-in or boneless
Instructions
Preheat oven to 275 degrees. Spray a baking rack with cooking spray and place it inside a rimmed baking sheet.

Melt butter in a small nonstick skillet over medium heat. Add Panko crumbs. Stir and cook until Panko crumbs turn golden brown. Set aside.

In a small bowl, stir together dijon mustard, brown sugar, dry mustard, garlic powder, salt, pepper, and cayenne.

Blot pork chops dry with paper towels. Brush tops and sides with mustard mixture. Sprinkle just the tops with panko crumbs.

Place on baking rack and bake for 40 to 50 minutes or until internel temperature reaches 140 degrees.
Notes
If you don't have a rack to cook the pork chops on, you can place them directly on the baking sheet.
Want to Save This Recipe?
Recipe adapted from Cook's Illustrated