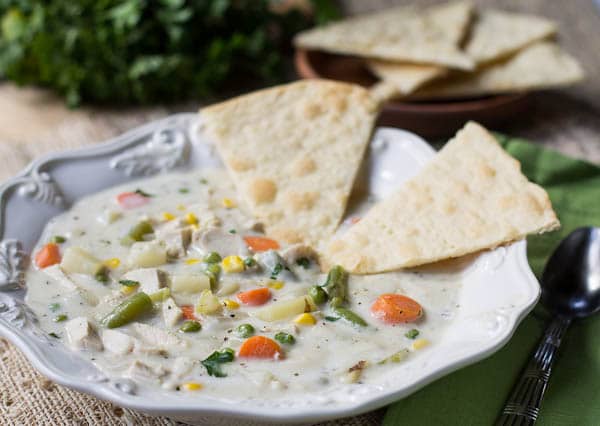 My husband and I just went out for an evening run and I daresay there was a little chill in the air. Time to start making some comfort food!
Chicken Pot Pie is one of my all-time favorite foods. Isn't it everyones? This Chicken Pot Pie Soup has all the traditional flavors of a chicken Pot Pie, but in soup form.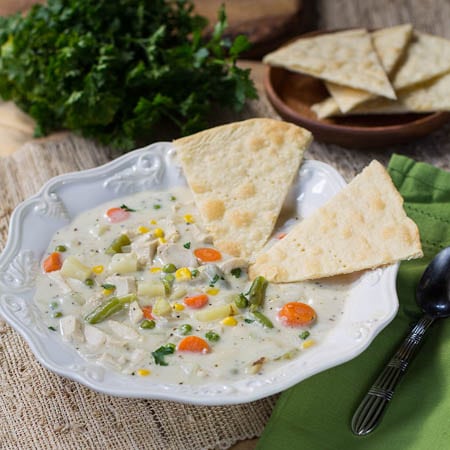 Tender chunks of chicken breast in a thick, creamy broth with plenty of potatoes, green beans, peas, and carrots. Yum!
And what is the best part of chicken pot pie? Well the pie crust of course! And you don't have to sacrifice it with this soup. In fact, you can even have extra pie crust if you want. Just take a refrigerated pie crust, lay it flat on a baking sheet, and pop it in the oven until it's lightly browned. Cut into triangles with a pizza cutter before it cools and you have delicious pie crust pieces that you can either dip into the soup or crumble on top. Of course, if you're feeling ambitious, you can make your own pie dough.
If you're serving more than 4 people, you may want to go ahead and bake up 2 pie crusts. Just to make sure there's no fighting over it 🙂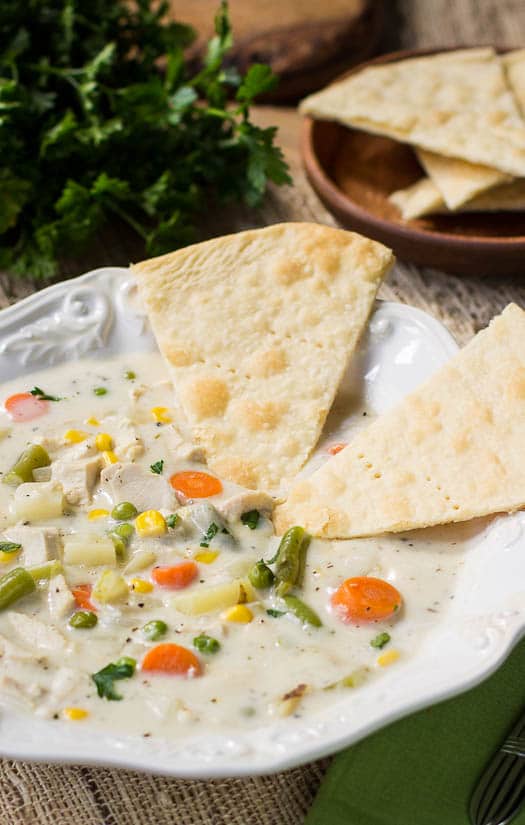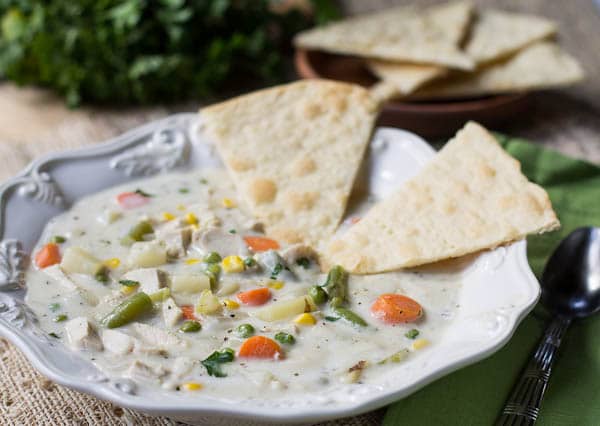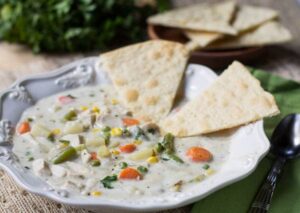 Chicken Pot Pie Soup
Chicken Pot Pie in soup form! Extra warm and comforting for a chilly evening. You will love the piecrust pieces.
Ingredients
2-3

russet potatoes, peeled and diced and

place in bowl of water until ready to use

1/2

teaspoon

salt

3

boneless,

skinless chicken breasts

1

tablespoon

chicken bouillon granules

1/4

cup

vegetable oil

1/4

cup

butter

1/3

cup

diced onion

1/2

cup

celery

1/2

cup

all-purpose flour

2

teaspoons

Italian seasoning

1

teaspoon

pepper

4

cups

frozen mixed veggies

(green beans, peas, corn,and carrots)

1

cup

heavy cream

additional salt to taste

1

store bought pie crust,

refrigerated
Instructions
Bring 2 quarts of water and 1/2 teaspoon salt to boil in a Dutch oven.

Add chicken and simmer for 8 to 10 minutes.

Remove chicken and add chicken bouillon to water. Turn heat up some and boil until reduced in half, about 10 minutes.

Let chicken cool slightly and then dice into bite-sized pieces.

In a large skillet, heat oil and butter over medium heat. Add onion and celery and sauté 2 minutes.

Add flour to skillet and whisk into oil/butter mixture to form a roux. Add Italian seasoning and pepper and cook 3 minutes.

Gradually whisk roux into water/bouillon mixture in the Dutch oven and bring to a boil.

Add potatoes and simmer 10 minutes.

Add vegetables and diced chicken and simmer 5-8 minutes

Stir in cream and simmer 3 minutes. Do a taste test and add additional salt to taste.

Preheat oven to 400 degrees. Unroll pie crust and place flat on a baking sheet. Bake until golden brown. Cut into pie shaped pieces and serve with soup.
Want to Save This Recipe?