Chicken Florentine Panini- garlic mayonnaise, caramelized onions, chicken, spinach, and Provolone cheese make this an incredibly tasty panini.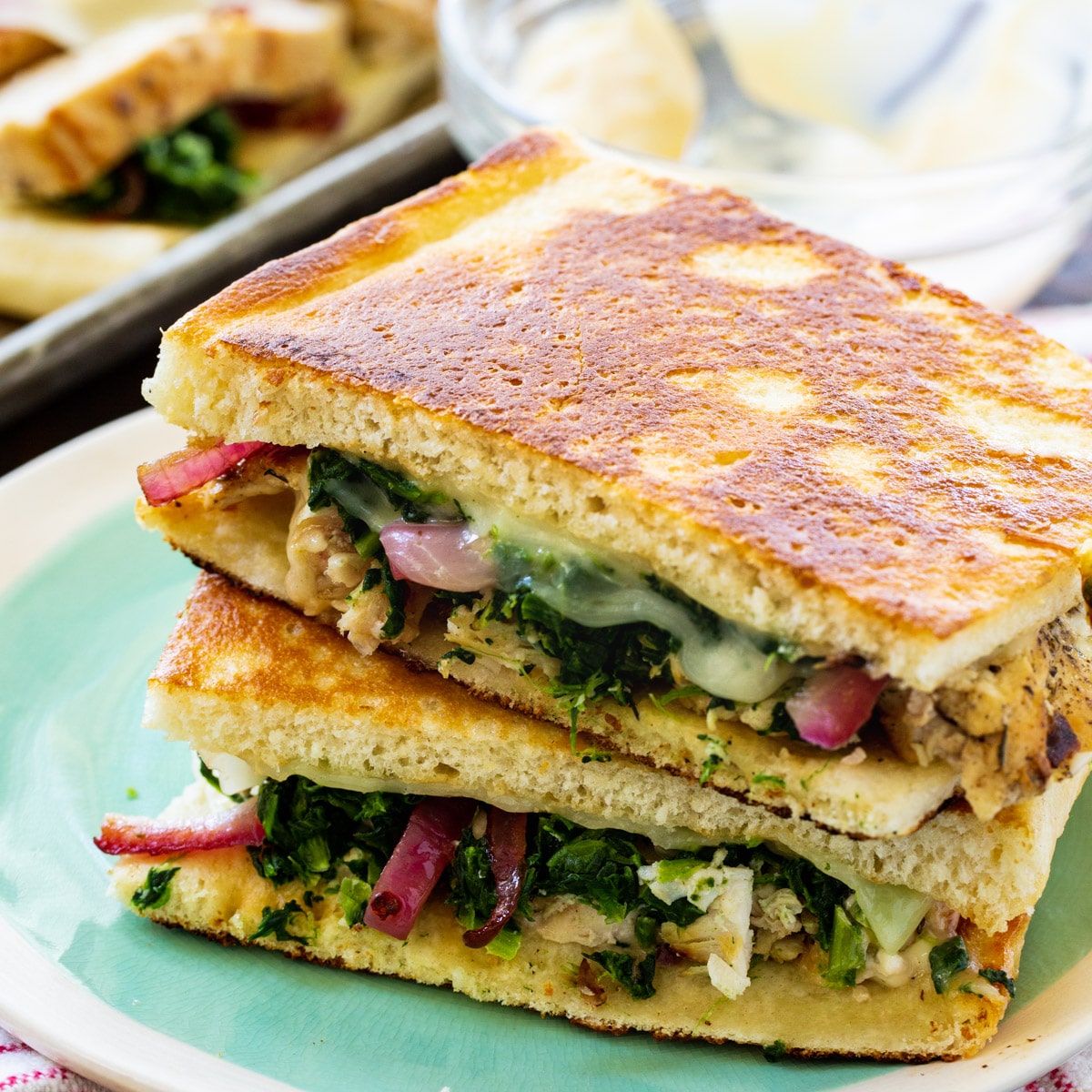 Start With Refrigerated Pizza Dough
Refrigerated pizza dough makes an easy, crispy flat bread for this sandwich. This recipe is based off a recipe that won the Pillsbury Bake-off in 2002. It reminds me of one of the delicious paninis at Panera Bread. I love panini sandwiches, but I'm never quite sure what kind of bread to use when I make one at home. Foccacia is my favorite but it isn't available readily where I live. But honestly, pizza dough makes a really great base for a panini sandwich. It just needs to be baked until golden and then cut into squares. It's super easy.
There's 2 components that turn this sandwich from a good sandwich into a great one. Lots of bold flavor comes from the garlic mayonnaise and the onions which are caramelized and flavored with sugar, balsamic vinegar, and crushed red pepper flakes.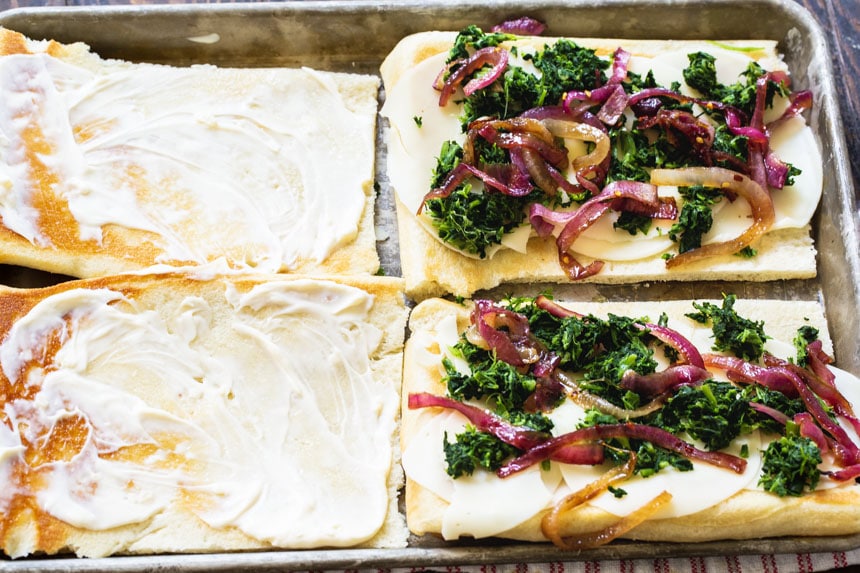 Chicken Florentine Panini Recipe Tips
For best flavor, make the garlic mayonnaise at least a few hours in advance.
All of the components can be made ahead of time and refrigerated except the flat bread which can be stored at room temperature in a ziplock bag.
Rosemary or basil can be used instead of thyme to flavor the chicken.
A cast iron pan is best, but any kind of pan can be used.
Don't skip flattening the chicken breasts. Not only will they cook quicker and more evenly, the pieces will fit in the flatbread better.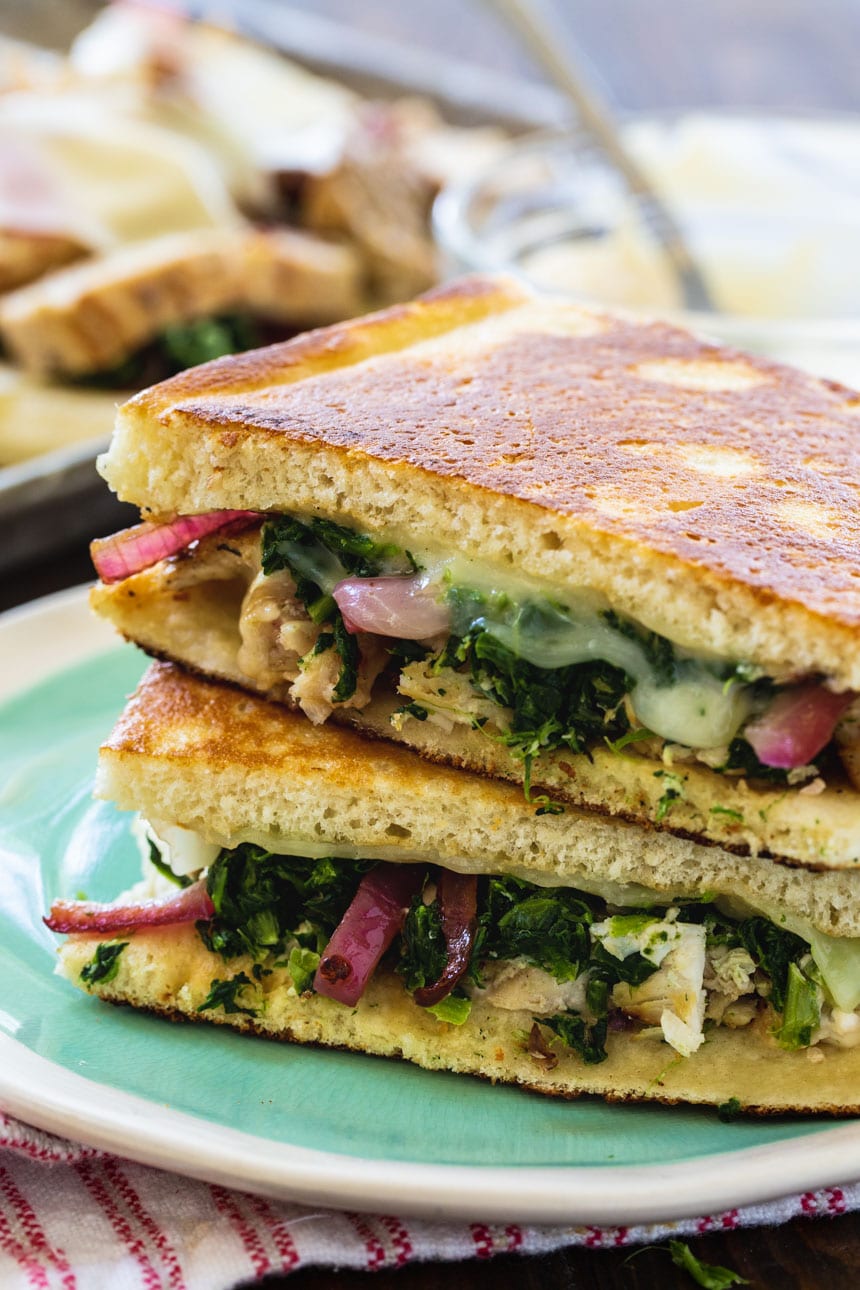 Try These Other Delicious Sandwich Recipes: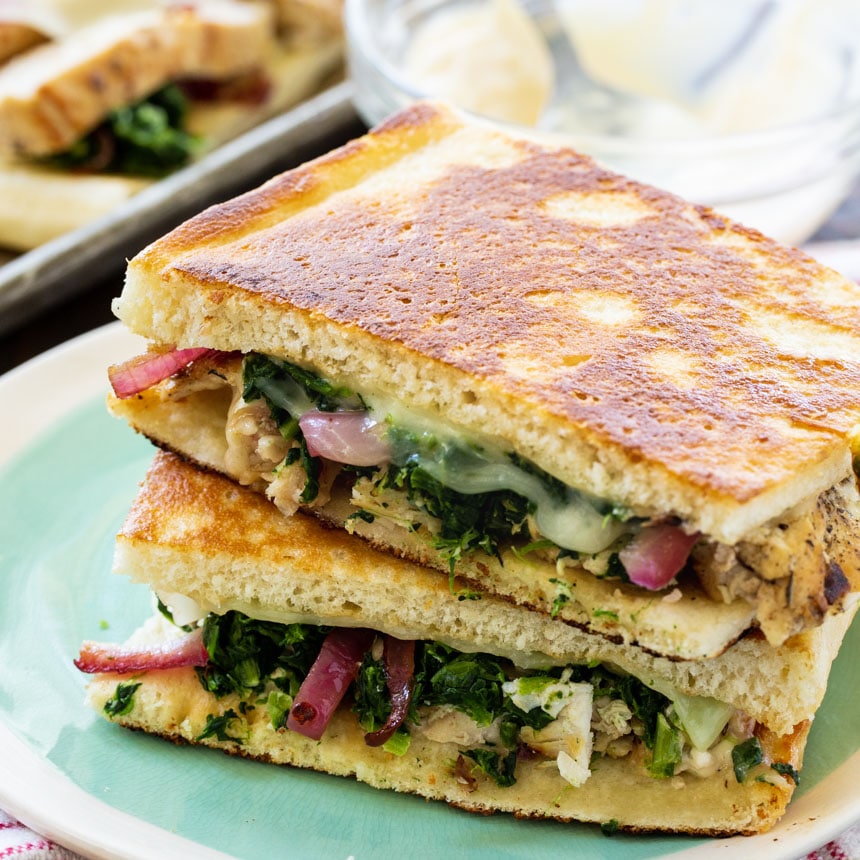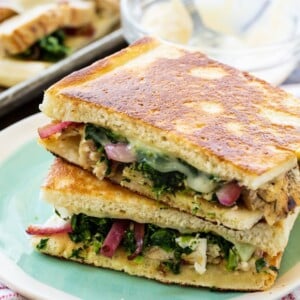 Chicken Florentine Panini
Chicken Florentine Panini is full of chicken, spinach, caramelized onions, and provolone cheese.
Ingredients
1/4

cup

mayonnaise

1

garlic clove,

minced

1

(10-ounce) tube

refrigerated pizza crust

1 1/2

tablespoons

olive oil,

divided

1

medium

red onion,

cut in half and thinly sliced

2

teaspoons

granulated sugar

1

tablespoon

balsamic vinegar

1/4

teaspoon

crushed red pepper flakes

2

boneless, skinless chicken breasts

salt and pepper

1/4

teaspoon

dried thyme

1

(9-ounce) package

frozen, chopped spinach,

thawed and squeezed to get rid of liquid

8

provolone cheese slices
Instructions
In a small bowl, stir together mayonnaise and garlic. Refrigerate until needed.

Preheat oven to 375 degrees.

While oven heats, saute the onion in the olive oil in a large nonstick skillet for 3 minutes over medium heat.

Add sugar, vinegar, and crushed red pepper flakes. Saute another 5 minutes. Set aside.

When oven reaches 375 degrees, unroll the pizza dough and press into a 15×10-inch jellyroll pan. Bake for 10 minutes. Let cool and then cut into 4 rectangles.

After onions are cooked, transfer them to a bowl. Wipe the skillet clean.

Flatten the chicken breasts with a meat mallet or rolling pin. You want them to be about 1/4-inch in thickness. Season with salt, pepper, and thyme.

Heat 1/2 tablespoon of olive oil in the wiped-clean skillet over medium-high heat. Add chicken and cook for 4 to 5 minutes per side or until cooked through. Remove to a cutting board and let cool 5 minutes. Then cut into slices.

To assemble, spread the mayonnaise mixture on one side of 2 of the rectangles. On the other 2 arrange the chicken slices, spinach, and onions. Top with the provolone cheese.

Place the remaining 2 slices on top, mayonnaise side down.

Lightly grease a cast iron skillet with olive oil. Heat over medium-high heat. Add sandwiches. Cook until golden brown on the bottom, pressing down on them with a spatula. Flip over and cook until golden on the second side.

Cut each sandwich in half and serve.
Want to Save This Recipe?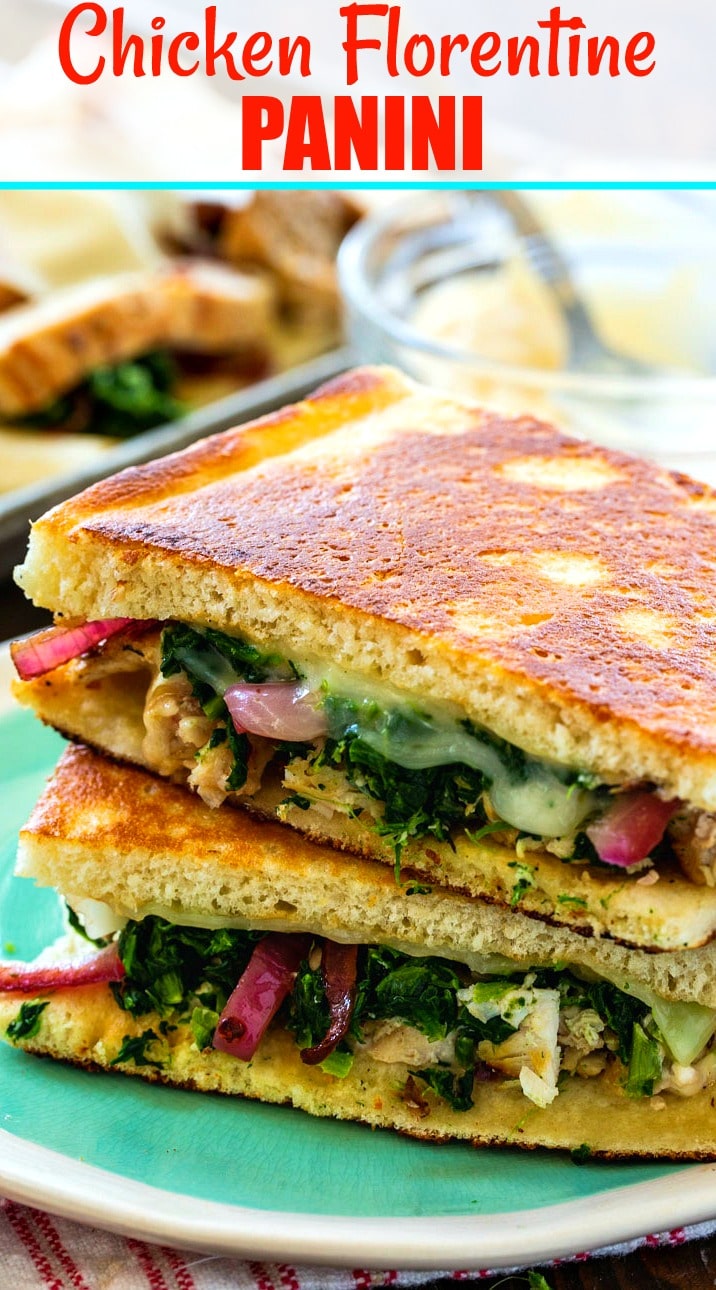 Disclosure: This post contains affiliate links.