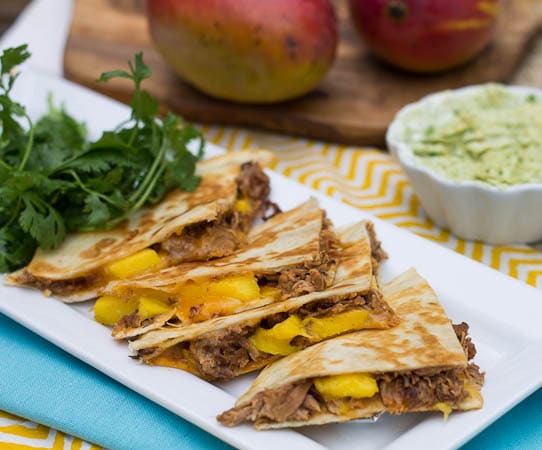 The flavor and texture of mangos does so well with pork. The sweetness of the mango contrasts well with a spicy, savory slow-cooked pork.
I've made lots of quesadillas since they're a family favorite and this is one of my favorite, if not my favorite, flavor combination.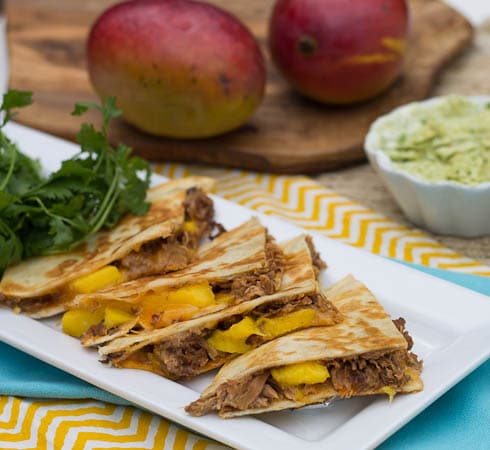 In the past I haven't cooked much with mangos, but recently, every time I go to the supermarket, there's a big, beautiful pile of them. I can't help but put 1 or 2 in my cart.
You'll need to get the pork going in the morning, as it needs a good 8 hours in the crockpot to turn super tender. Cut as much fat off your Boston Butt as possible. It's such a fatty piece of meat anyways, you don't need any extra.
You'll only need about 2 cups of the slow cooked pork for the quesadillas. Leftovers will keep well in the refrigerator or you can even freeze them. Turn them into a BBQ pizza or potatoes stuffed with BBQ for a second weeknight meal.
BBQ Pork and Mango Quesadillas go wonderfully with a simple avocado cream, made by mashing avocado with some sour cream and adding a touch of lime juice. Garnish with a little fresh cilantro.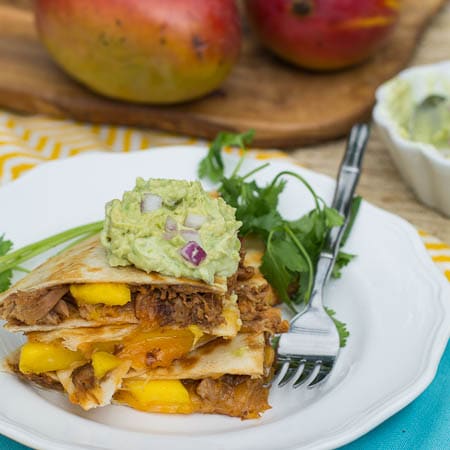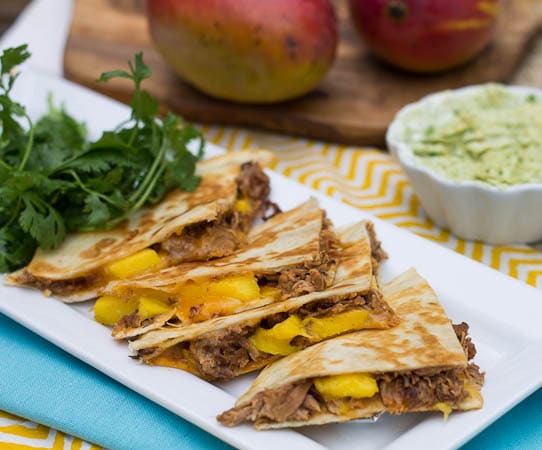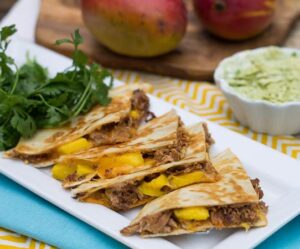 BBQ Pork and Mango Quesadillas
Ingredients
1

boneless Boston Butt,

about 4-5 pounds

2

tablespoons

olive oil

½

onion,

chopped

3

tablespoons

chili powder

1

tablespoon

brown sugar

2

teaspoons

kosher salt

2

teaspoons

cumin

1 ½

teaspoons

dried oregano

1 ½

teaspoons

garlic powder

½

teaspoon

freshly ground black pepper

¼

teaspoon

cayenne pepper

¼

teaspoon

cinnamon

2

bay leaves

1

chipotle pepper in adobo sauce,

minced

1

tablespoon

tomato paste

½

avocado

2

tablespoons

sour cream

1

teaspoon

lime juice

1

mango sliced

8

flour tortillas

(8-inch)

2

tablespoons

barbecue sauce

1

cup

shredded Mexican cheese blend

vegetable oil
Instructions
Heat olive oil in a large skillet over high heat. Add pork butt and cook about 2 minutes per side, until nicely seared.

Place pork in a crockpot and top with onions.

In a small bowl, combine chili powder, salt, brown sugar, cumin, oregano, black pepper, cayenne, garlic powder, and cinnamon. Sprinkle on top of pork. Add chipotle pepper, bay leaves, and tomato paste to crockpot. Don't worry about mixing tomato paste in, just smear it on top of pork. Cover crockpot and cook on low for 8 hours.

Remove meat to a large bowl and shred. Remove 2 cups for the quesadillas and reserve the remaining pork for another use.

Add barbecue sauce to the 2 cups of pork and mix well.

In a small bowl, mix avocado, sour cream, and lime together, using a fork to mash the avocado. Set aside.

Heat a small amount of vegetable oil in a large nonstick skillet set over medium heat. For each quesadilla, use about ½ cup pork, ¼ cheese, and ¼ of the sliced mango. One quesadilla at a time, cook in the skillet for 1-2 minutes per side, until lightly browned and cheese is melted.
Want to Save This Recipe?