A super thick and cheesy Lasagna made in the crock pot makes a hearty family meal with a minimum amount of effort. This is one of the easiest lasagna recipes ever and it is the only lasagna I ever cook in the crock pot. Slow Cooker Lasagna is so perfect, as much as I love to try new recipes, I can't bring myself to try another slow cooker lasagna.
This Williams Sonoma Slow Cooker Lasagna rocks!
In fact, I think it may be my favorite lasagna period.
You probably don't believe that lasagna cooked in a crock pot can be better than one baked in the oven. I was completely skeptical too.
Two pounds of Italian sausage and plenty of gooey cheese make this a lasagna to be reckoned with. Just 4 hours in the crock pot, plus a quick broil to melt the cheese is all it takes. You do have to brown the sausage beforehand, but it only takes a few minutes.
A store bought spaghetti sauce really saves time, but you'll never be able to tell a homemade sauce wasn't used.
And there is no need to cook the noodles first. Win!
Be sure to use regular noodles, NOT no-boil.
This tasty Italian meal is a cinch to make for even the most novice cook. Pair it with a salad and bread and you easily have enough food to cover dinner for 2 nights.
If your crock pot has been gathering dust on the shelf and you need some inspiration to get it out and put it to use, check out Spicy Southern Kitchen's Crock Pot Pinterest Board. You'll find a recipe to make just about anything in the slow cooker.

Recipe Source: Williams Sonoma 
More Crock Pot Recipes to Try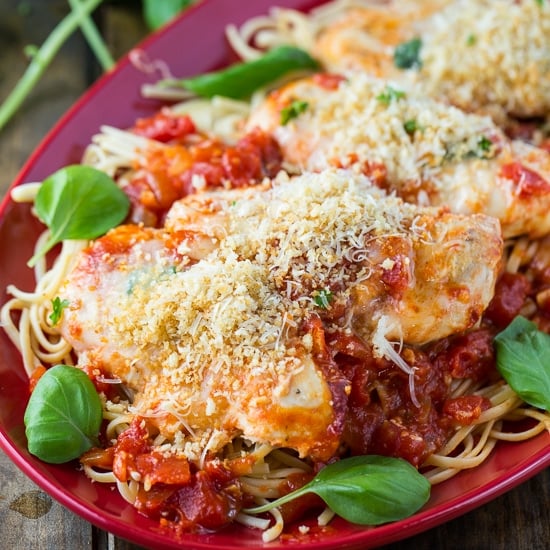 Crock Pot Chicken Parmesan
Crock Pot Beef and Noodles