A cocktail that tastes just like a Pineapple Upside Down Cake will sweeten up your weekend. It's such a girly drink- insanely sweet and gorgeous in color.
Pineapple Upside Down Cocktail is dessert in a glass, so make sure you skip dessert or I can't be responsible for your sugar overload. It's a simple and easy mixture of pineapple juice, cake-flavored vodka (one of the best tasting things ever), amaretto (another one of the best tasting things ever), a little lime juice, and grenadine. Vanilla-flavored vodka can be used in place of the cake-flavored vodka and you could try some coconut-flavored rum in place of the amaretto.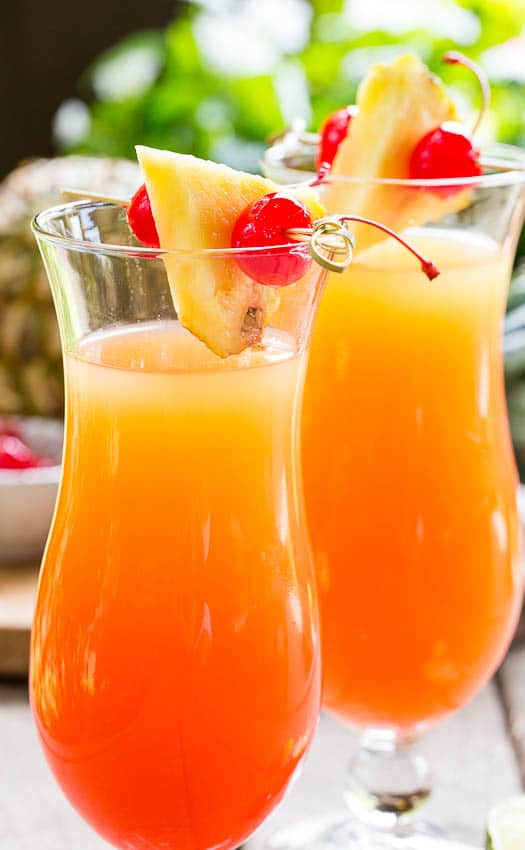 Pretty much any way you make it, it's going to be delicious.
You pour the grenadine in last and it is supposed to sink to the bottom and form two distinct layers, with the red on the bottom representing the cherries on the bottom of a pineapple upside down cake.
But my layers really blended together, especially by the time I whipped my camera out. It's still a gorgeous drink though and I'm thinking it is better to have that wonderful sweet flavor of the grenadine all through the drink.
Whether you enjoy one relaxing by the pool or on the back porch with your girlfriends, Pineapple Upside Down Cocktail is an easy, delicious drink to enjoy.
We are heading to the beach tomorrow for a week and I'm thinking I may be packing the cake-flavored vodka to make a few more of these. 🙂
Never miss a recipe. Follow Spicy Southern Kitchen on Pinterest and Instagram.
Sign up HERE for the Spicy Southern Kitchen Newsletter.
Sharing with The Country Cook's
Weekend Potluck
More Summer Cocktails
Disclosure: This post contains affiliate links.