Pineapple Upside Down Pancakes turn the popular dessert into a delicious breakfast (that tastes like dessert!). Each pancake has a thick slice of fresh pineapple embedded in it. The pineapple rings are precooked in butter flavored with cinnamon.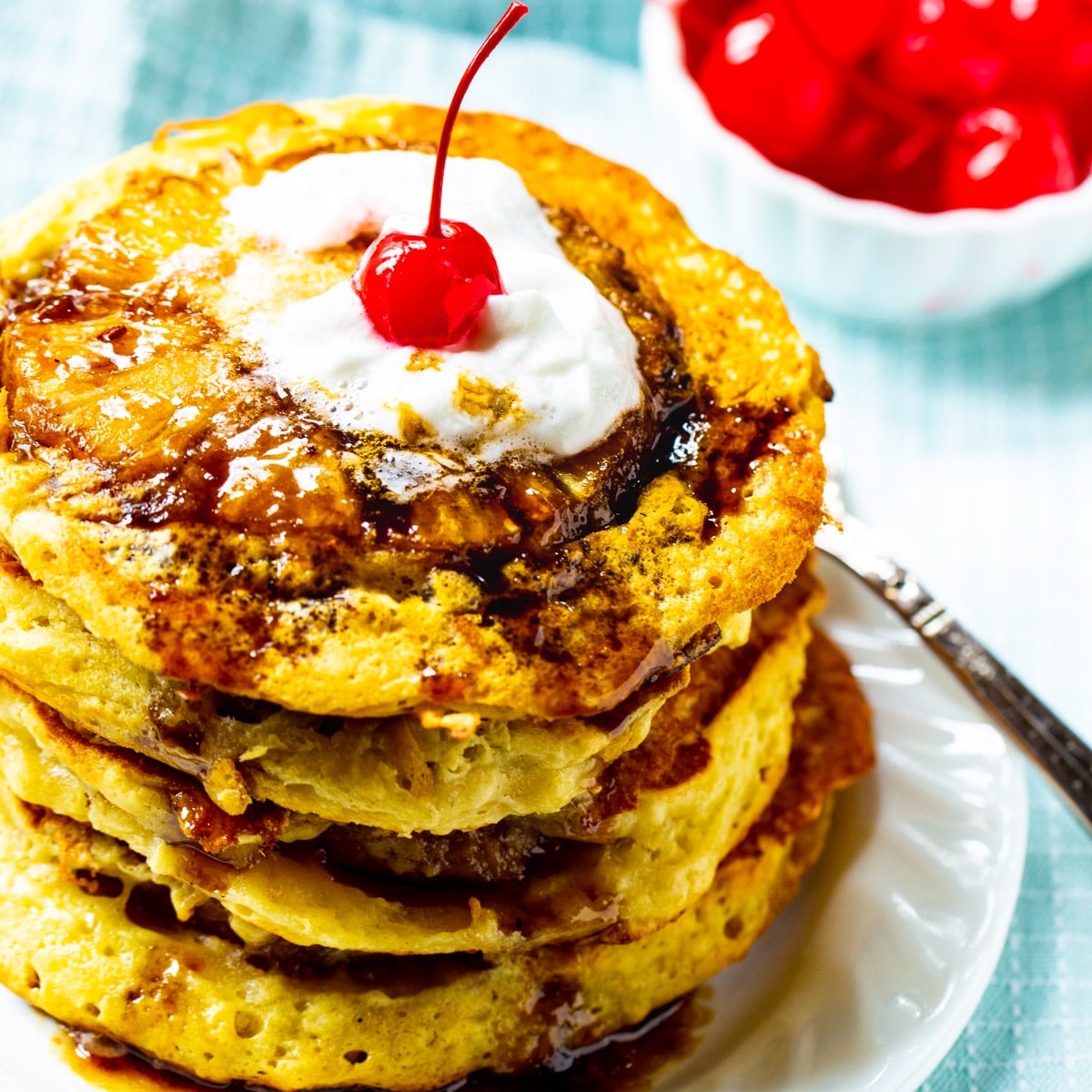 Then dark rum and brown sugar are added to make a tropical flavored syrup for the pancakes.
It's kind of like Pineapples Foster.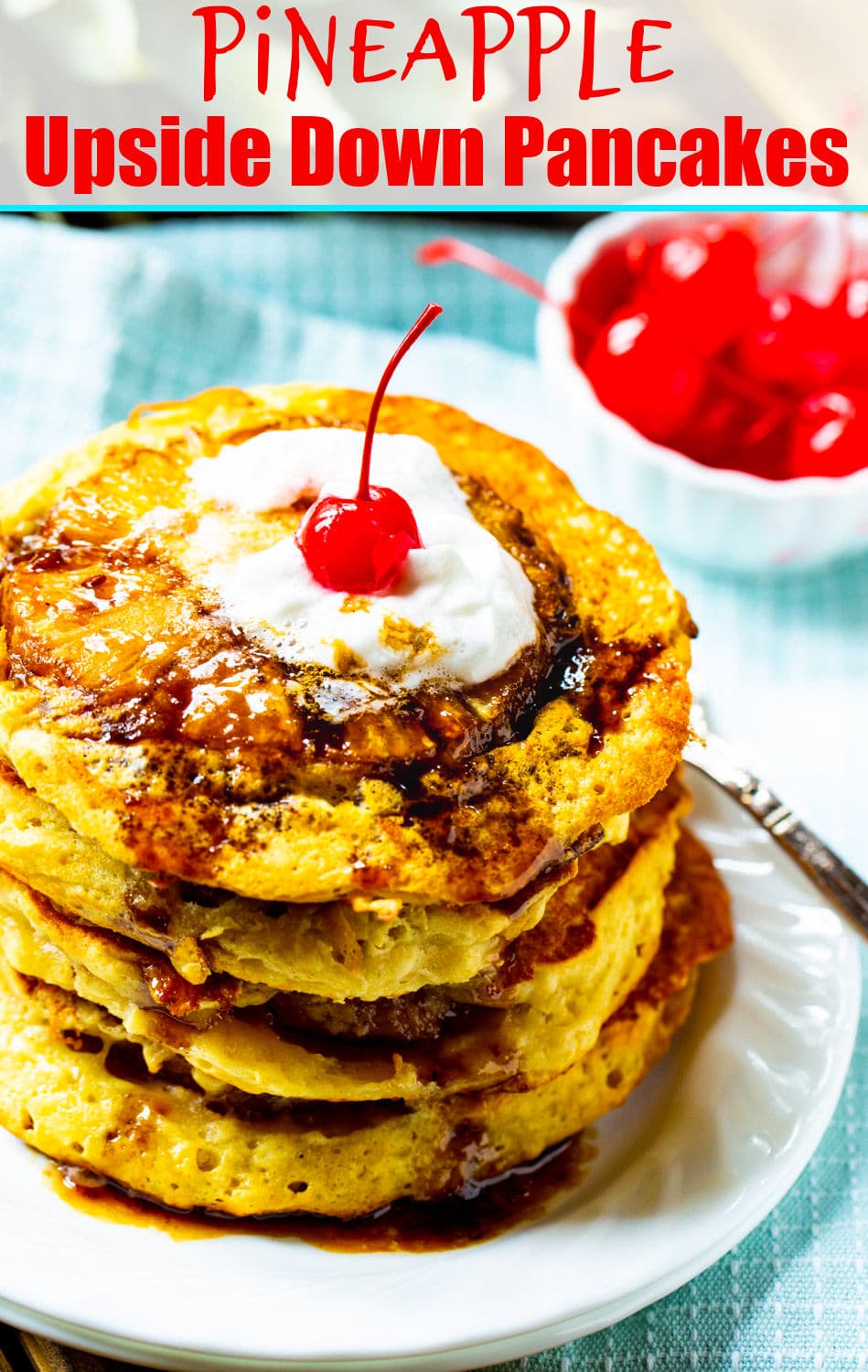 The pancake batter is cooked until almost set before a pineapple ring is added to each pancake. Put the pineapple rings on too early and the weight will cause the pancake batter to spread out too much.
To ensure the pancakes are cooked through they are baked in the oven for about 5 minutes after being removed from the griddle.
Place a cherry on top of a stack of these Pineapple Upside Down Pancakes and you have a mouthwatering tropical breakfast.
Try These Other Pineapple Upside Down Recipes:
For more must make recipes follow Spicy Southern Kitchen on Pinterest and Instagram.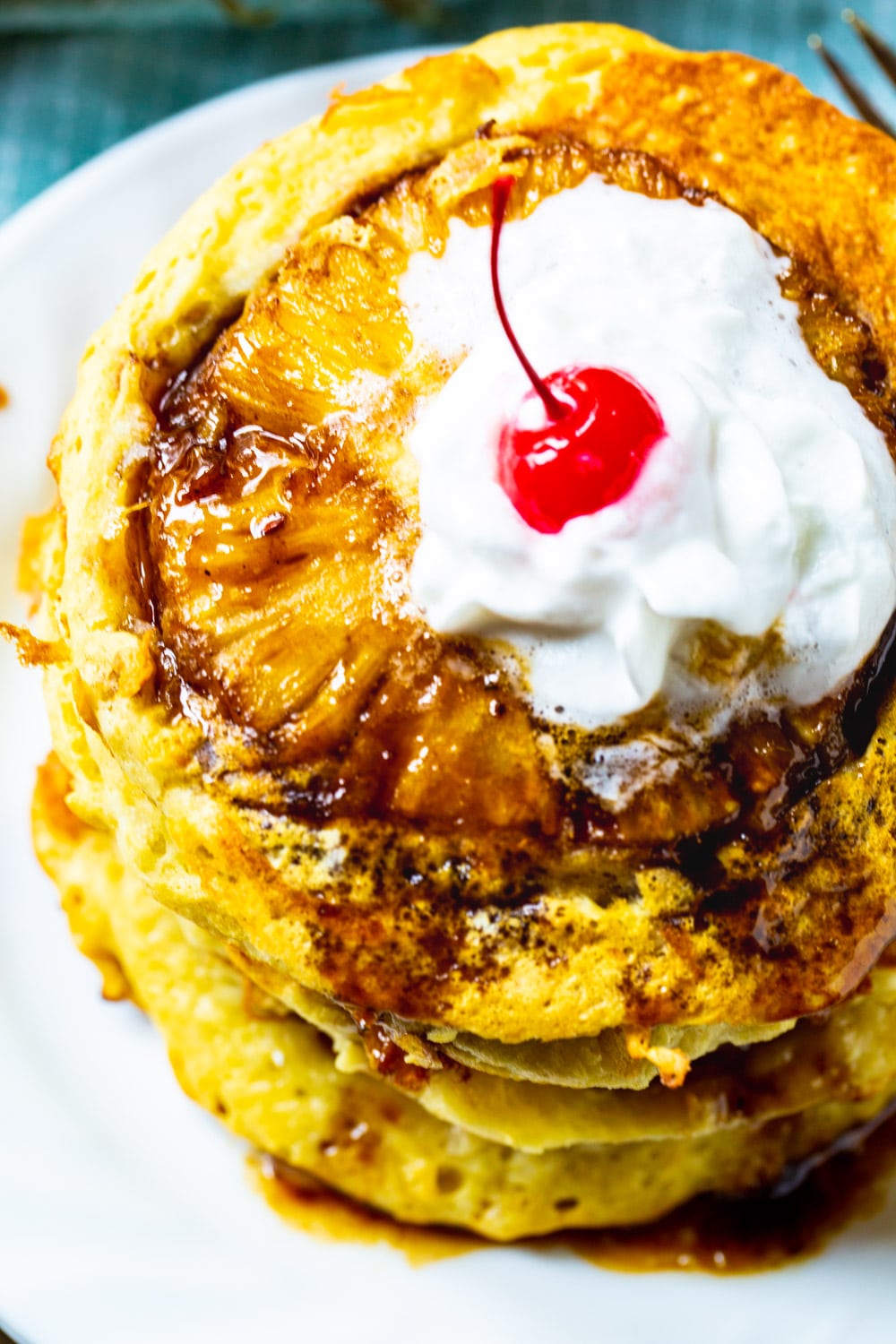 More Pancake Recipes To Try: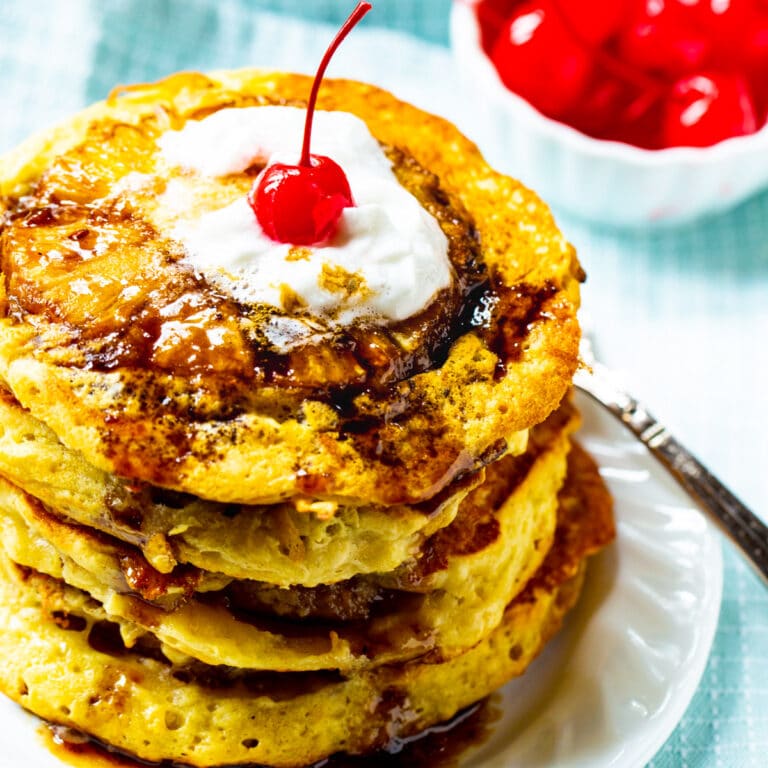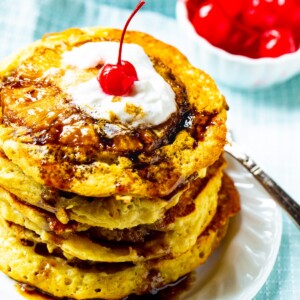 Pineapple Upside Down Pancakes
Pineapple Upside Down Pancakes turn the popular dessert into a delicious breakfast (that tastes like dessert!).
Ingredients
1

large pineapple

2

tablespoons

butter

1

cinnamon stick

1

cup

dark rum

1/3

cup

dark brown sugar
Batter
1

cup

all-purpose flour

3

tablespoons

sugar

1

teaspoon

baking soda

1/2

teaspoon

salt

1

cup

buttermilk

1

large egg

2

tablespoons

butter,

melted

1/2

teaspoon

vanilla extract
Instructions
Peel pineapple and cut into 1/2-inch slices. Use a small round cookie cutter to cut the core out of each piece.

In a large skillet, melt butter with cinnamon stick over medium heat. Cook until butter starts to brown, about 2 minutes.

Add pineapple slices and cook 3 to 4 minutes per side. Remove pan from heat and add rum and brown sugar. Place pan back on heat and cook over medium-high heat until juices are thick and syrupy. Transfer pineapple to a plate and reserve syrup.

Heat oven to 325 degrees and set a wire rack on a rimmed baking sheet.

To make batter, whisk flour, sugar, baking soda, and salt.

Add buttermilk, egg, melted butter, and vanilla. Whisk until blended.

Heat a large skillet or griddle over medium heat. Coat with cooking spray. For each pancake, pour 1/4 cup batter onto skillet. Let cook until bubbles form on top. Place pineapple slices on top and carefully flip pancakes over. Cook for 2 minutes and then place on prepared rack. Place rack in oven until cooked through, about 5 minutes.

Serve pancakes with reserved syrup.
Want to Save This Recipe?
Originally published on May 30, 2015.
Recipe adapted from Epicurious.
More Pineapple Recipes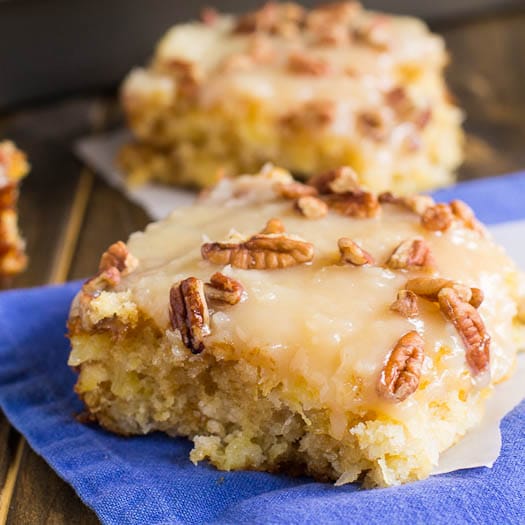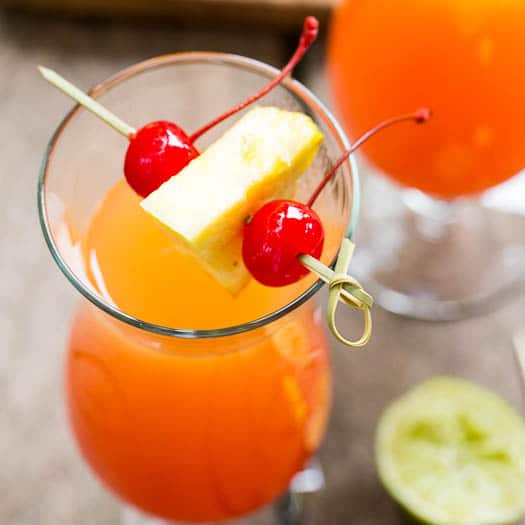 Pineapple Upside Down Cocktail