This Chicken Cornbread Casserole is so easy and so delicious. Boneless, skinless chicken breasts are coated in a mixture of sour cream, onion, and celery with some seasonings, and left to marinate in the refrigerator for an hour.
Then they are topped with a little cheddar cheese and a cornbread topping. The sour cream coating produces an incredibly moist chicken with just a little tang. Coupled with cornbread crumbs on top, this is one scrumptious southern casserole.
I've used a Martha White packet of cornbread mix to make the cornbread topping. I added in some canned corn for a little interest. Some chopped jalapenos would be good in it too to add some heat.
You can use any cornbread mix or use your favorite from scratch recipe. It's best if the cornbread is made a day in advance or at least a few hours before you assemble the casserole to give it a chance to cool off and even dry out a bit.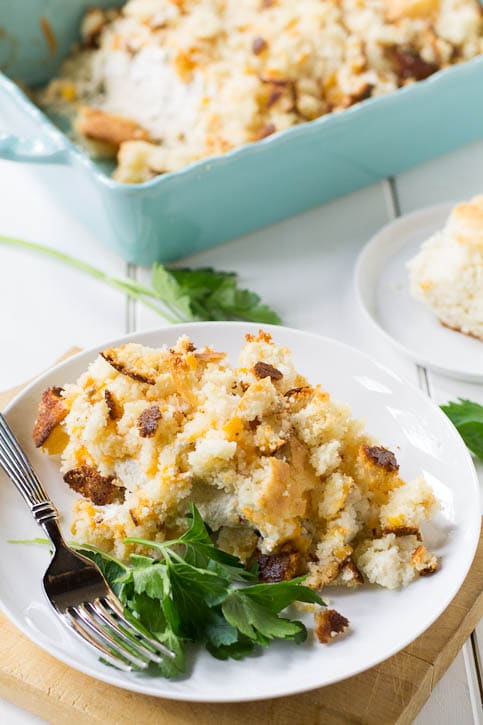 You could even purchase some ready-made cornbread at the store and then this becomes a super easy meal. Mix the corn in with the sour cream mixture if you still want to add some corn.
And if you're really in the mood for casseroles, you might also want to take a peek at Sandy's Chicken (one of my favorites), Homestyle Ground Beef Casserole, Poppy Seed Chicken Casserole, and Chicken Cobbler.