Tender and juicy white meat chicken topped with broccoli and a cheesy sauce with Ritz crackers. This Cracker Barrel copycat is easy to make and will become a family favorite.
Every time a craving for comfort food hits me and I don't feel like cooking, we head to Cracker Barrel. And next to the Chicken Fried Chicken, the Broccoli Cheddar Chicken is my favorite thing on the menu.
I decided this needed to be something I could make at home. For those cold winter nights when I don't dare leave the house. I searched the internet for recipes and found them to all be pretty much the same with slight variations.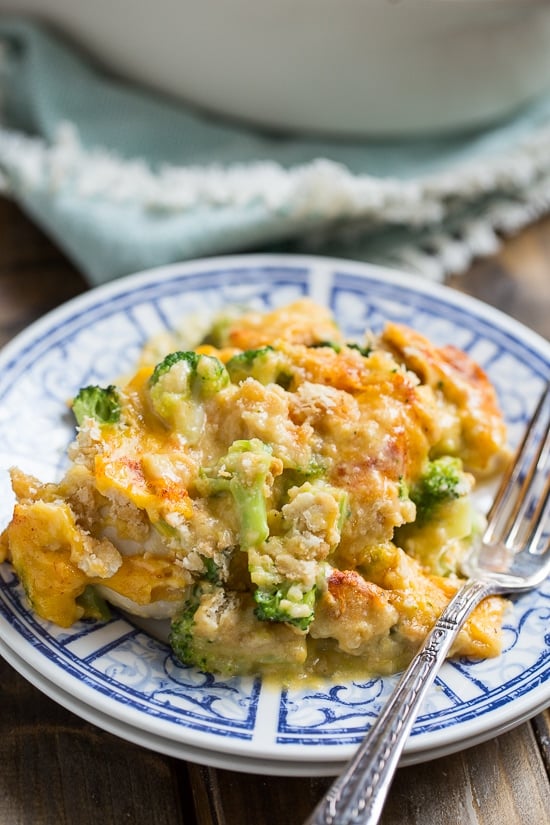 This casserole can be assembled in just minutes and popped in the oven to bake for 45 minutes. I love that you don't need to precook anything. I used frozen broccoli that I had defrosted overnight in my refrigerator. There's no need to cook it or even warm it before adding it to the dish. You could use fresh broccoli instead, but you should at least partially cook it or it will most likely not get soft enough.
Instead of putting the Ritz Cracker crumbs on top, I put a thin layer of the cheese sauce on top of them. The crackers blend into the sauce and thicken and flavor it. But if you want a crunchy topping, mix them with a tablespoon or two of melted butter and sprinkle them on top of all the cheese sauce.
Buttery crackers, broccoli, and cheese are a hard to resist combination. Your kids are going to ask for this Broccoli Cheddar Chicken again and again.
Never miss a recipe. Follow Spicy Southern Kitchen on Pinterest and Facebook.
More Copycat Recipes
Fuji Apple Chicken Salad (Panera Bread copycat)
Thai Chicken Pizza – CPK copycat
Disclosure: This post contains affiliate links.