This copycat of California Pizza Kitchen's Thai Chicken Pizza will be a hit with lovers of sweet and spicy food.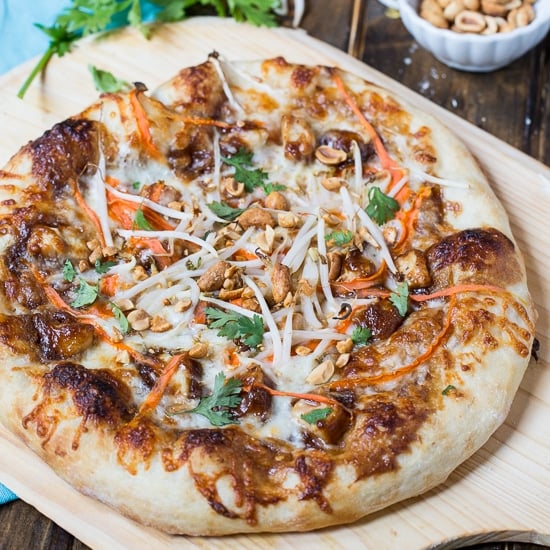 I love a pizza with nontraditional flavors and toppings and this copycat of California Pizza Kitchen's Thai Chicken Pizza is a real winner. It has diced chicken tossed in a spicy peanut sauce flavored with ginger, honey, sesame oil, and oyster sauce. A gooey layer of mozzarella cheese covers the chicken and it is topped with shredded carrots, bean sprouts, and green onion. A sprinkling of chopped fresh cilantro and chopped peanuts finish off the flavors. It is a pizza made for lovers of sweet and spicy foods.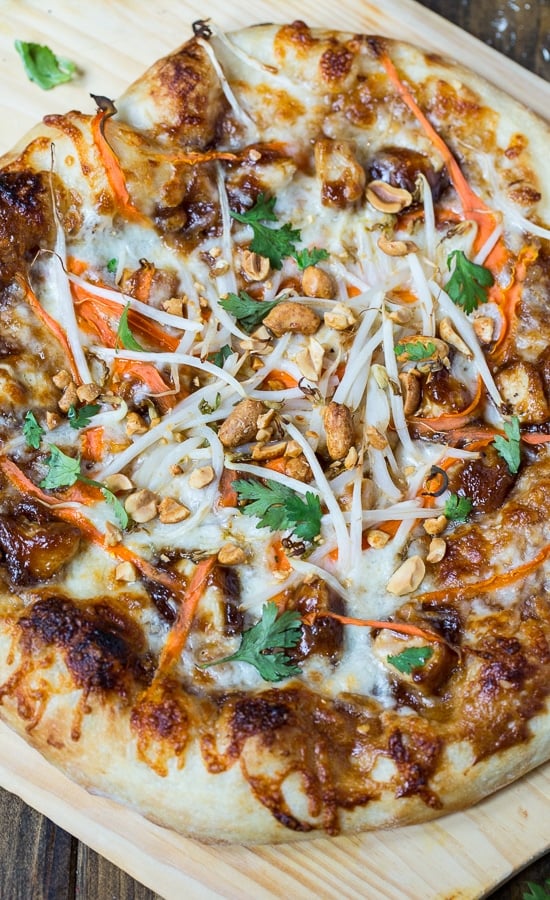 Not to mention, it is a very photogenic pizza. Sorry for all the pictures. I couldn't help myself.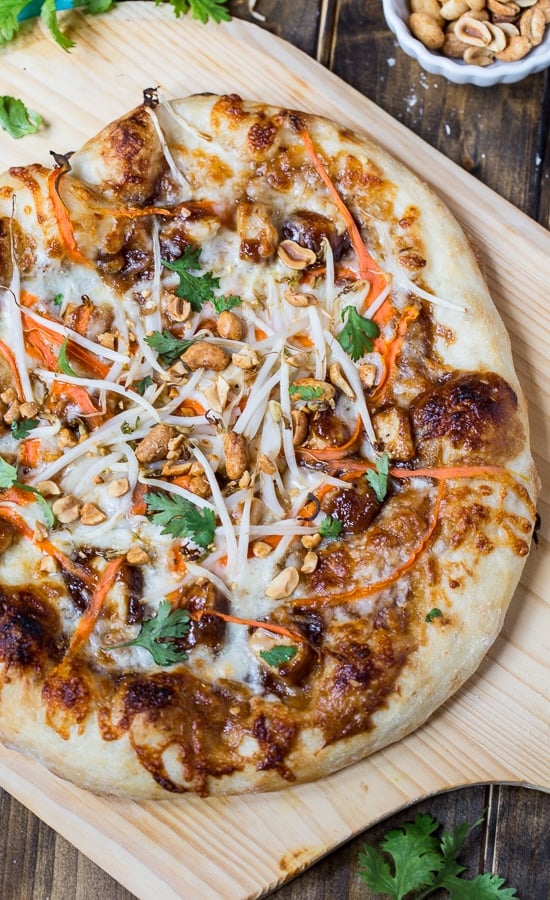 We go to California Pizza Kitchen quite often. It's probably our go to place for special lunches. The only problem with eating there is I can never decide what to order. There are too many delicious pizzas and salads to choose from. I've never actually eaten the Thai Chicken Pizza at the restaurant, but the recipe is in California Pizza Kitchen Cookbook
that I have had for years and I thought it would be the perfect pizza to make at home.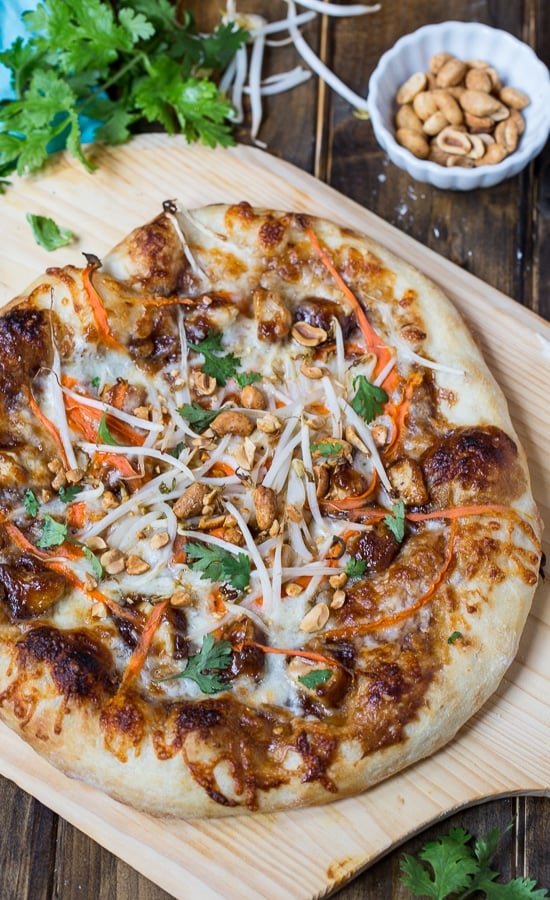 Typically I haven't really been one to make pizza at home mainly because I was completely inept at making pizza dough. I blame it on the fact that I was raised on Chef Boyardee pizza.
I say "was" because I am now able to make a pizza dough that I am pround of thanks to the free Pizza Making Class Perfect Pizza at Home on Craftsy.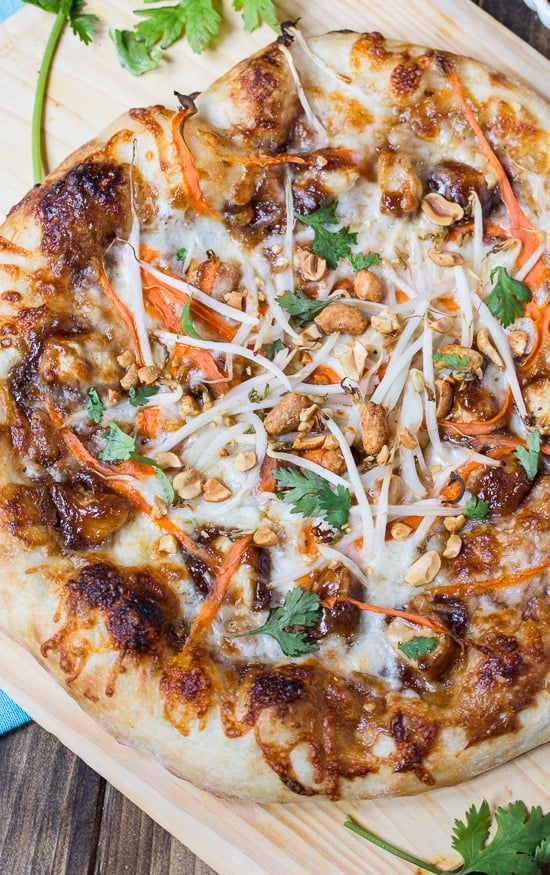 If you've never taken a class on Craftsy before, they are amazing and this Pizza Making Class, which is completey free, is the perfect way to try out the Craftsy video classes AND learn how to make a darn good pizza.
The class is over 30 minutes in length but it is divided into segments and you can pick and choose which ones you want to watch. Even better, all Craftsy classes have a 30 second replay button so you can watch and cook at the same time and hit the replay button if you get behind or miss something.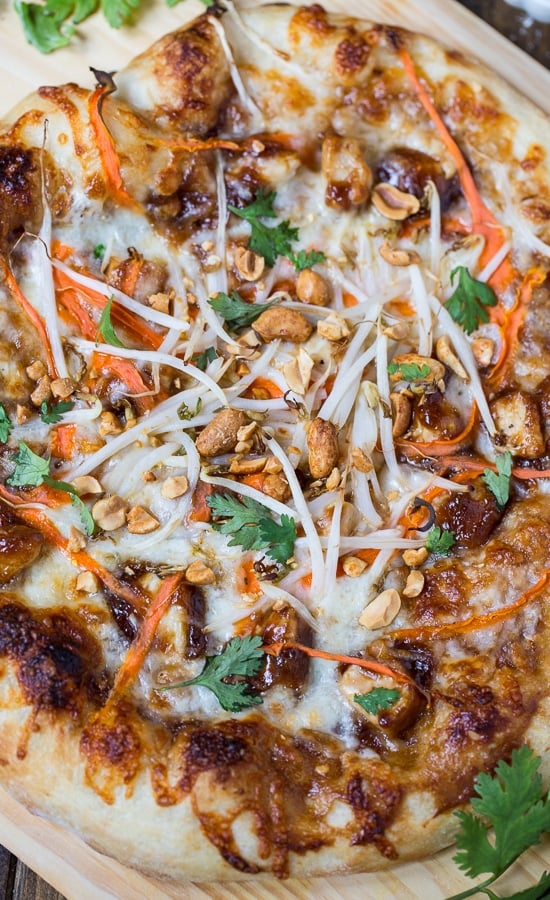 There are 4 types of dough taught in the class. So far I've only made the American-Style (Neopolitan) dough. I first made Muffaletta Pizza with it a few weeks ago. It makes a big batch of dough which keeps well in the fridge for a number of days.
So a few days after I made the Muffaletta Pizza, I used the remaining dough to make this Thai Chicken Pizza.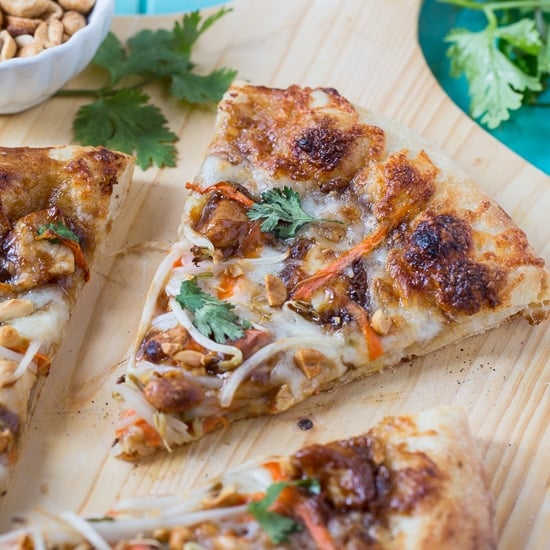 Perfect Pizza at Home shows you not only how to make the perfect dough, but how to shape it as well. This part takes a little bit of practice and my Thai pizza was much more evenly shaped than my Muffaletta Pizza. 🙂
If you make one of the Craftsy doughs, which I highly recommend, you will need to do it a day in advance and refrigerate it overnight. Then bring it to room temperature for 90 minutes before shaping it.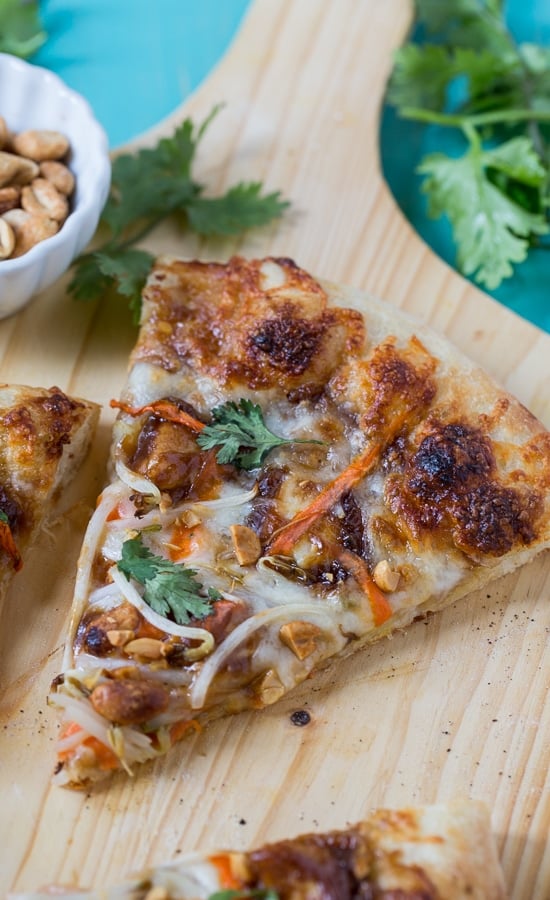 I haven't included the pizza dough instructions here because frankly I couldn't do them justice. Being able to watch the instructor demonstrate the process is a much better way to learn. So go to Craftsy and download the free class if you want to improve your pizza making skills.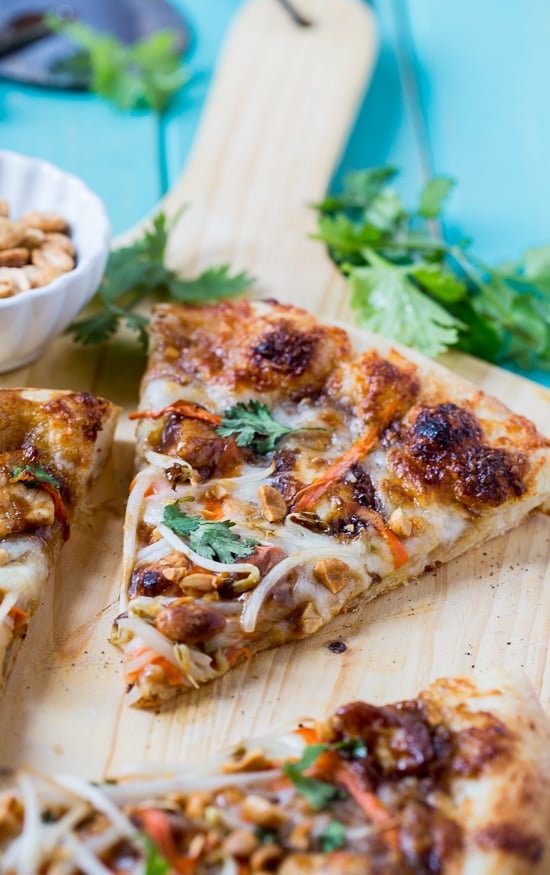 Or you could just use a pound of store-bought pizza dough.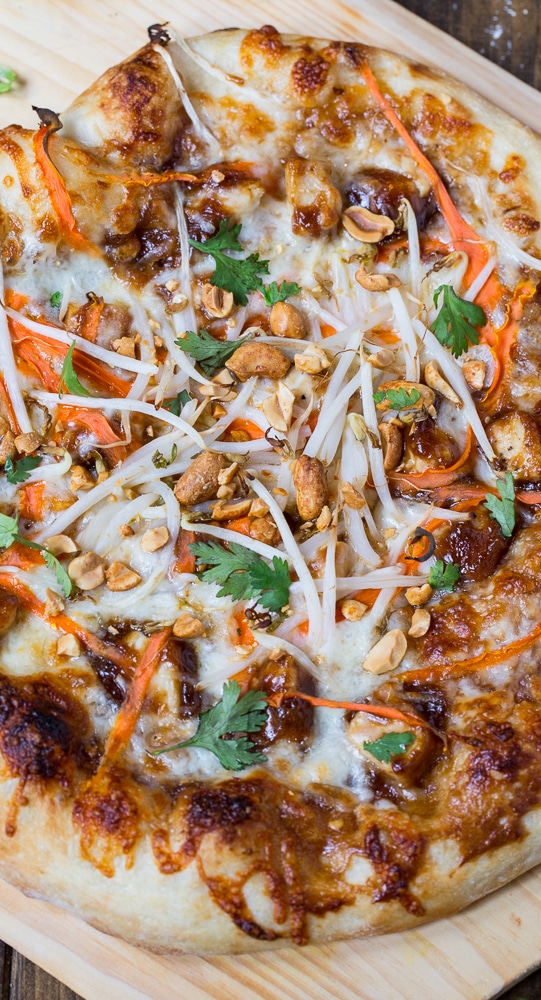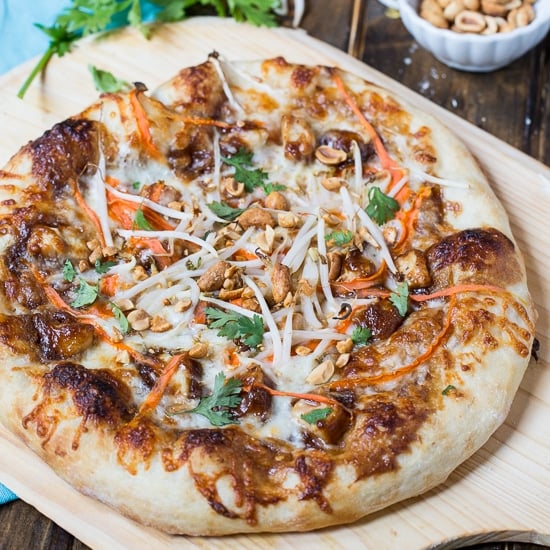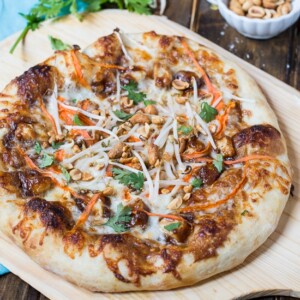 Thai Chicken Pizza
This copycat of California Pizza Kitchen's Thai Chicken Pizza will be a hit with lovers of sweet and spicy food.
Ingredients
Spicy Peanut Sauce
1/2

cup

peanut butter

1/2

cup

hoisin sauce

1

tablespoon

honey

2

teaspoons

rice wine vinegar

1/2

teaspoon

ground ginger

2

tablespoons

sesame oil

1/4

teaspoon

dried red pepper flakes

1

tablespoon

oyster sauce

2

tablespoons

water
For the Pizza
1

tablespoon

olive oil

2

chicken breasts

cut into 3/4-inch cubes

1

pound

pizza dough

cornmeal

2

cups

shredded mozzarella cheese

4

green onions,

slivered diagonally

1/2

cup

bean sprouts

1/3

cup

shredded carrot

2

tablespoons

chopped roasted peanuts

2

tablespoons

chopped fresh cilantro
Instructions
Place a pizza stone in the oven and preheat to 500 degrees (or as high as your oven will go).

To make Peanut Sauce, combine all sauce ingredients in a small saucepan and bring to a boil. Boil gently for 1 minute. Remove from heat and set aside.

Heat olive oil in a nonstick pan and cook chicken until no longer pink, about 5 minutes. Place chicken in a bowl and toss with half of the peanut sauce.

Divide dough in half and shape each into a 9-inch round.

Coat a pizza peel lightly with cornmeal and place one pizza dough round on top. Spread 1/4 cup of sauce evenly on dough.

Cover sauce with 3/4 cup mozzarella cheese.

Place half the chicken on top of the cheese followed by half the green onions, carrots, and bean sprouts.

Top with 1/4 cup mozzarella and half of the peanuts.

Transfer pizza to pizza stone and bake 8 to 10 minutes, until crust is golden.

Sprinkle with cilantro and serve. Repeat for second pizza.
Want to Save This Recipe?
Recipe Source: adapted from California Pizza Kitchen Cookbook
More Pizza Recipes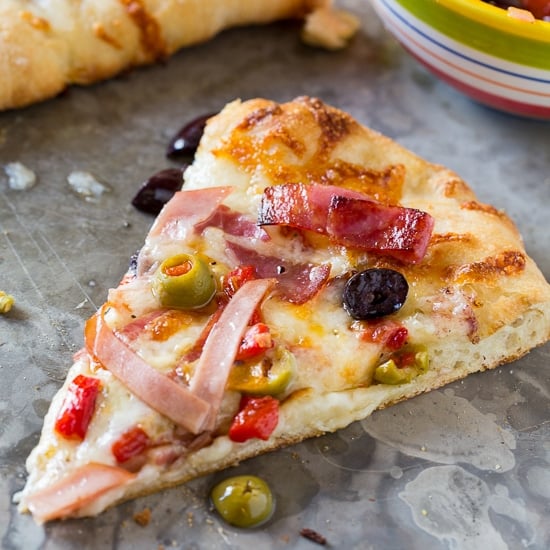 Disclosure: This post contains amazon.com and Craftsy affiliate links.