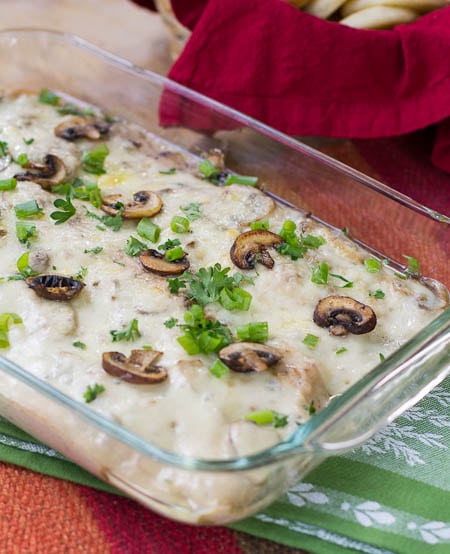 The first day of school has come and gone for the Mahrlig family and with both kids in high school this year, it was a momentous one. This is Chase's first year of driving to school, not really that big of a deal since our neighborhood is literally right next to the high school. But still, it was so strange to see him pull his car out of the driveway.It was our daughter's first day of high school and she definitely thought it was way cooler to have her brother drive her to school than to ride the bus like she did last year.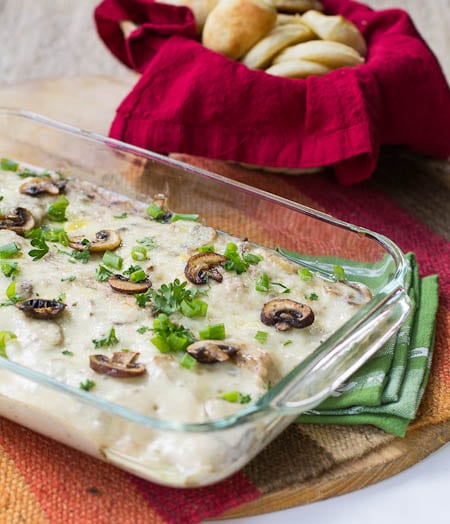 Each year around back to school time, I start craving comfort foods for dinner. And this Sherry Chicken with Mushrooms is comfort food at its best. Sherry, chicken, and mushrooms are a match made in heaven. With a creamy sauce and some swiss cheese melted on top, you'll have a hard time not going back for seconds. Serve with some rice and a side salad and this is a meal that will keep your kids seated around the dinner table and maybe, if you're lucky, you can find out a thing or two about their school day.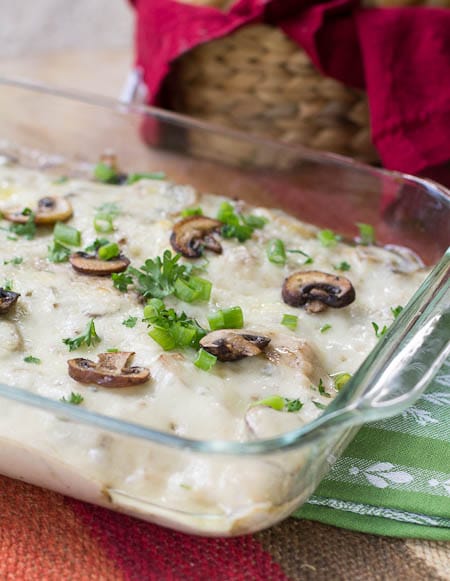 Since it mainly cooks in the oven, it's really not that difficult to throw together. Be sure to use a real sherry from the liquor store and not that overly salted stuff they call sherry at the grocery store. And don't use dessert sherry. It will probably be too sweet. I shy around from the super dry ones too and like one that's equivalent to marsala wine in sweetness. Guess I'm like Goldilocks when it comes to sherry.
I used Taylor Sherry, the one that says perfect for cooking on it, and found it to be pretty satisfactory. It's very readily available, but I'm sure there are much better ones out there.
If you like to cook with sherry and have a fav, let me know which one you use. I think I could cook with sherry every night in the fall.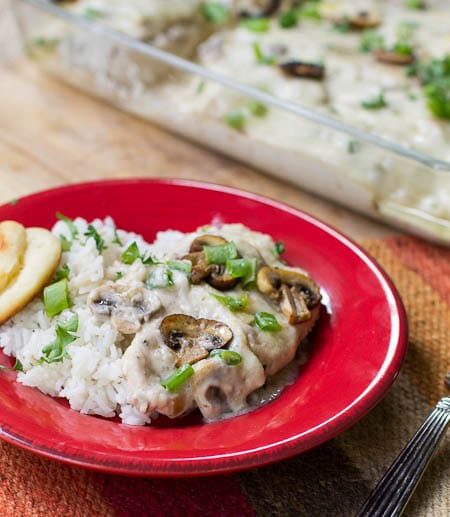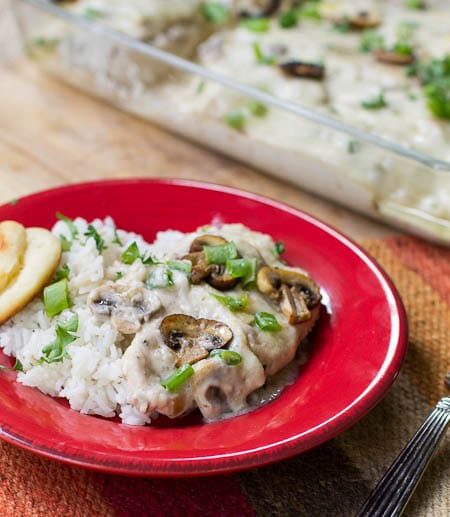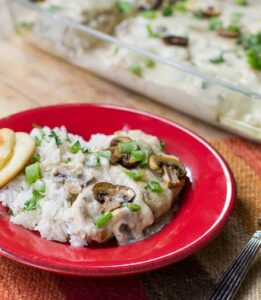 Sherried Chicken with Mushrooms
Print Recipe
Ingredients
3

chicken breasts,

cut in half horizontally to make 6 pieces

salt and pepper

½

cup

all-purpose flour

3

tablespoons

Vegetable oil

2

tablespoons

butter

1

shallot,

minced

12

ounces

mushrooms,

sliced

½

teaspoon

dried tarragon

1

tablespoon

flour

¾

cup

half and half

½

cup

sherry

1

can Cream of Mushroom Soup

6

thin slices swiss cheese

parsley and green onions for garnish
Instructions
Preheat oven to 350° and spray a 9×13-inch baking dish with cooking spray.

Season chicken with salt and pepper and dredge in flour.

Heat Vegetable oil in large nonstick skillet. Saute chicken until lightly browned on both sides. (Cook chicken in two batches if necessary.) Transfer chicken to baking dish.

Add 2 tablespoons butter to drippings left in skillet and sauté shallot and mushrooms over medium-high heat until mushrooms are brown. Add tarragon, sprinkle with 1 tablespoon of flour and cook 1 minute. Gradually whisk in half and half. Then add sherry and mushroom soup. Check sauce for seasoning and add salt and pepper to taste. Bring sauce to a simmer and remove from heat.

Pour sauce over chicken, cover with foil and bake 20 minutes.

Top with cheese and broil 1-2 minutes. Sprinkle with parsley and green onion.
Yield: 3-6 servings