This delightful Seafood Gumbo is full of shrimp and crab and it has a nice spicy kick. There's nothing like a warm bowl of gumbo, and I especially like a seafood gumbo.
Spicy Southern Kitchen participates in affiliate advertising programs. We may earn a commission when you make a purchase through links on our site.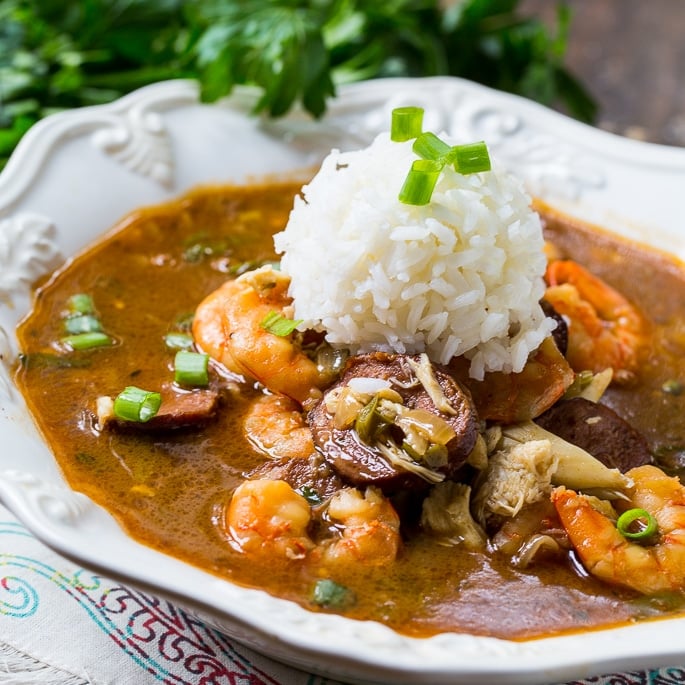 Making a big pot of gumbo is a little labor intensive, but it lasts for days and only gets better with time. It's perfect for a lazy afternoon spent at home. Build a nice fire in the fireplace and put your biggest pot on the stove.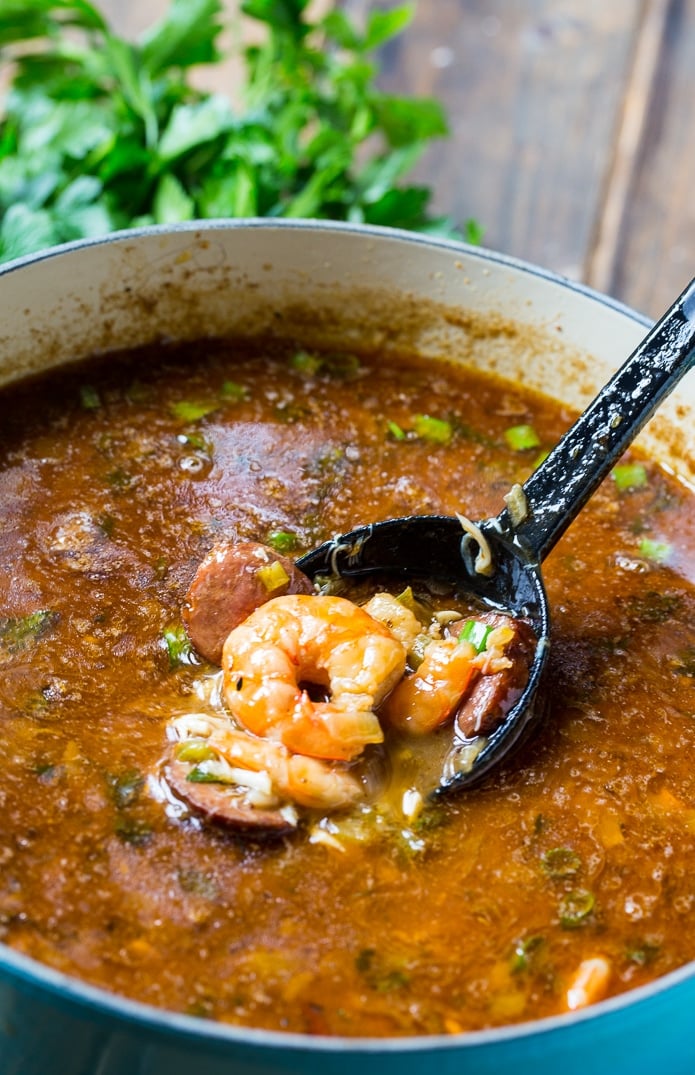 The most time-consuming part and the most important part is making the roux. It is a process that should not be rushed. It forms the base of the flavor and you really want to take the time and develop a deep, robust flavor. Making roux can take some practice. Turn the heat up too high and it will burn and you will have to start again.
In addition to shrimp and crab, this Seafood Gumbo is also flavored with the Holy Trinity- (onions, bell pepper, and celery), lots of garlic, a bottle of beer, thyme, bay leaves, Worcestershire sauce, and lots of Cajun seasoning. Plus there's a pound of andouille sausage for some meatiness.
Equipment Needed
6 to 7-quart Dutch Oven– It's important to use a Dutch oven with a thick, heavy bottom so the roux doesn't burn. This Dutch Oven is perfect.
Fine-Meshed Sieve– for straining the shrimp stock. This set of 3 strainers is very useful in the kitchen.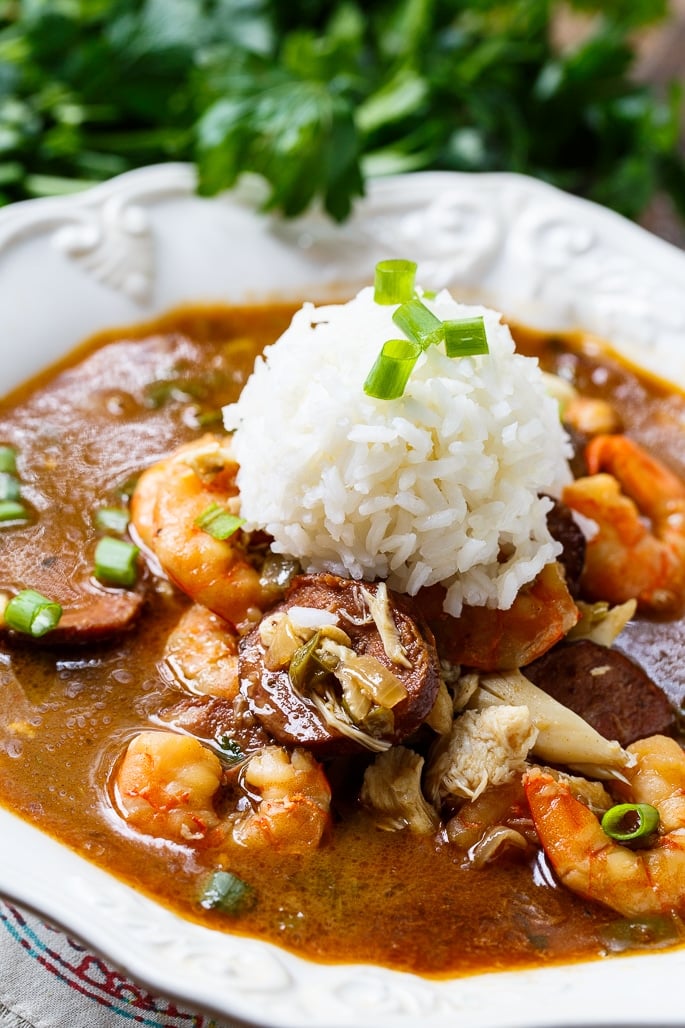 More New Orleans-Style Recipes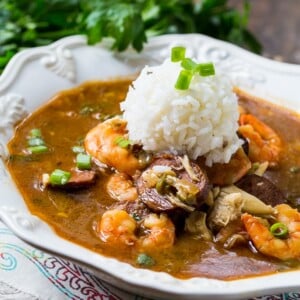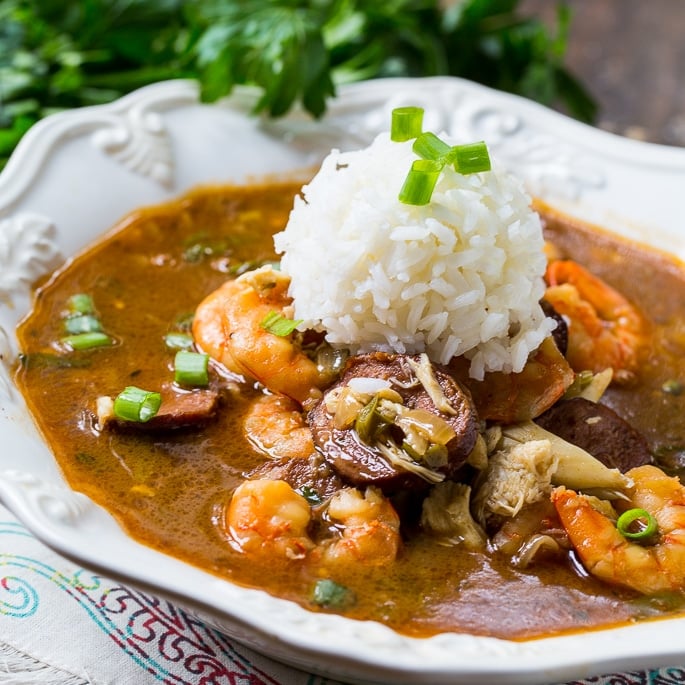 Seafood Gumbo
This delightful Seafood Gumbo is full of shrimp and crab and it has a nice spicy kick.
Ingredients
2

pounds

unpeeled fresh large shrimp

1/2

cup

butter, divided

2

(32-ounce) cartons

chicken broth

1

pound

andouille sausage,

sliced

1/2

cup

vegetable oil

1

cup

all-purpose flour

2

cups

finely chopped yellow onion

1

cup

finely chopped green bell pepper

1

cup

finely chopped celery

2

tablespoons

minced garlic

1

(12-ounce) bottle

amber beer

1

tablespoon

Cajun seasoning

2

teaspoons

Worcestershire sauce

1

teaspoon

dried thyme

2

bay leaves

1/2

cup

green onion tops

1/4

cup

chopped fresh parsley

1

pound

lump crabmeat

Cooked rice for serving
Instructions
Peel and devein shrimp, placing shrimp shells in a large pot. Refrigerate shrimp until needed.

In a large pot, melt 1/4 cup butter over medium heat. Add shrimp shells and cook until pink. Then add broth.

Bring broth to a boil, reduce heat and simmer 15 minutes. Remove from heat and keep warm until needed.

In a large Dutch oven, cook sausage until browned. Remove sausage with a slotted spoon and set aside.

Add oil and remaining 1/4 cup butter to Dutch oven. Heat over medium heat until butter is completely melted.

Add flour and stir with wooden spoon until smooth.

Reduce heat to medium low and cook, stirring frequently until roux is a dark caramel color. This will take 30 to 40 minutes.

Add onion and cook for 5 minutes, stirring frequently.

Add green pepper and celery and cook for 5 more minutes, stirring often.

Add garlic and cook 1 minute.

Add beer and stir in well.

Pour shrimp stock through a fine-meshed sieve into Dutch oven. (I like to add it in 3 separate additions, mixing well between additions.

Add Cajun seasoning, Worcestershire sauce, thyme, and bay leaves, plus the reserved andouille sausage. Bring to a boil. Reduce heat to medium-low, cover and simmer for 1 1/2 hours.

Add green onions, parsley, and shrimp. When shrimp are pink, remove from heat and stir in crabmeat.
Notes
Recipe Source: adapted slightly from Taste of the South Magazine
Want to Save This Recipe?
More New Orleans Inspired Recipes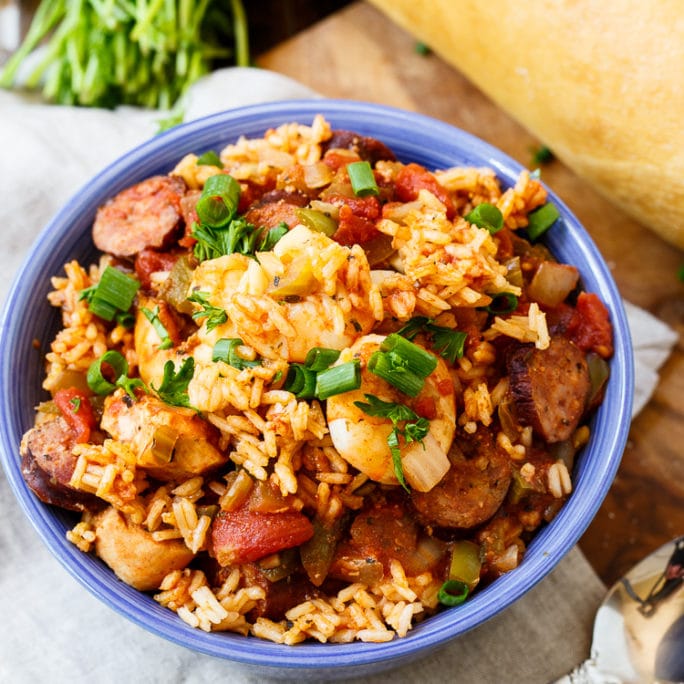 Disclosure: This post may contain affiliate links.