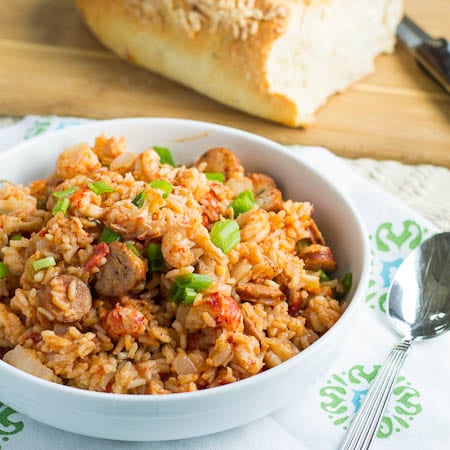 If you've never eaten crawfish before, they are a little like a cross between shrimp and lobster, and they're a little difficult to peel. Unless you grew up in the swamps of Louisiana, and then it should be second nature for you.
Since I grew up in the Carolina Piedmont, I struggle with peeling mudbugs. There's a deeply buried southern belle in me that wants to bat my eyes at my husband and ask him to Puhleeze peel me some crawfish. But he'd probably say no and even if he did I'd have to pay for it in one way or another.
So I suck it up and do it myself, which means I don't eat much.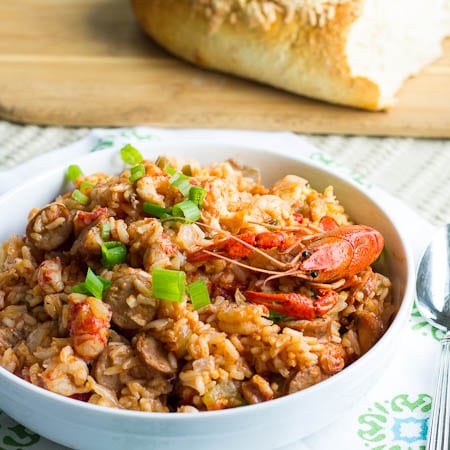 But on this particular occasion, we had mega pounds of crawfish left over from a boil. There was no way I could trash them, so I peeled and peeled and peeled, until I literally had cuts on the sides of my thumb. I did however discover that I have an easier time pushing the tail meat out of the shell when they're cold.
But let's just say it's going to be a long, long time before I peel anymore crawfish.
Note: Shrimp can easily be substituted for crawfish.
This easy to make Crawfish Jambalaya is a filling meal with plenty of spice. The Holy Trinity (onions, celery, and bell pepper) and some tomato paste really create a lot of flavor.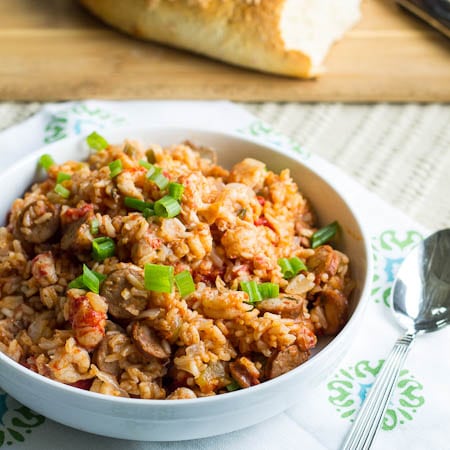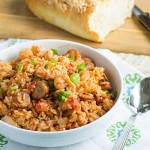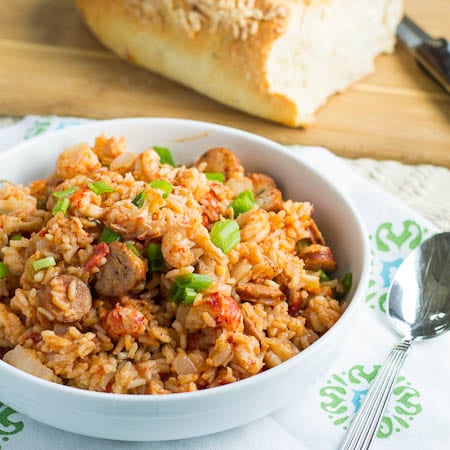 Crawfish Jambalaya
Ingredients
4

andouille sausage links

or other smoked sausage

1 ½

cups

chopped onion

½

cup

diced celery

½

cup

diced green bell pepper

2

large garlic cloves,

minced

2

tablespoons

butter,

divided

2

tablespoons

vegetable oil,

divided

1 ½

cups

long grain rice

1

(14.5-ounce)

can stewed tomatoes

2

cups

chicken broth

2

bay leaves

½

teaspoon

ground thyme

½

teaspoon

kosher salt

½

teaspoon

tabasco sauce

1 ½

tablespoons

tomato paste

1

pound

crawfish tail meat

½

cup

chopped green onions
Instructions
Heat a Dutch oven over medium heat and add 1 tablespoon of butter and 1 tablespoon of oil. Add sausage and saute until lightly browned, 2 to 3 minutes. Remove sausage from Dutch oven and set aside.

Add remaining butter and oil to Dutch oven along with onion, celery, and green pepper. Saute vegetables until soft, about 3 to 4 minutes. Add garlic and cook 1 more minute. Add remaining ingredients, except crawfish, reserved sausage, and green onions, and stir together well.

Bring to a boil, reduce heat to medium-low and cover pot. Cook about 15 minutes, until rice is cooked and liquid is absorbed.

Add in crawfish and sausage and cook an additional 2 to 3 minutes to warm the crawfish. Sprinkle green onions on top and serve with additional Tabasco sauce.
More Crawfish Recipes
Crawfish, Andouille, and Corn Chowder