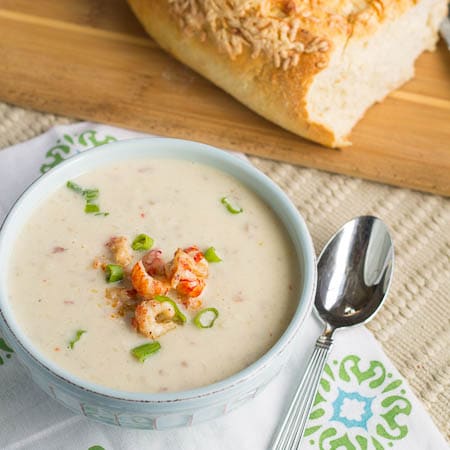 I love cooking with crawfish. Since I live no where near Louisiana, frozen crawfish are usually the only crawfish I have access to.
But last week, we scored LOTS of fresh crawfish. My husband organizes an annual crawfish boil for Charlotte, NC area Tulane Alumni at a local park. The University arranges to have live crawfish flown in from Louisiana (how's that for a cool Alma Mater?). Well this year they sent too many. Way too many. We came home with a whole 35 pound sack and it allowed me to try a bunch of new crawfish recipes.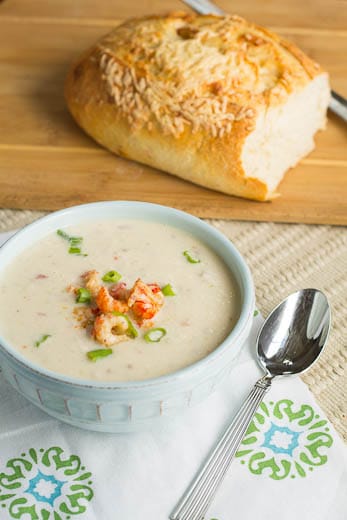 This one for Crawfish Cauliflower Soup is an adaptation of a recipe published in Louisiana Cookin'
. BTW, if you like cooking magazines, this is an excellent magazine with lots of great recipes, many of them seafood, as well as articles on Louisiana restaurants and festivals.
This soup is rich and creamy, with just the right amount of spice from a combination of red and white pepper. The recipe is meant to utilize leftovers from a crawfish boil, but if you're not planning a crawfish boil, you can still make the recipe by using 1 pound of frozen crawfish tail meat. I'd add a fair amount of cajun seasoning to the crawfish when sauteeing in butter since crawfish from a boil tend to be fairly spicy. Throw some uncooked red potatoes cut into 1-inch pieces in with the cauliflower so it has time to cook and add kernels cut from an ear of corn about 10 minutes later.
You'll want some nice, fresh bread to dip in the soup. It's comfort food Cajun Style.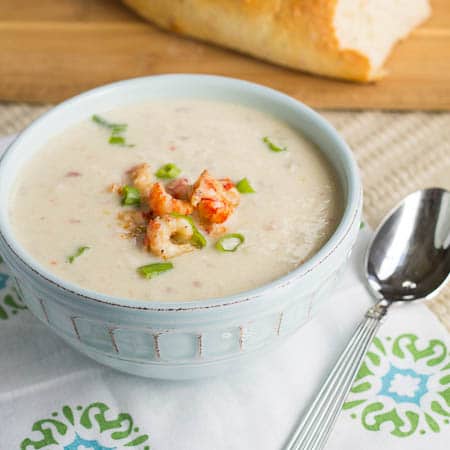 Crawfish and Cauliflower Soup
3 tablespoons extra-virgin olive oil
1 large sweet onion, diced
1 leek, white part only, cut in half lengthwise and sliced
1 head cauliflower, cored and chopped
1 tablespoon minced garlic
6 cups chicken stock
2 bay leaves
1 teaspoon crushed red pepper
2 sprigs fresh thyme
6 to 8 red potatoes reserved from crawfish boil, diced
kernels removed from 1 ear of corn reserved from crawfish boil
2 cups heavy whipping cream
1 1/2 teaspoon salt
1/2 teaspoon ground white pepper
2 tablespoons butter
1 pound crawfish tail meat reserved from crawfish boil
2 green onions, sliced, green part only
In a large Dutch oven, heat olive oil over medium heat. Add onion and leek and cook until softened and translucent, about 5 minutes.
Add cauliflower and cook, stirring frequently, until cauliflower softens slightly, about 15 minutes.
Add garlic and saute 1 more minute.
Add chicken stock, bay leaves, red pepper, and thyme. Bring to a boil and then reduce heat to a simmer. Cover and cook until cauliflower is very soft, about 15 minutes. About 2 minutes before cauliflower is done, add potatoes and corn.
Turn heat off and discard bay leaf and thyme sprig stems.
Puree soup using an immersion blender or working in batches, puree in a blender.
Turn heat back on to medium and add cream, salt and pepper. Cook until heated through.
In a medium skillet, melt butter over medium-high heat. Add crawfish tails and cook 2-3 minutes, until heated through.
Ladle soup into bowls and top with crawfish and green onions.
Yield: 6 to 8 servings
More Crawfish Recipes
Crawfish, Andouille, and Corn Chowder
Disclaimer: Spicy Southern Kitchen is an amazon.com affiliate.