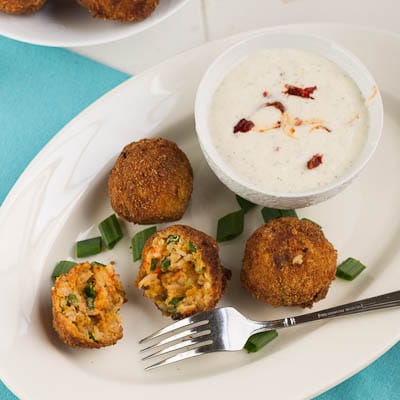 If you have an affinity for Cajun/Creole cooking, I definitely recommend getting a subscription to Louisiana Cookin'
Magazine. Every issue is full of delicious recipes, both traditional ones, as well as modern takes on the classics such as this recipe for Fried Crawfish Etouffee Balls served with a Chipotle Ranch for dipping. The magazine must be getting pretty popular, because not only do I regularly see it at book stores, but it's been popping up at my local grocery store too.
If you really want to impress your guests at your next party, serve these Crawfish Balls as an appetizer. They can be formed ahead of time and fried up just before serving. They're super crunchy on the outside, like a crisp hushpuppy, and spicy on the inside. You might want to go easy on the chipotle in the ranch sauce since the balls themselves are spicy.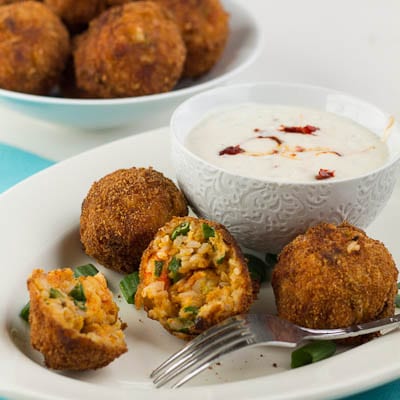 If you don't have access to crawfish in your area, or don't care for them, you could easily substitute shrimp. Just be sure to dice them up so they will conform to a ball shape. The Quick Crawfish Etouffee recipe yields 3 cups and only 2 cups are needed for the balls. I'm thinking the leftover cup would make a great omelet filling.
More Crawfish Recipes
Crawfish, Andouille, and Corn Chowder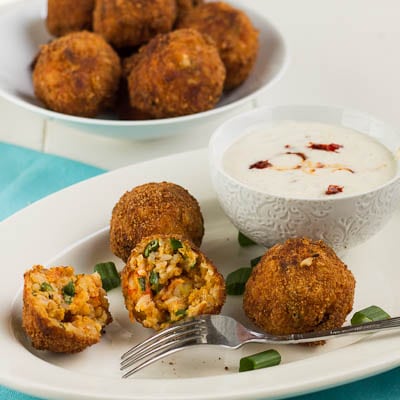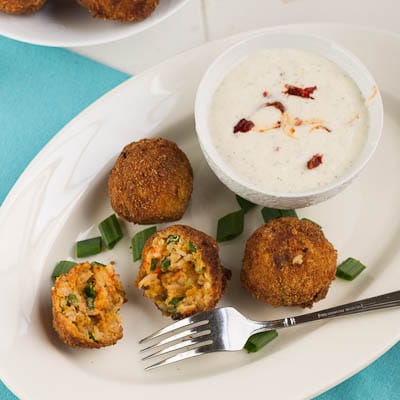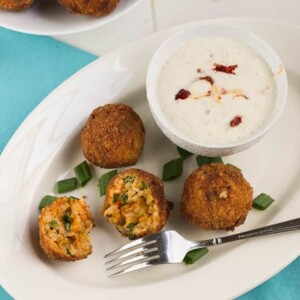 Fried Crawfish Etouffee Balls
Ingredients
2

cups

Quick Crawfish Etouffee,

recipe follows

2 1/4

cups

plain bread crumbs,

divided

2

cups

cooked and cooled jasmine rice

1/2

cup

chopped green onion

2

teaspoons

hot sauce

1

teaspoon

salt

1/2

teaspoon

cayenne pepper

4

large eggs,

divided

1

cup

whole milk

2

cups

all purpose flour

peanut oil

1

(0.4-oz)

packet Buttermilk Ranch Hidden Valley Ranch Mix

0.4-ounce

3/4

cup

low-fat buttermilk

1/3

cup

mayonnaise

1/2

to 1 chipotle pepper,

minced
Instructions
In a large bowl, combine Crawfish Etouffee, 1/4 cups bread crumbs, rice, green onion, hot sauce, salt, cayenne, and 2 beaten eggs. Refrigerate for 30 minutes.

In a medium bowl, whisk together 2 eggs and milk. Place flour in a second bowl and remaining bread crumbs in a third bowl.

Scoop etouffee mixture into balls the size of a golf ball. Roll each ball in flour, then egg mixture, and finally the bread crumbs. Place on a baking sheet and refrigerate until firm, at least 2-3 hours and up to 24 hours.

Pour oil to a depth of 4 inches in a Dutch oven. Heat oil over medium heat until oil temperature reaches 350 degrees. Fry balls in batches for about 3 minutes, until they are golden brown. (Note: I only had about 1 1/2 inches of peanut oil in my Dutch oven, so I cooked them for about 3 minutes, flipped them over and cooked an additional 2-3 minutes and they turned out fine.)

To make Chipotle Ranch: In a medium bowl, combine ranch mix, buttermilk, and mayo and whisk until smooth. Stir in chipotle.
Want to Save This Recipe?
Quick Crawfish Etouffee
Ingredients
1/2 cup butter
1 1/2 tablespoons all-purpose flour
3/4 cup finely chopped onion
3/4 cup finely chopped celery
3/4 cup finely chopped green bell pepper
1 pound crawfish tail meat, defrosted if frozen and drained of most of the liquid
1/2 teaspoon salt
1/2 teaspoon ground black pepper
1/2 teaspoon Creole seasoning, such as Tony Chachere's
Instructions
Melt butter over medium heat in a large pot or Dutch oven. Stir in flour and cook until mixture turns the color of peanut butter, about 10 minutes. Be careful not to burn the roux. Turn heat down if you detect even the faintest scent of burning or feel it is browning too fast.
Add onion, celery, and green pepper. Cook until softened, about 5-6 minutes.
Stir in crawfish, salt, pepper, and Creole seasoning. Reduce heat to low, cover and cook for 15 minutes. Let cool completely before making balls.
Recipe Source: adapted from Louisiana Cookin' March/April 2013
Disclosure: Spicy Southern Kitchen is an amazon.com affiliate.