Roasted Corn Salsa is full of sweet corn, jalapenos, poblano peppers, onion, and garlic. So many fresh flavors in this healthy salsa.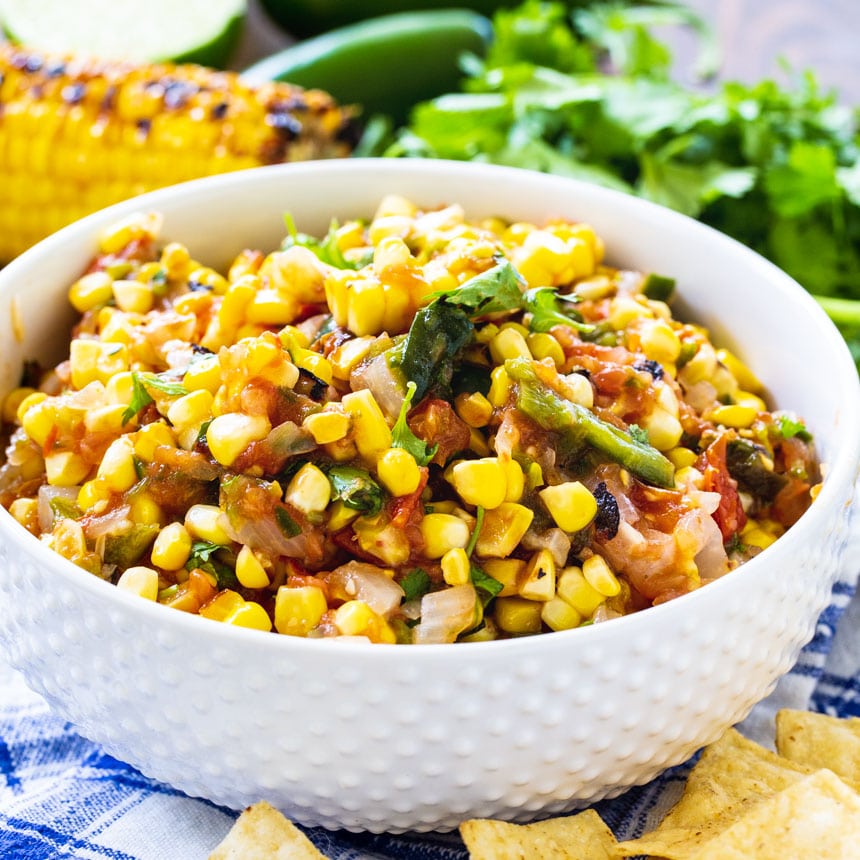 How To Serve
Serve it with tortilla chips, on top of grilled chicken or fish, in a burrito, or as a topping for taco salad. It brings extra flavor to just about anything.
Roast The Vegetables
Roasting the veggies really enhances their flavors. Not only the corn gets roasted. All of the veggies do: the jalapeno, poblano peppers, onion, tomatoes and garlic all benefit from being roasted.
What I Love About Homemade Salsa
There are so many things to love about this fresh, homemade salsa. It's easily customizable, can be made in advance, and has a great sweet and spicy flavor with plenty of acidity from lime juice.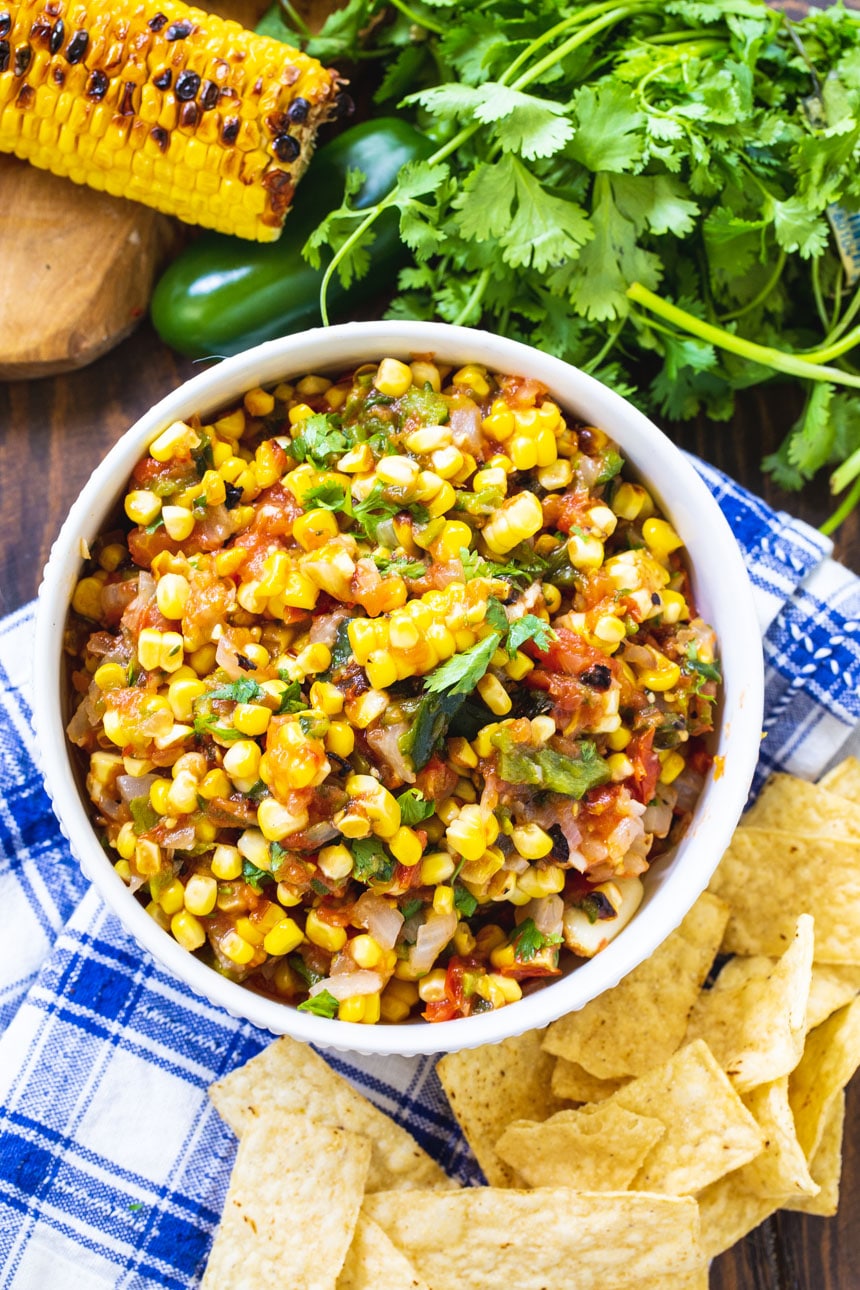 Roasted Corn Salsa Recipe Tips
Fresh corn on the cob is best for this recipe, but you can use frozen corn kernels instead. Just add them to the baking sheet and roast with the other vegetables.
It's best to use corn on the cob the day you buy it, especially if you get it from a local farmer. The flavor and sweetness decreases over time.
There's no need to rotate the corn as it roasts. It will get nicely charred on the side facing up, but the rest of the corn will keep more of a crunchier texture, giving the salsa lots of contrast in flavor and texture.
Best prepared in advance so the flavors have a chance to meld. I recommend making it at least an hour in advance. Will keep in the refrigerator for about 4 days.
Other great additions to this salsa are black beans and diced avocado.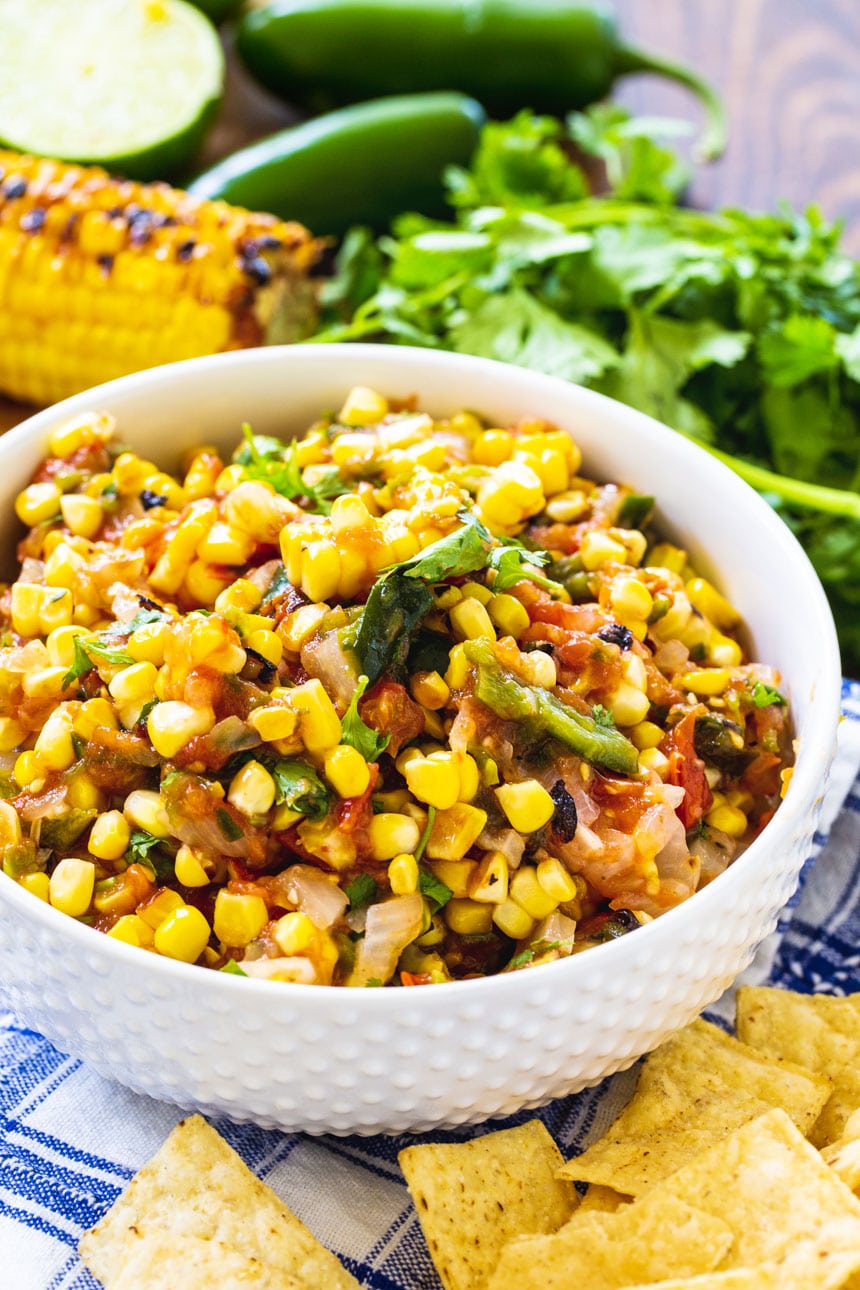 Try These Other Tasty Salsa Recipes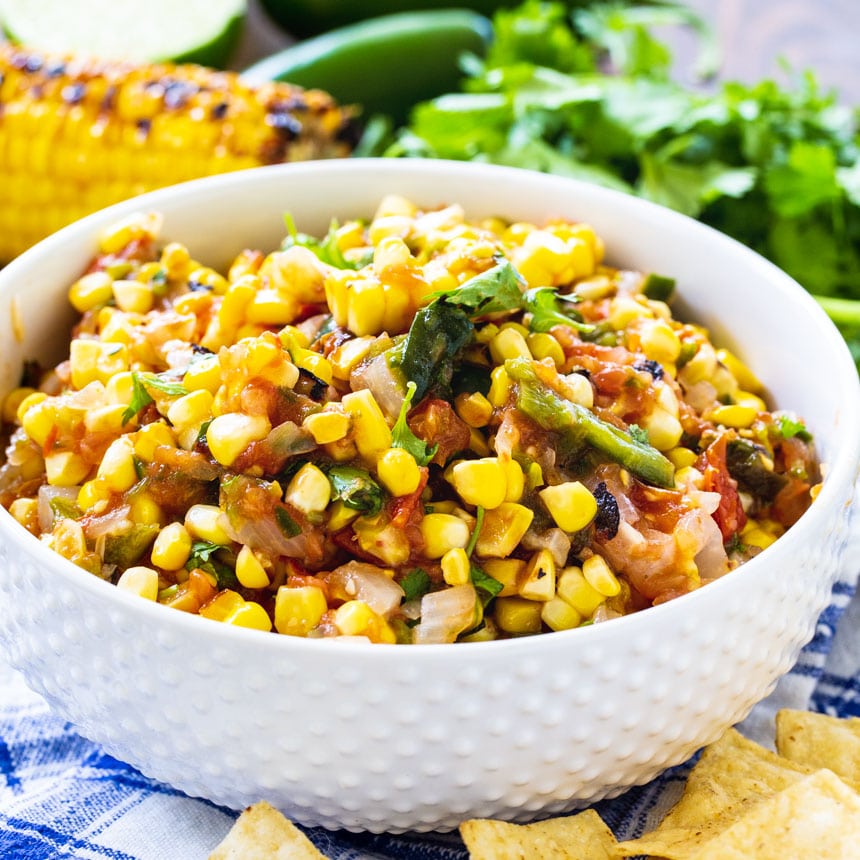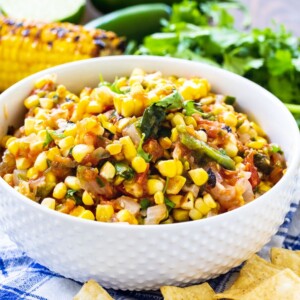 Roasted Corn Salsa
Roasted Corn Salsa is full of sweet corn, jalapenos, poblano peppers, onion, and garlic. So many fresh flavors in this healthy salsa.
Ingredients
3

ears

corn,

husks and silks removed

1

medium

sweet, yellow, or white onion,

cut into 1/2-inch slices

1

pound

plum tomatoes,

cored and cut in half

1

poblano pepper,

stemmed, halved and seeded

1

jalapeno pepper,

stemmed, halved and seeded

2

garlic cloves,

peeled

1

tablespoon

vegetable or olive oil

1

teaspoon

salt,

divided

2

tablespoons

lime juice

1/4

teaspoon

cayenne pepper

1/3

cup

chopped fresh cilantro
Instructions
Place the top oven rack about 6 inches from the broiler. Turn the broiler on.

On a rimmed baking sheet, toss the corn, onion, tomatoes, poblano, jalapeno and garlic with the oil and 1/2 teaspoon of salt.

Turn the tomato halves and peppers so that they are skin side up.

Broil until the vegetables are charred well, about 12 to 15 minutes. Watch them carefully because the amount of heat that broilers give off can vary greatly.

Let cool 10 minutes and then remove the skins from the poblano and jalapeno. If the tomato skins are black with char, remove them too.

Cut the kernels from the corn cobs and place in a large bowl.

Place the onions, poblano peppers, and jalapeno peppers in a food processor. Pulse 8 to 10 times. Transfer to bowl with the corn.

Add the tomatoes, lime juice, garlic, cayenne pepper, and remaining 1/2 teaspoon of salt to the food processor.

Process until mostly smooth.

Add to bowl with corn and stir to combine.

Stir in cilantro. Cover and refrigerate for 1 hour before serving.
Want to Save This Recipe?
Recipe adapted from Cook's Country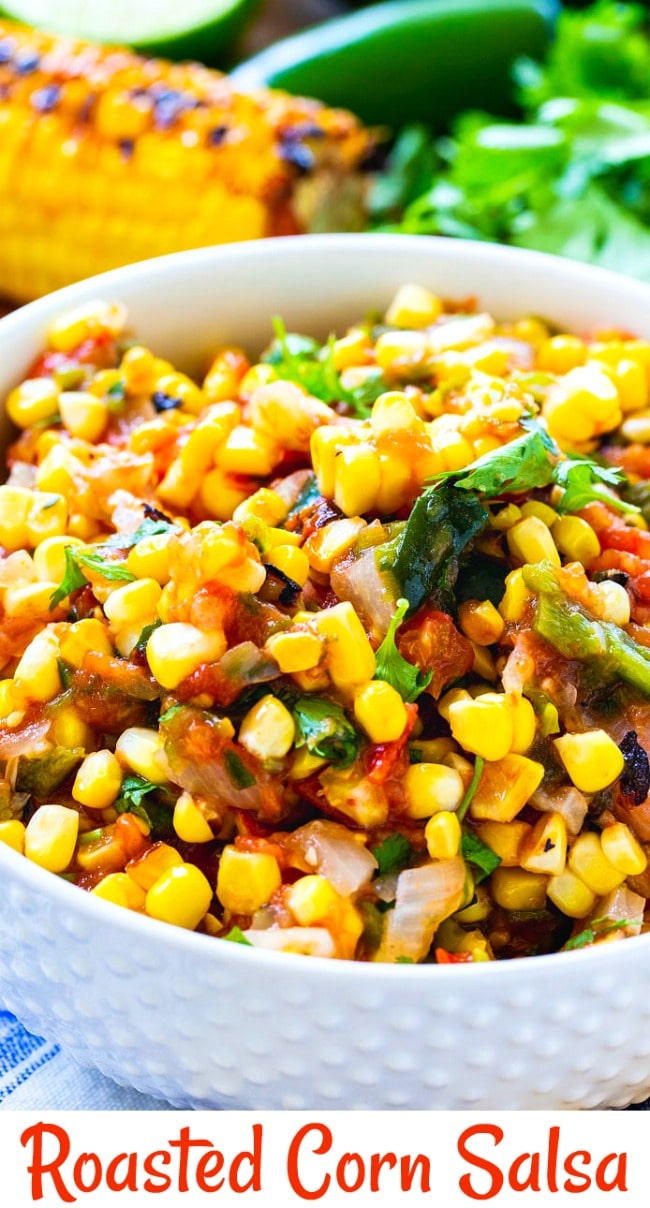 Disclosure: This post contains affiliate links.