Pulled Pork and Tasso Gumbo is loaded with meat and is a great way to use up leftover pulled pork.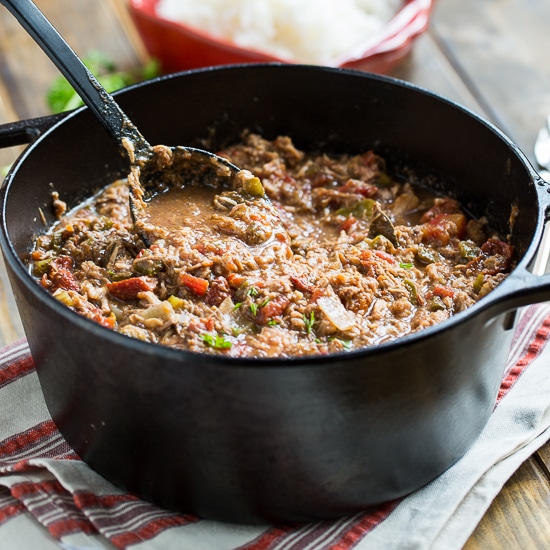 Have some leftover pulled pork? Why not make gumbo with it. With Mardi Gras right around the corner, I am in the mood for all things related to New Orleans and this Pulled Pork and Tasso Gumbo really fits the bill. Only with a little twist. Some jalapeno, poblano, and dried red chili peppers give this gumbo a little southwestern flair. And plenty of heat.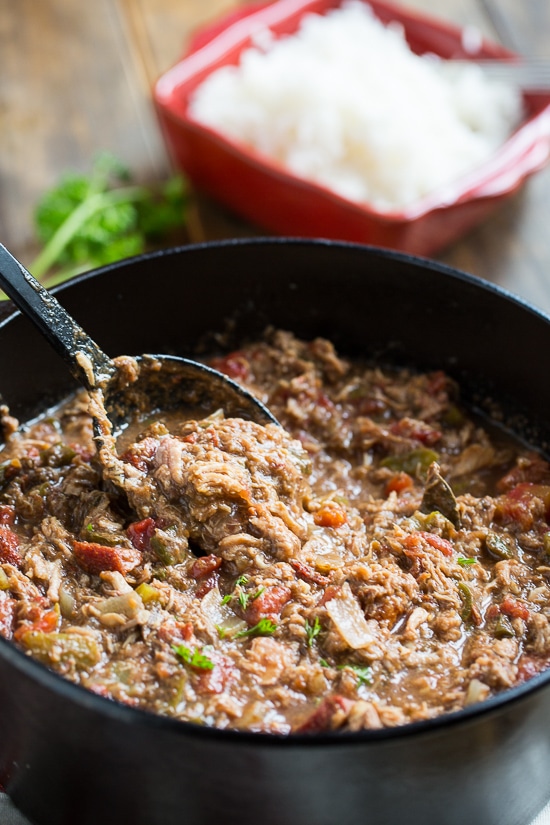 There's a whole lot of meat in this gumbo, making it almost more of a stew. In addition to pulled pork there is also tasso ham, one of my favorite ingredients that's frequently used in Cajun food.
Tasso ham can be hard to find. There's only one specialty food store in the Charlotte area (Reid's) that I know of that carries it. If you want to try it your best bet is to order it online. You can also find recipes online for making your own tasso ham.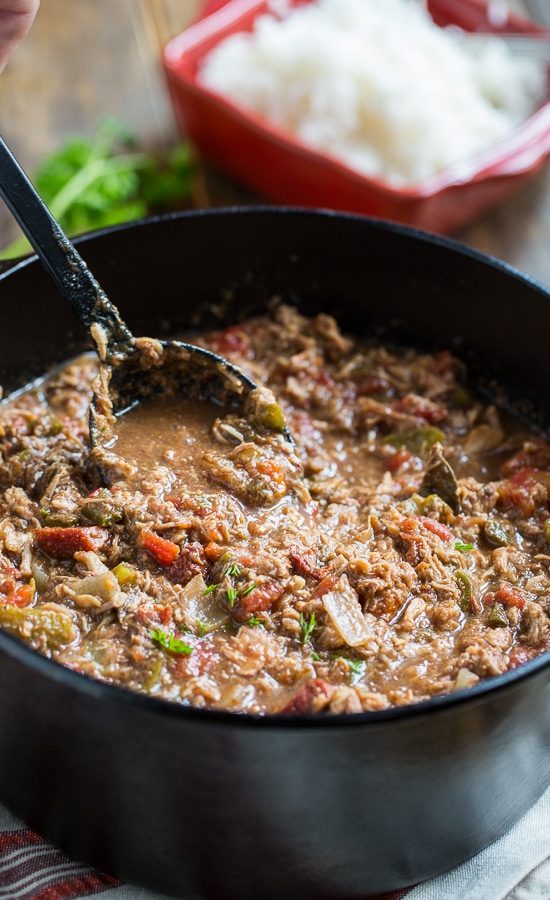 Tasso Ham is made from lean pork which has been marinated, seasoned, and smoked and it is typically quite spicy. It can enhance the flavor of many different foods including pasta dishes, jambalaya, soups, and sauces. And of course gumbo.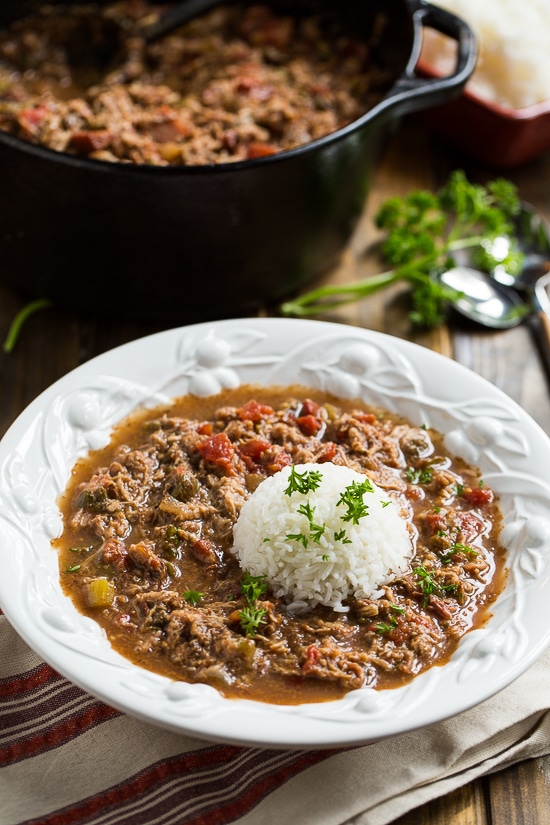 The key to a super flavorful gumbo is the roux. Be sure to take your time with it. If the heat is too high, it will burn. It's best to use a Cast-Iron Dutch Oven
 or a pot with a heavy bottom.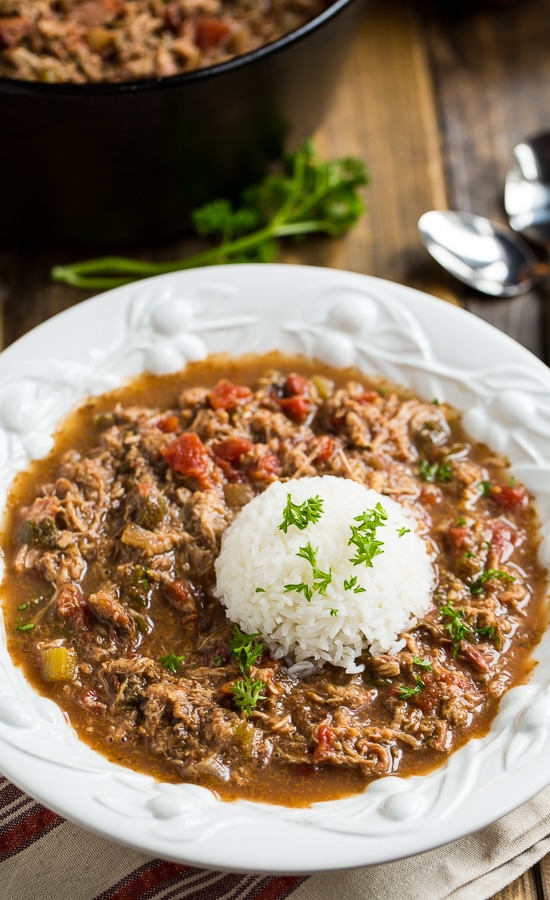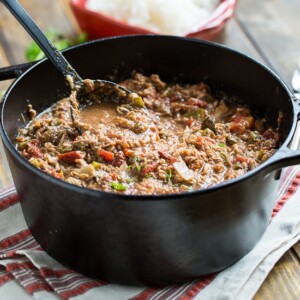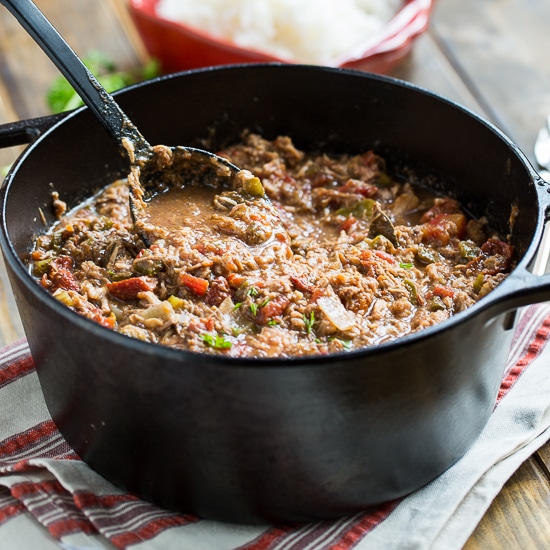 Roast Pork and Tasso Gumbo
Total Time:
1
hour
5
minutes
Pulled Pork and Tasso Gumbo is loaded with meat and is a great way to use up leftover pulled pork.
Print Recipe
Ingredients
1/2

cup

all-purpose flour

1/2

cup

vegetable oil

1

cup

chopped yellow onion

1

cup

chopped green onion

1

cup

chopped poblano pepper

1

cup

chopped green bell pepper

1

cup

chopped celery

1/4

cup

finely chopped jalapeno

2

tablespoons

minced garlic

2

(15-ounce)

cans diced tomatoes

15-ounce

4

cups

chicken broth

2

bay leaves

2

dried red chile peppers

1

tablespoon

Cajun seasoning

2

teaspoons

salt

2

teaspoons

black pepper

10

ounces

tasso ham,

chopped

2

tablespoons

vegetable oil

1

to 1 1/2 pounds pulled pork

rice for serving

Cilantro for garnish
Instructions
To make a roux, whisk together oil and flour in a large heavy saucepan (cast iron is perfect, but any heavy-bottomed pot or pan will do) over medium to medium-low heat. Once combined, it is easier to use a wooden spoon to stir. Stir continuously for at least 20 minutes, until mixture turns a dark caramel color. It should darken very slowly. If it darkens too fast, turn down the heat. The roux will burn if the heat is too high or you don't stir continuously. Be sure to really stir all the way up to the edges of the pot. You don't want any of the mixture to stay in one spot for too long.

Add onions, peppers, celery, jalapeno, and garlic. Cook, stirring frequently, until vegetables are tender, about 5 minutes.

Add tomatoes, broth, bay leaves, dried chili peppers, Cajun seasoning, salt and pepper. Bring to a boil. Reduce heat and simmer 25 minutes.

Meanwhile brown tasso ham in a pan using 2 tablespoons of vegetable oil.

Add pulled pork and tasso ham and simmer 5 more minutes. Check for seasoning and add more salt if needed. Remove and discard bay leaves and dried chili peppers.

Serve gumbo in bowls with rice.
Nutrition
More Mardi Gras Favorites